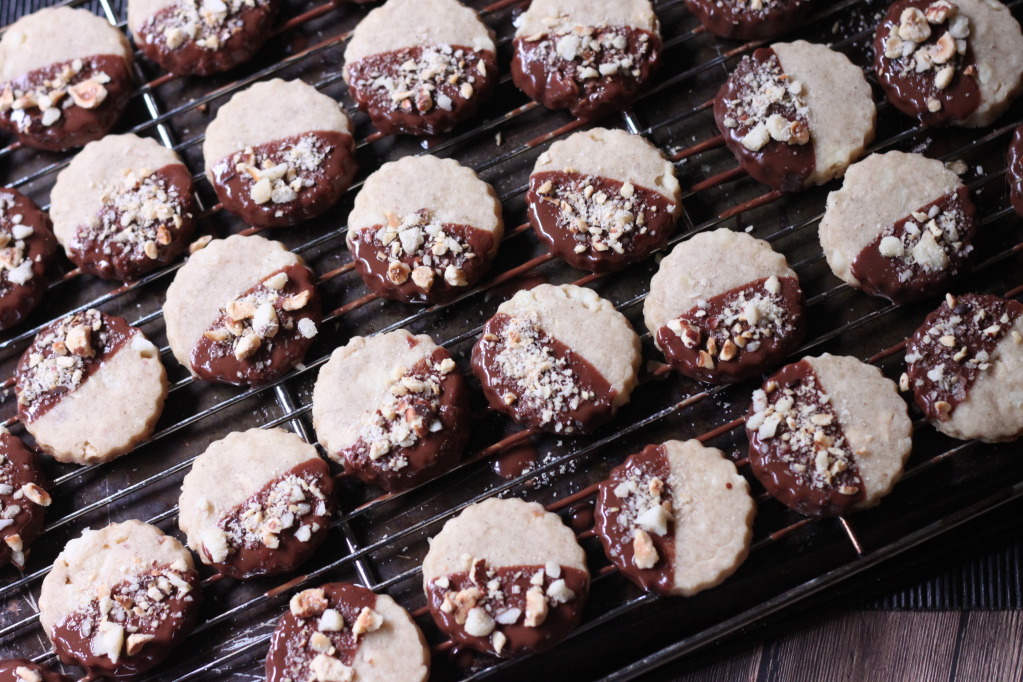 Is it too soon for cookies? Probably. Am I going to share this recipe with you anyway? Absolutely. Do these cookies satisfy both emotional eating and the need for buttery, sugary, little treats? For sure. How long does the phrase, "It's the holidays…" apply before you can no longer have an excuse to make cookies? What – you don't need excuses for cookies! C'mon now.
There's a company in Hawaii called Big Island Candies. When I was in the fifth grade, we had an inter-island field trip that included a few days on the Big Island. One of the places we visited was Big Island Candies. I fell in love with their shortbread cookies, which span a variety of flavors, all with a base of macadamia nut shortbread dough. The original chocolate dipped variety melts in your mouth with every bite – both the chocolate and the cookie. It's magic. Or probably just butter and sugar… but you know.
I now reside thousands of miles from the place I grew up, and while I could order these cookies and they'd arrive nicely packaged in a box on our front porch, I thought it would be more fun to come up with a version I could make anytime the craving arose, minus shipping costs. So, I give you these little buttery treats that will melt in your mouth and leave you wanting to eat cookie after cookie. The tiny speckles of vanilla bean are visible. The macadamia nuts melt into the cookie dough and the hazelnuts offer a little more crunch in these bite size cookies.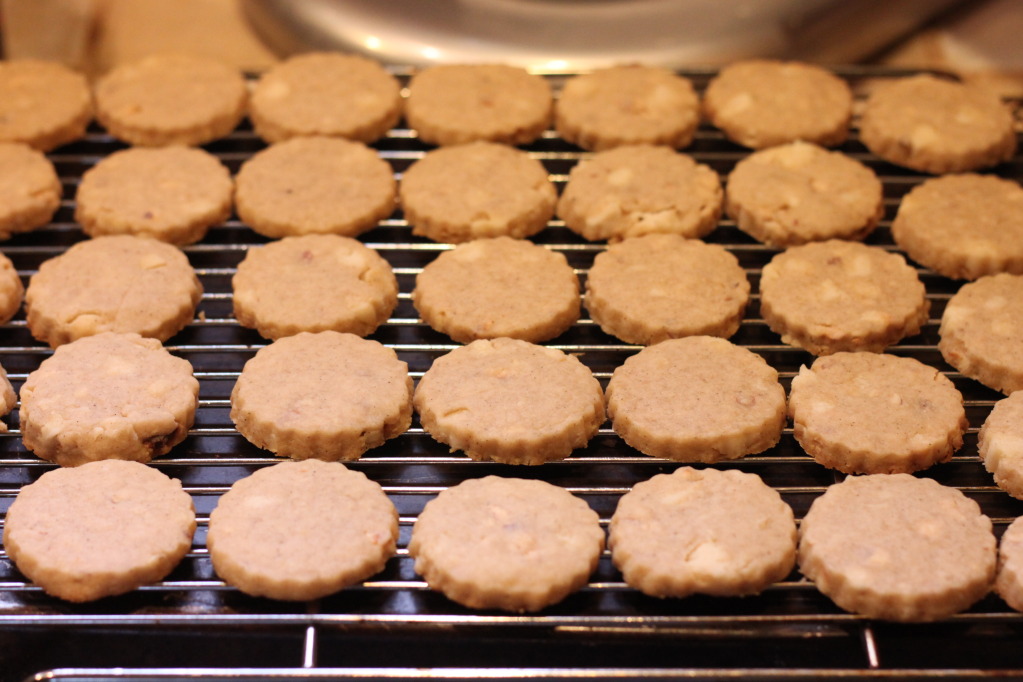 Chocolate Dipped Macadamia Hazelnut Shortbread Cookies
Yields about 40 – 1½ inch, round cookies
Ingredients:
¾ cup unsalted butter, softened to room temperature
½ cup plus 1 tbsp. pure cane sugar
¾ tsp. pure vanilla extract
1 vanilla bean, scraped
1½ cups all-purpose flour
½ cup finely chopped macadamia nuts
¼ cup finely chopped hazelnuts
6 oz. good quality bittersweet chocolate
¼ cup unrefined coconut oil
3 tbsp. very finely chopped macadamia nuts
Directions:
In the bowl of your stand mixer (or a large mixing bowl if you've got a regular hand mixer), cream the butter over medium speed, until smooth. Add in the sugar, vanilla extract, and vanilla bean, mixing until the ingredients are light and fluffy (2-3 minutes). Add in the flour, mixing until just combined. Stir in the half cup of macadamia nuts and quarter cup of hazelnuts, until combined into a nice little dough ball.
Flatten the dough into a round about one inch thick, then wrap tightly in plastic wrap. Refrigerate for at least one hour (no more than twelve).
Preheat your oven to 325°F. Line two baking sheets with parchment paper, Silpat mats, or lightly grease. Remove your dough from the fridge and let it rest at room temperature for about ten minutes. Roll the dough out on a lightly floured surface to about a half-inch thick. Use a small cookie cutter to cut out as many rounds as you can, placing them on your baking sheets about one inch apart. Re-roll the dough scraps into more cookies.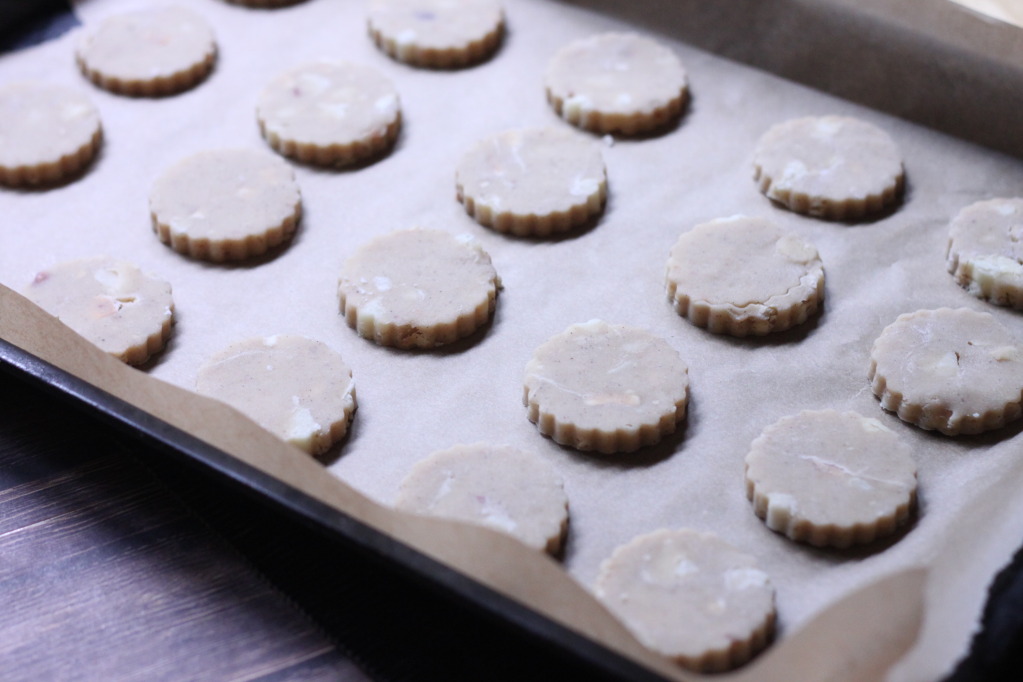 Bake the cookies for 12-14 minutes, until there are barely golden brown, but are just slightly springy to the touch, when pushing gently on the middle of the cookie. Transfer the baked cookies to a cooling rack.
While the cookies are cooling, melt the chocolate in a double broiler, stirring constantly until smooth. Once the chocolate is smooth and melted, stir in the coconut oil, again stirring until the mixture is smooth.
Dip the cooled cookies half-way into the melted chocolate then return them to the cooling rack. Sprinkle on a pinch of the finely chopped macadamia nuts. Continue this process with all your cookies. Place the dipped cookies into the fridge for about ten minutes to quickly allow the chocolate to harden.
Store in an airtight container and enjoy your cookies sooner than later!
Please follow and like us: