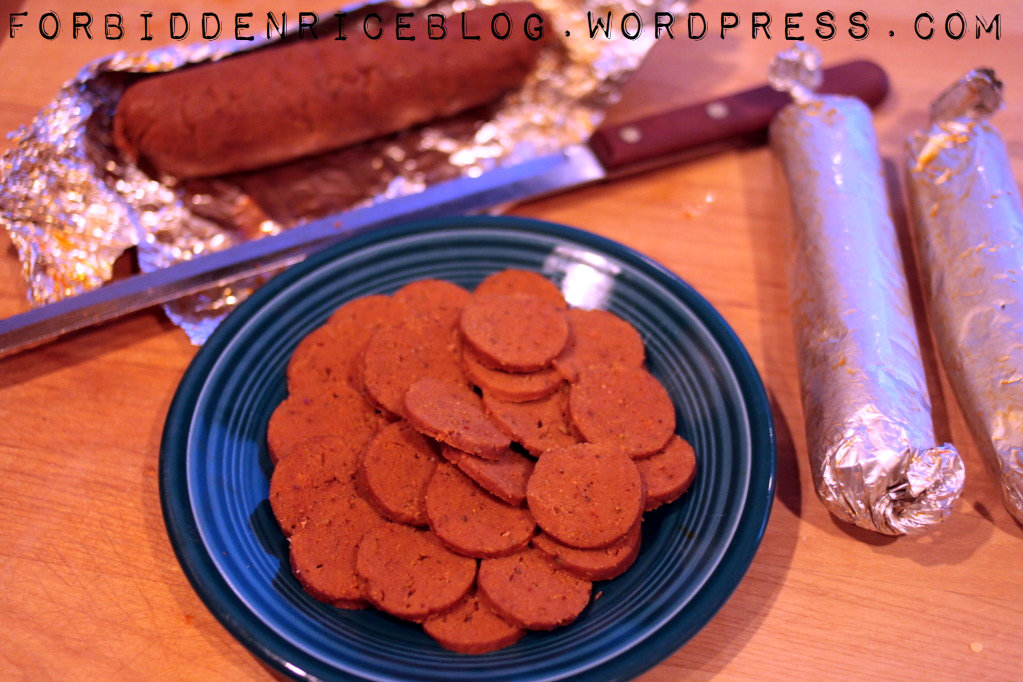 I shall confess that on the first day of this year, I absolutely ate a chicken fried steak smothered in sausage gravy, two over-easy eggs, and half a Belgian waffle for breakfast. Call it post-drinking (a.k.a. hangover) food. Call it… oh, an absolutely unnecessary indulgence. As I was eating this chicken fried steak, I realized I hadn't missed it for the last six or so years. I told my husband I was nearly certain that I could make the same thing, perhaps an even more flavorful version, using vegan Gimme Lean sausage.
That's the whole thing for me these days. I don't cook meat at home and often when I order it when we go out, it's out of habit rather than an actual craving for something carnivorous. It should be easy enough to eliminate from my diet all together. I enjoy seitan a lot, especially experimenting with homemade flavors. It easily takes the place of chicken for me when that is the sort of protein I'm craving. There are soy-based, grain-based, mycoprotein-based, ready made vegetarian "meats" available in a vast number of flavors. The only thing that has ever been disappointing to me is an available replacement for spicy meats like pepperoni, andouille sausage, or chorizo sausage.
Field Roast actually makes a great Chipotle sausage that is similar to chorizo in flavor. Yves makes a vegetarian pepperoni that I do not like – it doesn't have much spice to it at all and the texture is a bit too rubbery than I'd like. I recently discovered Tofurky's version of pepperoni. It's closer in consistency to traditional pepperoni and has a little more spice than Yves,' but still lacks the spicy kick I enjoy in the pepperoni that tops pizza or hangs out in an Italian sub sandwich.
Having made homemade vegetarian hot dogs, various sausages, etc. that were seitan based, I decided to try a homemade pepperoni, where I could control the spiciness. Don't be intimidated by the amount of ingredients in this recipe. The beautiful benefits are two-fold: one, you will recognize everything that goes into these sausages (no unnamable animal parts here!) and two, the food processor does the majority of the work for you!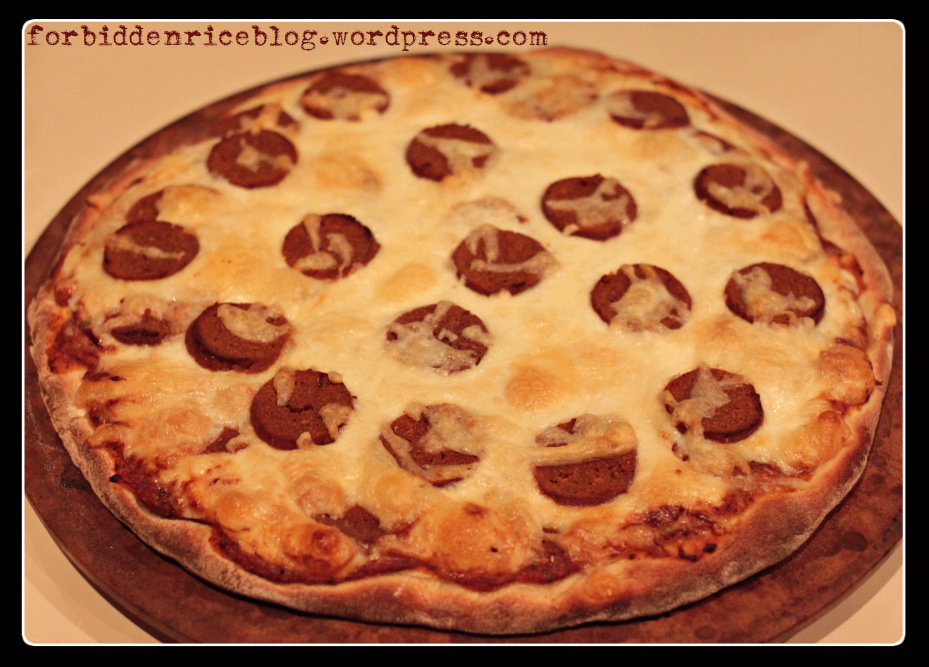 Vegetarian Pepperoni Sausage
Ingredients:
1¼ cups vital wheat gluten
5 oz. extra firm high-protein tofu *
1 oz. sun dried tomatoes in olive oil
1-2 chipotle peppers in adobo sauce
3 cloves garlic
¼ cup tomato paste
¼ cup canola or sunflower oil
1 tbsp. liquid smoke
¾ tsp. sea salt
¾ tsp. smoked paprika
½ tsp. dry mustard powder
½ tsp. onion powder
½ tsp. fennel
½ tsp. ground anise
½ tsp. ground white pepper
½ tsp. red chili pepper flakes
½ tsp. dried ancho pepper
¼ tsp. celery seed
¼ tsp. red wine vinegar
1-4 tbsp. water
* I really enjoy using Wildwood High-Protein tofu, but realize this may not be readily available everywhere. If you don't have access, simply use any other extra firm tofu (NOT silken).
Directions:
Combine all of the ingredients, minus the water, in a food processor fitted with the large chopping blade, or a good quality blender. Blend the mixture until it comes together into a ball of dough (3-5 minutes).
If the mixture is very dry or having a hard time coming together, add one tablespoon of water at a time, blending well after each addition, until you have a soft but not overly sticky dough.
Let the mixture rest for five minutes. Split the dough into four equal sized rounds. Use your hands to roll each ball into sausages about 1–1½ inches around, 9-10 inches long. Wrap each individual sausage tightly in plastic wrap, then foil. The plastic won't melt onto your food, but will keep moisture in while the pepperoni cooks.
Fill a large pot with about 1½ – 2 inches of water. Place a steam basket, or bamboo steamer on top of the pot. Place the sausages in the steamer in a single layer. Cover and steam for 60-75 minutes, until they are firm to the touch. Turn the pepperoni over about half way through the cooking time.
Remember to check your water level periodically as the pepperoni cooks (I've made the mistake of letting all the water evaporate – bad news!).
Allow the sausages to cool at room temperature for 15-20 minutes before attempting to open and slice. Cut into thin rounds and use as you would any other pepperoni!
Keep the unused pepproni wrapped tightly until ready to use. Store in the refrigerator.