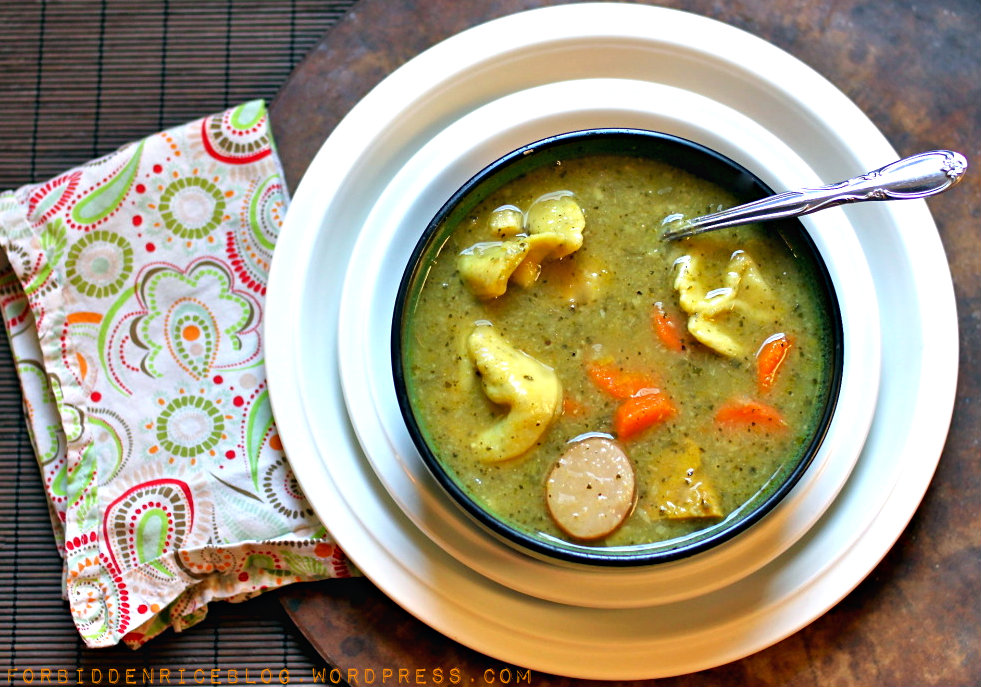 Let's talk about persistence. In the last week, I've had the three recipes I've blogged, posted on Tastespotting, Foodgawker, and Healthy Aperture. One of those recipes came with two rejections, thus three submission attempts at each site… As well as a re-do in photographing the food to go along with the recipe. That isn't said in some bragging form, in the least bit. See, every time something I  post here is shared somewhere else, I feel like I'm about two-years-old. I get super excited, grateful, and happy. Everything I submit anywhere comes with time, love, parts of myself, and my everyday real life… the same way I hope any worthwhile blogger approaches their work or art.
When I approach a new recipe idea, it's always in the same form. I don't want to put the effort into something I won't be proud of. I won't share something here that doesn't somehow reflect where I'm at in my current state of  cooking and recipe concocting. This soup isn't any different.
I saw a recipe back in November, from a friend, whose soup was based on leftover Thanksgiving turkey. I have to admit – despite not cooking meat at home, there are numerous times (all the time) that I crave chicken and turkey. It has been the hardest thing about this cooking-lifestyle to give up for me. Seitan has become an easy replacement. I like making my own, using vital wheat gluten, and rarely rely on store-bought varieties, although most are quite decent. I don't have many homemade seitan recipes on this blog, since I am constantly trying to experiment with recipes I'd actually feel good about sharing. However, in a soup like this, store bought seitan won't steer you wrong. As well, I used Rising Sun Farms cheese tortellini, which is pretty available around here, but you can use whatever variety is available and/or accessible to you. Fresh tortellini won't take as long to cook, so pay attention to the package instructions.
This is an easy alternative to chicken noodle soup, that's both hearty and relatively healthy. Between the tortellini and the vegetables, it's filling. Truth is, even without the seitan, this soup would be both hearty and filling.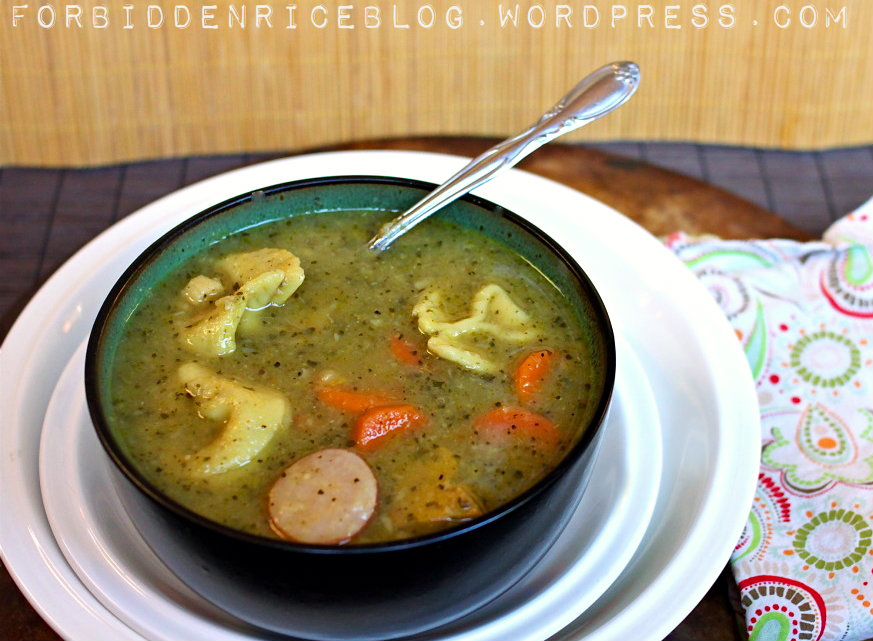 Chicken-Seitan, Tortellini, and Pesto Soup
Serves 8-10 people
Ingredients:
2 tbsp. olive oil
1 small leek, cleaned and chopped (tough green parts removed)
1 medium yellow onion, diced
3 cloves garlic, minced
2 cups parsnips, peeled and diced (about 3 small parsnips)
2 stalks celery, stringy parts removed, then diced
3 medium carrots, peeled and sliced in rounds about ¼-inch thick
3 cups Yukon gold or red potatoes, cut in cubes or bite-size rounds
10 cups No-Chicken broth *
12 oz. chicken-style seitan
2 tbsp. fresh sage, chopped fine
1 tsp. ground white pepper
½ tsp. ground coriander
½ tsp. granulated garlic
¼ tsp. celery seed
2 bay leaves
salt, to your liking
1 pound frozen cheese tortellini
* I love using No-Chicken broth in most anything. It's the best vegetarian store-bought broth out there (in my humble little opinion). If you can't find it, use vegetable broth. Truth be told, I used half homemade vegetable broth (with lots of cracked black pepper) and half No-Chicken broth, because that's what I had to go on.
Directions:
In a large stock pot, add the olive oil, chopped leeks, diced onion, and garlic. Cook over medium-high heat, stirring occasionally until the onions are translucent. Add the diced parsnips, celery, carrots, and potatoes. Stir to combine everything evenly. Add the chopped sage, pepper, coriander, garlic, celery seed, bay leaves, and a bit of salt (not too much – maybe a scant half-teaspoon – you can always add more later if the soup needs it). Cover and cook for at least an hour over medium-low heat.
Uncover the soup. Stir the soup and reduce the heat to low. Stir in the chicken style seitan and frozen cheese tortellini. Taste the broth and add more salt and pepper to your liking. If things have thickened up more than you like, add more broth. Cook, uncovered, for an additional 15-20 minutes over low heat until the tortellini float to the top of the pot (indicating that they're heated through).
Serve hot. Store refrigerated for up to three days.