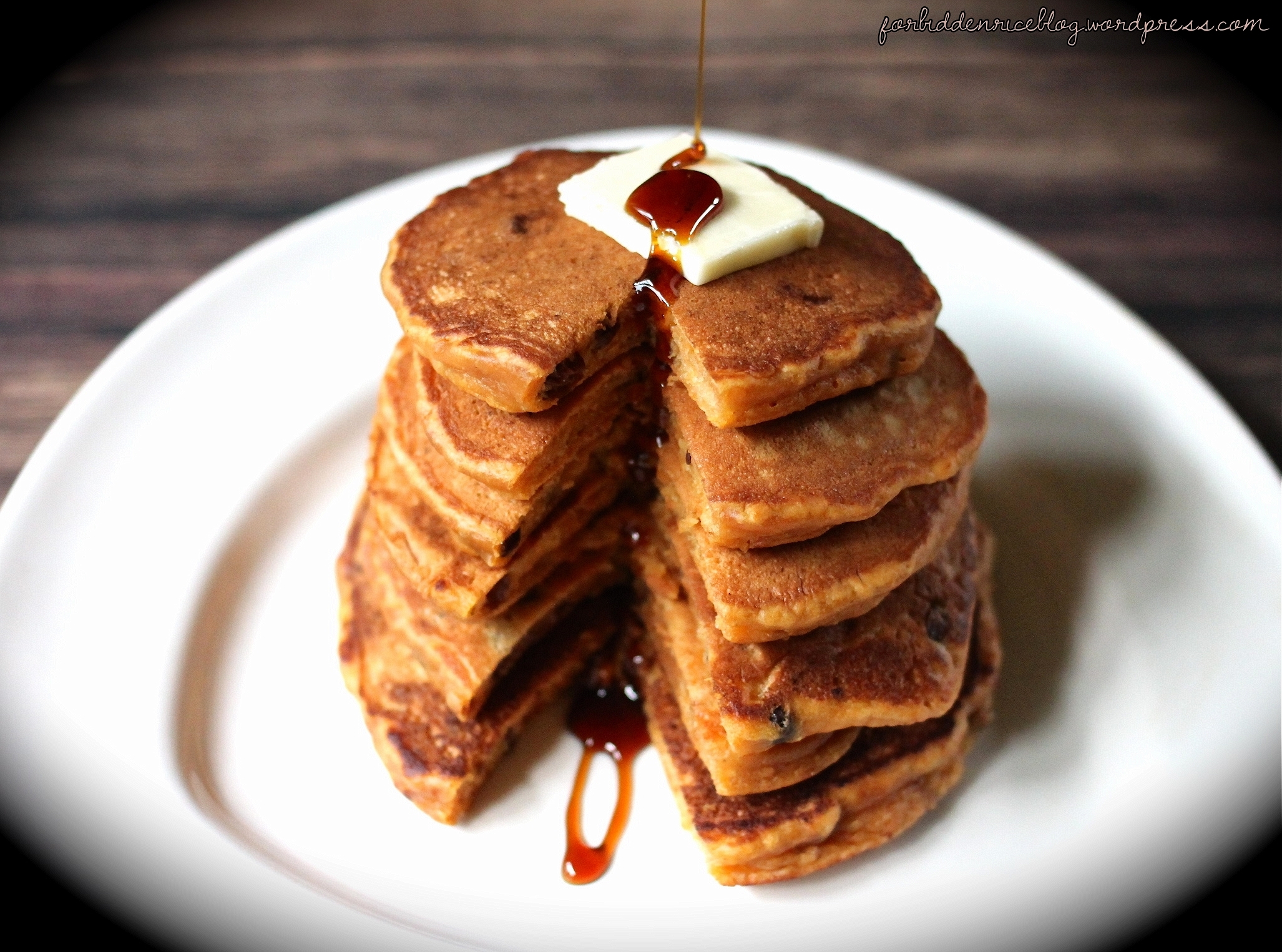 Today's Tuesday. We're two days into the work week. The last two days have brought breakfast for dinner. First, a breakfast burrito larger than my face. Then a pizza topped with hash brown potatoes, Soyrizo, eggs, pesto, and cheese. No big deal. It's no secret that I prefer my breakfast that way, anyway – after 6PM.
I made these carrot cake pancakes awhile back and really liked the flavor, but really did not enjoy the texture. The carrots still had a little crunch to them, which wasn't something my brain could logically make okay in a soft fluffy pancake (crazy brain syndrome). I've been making a lot of juices recently, most of which include carrots… which results in lots of carrot pulp. Carrot pulp, sans juice, is still filled with fiber and good-for-you antioxidants and minerals (here's an article with some good info). It made sense to me, to put it to use. On a whim, I decided to make pancakes incorporating this lovely pulp.
These pancakes are light and fluffy. The carrot pulp adds sweetness and a lovely hue. : ) Since the currants are soaked overnight, they're super tender and merely add little bits of sweetness throughout the pancake. This is a large recipe, but it can easily be cut in half! (No 1½ eggs here!)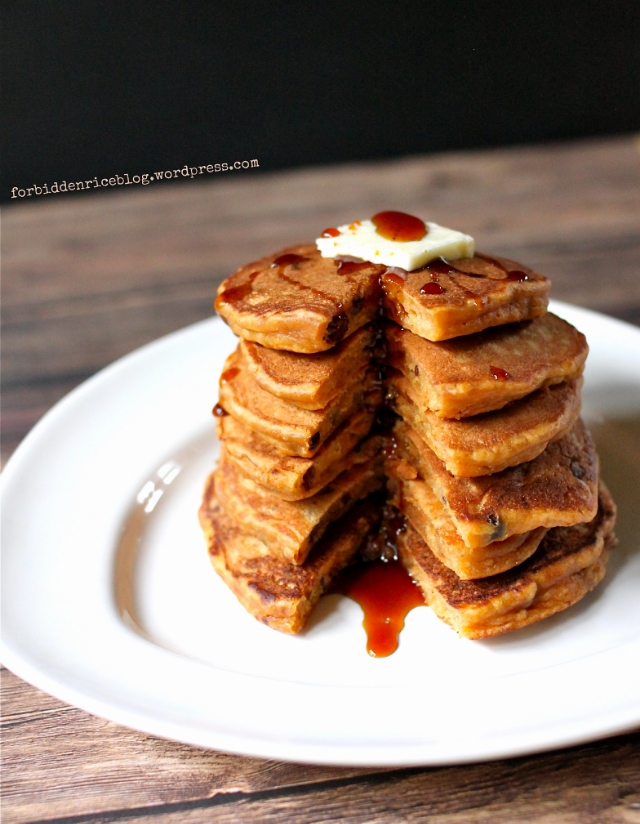 Carrot Cake Pancakes with Currants
Yields approximately two dozen 4-inch pancakes
Ingredients:
¾ cup dried currants, soaked overnight, then drained
2½ cups all-purpose flour
2 tbsp. baking powder
½ cup unrefined cane sugar
1½ tsp. ground cinnamon
¼ tsp. fresh ground nutmeg
¼ tsp. ground ginger
½ tsp. sea salt
2½ cups milk (whole, 2%, nonfat, non dairy – all OK!)
6 tbsp. light flavored oil (sunflower, canola, vegetable)
4 eggs
1 cup plain, unsweetened Greek yogurt
2½ cups carrot pulp, or finely grated carrots
oil, for cooking
Directions:
Preheat your oven to 200°F.
In a large mixing bowl, whisk together the flour, baking powder, sugar, cinnamon, nutmeg, ginger, and salt.
In another bowl or large measuring cup, whisk together the milk, oil, eggs, and yogurt until very well combined. Stir the wet ingredients into the dry ones, until just combined.
Fold in the carrot pulp and currants until thoroughly combined. Let the batter rest while you place a large griddle or skillet on your stove over medium-high heat. Lightly coat with oil or cooking spray. Once the pan is hot, spoon the batter onto the griddle, about ¼-cup per pancake.
Let the pancakes cook until the edges are slightly dry and bubbles appear on the uncooked surface. Carefully flip each pancake, cooking for an additional minute or two, until the second side is lightly golden brown and the center cooked (you can make a little cut in the pancake to see its doneness).
Keep the cooked pancakes in a covered skillet in your preheated oven until all the batter has been cooked.
Serve with warm maple syrup, softened butter, etc.
Please follow and like us: