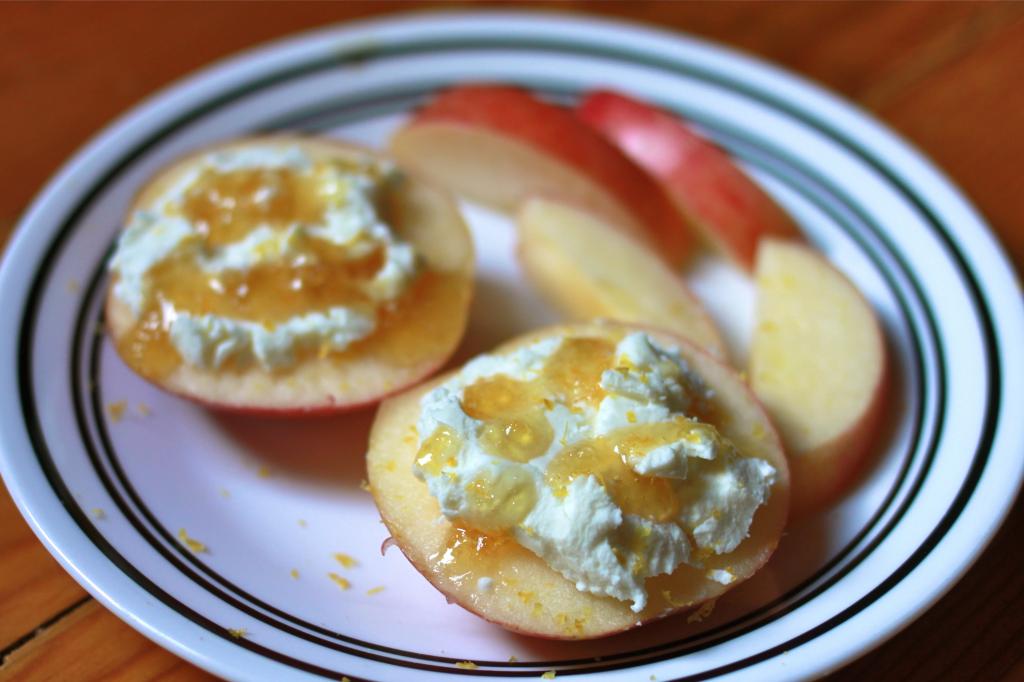 I'll admit – posting the following recipe absolutely feels like cheating. It's not fancy, it's not intricate, it's not labor intensive, or evenly remotely time consuming. But it's a delicious snack that I threw together out of sheer hunger…
Speaking of hunger, let's discuss and not discuss how I've been H-U-N-G-R-Y for the last few days. But not for just anything. Just breakfast (at all times of the day), burritos, and spinach salad (preferably with chèvre, dried cranberries, and toasted almonds, please).
Side note aside – I don't usually like to eat slices of apples. Maybe it's out of laziness. Eating apples means coring apples. Sigh. Dramatics aside, when the fruit bowl is down to just apples, you deal with it. I deal with it. I slice them up… then think of something more exciting that apple slices, or apple slices and peanut butter. Thus the following recipe.
The goat cheese is perfectly creamy and its tanginess works nicely with the sweetness of fuji apples (don't feel boxed into that – use whatever variety you like… although Granny Smiths may be too tangy). And the Meyer lemon zest? It's a touch of brightness in both flavor and color.
I'm not going to tell you how many apples (four) I ate in one sitting after eating them like this. Brace yourself.
Apple Halves with Chèvre and Honey
Serves 2.
Ingredients:
2 medium Fuji apples, cored and halved
2 oz. good quality chèvre
wildflower or orange blossom honey
zest from 1 Meyer lemon
fresh ground nutmeg
Directions:
Evenly spread the chèvre on the halved apples. Drizzle some honey over the goat cheese (as much or as little as you'd like, remember that the apples will already add sweetness and you can always add more honey if needed!).
Sprinkle the lemon zest and a tiny bit of fresh ground nutmeg over the top of each apple slice.
Enjoy ASAP.
Please follow and like us: