Do you ever have days where you'd like to demonstrate the "crotch chop" at the world and say, "Suck it!" as goes along with such an act? Yeah, I just said crotch chop. And suck it. In the same sentence. Perhaps it's because I grew up with brothers – one of which was very (very!) into pro-wrestling. Maybe it's because I know what those days are like. On days like that, cooking doesn't fall at the top of my priority list.
At the times in my life where I was responsible for feeding only myself, I ate a lot of cereal. It's easy to underestimate cereal for all meals of the day. I cooked a lot of chicken. Cereal and chicken don't add up very well, if you were wondering… Sometimes I would make a pancake. Singular, lonesome, face-sized pancake.
I recently grew curious about the dutch baby pancakes I see here and there. They've always struck me as overly fancy, dressed up, and surely not something I could make without having to work really hard… It turns out the dutch baby (or German pancake, as it's called at times) is very easy to make. It requires a blender, a cast iron skillet, an oven, and some ingredients. And even better than that – this fancy, custardy centered, crisp outside, pancake has the ability to turn a suck-it-day around with ease.
Somewhere between soufflé, pancake, and omelette, the dutch baby is delicious. It's lightly sweet and delicate. For this particular version, I added sliced apples and some spices. This makes enough for one filling meal, for one person… or should you feel like sharing, two small portions are manageable. Topped with fresh squeezed lemon juice and powdered sugar, this dutch baby is warmth, brightness, and sweetness. How can that not turn your day around?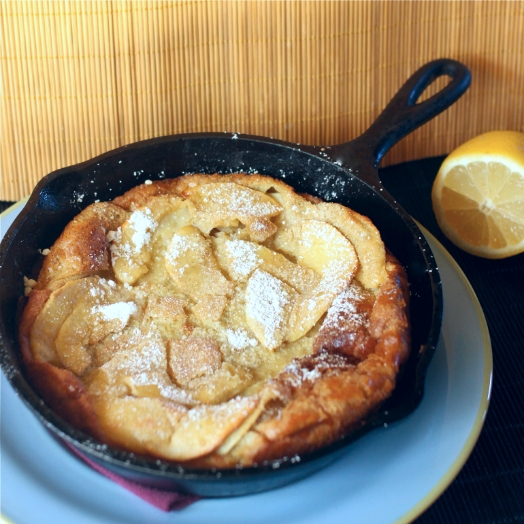 Apple Dutch Baby for One
May serve two, not as generously.
Makes one 6½-inch skillet-sized dutch baby pancake.
Ingredients:
2 eggs
½ cup whole milk
3 tbsp. unsalted butter, melted
½ tsp. vanilla extract
2 tbsp. unrefined cane sugar
¼ tsp. ground cinnamon
pinch of fresh nutmeg
pinch of sea salt
1 small fuji apple, cored and peeled
1 small lemon
powdered sugar
Directions:
Preheat oven to 425°F. Place a 6½-inch diameter cast iron skillet in the oven to preheat as well, for at least 20 minutes.
Thinly slice the peeled and cored apple. Remove the cast iron pan from the oven, which has been preheating. Add one tablespoon of the melted butter to the pan. Add the apples and stir to evenly coat them with the butter. Arrange the apple slices in a single, slightly overlapped, layer. Set aside.
Combine the eggs, milk, remaining two tablespoons of melted butter, vanilla, sugar, cinnamon, nutmeg, and salt in a blender or food processor. Blend until frothy (40-60 seconds). Pour the batter over your apples.
Bake until the pancake is puffed up and golden brown in color, 20-30 minutes.
Remove from oven and quickly squeeze 1-2 teaspoons of fresh lemon juice over the top of the pancake, then dust generously (and/or to your liking) with powdered sugar. Serve immediately.
* The pancake is going to collapse very, very quickly after coming out of the oven (and even more so when you drizzle the lemon juice over it). That's part of what makes a dutch baby so fun. You can eat it straight from your cast iron skillet, or use a small spatula to transfer the pancake to a plate.