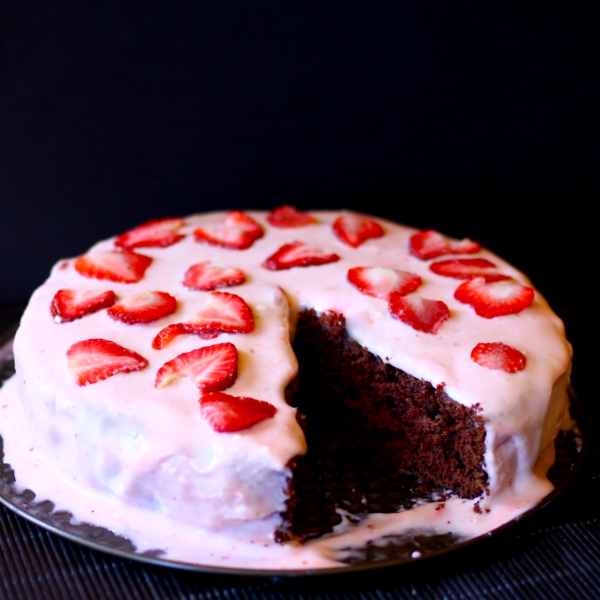 One of the most rewarding things I've learned from really delving into cooking is: mistakes happen. Not that I wasn't aware of this before. And certainly in the areas of life outside of the kitchen, I'm a mistake aficionado. Life happens. You mess up. By "you" I also mean "me," or "I." If you're like me, the f'ups probably happen over and over again. Sometimes over really stupid things – like forgetting to grease your pans before adding a delicate batter you so patiently and tenderly put together. Or turning the oven up 80-degrees more than you should've. Or grabbing a pizza from under the broiler with a dishcloth, only to set the whole damn thing on fire (yes, the towel… and the pizza). We aren't even going into non-kitchen related mistakes, because those are plentiful, too, but this is a food blog. (And mostly, I don't necessarily want to divulge ALL of my own stupidity for public viewing at the moment.)
I don't care how many years of education you have under your belt. Or how much time you've spent working in the hustle and bustle of a busy restaurant kitchen. Mistakes still happen. And when they do, you either reposition your intentions – your preconceived ideas – or you get out of the kitchen, feeling entirely defeated. I'll be honest, I've done both. I've gotten better about being flexible when I screw up, but it often comes with hesitation and curse words.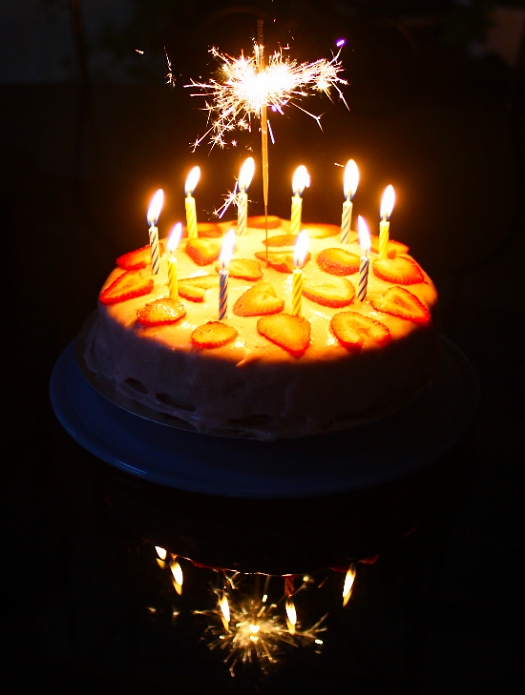 Last week, I decided to bake a birthday cake for our friend Gary. I made the following cake, which already has a place on this blog from two years ago, when I had the overnight responsibility of baking Silas's birthday cake. It's amazingly scrumptious. Chocolatey, rich, not overwhelmingly sweet, and so moist it almost pains me to think of not eating this cake at least every other week. Somewhere in my cake planning, I thought of the brilliant strawberries that are available right now, then decided that a strawberry mascarpone cream cheese buttercream frosting would be delicious with this chocolate cake.
Regardless of my careful efforts and mass planning, the frosting was an absolute FAIL. While it tasted amazing – creamy, sweet, light, not overwhelming – I couldn't get it to thicken enough to frost the cake. Especially not a two layered cake, which was the intention all along. First, I put one cake down, then added frosting, along with a thin layer of fresh strawberries. I added the second cake layer and it slid around, the frosting came oozing out from the center, and I said a LOT of f-words aloud. And may or may not have thrown a spatula at the sink. From across the room.
I'd like to say I gained my composure and went with the flow of where this situation was heading. But… I didn't. I separated the cake layers, scraped off all the frosting, then got teary eyed about the hours of work I was ready to throw in the trash. Then I frosted both single layered cakes, topped each with fresh sliced strawberries, stuck everything in the fridge to harden a bit. Then, with encouragement from my husband, two delicious single layered cakes were born out of one waaay-trashy looking two-layered cake. He said people work really hard to make something look like these one layered cakes! Plus in the category of flavor, these cakes were seriously not lacking.
Plus Gary appreciated the gesture, the cake, the sparkler. All was not lost over stupid frosting. And as they say, two cakes are better than one. And… if no one's said that, they certainly should.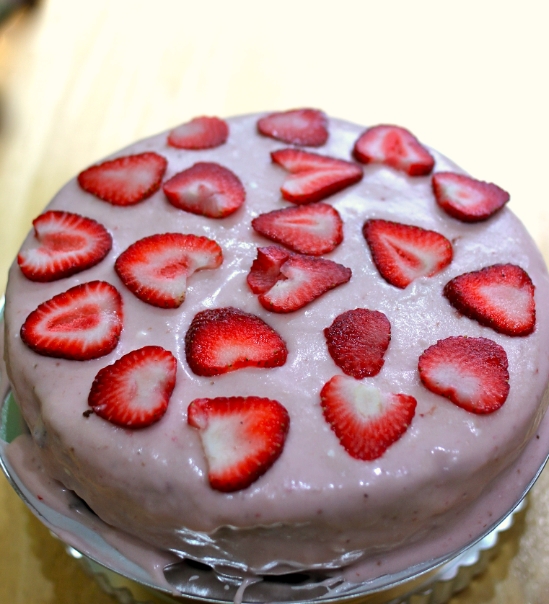 Rich Chocolate Cake
Yields one 8-inch, two layered cake. Or two single layered 8-inch round cakes.
Ingredients:
2½ cups packed brown sugar

¾ cup + 2 tbsp. butter, softened

3 eggs, room temperature
1¾ tsp. vanilla extract

2¼ cups all-purpose flour

½ cup + 2 tbsp. unsweetened cocoa

2½ tsp. baking soda

½ tsp. sea salt

1 cup sour cream, at room temperature (light is okay)

1 cup + 2 tbsp. boiling water
Directions:
Preheat your oven to 350° F. Lightly grease two 8-inch round cake pans. Place a round of parchment paper on the bottom of each pan, cut to fit exactly. Brush with oil, then dust the entire cake pan lightly with flour.
In a large bowl, cream the butter and sugar until light and fluffy. Add the eggs to the creamed butter/sugar mixture, one at a time, making sure each is fully incorporated before adding the next. Beat on high speed until the mixture is light and fluffy. Mix in the vanilla extract.
In a separate bowl, combine the flour, cocoa powder, baking soda, and salt. Sifting is ideal, but not necessary.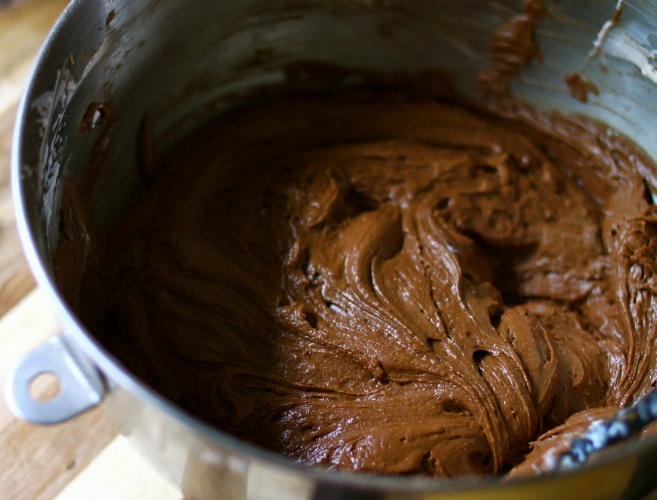 Alternate adding the flour mixture and the sour cream to your butter/sugar mixture. Mix on low speed until well combined. The batter will be quite thick at this point.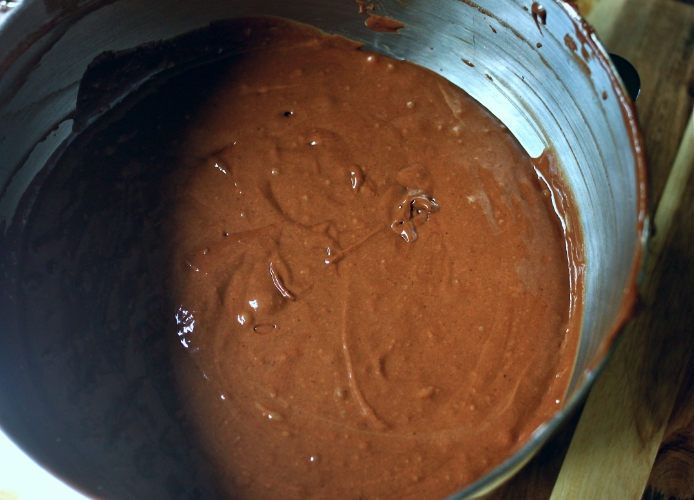 Stir the boiling water into the other mixture. This will thin out the batter almost instantly. Don't worry, you'll think you screwed the whole thing up, but it's supposed to do this. Pour the batter evenly into your prepared cake pans, filling each about 2/3-full. Don't over fill – this will certainly cause a collapse while baking! It's likely you'll have enough batter leftover for some cupcakes; bake them for 20-25 minutes. Bake the round cakes for 25-30 minutes, until a toothpick poked into the center of the cake comes out clean or with minimal crumbs attached.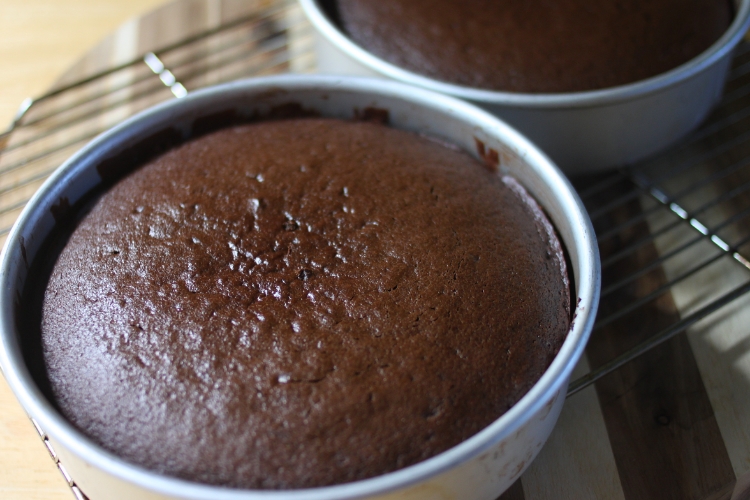 Cool completely, in pans, on a wire rack. Invert the cakes on a plate, then frost as you wish once the cakes are entirely cooled.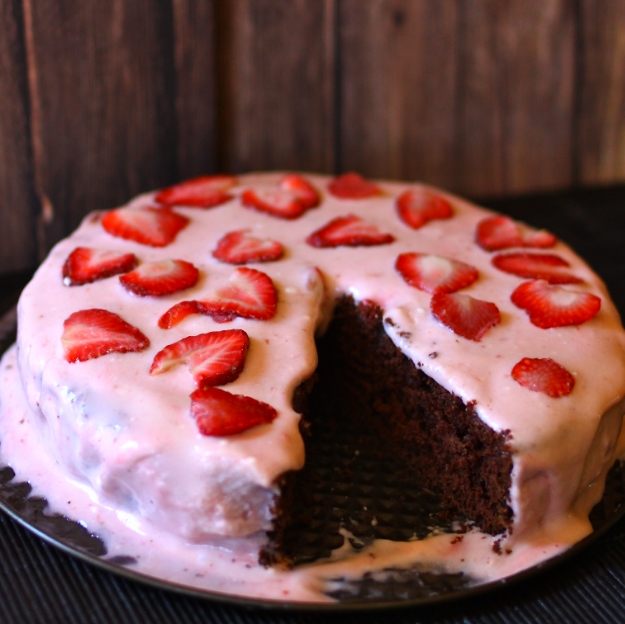 Seeing as the frosting part of this cake didn't turn out, I'll leave you with some suggestions for frostings that have worked for me in the past, which I think would work nicely with this particular chocolate cake:

This vanilla bean frosting would work.
Or this whipped honey buttercream.
Maybe this vanilla buttercream.
Feeling like chocolate? This chocolate buttercream is my favorite, hands down.