It's 4 o'clock in the afternoon. I've folded precisely seven loads of laundry, done the dishes four times since waking up, ran up and down the stairs in our house fifteen billion times, pulled weeds that will inevitably show up again tomorrow. I've worked my ass off at the gym, responded to x-number of e-mails, photographed three entirely different dishes, then edited five hundred photos down to eighteen. Somewhere in there, I think I had a shower. And figured out meals for the coming week.
But tonight? Tonight I would gladly have cold beer and slightly stale jalapeno cheddar tortilla chips for dinner. Of course not everyone appreciates beer and chips for a meal. And I'm certain it's illegal to feed kids such a dinner. It's those moments I'm grateful for having mastered (well, I'm working on mastering it… and things have certainly gotten better…) the art of winging-it-meals. The kind of meals where you dig around in the fridge and pantry, cross your fingers that you've got things like onions, garlic, and fresh herbs on hand.
Spaghetti is a good throw-together meal, vegetarian or not. True, I hated how often this thrown together meal happened when I was about 15 or 16 years old. Spaghetti three times a week is no way to live, Mom (just kidding, Mom. P.S. Return my phone calls. P.P.S. I'll call you this weekend if you don't return my phone calls. Offer or threat!). This isn't a typical spaghetti throw-together; however, it's still pretty simple.
We often have some kind of veggie meat on hand. Field Roast sausages are by far my favorite to keep around, because they're delicious… and can be as versatile as your creativity lends. This baked spaghetti mimics the flavors and ingredients of lasagna, with much less work. Field Roast Italian Sausage contains fresh eggplant, fennel, red wine, garlic and sweet peppers. Combined with the fresh herbs in the sauce you make this with, the dish is packed with flavor. For ease, eat it just on its own. For a rounder, filled meal, eat it alongside a good salad and The Pioneer Woman's killer bread, also referred to simply as The Bread (it does not skimp on butter, I'll warn you now, but DAMN, it's good).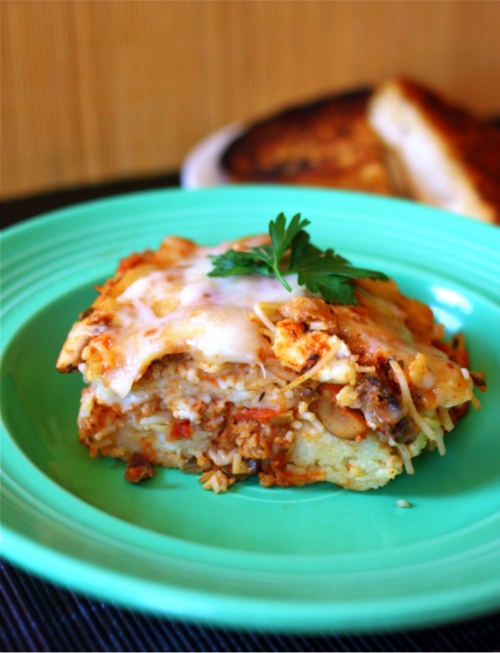 Baked Spaghetti with Italian Field Roast Sausage
Recipe adapted from Simply Recipes
Serves 8-10 people.
Ingredients:
1 lb vermicelli or thin spaghetti
2 tbsp. olive oil
12.95 oz. Field Roast Italian Sausage, roughly chopped
1 medium onion, chopped
6 cloves garlic, minced
¼ pound cremini mushrooms, sliced
½ cup fresh basil, chopped
¼ cup fresh oregano, chopped
¼ cup fresh parsley, chopped
½ tsp. red chili pepper flakes
1 tsp. salt
ground black pepper
one 28 oz. can fire roasted diced tomatoes (with juices)
1½ cups water
2 tbsp. olive oil, plus more for greasing the casserole dish
1 cup grated Parmesan cheese
2 eggs, lightly beaten
1 tbsp. granulated garlic
1 cup whole milk ricotta cheese
1 cup shredded sharp cheddar cheese
2 cups shredded mozzarella cheese

Directions:
Bring a large pot of water to a boil over high heat. Add a generous amount of salt. As the water comes to a boil, proceed with the recipe:
Heat two tablespoons of olive oil in a saucepan, over medium-high heat. Add the chopped sausage, onion and garlic. Cook until the sausage is lightly browned and the onion, tender.
Add the mushrooms, basil, oregano, parsley, chili flakes, salt and a reasonable amount of black pepper. Stir to combine everything, cooking until the mushrooms release most of their liquid, shrinking down to half their initial size. Add the tomatoes and water, again stirring to evenly combine everything. Continue cooking, reducing the heat to a low simmer. Cook for 15 or so minutes, while you're preparing the pasta.
Once the water (from step one) has reached boiling, add the pasta and cook, uncovered for 4-6 minutes, until the noodles are cooked al dente. Once the pasta is cooked, drain it in a colander and run under cold water, to prevent further cooking.
Return the pasta to the cooking pot. Add in the remaining olive oil, along with the grated Parmesan, eggs, and granulated garlic. Toss to evenly coat (using your hands is easiest).
Preheat your oven to 350°F. Lightly grease a 9 x 13-inch dish with olive oil. Spread about one cup of the sauce on the bottom of your prepared pan. Spread half of the pasta over the sauce, followed by half of the remaining marinara sauce. Dot all of the ricotta cheese over the sauce, followed by half of the cheddar and half of the mozzarella. Layer the remaining pasta, then sauce, then cheddar and mozzarella.
Cover the dish with foil then bake for 40 minutes. Remove the foil and return the dish to the oven for 20 more minutes, uncovered. Allow the baked spaghetti to rest for 10 minutes before cutting into squares and serving, hot.