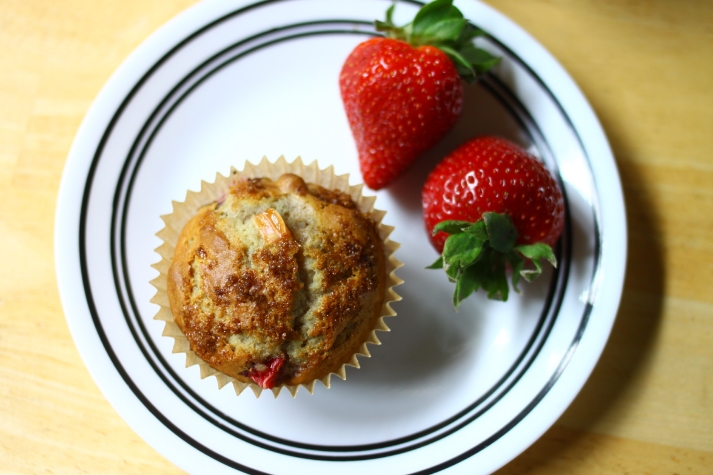 Some days require baking for sanity purposes. I almost opted for pie when I found myself hoarding strawberries and rhubarb. I decided I wanted to use similar flavors, but in a fluffier, softer sense. These muffins are very lightweight. They're sweet, tender, moist, tasty!
I love to incorporate apples with strawberries and rhubarb both. Its sweetness balances the tartness of rhubarb wonderfully. There's a large unpredictability when it comes to store-bought strawberries. The apple works nicely with the sweetness of the berries, but if the strawberries turn out to be more sour than sweet, the apple still offers great balance.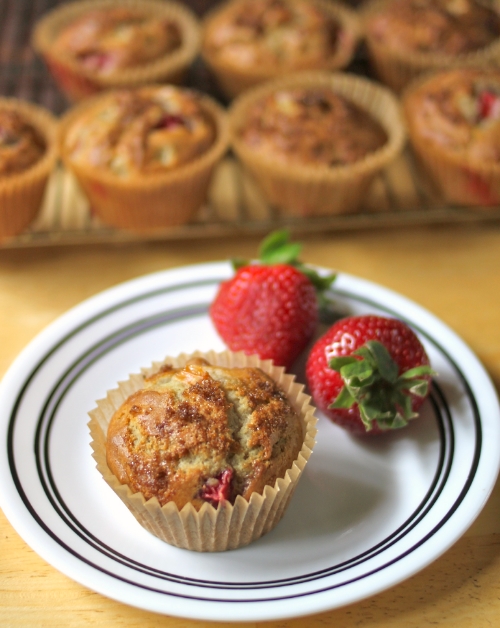 Strawberry Apple Rhubarb Muffins
Yields about 18 average sized muffins
Ingredients:
2 cups all-purpose flour
1 tsp. baking powder
1 tsp. baking soda
½ tsp. salt
¼ tsp. fresh grated nutmeg
¼ tsp. ground cinnamon
¼ cup (4 tbsp.) unsalted butter, softened
¼ cup vegetable oil
½ cup cane sugar
1 egg
6 oz. vanilla yogurt (I used soy yogurt)
½ tsp. almond extract
¾ cup rhubarb, chopped into small bite-size pieces
¾ cup honeycrisp apples, diced small
1 cup fresh strawberries, diced small
dark brown sugar (about ¼ cup)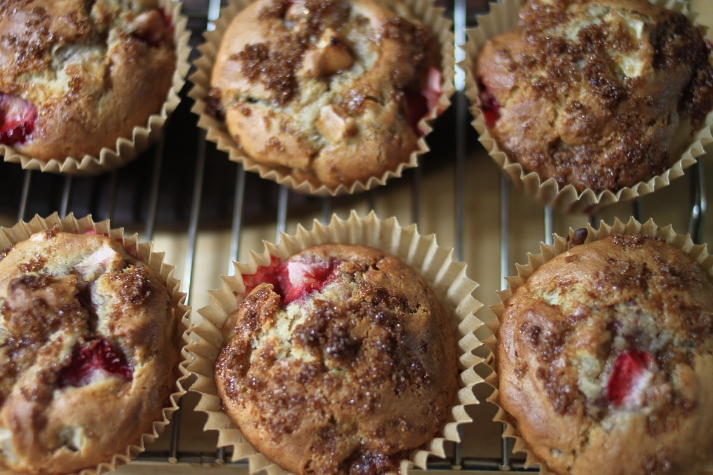 Directions:
Preheat your oven to 425°. Line your muffin tin with paper liners, or lightly grease with oil. Set aside.
Whisk the flour, baking powder, baking soda, salt, nutmeg and cinnamon in a bowl until evenly blended.
In the bowl of your stand mixer, add the butter, oil, and sugar. Cream together until light and fluffy (2-3 minutes).
Add the egg, yogurt, and almond extract to the butter mixture. Mix at a medium-high speed until thoroughly combined, but still light and airy. Add the flour mixture until just combined.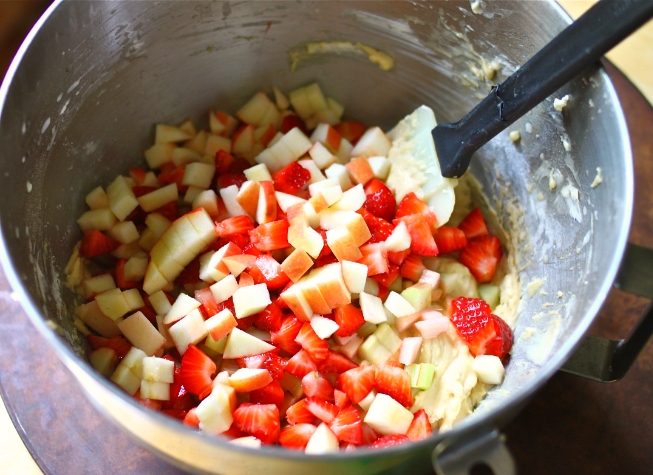 Use a wooden spoon or spatula to fold the rhubarb, strawberries, and apples into the batter, just until incorporated.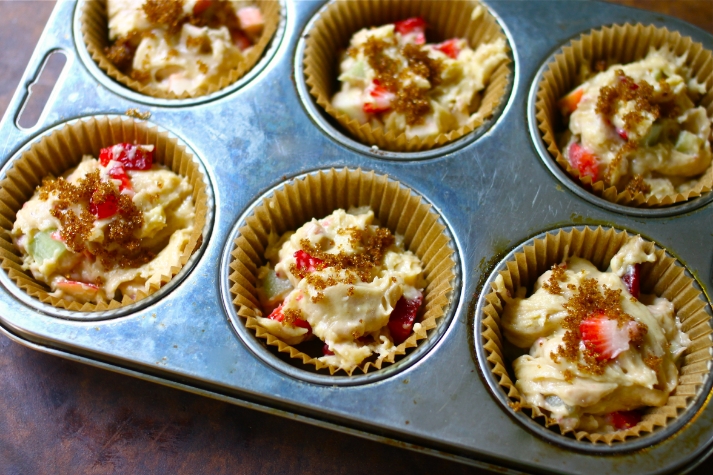 Spoon the batter into you prepared muffin pan, filling each up about two-thirds full. Sprinkle the top of the batter with a small pinch of the dark brown sugar.
Bake for 12-14 minutes, until golden brown and a toothpick inserted in the center comes out clean.
Transfer to a cooling rack, but feel free to begin eating as soon as you can handle the muffins.