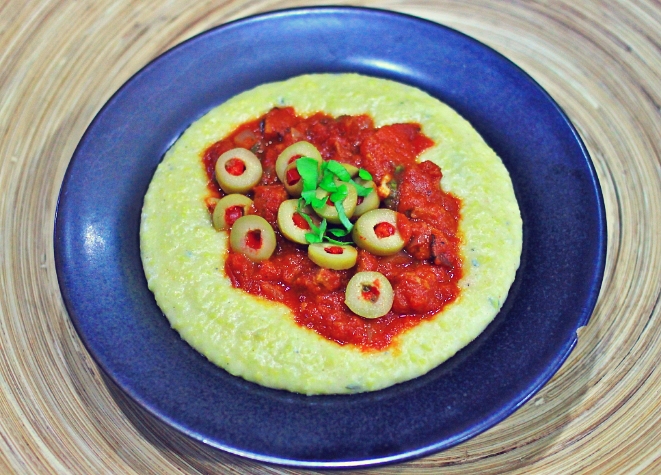 I fully believe in putting care, intent and thought into everything I cook. That doesn't mean I need to make an overly elaborate multiple course dinner every night, or that the meal must consist of an exhausting list of ingredients. Sometimes simplicity is both desired and necessary, but still provides a filling meal that nourishes on multiple levels. Loving attention can go into something as careless seeming as frying an egg, buttering a piece of toast, and combining the two with a sprinkling of salt, pepper, and fresh chopped basil.
When I was in college, I took some Native American studies classes. Towards the end of one particular term, we were asked to contribute a dish, potluck style, for the pow-wow being held here in the Rogue Valley. My professor emphasized how important it was to prepare the food with love in our hearts and clear intent while creating a dish to be shared, as all of that intention, emotion and feeling would be transferred into the final product. Ultimately we were placing ourselves into everything we created, with the purpose of nourishing our entire community. I loved the concept and have approached cooking since then in the same way as often as I can.
As I said, you can create something filled with love, with an appreciation of the ingredients, no matter what it is you're making. Even a peanut butter and jelly sandwich! When I created the following dish, I wanted something comforting, filling, warming, without having to go to the grocery store. The ingredients are pretty straightforward, filled with things I happen to have on hand most of the time. The creaminess of the polenta works nicely with the slight sweet, spiciness of the sauce. The time that goes into preparing this isn't over the top, which makes it easy for a midweek dinner. Leftovers? They heat up nicely and taste even better the second day.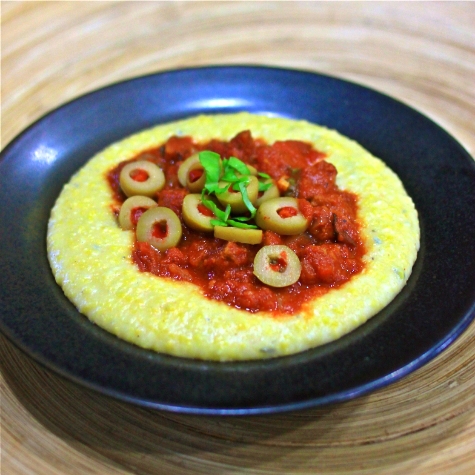 Bleu Cheese Polenta with Spanish Chorizo Sauce
Serves 2-4 people.
Ingredients:
For the polenta:
4 cups No-Chicken or vegetable broth
2 cups whole milk
4 tbsp. unsalted butter
1 tbsp. granulated garlic
1½ tsp. salt
½ tsp. fresh ground black pepper
¼ tsp. cayenne pepper
¼ tsp. dried mustard powder
1½ uncooked polenta
4 oz. gorgonzola cheese
For the sauce:
¼ cup olive oil
1 small sweet onion, diced
4 cloves garlic, minced
2 Field Roast chipotle sausages, chopped
1- 28 oz. can fire roasted crushed tomatoes
½ cup roasted red peppers, chopped
¼ cup fresh chopped oregano
¼ cup fresh chopped basil
2 tbsp. smoked paprika
½ cup green olives, sliced (optional, but highly recommended)
Directions:
Prepare the polenta: Combine the broth, milk, butter, garlic, salt, pepper, and mustard powder in a large pot. Whisk to combine. Turn the heat on to medium high and bring the mixture just to boiling.
Whisking constantly, pour the polenta into the liquid in a steady stream. Quickly reduce the heat to the lowest setting your stove allows, stirring frequently until the mixture thickens (30 or so minutes). Stir in the gorgonzola until fully melted. Cover, keeping on low heat, still stirring occasionally.
While the polenta cooks, prepare the sauce: Heat the oil in a saucepan over medium-high. Add the diced onion, garlic, and chopped chipotle sausages. Stir to combine, cooking until the onion is translucent and tender (8-10 minutes).
Add in the crushed tomatoes, chopped red peppers, oregano, basil, paprika, and olives if you're using them. Stir to evenly mix everything. Reduce the heat to medium and allow the sauce to cook for 10-15 minutes, until it slightly thickens.
To serve: Scoop the polenta into bowls, then top with a spoonful of the sauce. You can top the dish with additional sliced green olives or fresh herbs if you'd like.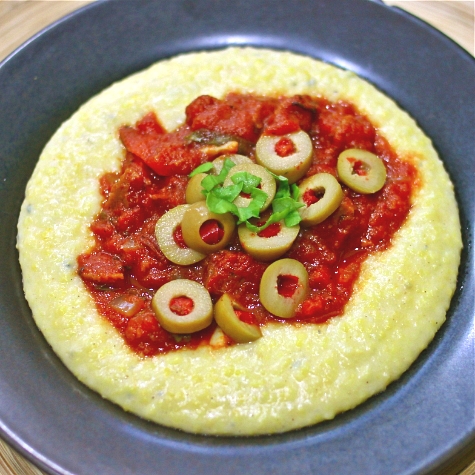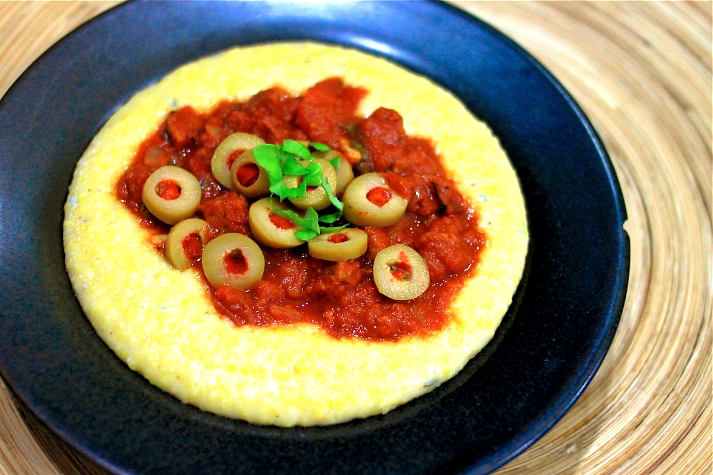 Please follow and like us: