It's officially summer around here. While I enjoy long summer days, filled with sunshine at 5:30 AM well until after 8 PM, already that time is flying by.  I'm looking forward to meals that don't involve heating my kitchen, or standing at the stove trying to decide whether to leave the windows closed or open, whether it's hotter in the kitchen or outside. A toss-up these days.
I'm not complaining. Summer means sitting on my front porch to drink my first cup of coffee, wondering if I'll get a sunburn at 9 in the morning? It means bare feet in long grassy parks. It means swimming in the lake with our dogs. It means picking dinner straight from the garden. It means iced adult cocktails and warm evenings that stay light out past what would've been kid-bedtime just days prior. Summer is blue skies for miles and miles, breezy skirts and shorts that unfortunately seem to get shorter the older I get (much to my dismay). This year summer may mean homemade ice cream, homemade pickles, and raw veggie sauces. Summer is too hot for covers, sleeping with the windows open and listening to the late night hustle and bustle of this downtown summer town.
The oncoming summer has also brought peaches to our grocery co-op, an array of fresh peppers I like to examine every time I walk past them. There has already been super sweet watermelon, bright sweet mangoes (even if they don't come from Oregon and serve mostly as nostalgia for my tropical upbringing). Let's get into sweet corn, too while we're at it. And snap peas. I love sugary snap peas. The flavors of this time of year and the open-endedness of summer days easily inspires new dishes to prepare.
I don't know where the idea for this seitan came from, but I'm glad it did. The sauce is thick, spicy, sweet, tangy, HOT. But I assure you it was also 7-year-old approved, with a side of coconut rice and vanilla rice milk to drink, both serving to calm the spiciness. When you bake the seitan, then slowly allow it to cook further under the broiler, it's texture becomes very similar to actual meat. It's chewy, it also falls apart in your mouth, it's slightly charred along the edges, and it's got some "pull," much like real barbequed meat. You don't have to be vegetarian to enjoy this. I imagine the sauce would be delicious on tofu, tempeh, or even light, mild fish. It's definitely a new addition to our go-to sauces.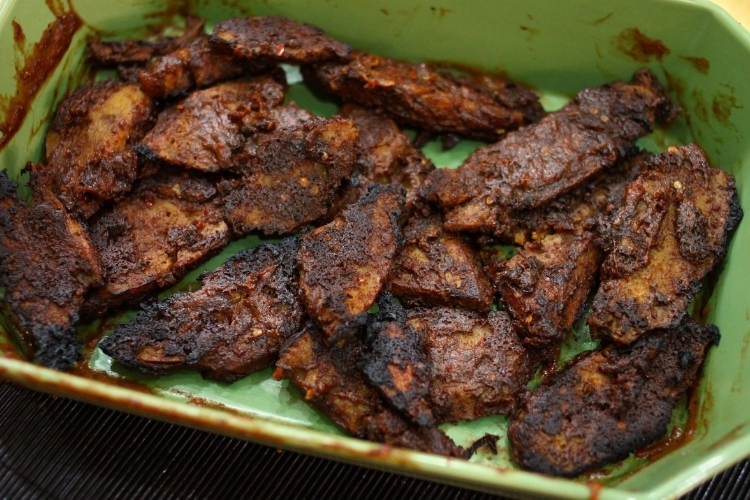 Jamaican Jerk Seitan
Serves 4-6 people.
Ingredients:
¼ cup malt vinegar
5 green onions
4 cloves garlic
½ cup fresh hayden mango, cut into chunks (1 medium mango)
1 tablespoon fresh chopped thyme
2 cherry bomb peppers or 1 habanero *
1½ tablespoons soy sauce
1 tablespoon olive oil
2 teaspoons ground allspice
2 teaspoons ground ginger
2 teaspoons ground cinnamon
1 teaspoon salt
1 teaspoon nutmeg
1 teaspoon ground black pepper
1 teaspoon dark brown sugar
½ cup ketchup
1 pound seitan (NOT ground seitan) **
zest from one lime
¼ cup fresh squeezed lime juice
oil
* Remove the seeds and ribs from the peppers for less spice. I left them in and thoroughly enjoyed the heat within this sauce.
** I prefer making my own seitan to any of the store bought versions. I used my chicken-style seitan for this recipe and simply cut it into cutlets about ¼-inch thick.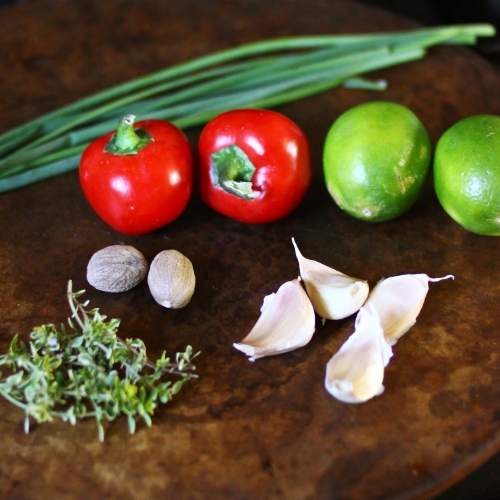 Directions:
In a food processor or high-speed blender, combine the vinegar, green onions, garlic, mango, thyme, peppers, soy sauce, oil, allspice, ginger, cinnamon, salt, nutmeg, black pepper, and brown sugar. Blend until completely smooth (3-5 minutes).
Stir the ketchup into the sauce, until completely combined.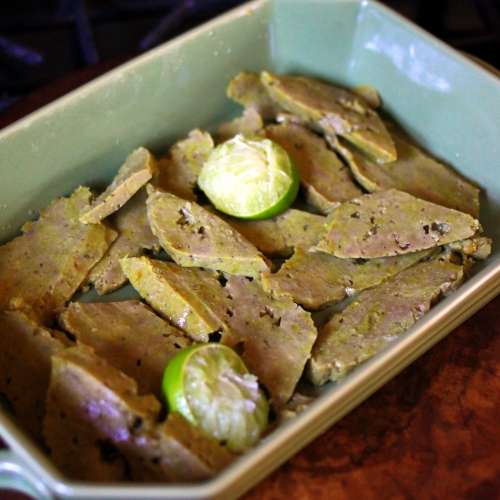 Arrange the seitan in a large, rimmed dish. Squeeze the lime juice all over the seitan, rubbing it, and the lime zest, into the seitan, using your hands.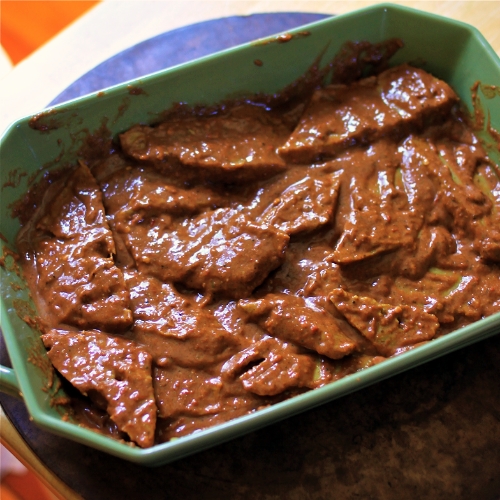 Reserve about a ½-cup of the sauce, then pour the rest over the seitan cutlets, turning them to coat both sides. Cover and allow the seitan to be refrigerated at least one hour, up to 24 hours.
Once the seitan has been refrigerated, preheat your oven to 375°F. Lightly oil a large sheet pan. Place the seitan on your prepared pan, arranging them in a single layer. Bake for 20 minutes. Brush the seitan with some of the sauce you set aside earlier, then flip the cutlets and bake for another 20 minutes.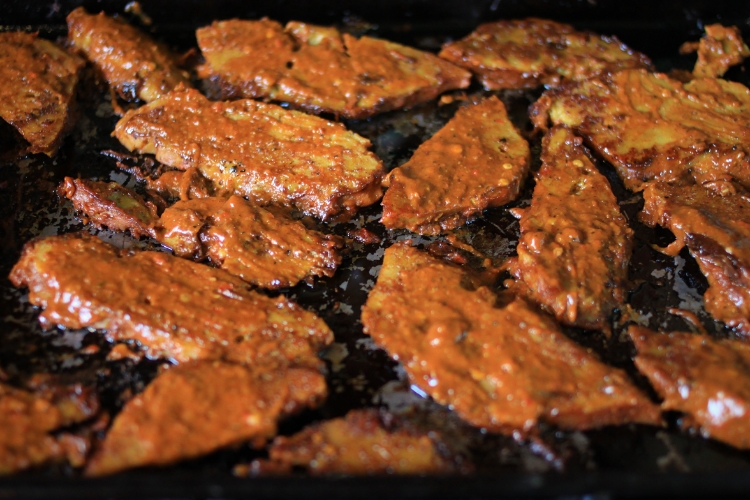 Brush the top of the seitan with more of the remaining sauce. Turn your oven on to broil, at the highest temperature you can get, making sure the rack in your oven is on the shelf closest to the broiler. Let the seitan sit under the broiler for 1-2 minutes, then brush with more sauce, flip, and return to the broiler for another 1-2 minutes.
The seitan should char a little on the edges. If it hasn't by this point, just keep repeating the previous instructions until it does.
Serve hot with steamed rice and/or the vegetables of your choosing.