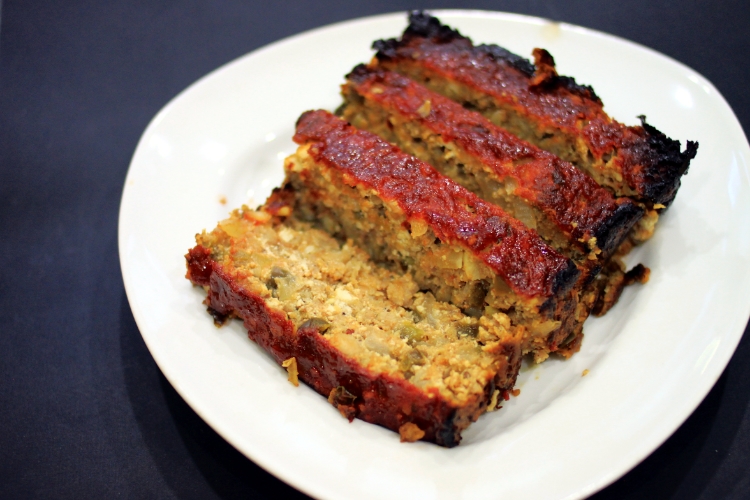 I'm sure meatloaf gets a bad rap because, well, the term "meatloaf"  isn't exactly sexy. What the term does do, however, is describe precisely what it is – ground meat shaped into a loaf (P.S. "loaf" is also unsexy sounding all on its own). It's not exciting. It's not classy sounding. Let's be real – the term meatloaf also doesn't exactly scream, "EAT ME!" But… truth be told, I have loved meatloaf anytime I've had it. My mom would occasionally make either ground beef or ground turkey meatloaf, always topping it with strips of bacon (my favorite part as a kid). I've had delicious buffalo meatloaf here in Ashland. However, I don't believe I've ever made such a thing myself.
When I decided to make a creamy mac and cheese a while back, I was wracking my brain for what to serve with it. I knew I wanted to stick with comfort food of some sort, but didn't want something soft like mashed potatoes (despite Silas's request), or something else heavy in carbohydrates. Meatloaf suddenly sounded like comfort, but with varied flavor and texture for the meal. I decided to use Lightlife's Gimme Lean vegetarian sausage as the base for this meatloaf. I added high-protein extra firm tofu as well, mostly to add a little more bulk to the meatloaf. Aside from these vegetarian changes, the spices and flavorings are quite traditional.
Gimme Lean has no fat to it, unlike actual animal meat, however with the tofu certainly adds some moisture to the finished product, creating a tender but very flavorful meatloaf. Silas ate two servings. While he eats vegetarian during his time with us, he does enjoy meat in his diet. He said this meatloaf was delicious and he couldn't even tell it was vegetarian!  Neither will you and you certainly won't be disappointed, either!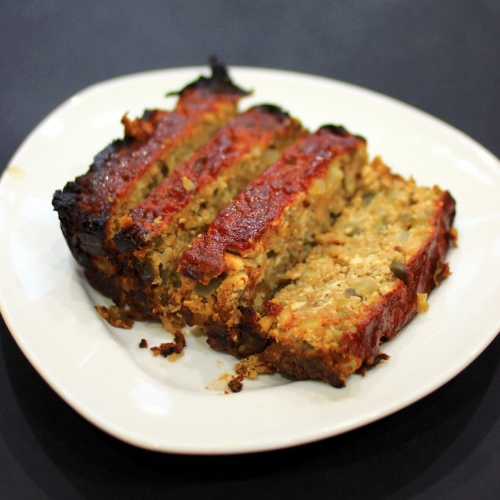 Vegetarian Meatloaf
Serves 4-6 people.
Ingredients:

3 tbsp. olive oil
1 large onion, diced
1 large green bell pepper, seeded and diced
4 cloves garlic, minced
8 oz. extra firm tofu – pressed for 30 minutes
1 14-oz. tube Gimme Lean Sausage
1 egg, lightly beaten
1 ½ cups fresh bread, diced into small cubes (½-inch x ½-inch)
1 tbsp. vegan worcestershire sauce
1 tsp. liquid smoke
1 tsp. sea salt
½ tsp. ground fennel seed
½ tsp. granulated garlic
½ tsp. ground black pepper
¼ tsp. celery seed
¼ tsp. smoked paprika
½ cup ketchup

Directions:
Preheat your oven to 425°F. Lightly grease a 9×5-inch loaf pan, then set it aside until needed.
In a skillet, heat the oil over medium-high heat. Add the diced onion, bell pepper, and garlic. Saute until the onion is translucent and the bell pepper is tender. Remove from heat and let the mixture cool.
Meanwhile, in a large bowl, combine the firm tofu and Gimme Lean. Use your hands to crumble the tofu and sausage together. Add the beaten egg and mix it into the tofu-Gimme Lean crumbles. Add the breadcrumbs, worcestershire sauce, liquid smoke, salt, fennel, garlic, pepper, celery seed, paprika, and half of the ketchup. Use your hands to mix everything together until well combined.
Press the mixture into your prepared loaf pan, evenly. Spread the remaining ketchup on the top of the meatloaf, then bake for 50 minutes, until the meatloaf begins to pull away from the side of the pan and the ketchup topping is nicely blistered.
Let the meatloaf rest for 10 minutes (outside of the oven) before cutting into 1½-inch slices. Serve hot, with your favorite side-dishes.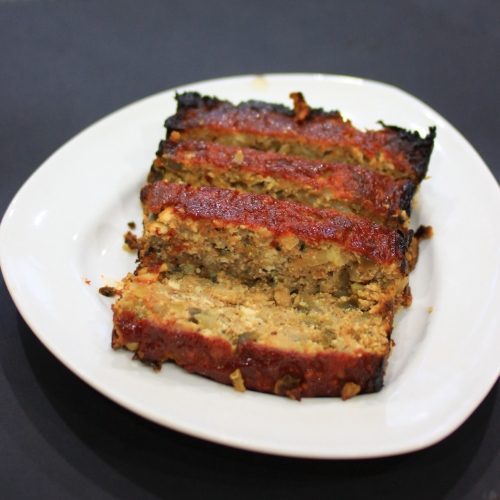 Please follow and like us: