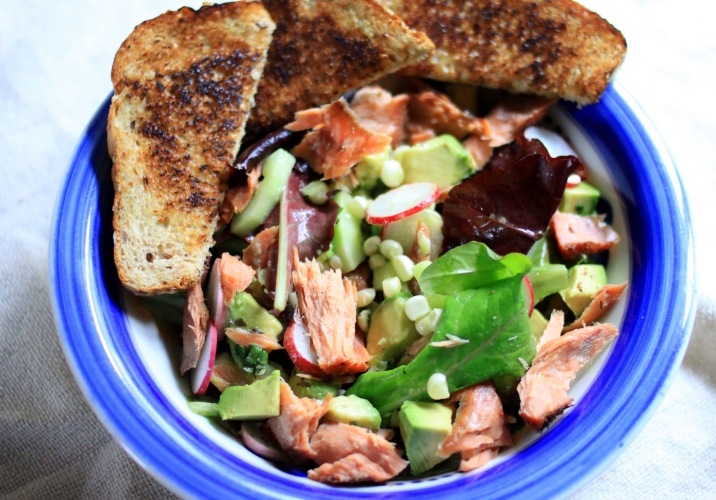 Sometimes a girl eats too many doughnuts for her birthday. Then chases them down with extravagant fru-fru cocktails, copious amounts of amazing sushi, and inevitably, birthday cake to round it all out. Sometimes the next day, that girl says, "Damn. I need to eat a salad." ("…Good thing we ate ALL the doughnuts yesterday so I can't have any post-salad consumption…")
I am often embarrassed by the fact that salads are one of the few things that seems to befuddle my recipe-brain. How hard is it to throw together vegetables, dressing, maybe fruit, maybe seeds and nuts? Not that difficult. It's the flavor combinations and textures that get me all woozy feeling. (Reaching for unmentionable glazed baked goods as a cure.) However, I will tell you – having a garden filled with organic greens and goodies is allowing me room to experiment more than I probably would otherwise. It's fun (and satisfying) to be able to say, "Oh hey – I grew that! And damn it tastes good!"
My salad eating habits are borderline weirdo. Typically, I do not like salad dressing. I prefer carrots and cucumbers to be cut certain ways in order for me to eat them. Tomatoes? The seeds have to be removed or they aren't getting into my salad. Luckily, these tendencies have lightened up in the last few years. I'll throw random things together, add different textures and flavor, then name it salad. So long as there are green things in it.
The following salad ending up being a two person dinner. It was sweet, savory, filling. Eaten with some toasted, buttered bread, it was a nice light meal.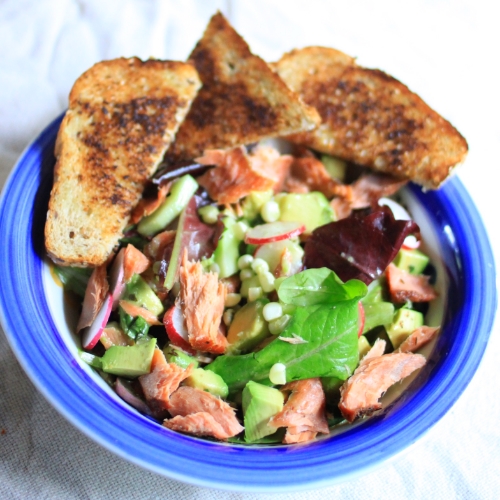 Smoked Salmon Salad with Lemon Basil Vinaigrette
Serves 2 (dinner salad) – 4 (side salad)
Ingredients:
6 oz mixed greens (I used arugula, spinach, and baby romaine)
½ cup fresh sweet corn kernels (about 1 large ear, or 2 smaller ears of corn)
4-6 radishes, thinly sliced
½ a small cucumber, cut in half then thinly sliced
1 small avocado, peeled and cubed
⅓ pound hot smoked salmon, broken into bite-sized chunks *
* Hot smoked salmon is different than the cold smoked salmon that results in lox-like smoked fish. I use a brand that is semi-local, but feel free to use whatever variety is available to you. I've heard rave reviews of Cap'n Mike's alderwood smoked salmon, if that interests you!
3 tbsp. grapeseed oil
3 tbsp. rice vinegar
3 tbsp. fresh lemon juice (about 1 small lemon)
3 tbsp. fresh basil, finely chopped
salt and fresh cracked black pepper
Directions:
In a medium-sized glass jar with a lid, combine the oil, vinegar, lemon juice and basil. Cover, then shake until completely combined. Taste, then add salt and pepper to your liking. Shake right before using.
Gently toss the greens, sweet corn, sliced radishes, cucumbers and half of the dressing . Use your hands or tongs to toss the salad until everything is coated evenly.
Place the vegetables on two serving plates, along with the salmon and avocado evenly arranged on each salad. Drizzle the top of your salads with the remaining dressing and serve immediately.