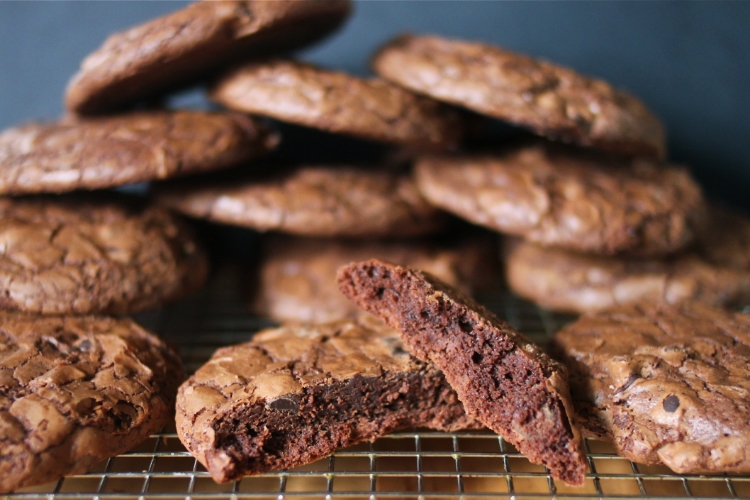 We are coming back from nearly a week of traveling. Literally, as I write this, we are on I-5 heading north to Oregon from California. (Aah, the benefits of technology. Blogging from the backseat of our truck cab? Ridiculous.) That said, traveling means I haven't touched the kitchen in a week. Save for hanging out with our dogs and being barefoot in our garden (although I hear it's 100+ degrees in Ashland), it's the one thing I've been missing.
Traveling means eating out a lot. We had some great meals on this trip, which I'll share with you soon. One of my favorite things to do while out of town is to scour Yelp and Urbanspoon for restaurant recommendations. The more local, the better. The places where lines wrap the block to get in, or tables are a scarce commodity – those are top priority. Of course I read through the reviews to see what is notoriously ordered or very adamantly avoided. Sometimes I'll come across a certain eatery that catches my attention, even if it's nowhere near anywhere I am geographically located. Then I find them on Yelp to learn more. That's where I first heard of Dahlia Bakery in Seattle, one of restaurateur/chef/James Beard Award winner/author Tom Douglas's restaurants.
I remember seeing this recipe from the Dahlia Bakery Cookbook popping up around blogs I follow, or on Pinterest, finding myself immediately intrigued. When I read chocolate truffle cookie how could I not be instantly attracted? And the whopping two pounds of chocolate that go into this cookie dough? Three different forms of chocolate in one recipe? Oh man. And the final cookie didn't disappoint. A cross between cookie, brownie, and truffle candy, this is so over-the-top deliriously good. My favorite cookie to date. The dough is pretty easy to work with. Soft, pliable, and rich at first, it'll quickly begin to harden the longer it sits so you want to be sure to work quickly portioning it out as soon as it's made (no need to stress – this is easy to do).  The only issue, really, is having enough self control to limit your cookie consumption.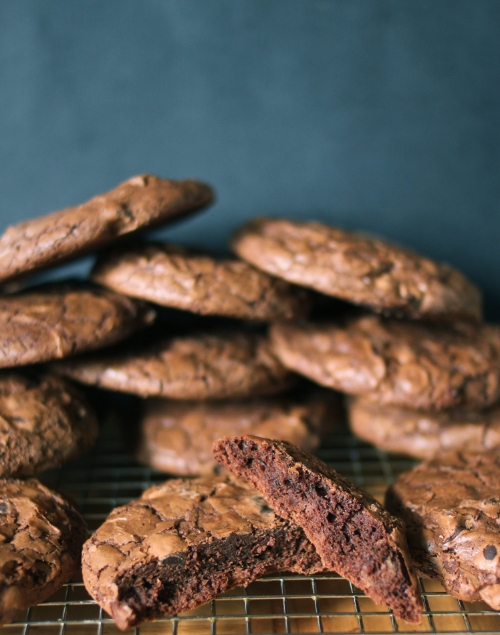 Chocolate Truffle Cookies
Yields approximately 3 dozen 3-inch round cookies.
Ingredients:
1¼ cups all-purpose flour
3 tbsp. unsweetened cocoa powder
½ tsp. baking powder
½ tsp. salt
20 oz. good quality bittersweet chocolate, broken into chunks
1¼ sticks of unsalted butter, softened
2 cups unrefined cane sugar
6 eggs, room temperature
12 oz. good quality bittersweet chocolate chips
1 tbsp. pure vanilla extract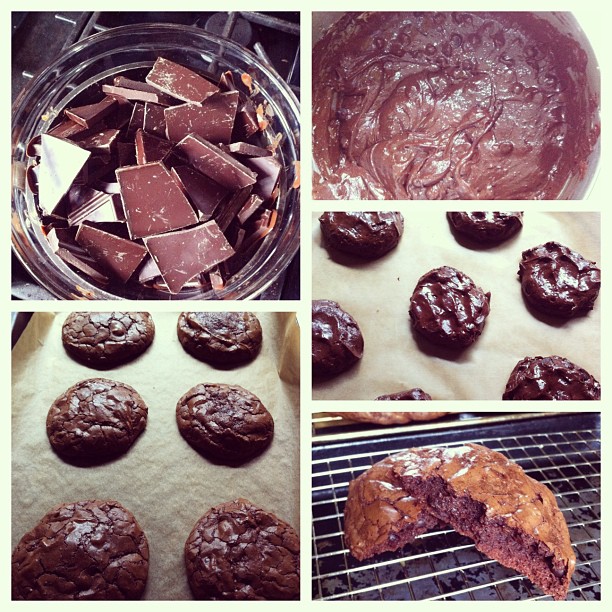 Directions:
Preheat your oven to 350°F and line 3-4 baking sheets with parchment paper.
In a bowl, sift the flour, cocoa powder, and baking powder together. Stir in the salt, then set aside.
Place the chunks of bittersweet chocolate into a heatproof bowl over a saucepan of very hot, simmering (not boiling) water. The bottom of the bowl should not actually touch the water. Occasionally stir the chocolate until it's melted and smooth. Remove from heat and let the chocolate cool for 5-10 minutes.
Combine the sugar and softened butter in the bowl of your electric mixer. Use the paddle attachment to cream the butter and sugar together over medium speed until well combined. Add the eggs, one at a time, continue to mix on medium speed until each egg is fully incorporated before adding the next.
Increase the speed of your mixer to high, then beat for 3-5 minutes, until the mixture is very light, pale in color, fluffy, and glossy. Scrape down the sides of your bowl as needed.
Add the melted chocolate and vanilla extract to the mixture, until just combined (30 seconds – 1 minute with the paddle attachment of your mixer). Remove the bowl from your stand mixer, then use a rubber spatula to mix in the dry ingredients until just combined. Don't overmix or the cookies will be tough. Fold in the chocolate chips.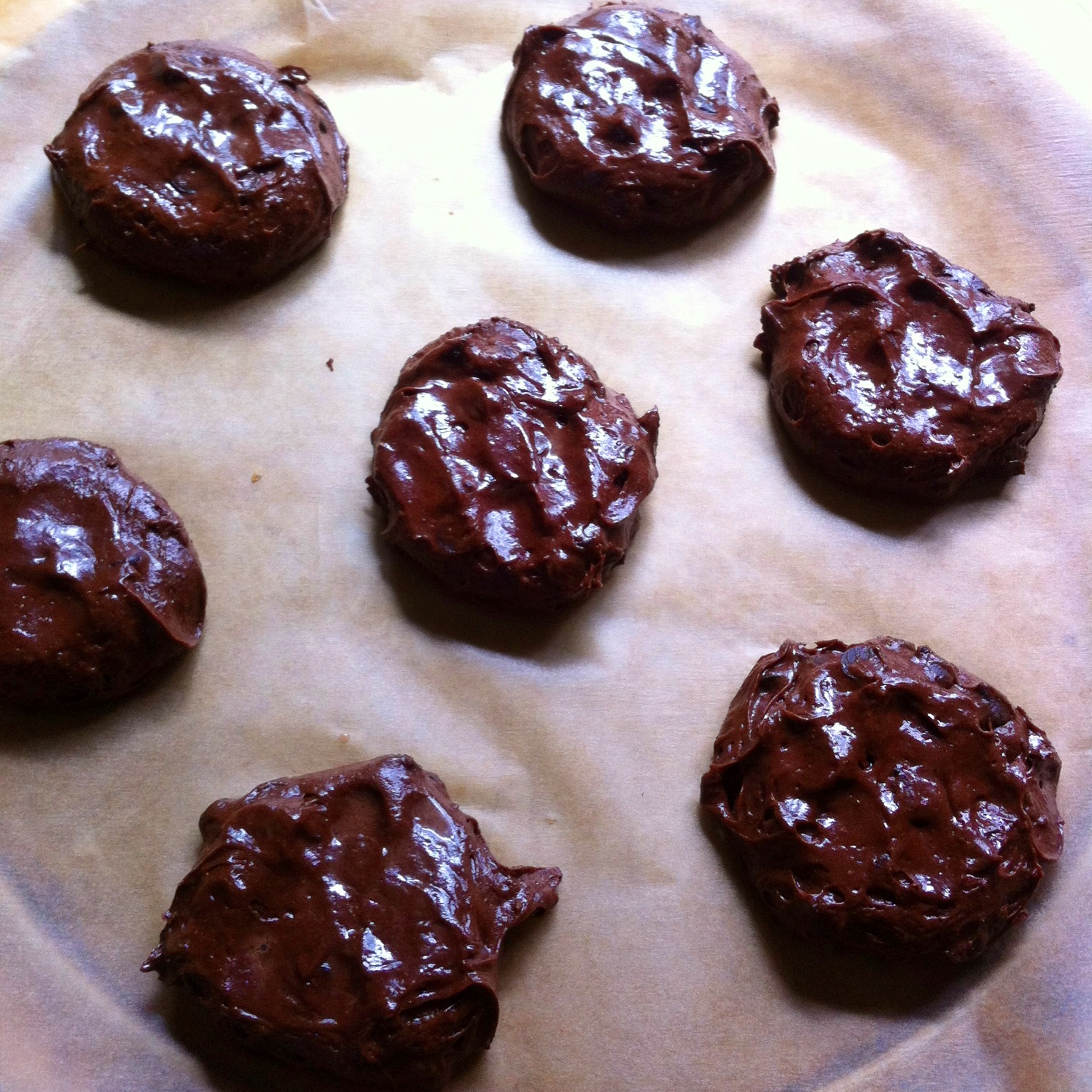 Start scooping the cookies onto your prepared baking sheets as soon as the batter has been made, about 2 inches apart. While soft at first, the batter will start to firm up very quickly as it sits, making it difficult to portion out the cookies. Use a 2-ounce ice cream scoop, or a scant ¼-cup of dough per cookie. Flatten each mound of cookie dough slightly (dampen your hand to do this, as the dough is a bit sticky).
Once the cookies are portioned out, put them into the oven. If baking in batches, DON'T REFRIGERATE THE DOUGH, leave it at room temperature so the cookies spread out properly while baking.
Bake the cookies for 14-16 minutes, until the tops are evenly cracked and the cookie has softly set. Rotate the pan halfway through. If you have two pans at the same time, switch them between the racks, too.
Remove the pans from the oven and cool them on a wire rack. Let the cookies cool completely before transferring them from the baking sheets. Cool completely before eating. Store in an airtight container.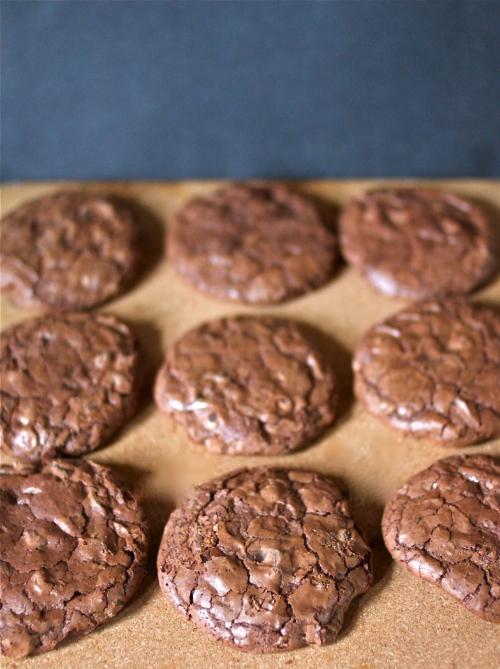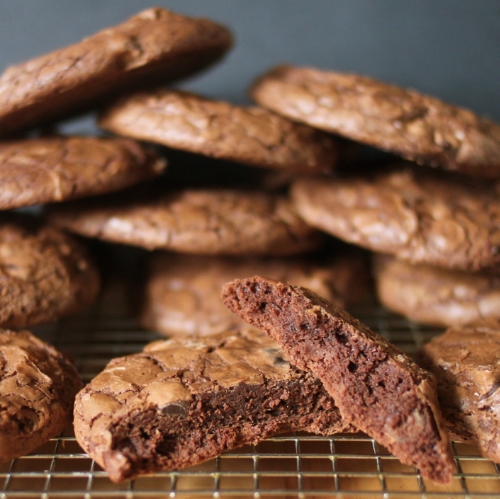 Please follow and like us: