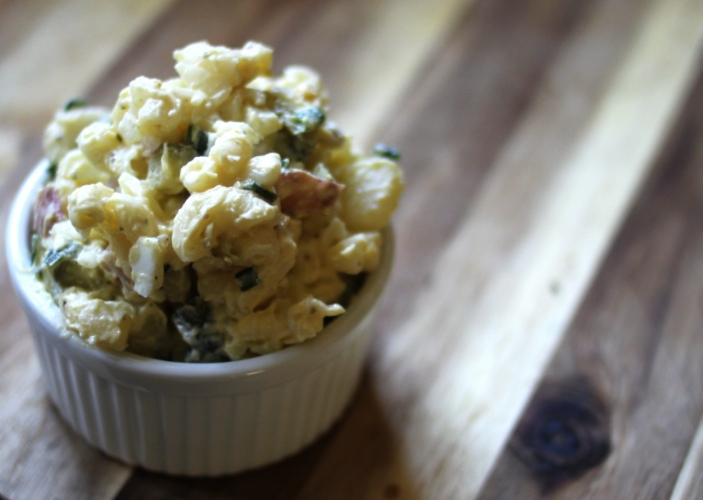 I'm not a stranger to insomnia. I do some of my best work in the wee morning hours. I have since I was about 12 years old. But sometimes it's a pain in the ass when you're wide awake at 4 in the morning, knowing you've got to be up at 7 because you promised to bake X, Y, or Z in time for your husband to be fed before showering and getting to work by 9. Sometimes, like on the fourth of July, you decide that naps are overrated. Then comes 7:30 PM and you're supposed to be up at 10 for a certain city fireworks show…You think about the margaritas you've had for the afternoon shenanigans, the mimosas you had post-dinner… and then comes the fine line of do I drink more mimosas or go to bed? And you say f— yes, I'm having another g–damn mimosa!
The thing about drinking margaritas and mimosas is, what do you eat when suddenly you realize you're absolutely in need of food to balance out the alcohol mess going on inside your body? I found myself eating a lot of the following salad. I call it an indecisive salad. It's not just macaroni salad, nor potato salad, nor egg salad. Friends, it's a deliciously disconcerted combination of all three salads. I absolutely condone eating this as breakfast, or a midnight snack. Perhaps alongside some grilled veggie dogs and raw sweet corn? That's where we went with this business. Leftovers are even more delightful on day two or three.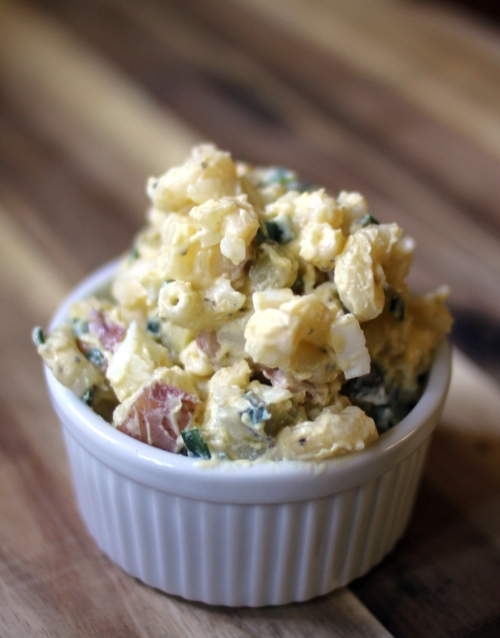 Potato Macaroni Egg Salad
Serves 10-12
Ingredients:
1½ cups uncooked elbow pasta
4 cups diced red potatoes with skins (about 5 medium taters)
5 hard boiled eggs
½ cup dill pickles, diced
½ a small sweet onion, minced fine
1 cup Vegenaise *
1 tbsp. yellow mustard
1 tbsp. dijon mustard
¼ cup freshly chopped chives
¼ tsp. celery seed
¼ tsp. ground coriander
sea salt
fresh ground black pepper
* I use Vegenaise mostly because I prefer the flavor. If you want to use regular mayonnaise, feel free!
Directions:
Cook the pasta according to the package directions. Drain and run under cold water to stop the cooking.
Place the diced potatoes into a pot of salted water until they're covered by about 2 inches. Bring to a rolling boil and cook until the potatoes are fork-tender (12-15 minutes). Drain.
Peel the hard boiled eggs. Cut them in half. Place the yolks in a medium sized bowl. Set aside. Dice the egg whites to bite-sized pieces.
In a large bowl, gently toss together the pasta, potatoes, egg whites, and pickles.
Use a fork to mash up the egg yolks you previously set aside. Add the minced onion, Vegenaise, mustards, chives, celery seed and coriander. Mix together until smooth and very well combined. Taste, then add salt and pepper to your liking.
Add the Vegenaise mixture to your pasta and potatoes. Fold everything together semi-gently so you don't break up the potatoes too much. Taste again, adding more salt and pepper if needed. Cover tightly and refrigerate at least 1 hour before serving.
Leftovers can be refrigerated for 2-3 days.