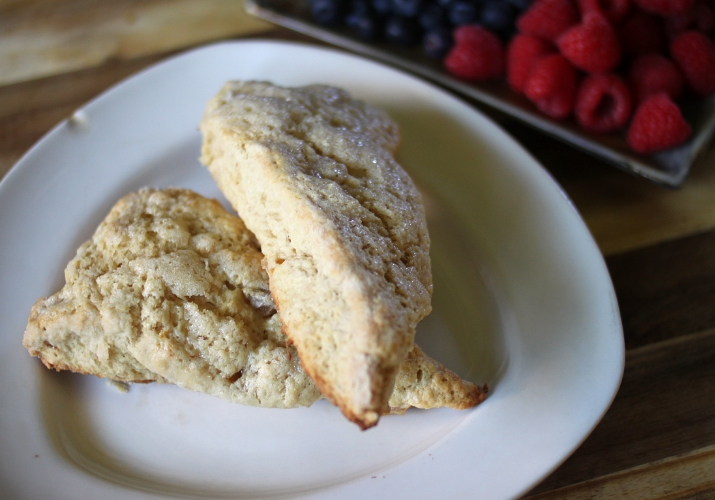 When it comes to breakfast, I generally opt out of eating it. Usually because I'm not often hungry until lunch time, not so much because I don't appreciate breakfast foods. The truth is, there are a few breakfast items I could eat every day: waffles, bagels, and scones. I sense a carb -heavy theme. Perhaps it's because these things can border on dessert if approached properly.
A couple weeks ago, my husband and stepson walked to the farmer's market downtown from our home one Saturday morning. They came home with two scones to share: an incredible rosemary and goat cheese scone, along with a candied ginger scone. Both were so tender, flaky, melt-in-your-mouth light, they quickly made a home in my memory as one of my favorite things eaten in quite some time.
While the rosemary scone stood out to me as something unique I certainly hadn't consumed before, the ginger scone reminded me of how much I love ginger flavored anything. A week or so later, ginger scones were the only thing that sounded appetizing. These scones were enormous compared to the ones Craig and Silas brought home, but they were certainly satisfying. Soft, not overly crumbly on the inside, the outside of these scones is delicately crisp and flaky. The fresh ginger and crystallized ginger offer a noticeable flavor without being overwhelming. They were great on their own, but I certainly would'nt keep you from topping them with fresh berries, freshly whipped cream, and digging in with a fork!
Buttermilk Ginger Scones
Yields about 8 large scones.
Ingredients:
3 cups all-purpose flour
2½ tsp. baking powder
½ tsp. baking soda
pinch of fresh nutmeg
¾ tsp. salt
¾ cup unsalted butter, cold
1 egg
3 tbsp. pure maple syrup
¾ cup buttermilk, cold
1½ tsp. vanilla extract
1-inch piece of fresh ginger, grated fine
1 cup crystallized ginger, cut into bite-sized pieces
¼-cup buttermilk
¼ cup coarse unrefined sugar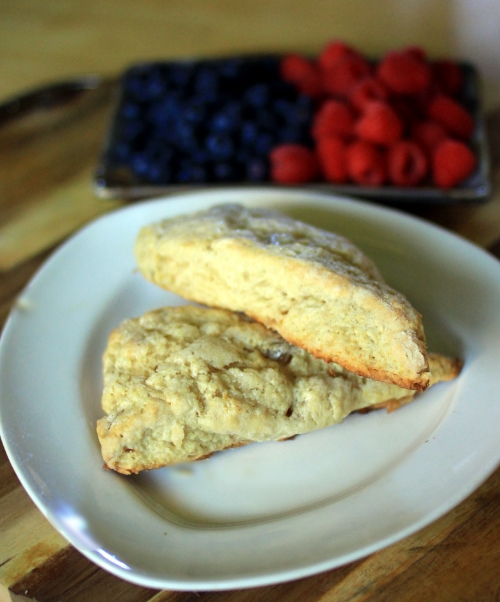 Directions:
Preheat your oven to 400° F and line one or two baking sheets with parchment paper. Set the baking sheets aside until needed.
In a large bowl, sift together the flour, baking powder, baking soda, nutmeg, and salt together. Cut in the butter, using a pastry cutter or your fingers until the mixture resembles a coarse meal.
In another bowl, whisk together the egg, maple syrup, buttermilk, vanilla, and ginger. Add the mixture to your dry ingredients immediately, stirring just enough to create a soft dough. Fold in the crystallized ginger.
Turn the dough out onto a lightly floured surface, kneading 10-15 times. Pat the dough out into a rectangle about 1-inch thick, 5-inches wide, 12-inches long. Cut into 8-10 wedges or rectangles. Place on your lined baking sheets, about one inch apart. Brush lightly with buttermilk and sprinkle with the unrefined sugar.
Bake for 15-18 minutes until golden brown on top. Serve warm. The scones are best within the day you make them, but they can gently be reheated in the oven or toaster 2-3 days after baking.