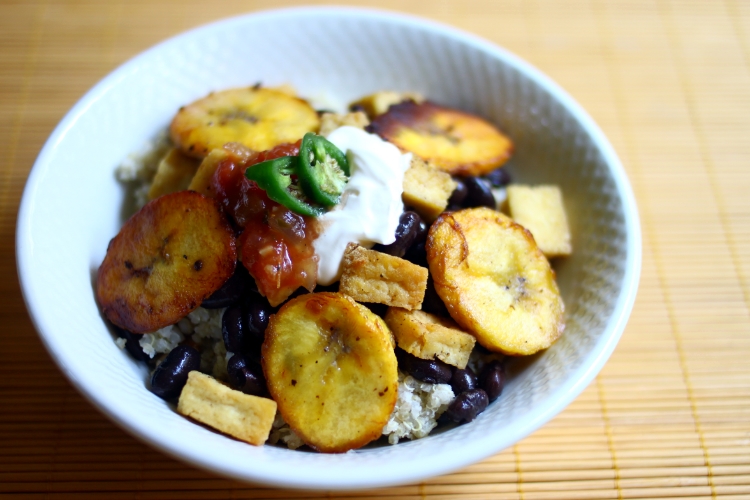 Sometimes when I find myself only needing to cook dinner for me, my inclination is to lean towards cold beer and potato chips. Or maybe slices of cheese, salty rice crackers, and a cocktail. A bowl of Cinnamon Toast Crunch with a side of banana? Hell yeah. But then there are other times where "cooking for one," means actually cooking something. Because I could go out to eat, but I've learned that 99% of the time I am more happy with my own cooking (humble brag, okay). 

So last week when my husband was out of town, after the kids had gone back to their mothers, I found myself alone in the kitchen, hungry. Sure I was in the middle of making small batches of pickles and jam, but something had to be done. I had leftover black beans already cooked, but wanted something other than the white rice we had on hand to go with it. I spied the quinoa that has been hiding for months. No one else seems to get excited about quinoa around here, but I enjoy the little grain that packs protein and fiber. This meal was a thrown together bowl of deliciousness.
I decided to cook the quinoa in coconut milk, to give it a rich creaminess. Plus coconut and black beans work nicely together. This bowl balances spice, sweetness, savory notes, crunch, softness… It's delicious. For dinner, for lunch… It's easy enough to keep the whole recipe vegan if you prefer.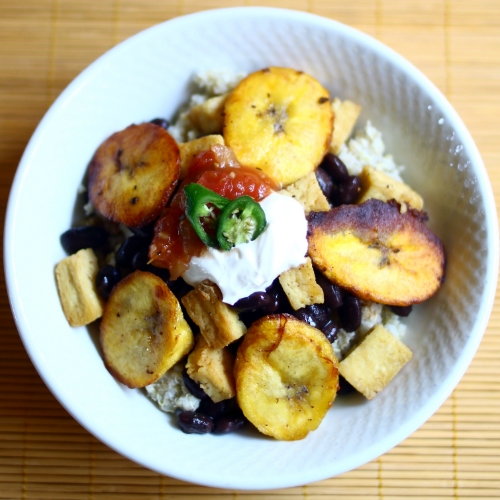 Coconut Quinoa, Black Bean and Tofu Bowl with Plantains
Serves 2 very generously or 3-4 people as smaller meals.
Ingredients:
1 cup quinoa
1- 14 oz. can full-fat coconut milk
2 oz. water or milk
½ tsp. salt
½ cup unsweetened shredded coconut flakes
1- 15 oz. can black beans (or home-cooked, preferred)
1 small jalapeno pepper, minced
2 cloves garlic, minced
1 tsp. oil
7 oz. extra firm tofu, diced into bite-size cubes
½ cup sunflower, canola, or vegetable oil
1 large plantain, sliced into ¼-inch rounds
1 cup shredded monterey jack cheese (optional)
sour cream for serving (optional)
your favorite salsa for serving (also optional)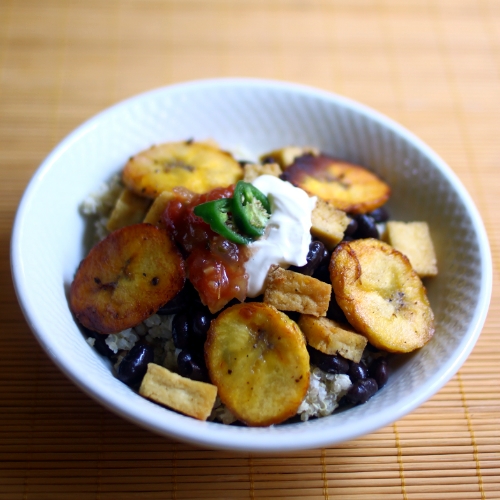 Directions:
Cook the quinoa: Rinse the uncooked quinoa in a fine mesh sieve, under cold running water for 5-10 seconds. Let it drip-dry for a minute. Add the coconut milk, water/milk, and salt to a small pot. Bring to a boil over medium-high heat. Stir in the quinoa, then cover, reduce the heat to low and cook for 15 – 20 minutes, until all the liquid is absorbed. Fluff the cooked quinoa with a fork, then gently stir in the coconut flakes.
Heat the beans: In a small pot, heat the one teaspoon of oil over medium-high heat. Add the minced garlic and jalapeno. Cook for 1 – 2 minutes, then add the beans (with their liquid). Stir and continue heating until completely warmed (4 – 6 minutes).
Cook the tofu and plantains: Heat the half-cup of oil in a wok or large frying pan on high heat. Once the oil is completely heated (a small piece of tofu should immediately sizzle and float to the top of the oil), add the cubed tofu, stirring constantly until the tofu becomes golden in color (4 – 5 minutes). Transfer the cooked tofu to paper towels to drain the excess oil. Add the sliced plantains to the already heated oil, stirring to evenly coat the slices. Flip each slice over after 2 -3 minutes, crisping both sides of the plantains. Transfer to paper towels to drain the excess oil.
To serve: Scoop a large spoonful of quinoa in the bottom of each bowl. Top with a scoop of beans (with some of the cooking liquid), cheese if using, the crispy tofu, plantains, a small scoop of sour cream, and some of your preferred salsa. Enjoy while still hot.