There are numerous things I enjoy about summer, including long hot days, unexpected rain in still-warm weather (which we could really use around here right now), lazy mornings filled with sleeping in and mid-morning coffee, listening to the hustle and bustle of downtown Ashland filled with summertime travelers and tourists… Mostly though, I enjoy the flavors of summer. I absolutely love being able to walk out into our garden and pick a variety of produce at my leisure. And anything that we happened not to plant? It's still available readily in the grocery stores or farmer's markets.
One of the best summer produce offerings: cherry tomatoes. When ripe, they're the perfect combination of acidic and sweet. The only thing that makes cherry tomatoes remotely better is roasting them, which deepens the flavors and allows for making a delicious sauce. The following recipe is ridiculously easy. I've used this sauce on pasta, in eggplant parmesan, to top polenta… You can use whatever herbs you want, so long as they're fresh and not dried. You really can't go wrong!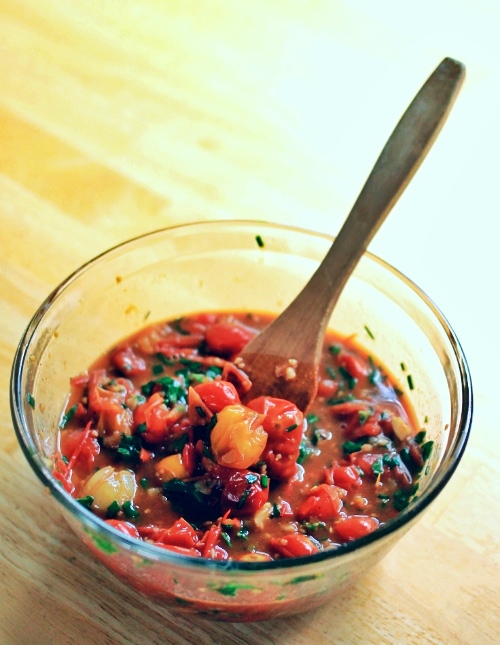 Bursted Cherry Tomato Sauce
Ingredients:
2 pints cherry tomatoes, any varieties you like, stems removed
2 tablespoons olive oil
2 tablespoons aged balsamic vinegar (I use this variety)
kosher salt
freshly ground black pepper
4 cloves garlic, minced
½ cup chopped fresh herbs – I used basil, chives, tarragon, oregano and parsley
Directions:
Preheat your oven to 400°F. Place the cherry tomatoes in a single layer on a large baking sheet. Drizzle with the olive oil and balsamic vinegar, then sprinkle generously with salt and pepper. Gently shake the pan back and forth to coat all of the tomatoes evenly. Bake for 25-35 minutes, or until the tomatoes begin to burst in the oven and release their juices.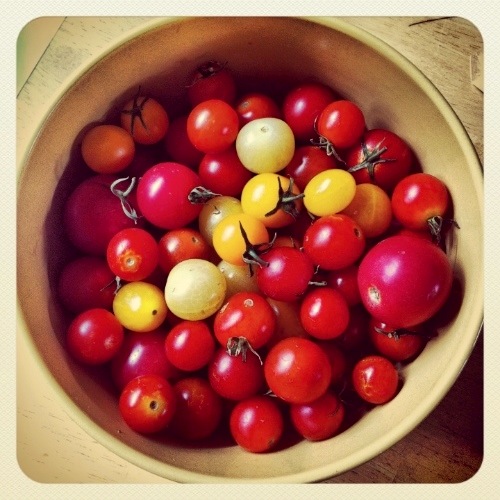 Remove the tomatoes from the oven, pouring them and the juices into a medium sized bowl. While the tomatoes are still hot, use a wooden spoon to add in the minced garlic and freshly chopped herbs. Use the spoon to mash the tomatoes gently, while stirring all the ingredients together. Add more salt and pepper if needed.
Toss the sauce with freshly cooked pasta, or simply use it on anything that desires a delicious tomato sauce.