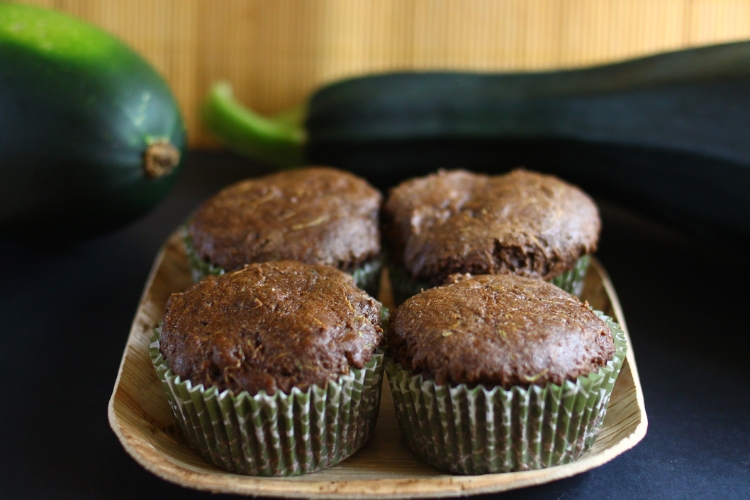 I've been watching the zucchini plants in our garden gently warn us that summer is quickly passing. I'm not particularly saddened by either warning: the diminishing number of zucchini, nor the approach of fall. I suppose the only thing that has really caught me off guard is just how rapidly summer has seemed to fly by. That said, most of our tomatoes have yet to ripen completely, there are still unlimited amounts of squash, eggplant, basil, and numerous other vegetables and herbs in the garden that tell us they're still sticking around for more sunshine and warm weather.
But a girl can only eat so many roasted and sauteed vegetables week by week. I had forgotten all about zucchini bread up until a month ago and it was certainly a happy re-found love. I grew up eating the most amazing banana and mango breads, as they were amongst the things my mom would bake. I don't think I tried zucchini bread until I moved to Oregon. I quickly found an appreciation for the sweetness and often cinnamon-laden bread. While I generally do not bake (or cook) gluten free, there was a moment in time a couple years back that I thought my diet was headed in that direction regardless of what I'd prefer. Throughout that time, I experimented with various gluten free ingredients.
Gluten free baking relies heavily on combined flours and starches, as each offers different weights and textures to the final product. I could never find a premixed GF flour I liked, but found the combination of sorghum flour, coconut flour, and tapioca starch worked nicely for a sweet-flavored, soft-crumbed, moist final product. I decided to try the combination in the following recipe for a gluten free zucchini muffin. The addition of unsweetened cocoa and chocolate chips was mostly due to the availability of those ingredients in my cupboard (and a gentler coaxing of one little boy to eat some zucchini muffins).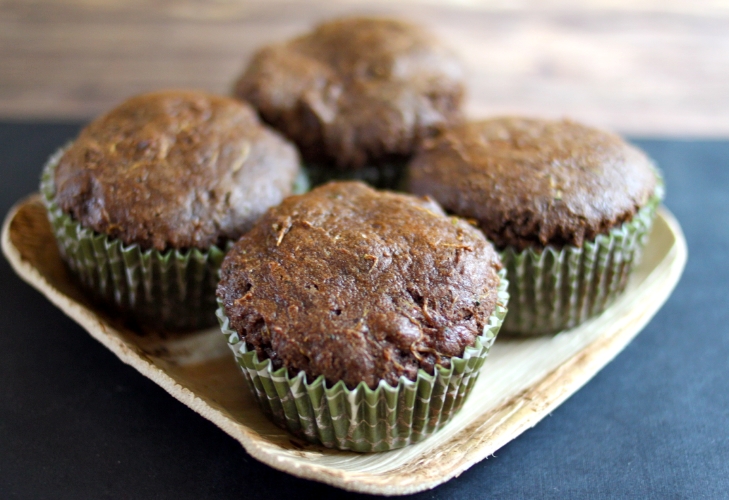 Gluten Free Chocolate Zucchini Muffins
Yields approximately 1½ dozen regular sized muffins.
Ingredients:
1 cup zucchini, finely grated and gently squeezed to remove liquid
1 cup sorghum flour
½ cup tapioca starch or tapioca flour
2 tablespoons coconut flour
3 tablespoons unsweetened cocoa powder
2 teaspoons baking powder
½ teaspoon baking soda
¾ teaspoon xanthan gum
½ teaspoon salt
2 teaspoons ground cinnamon
1 cup unrefined cane sugar
⅓ cup vegetable oil
2 eggs, lightly beaten
1 tablespoon vanilla extract
1- 5.5 ounce can whole fat coconut milk
optional: 1 cup semi-sweet or bittersweet chocolate chips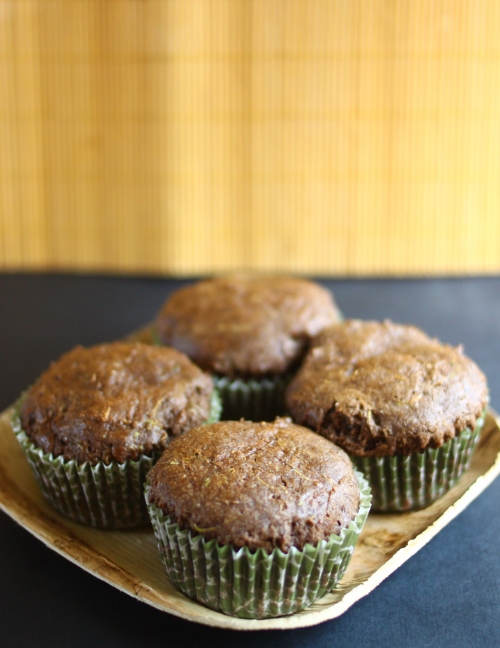 Directions:

Preheat your oven to 350° F. Line a 12-cup muffin tin with liners or lightly grease each cup with oil.
In a mixing bowl, mix together the sorghum flour, tapioca starch, coconut flour, cocoa powder, baking powder, baking soda, xanthan gum, salt, cinnamon, and sugar until completely combined.
In a separate bowl, whisk together the vegetable oil, eggs, vanilla, and coconut milk until well combined.
Add the wet ingredients to your dry ingredients, stirring quickly (as flour will quickly absorb the liquid. Fold in the grated zucchini until evenly distributed through the batter. If you're using chocolate chips, fold them in as well.
Spoon a heaping scoop of batter into each muffin cup (I used a scant ¼-cup of batter per muffin). Gently tap the muffin tin on your countertop to release any air bubbles that may be trapped in the batter. Use your finger to smooth out the top of each muffin (moisten your fingertips with water to keep the batter from sticking to your fingers).
Bake the muffins for 25-30 minutes, or until a toothpick inserted in the center of the muffins comes out clean. Transfer to a wire rack to cool. Keep leftovers in an airtight container for up to 3 to 4 days.