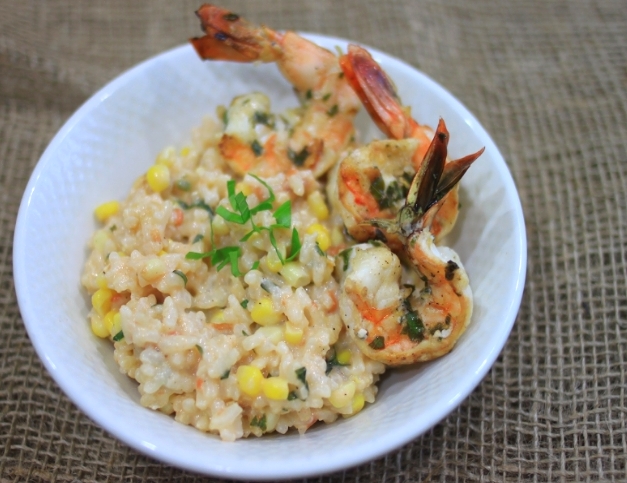 I don't often cook a lot of shrimp, although I love to eat it. Mainly this is the recipe I resort to because I am making it for my mother in law. I decided to try something new recently. My husband's nephew came to stay with us last week. He had informed me pretty early on that he wasn't too keen on seafood. I thought he meant fish, specifically. While I was grocery shopping one afternoon, trying to decide what to cook for dinner, I found some beautiful fresh jumbo shrimp. I thought maybe I could coerce a certain 20 year old boy into eating shrimp if it was cooked well (I was absolutely wrong, by the way).
Trying to decide what to pair with shrimp I knew I wanted to grill and not fry, risotto popped into my head. I decided to make a fresh shrimp stock to cook the risotto in, just to layer the flavors throughout the dish. I did not inform Sawyer that I cooked the risotto with shrimp stock, but he ate that part of the meal and said it was "spot on," so I suppose either the "seafood flavor" was well hid, or it was good enough he forgot he didn't like seafood…
There are numerous steps to this recipe. I suggest reading through them before attempting to cook this dish. Not because they're difficult, there are just various parts and timing is easy when you know what to expect. If you don't want to make the risotto, I fully support cooking just the marinated shrimp and eating them as is, in a sandwich, tossed with pasta…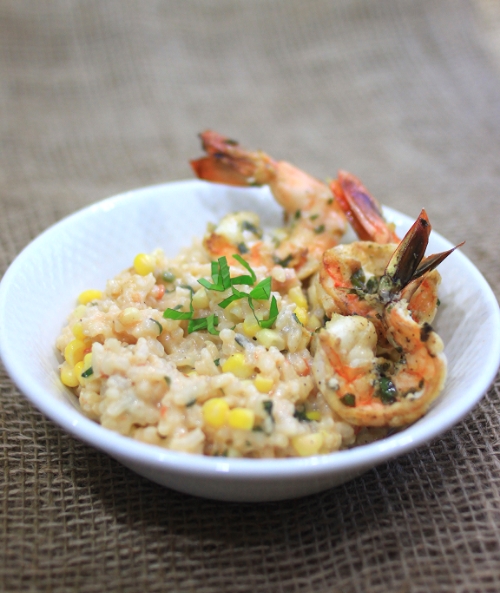 Grilled Garlic Basil Shrimp Risotto
Serves 6 or so grown folks.
Ingredients:

For the shrimp stock:
1 pound fresh shrimp, tails and shells intact (yes, we're cleaning these!)
2 large anaheim peppers, roughly cut
3 cloves garlic, peeled
1/2-inch piece of ginger, peeled
1/2 a small onion
1 tsp. black peppercorns
1 tsp. kosher salt
1 bay leaf
1 stalk celery, broken into a couple sections
1 small carrot, broken into two or three sections
the rind from one large lemon
1 large sprig of fresh thyme
one 12-ounce light beer of your liking
4 1/2 cups water
For the shrimp:
1/4 cup fresh squeezed lemon juice
2 tbsp. olive oil
3 cloves garlic, minced
1/2 tsp. kosher salt
1/4 tsp. fresh ground pepper
zest from one lemon
2 tbsp. fresh basil, minced
bamboo skewers for grilling
For the risotto:
1 recipe of shrimp stock (above)
1 cup half and half
2 tbsp. olive oil
1 tbsp. unsalted butter
1 small onion, minced finely
1 1/2 cups arborio (risotto) rice
2 cups fresh corn kernels
1 cup fresh tomatoes, diced
1/4 cup fresh basil, minced
1/4 cup fresh parsley, minced
salt and pepper, to your liking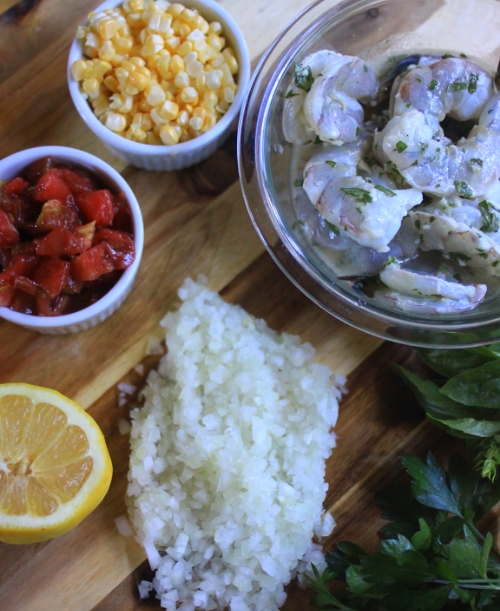 Directions:
Prepare the shrimp: *Note: Shrimp need to stay cold while you're working with them so keep them submerged in ice water.  To prepare the shrimp, pull off the head (if intact) and legs. Put the discarded parts in a stock pot. Starting at the head, peel off the outer shell, leaving the last segment and tail intact. Place the shells (which contain a lot of flavor) in your stock pot. Use a sharp paring knife to slice along the backside of the shrimp, about 1/8-inch deep, from head to tail. If the vein is visible, use the tip of your knife to remove it. Discard the vein. Place the peeled and deveined shrimp back into the ice water. Do this with all of the shrimp.
Prepare the stock: Add the anaheim peppers, garlic, ginger, half small onion, peppercorns, salt, carrots, celery, bay leaf, sprig of thyme, lemon rind, beer, and water to the stock pot that contains all the shrimp shells, legs, etc. Stir to combine everything. Cook over medium-high heat until the mixture comes to just below boiling. Cover and reduce heat to low, cooking for 45 minutes. Strain the stock through cheesecloth or a mesh strainer. Reserve the stock until needed.
Prepare the shrimp: Whisk together the fresh lemon juice, olive oil, minced garlic, salt, pepper, lemon zest, and minced basil until thoroughly combined. Add the peeled and deveined shrimp to the marinade, tossing gently to coat everything evenly. Cover and refrigerate for 45 minutes to 1 hour (great to do this as the stock is cooking).
Prepare the risotto: Combine the half and half and shrimp stock in a pan. Bring to just under boiling, over medium-high heat, then reduce the temperature to low and allow the liquid to sit over low heat until needed.
In a large flat-bottomed skillet, combine the oil and butter over medium heat. Add the finely minced onion, stirring to coat with the oil mixture. Cook until the onion becomes translucent (2 – 4 minutes). Add the arborio rice, stirring to coat the grains with the oil. Cook until the rice becomes translucent (3 – 5 minutes). Stir in a half-cup of the broth, stirring until all the liquid has been absorbed by the rice. Continue adding the stock a half-cup at a time, stirring constantly, until all the broth has been used up. It's important to make sure the broth is completely absorbed before adding more. After about 25 minutes, the rice should be tender but not mushy. The texture will be creamy, but not soupy.
Grill the shrimp: Heat a stove-top grill to high heat. (Ours is cast iron so it gets quite hot.) Pierce the shrimp with a bamboo skewer so it punctures in two places – this will keep the shrimp from curling too much. You can fit 3 to 4 shrimp on each skewer, making sure they don't touch one another. Place the skewered shrimp on the hot grill. Cook for about two minutes (until the grey stripes become pinkish red and the white part is opaque) then flip and cook for another two minutes.
Prepare your meal: Stir the corn, tomatoes, chopped basil, chopped parsley, and a semi-generous amount of salt and pepper into the risotto. Serve immediately, while hot. Top with a few of the grilled shrimp (you can remove them from the skewers or leave them on – it's entirely up to your preference).
* Leftovers are best eaten within 24 hours.