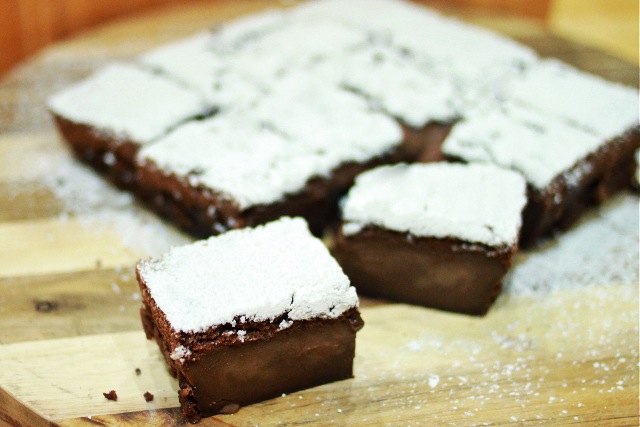 I'll make a confession: I rarely cook by following a recipe. My preferred way of cooking something new is to research a bunch of recipes, then combine elements of all of them, picking and choosing what sounds like will work best or taste the most delicious. I love reading through cookbooks and keep a decent number of them around, but it's a rare occasion that I'll follow something step-by-step. However, when I saw this recipe many months ago, I knew I wanted this cake in my kitchen. So I very meticulously followed the directions verbatim for the following recipe.
The luscious chocolate custard layer that was photographed and  created by Todd and DIane at one of my favorite blogs, White on Rice Couple made me dream of this cake over and over again for months. I felt like I had to wait for the right occasion. Not that one needs a special occasion to bake cakes – I assure you I fully support year-round cake making whenever you damn well please. However, I also like to keep desserts balanced for my family, keeping more elaborate desserts to once every week or so.
When Silas had to miss the annual Fall Hoedown at his elementary school for football practice, that meant he'd also miss the beloved cake walk that happens yearly. He was disappointed. I decided to surprise him by baking a cake at home (one that didn't have fast walking around chairs with numbers on them involved, or the likelihood of not even receiving a cake). Woo-hoo! A good occasion for magic chocolate custard cake!
This batter will leave you questioning whether you did everything right or not. It's liquidy. You will see right off that the ratio of liquids to dry ingredients is much greater. When you stir in the egg whites, then you will REALLY think you screwed things up. But don't worry. So long as you gently break up the bigger egg white formations, all will be well. Magic happens in the oven. The super liquidy batter transforms into three distinct layers. Cake, dreamy rich chocolate custard, topped with more cake. The hardest part is waiting for everything to cool completely…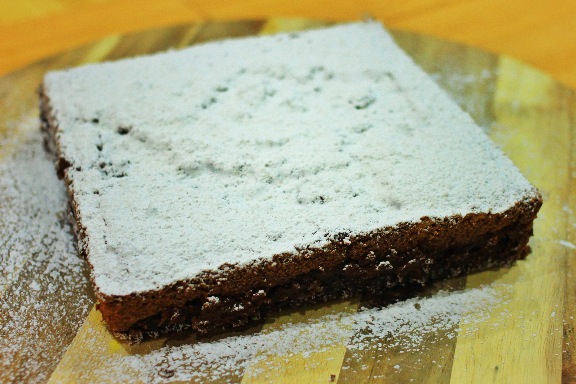 Magic Chocolate Custard Cake 
Yields one 8×8-inch square cake.
Ingredients:
1/2 cup unsalted butter
2 1/2 cups milk
1 cup flour
1/2 cup cocoa powder
4 eggs, separated
1/8 tsp. distilled white vinegar
1 3/4 cups confectioner's sugar + extra for dusting
2 tbsp. espresso or strong coffee, lukewarm
1 tsp. vanilla extract
Directions:
Preheat the oven to 325 degrees F. Generously coat an 8×8-inch square baking pan with cooking spray, oil, or butter.
Melt the butter then set it aside to cool. Microwave or heat the milk to lukewarm and set aside.
In a medium bowl, whisk together the flour and cocoa powder.
Add the egg whites and vinegar to a stand mixer fitted with the whisk attachment. Whisk until stiff peaks form. Place egg whites in another bowl and set aside until needed.
In the now empty mixer, attach the paddle attachment and beat the egg yolks and sugar until combined and noticeably light in texture. Add the melted butter, espresso or coffee, and vanilla extract until incorporated.
Add the flour/cocoa mixture to the batter until combined. At this point, you don't want to use the mixer – adding the milk makes the batter very runny… It will splash everywhere. Hand mix in the the milk until everything is incorporated.
Gently fold in the egg whites, 1/3 at a time until all the egg whites are folded in. The batter will be clumpy. Break up the larger pieces of egg white.
Pour the batter into your prepared pan then bake for 50-60 minutes. The cake will be slightly jiggly because of the custard, but not as jiggly as when you put the pan into the oven. The cake will rise and crack while baking, then shrink back down as it cools.
Cool cake completely before cutting. Don't give in to temptation and cut the cake sooner. This cooling time allows the custard and cake layers to set. Dust with confectioner's sugar. Cut and serve. Keep leftovers (hah!) refrigerated.