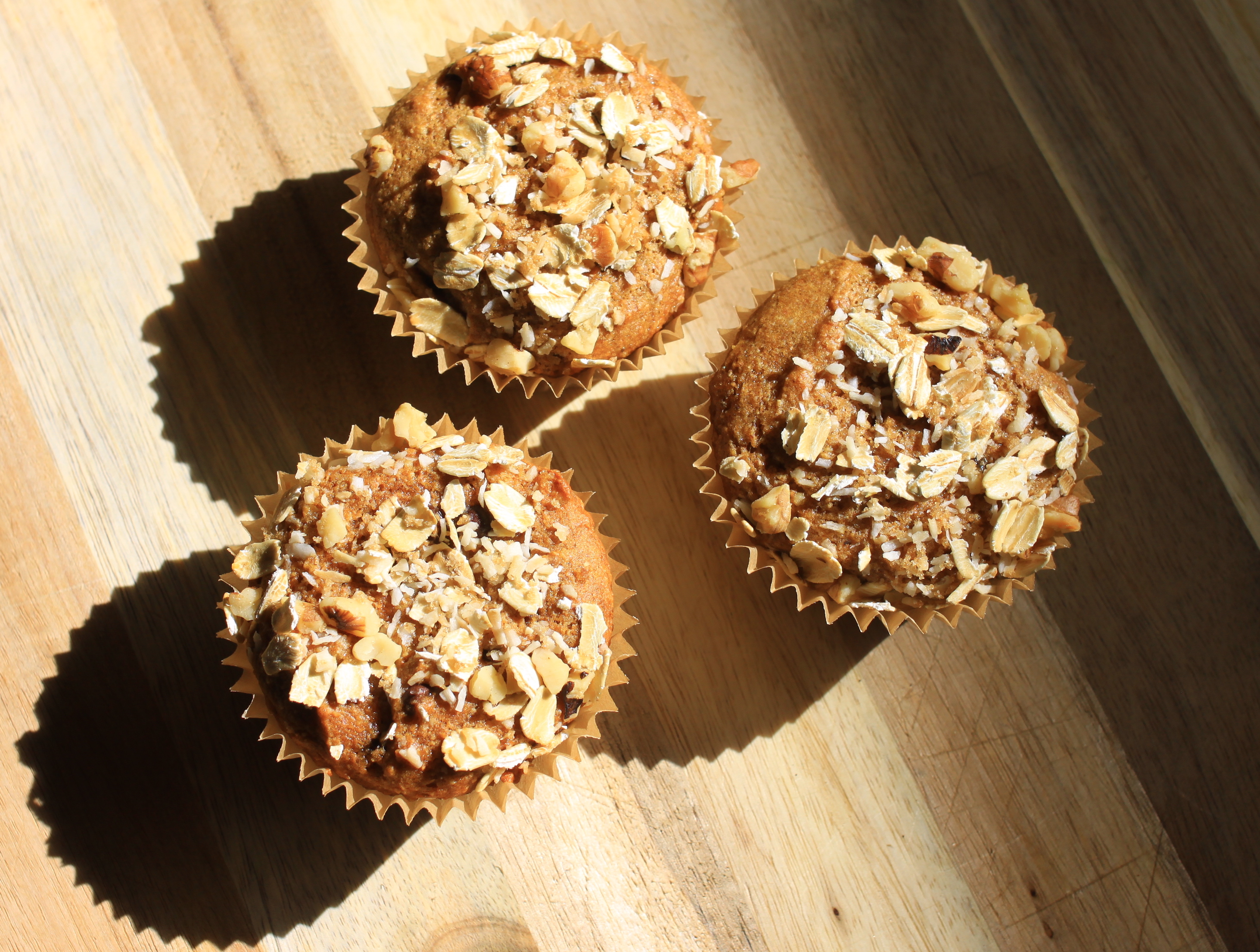 We are not strangers to the bottomless pit-stomachs of growing kids around here. My 15 year old stepson is now 6'4″, while 8 year old Silas measures in at a few inches shy of 5 feet. Both boys are involved in sports – Vincent's the starting goalie for his high school water polo team and Silas is the quarterback (along with numerous other high-energy positions) on his tackle football team.
We try to keep the snacks around our house as healthy as possible. Our kitchen is often stocked with kid-friendly protein bars, whole grain crackers, dried fruits, fresh fruits, low fat chocolate milk, yogurt, all-fruit fruit snacks… 75% of the time Silas's preferred go-to after school snack is none of the above, but rather an egg sandwich, sometimes cheesy and sometimes not.
But on game days where the kids are active for extended periods of time and depleting energy quicker than I can try and keep up, we like to keep the carbs high and the proteins high. I created these muffins as an in-between-game snack for the high school water polo team. Each individual muffin backs about 170 calories, 5 grams of fat, 30 grams of carbs, and 6.5 grams of protein. They seemed to go over well with the kids and pack a great flavor for this time of year.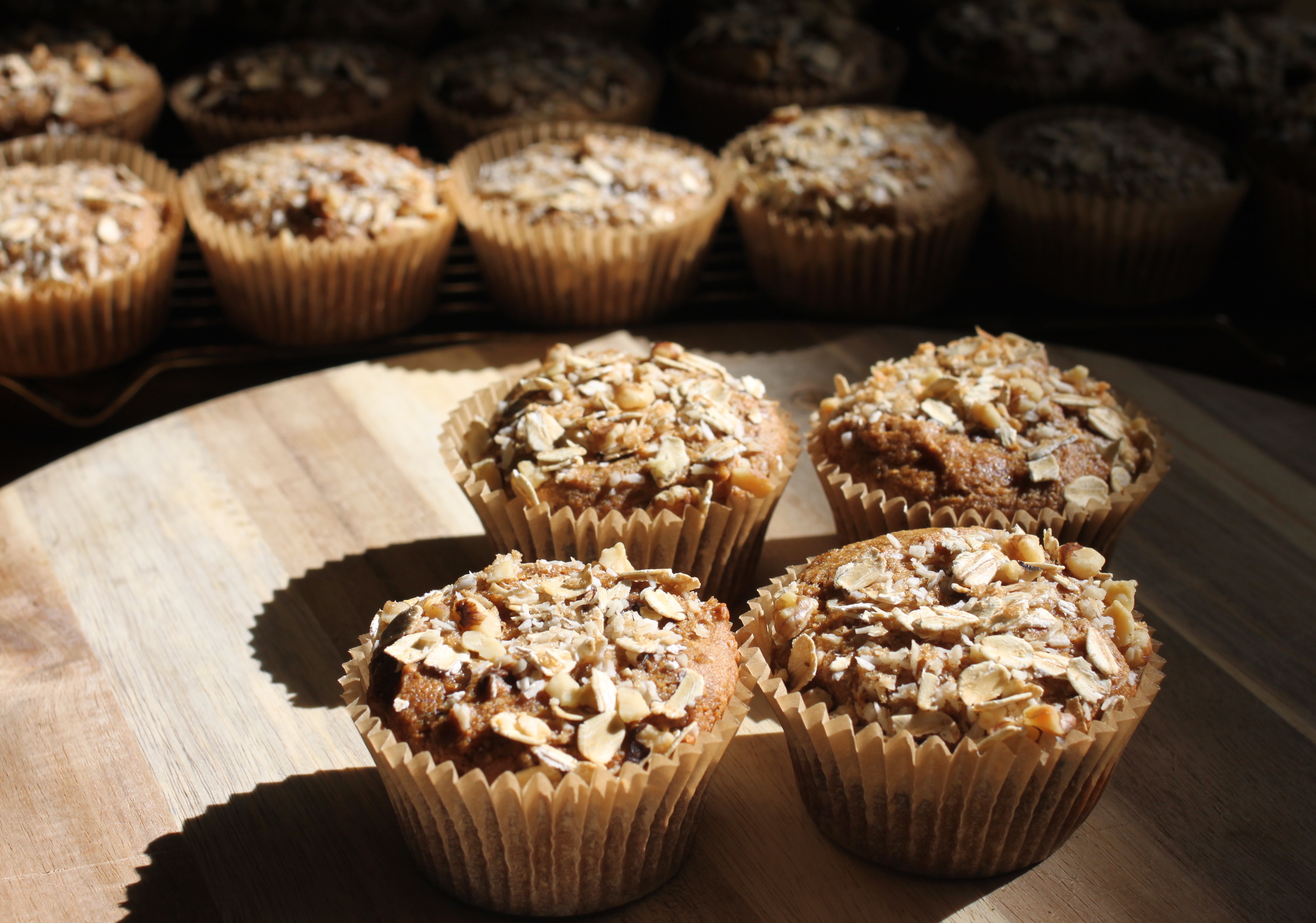 Pumpkin Protein Muffins
Yields approximately 4 dozen standard-sized muffins
Ingredients:
For the muffins:
1¼ cups all-purpose flour
1¾ cups whole wheat flour
1 cup almond meal
½ cup brazil nut protein powder
2 cups light brown sugar, packed
2 teaspoons baking soda
1½ teaspoons baking powder
1 teaspoon kosher salt
1 teaspoon freshly ground nutmeg
1 teaspoon ground cinnamon
1 teaspoon ground allspice
½ teaspoon ground cloves
1- 15 ounce can pumpkin puree (not pumpkin pie mix)
½ cup plain Greek yogurt
1 cup unsweetened applesauce
¼ cup pure maple syrup
1 egg, lightly beaten
1 teaspoon vanilla extract
1 cup Thompson raisins
1 cup chopped walnuts (unsalted)
½ cup mini chocolate chips (optional)
For the topping:
1/3 cup unsweetened coconut flakes
1/3 cup chopped walnuts (unsalted)
1/2 cup rolled oats
1 tablespoon light brown sugar
1/2 teaspoon ground cinnamon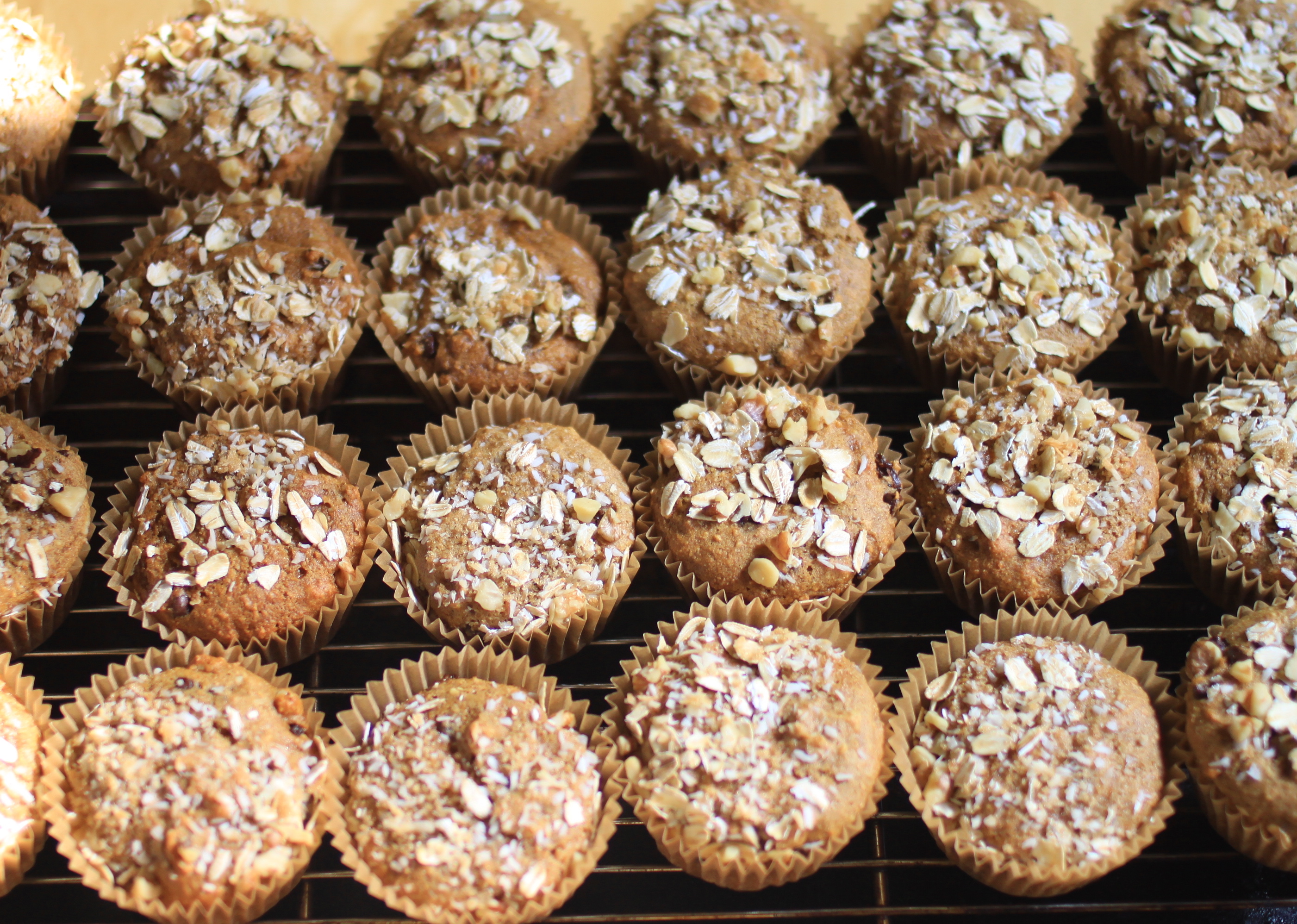 Directions:
Preheat your oven to 350 degrees F. Line a couple muffin tins with liners, or lightly grease each muffin cup.
In a large mixing bowl, mix together the flours, almond meal, protein powder, sugar, baking soda and powder, salt, nutmeg, cinnamon, allspice, and cloves.
In another large mixing bowl, stir together the pumpkin puree, Greek yogurt, applesauce, maple syrup, egg, and vanilla.
Add the wet ingredients to the dry ingredients, mixing until everything is well combined. Stir in the raisins, walnuts, and chocolate chips.
Combine the coconut flakes, remaining walnuts, rolled oats, sugar, and cinnamon in a small bowl, mixing well.
Fill each muffin cup about 3/4-full, then sprinkle a small pinch of the coconut mixture on the top of the batter. Bake for 22 to 25 minutes, until a toothpick inserted in the center of each muffin comes out clean. Cool on a wire rack. Store the muffins in an airtight container for 3-5 days.