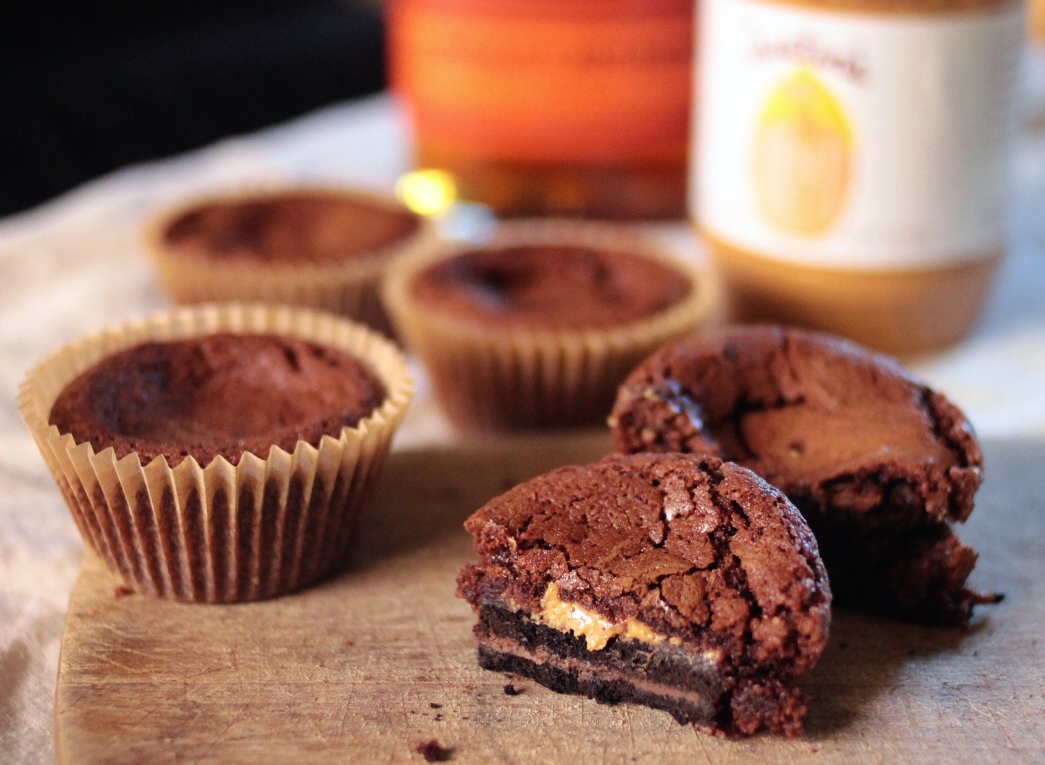 Some days require chocolate. Other days require chocolate and peanut butter. Sometimes a girl is simply in need of cookies. Bourbon? Hell yes, there are those days, too. Then there are those times when a person requires all of the above. This is no laughing matter. Serious business here! One must not take those times lightly, mind you. So here you'll find the perfect solution to days that call for chocolate, peanut butter, chocolate cookies, brownie batter, and bourbon.
When I was in middle school, I had a mini cheesecake that came in a cupcake liner, whose crust was made from a Nilla wafer, which was topped with cheesecake filling, baked then topped with canned pie filling. This blew my mind at 11 or 12 years old. I quickly became a master at baking these mini cheesecakes. I decided to try other cookies. Oreo cookies were often present in our house, so those seemed like the next obvious "crust" choice. Topped with cheesecake? Oh yes. Topped with brownie batter? Oh yeah.
In the oven, the cookies soften under whatever batter you're using, just enough to add a curiously delicious layer of flavor in whatever you're baking. Back in those days I relied on boxed brownie mixes. Now that I am nearing 30, I rarely rely on boxed mixes because I think they're overpriced for what you're getting. Plus they're often filled with things that don't need to exist in most recipes. For the following brownie cups, I used chocolate cream Newman O's, which are the healthier alternative to Oreo cookies. They add a cream filled crust to the bottom of these brownies, which also house a peanut butter center. The brownie batter itself contains brown butter, bourbon, and hopefully good quality cocoa. This adds a decadently rich element to the final product. I suggest eating these while they're still warm out of the oven, but they'll last for 2-3 days in an airtight container.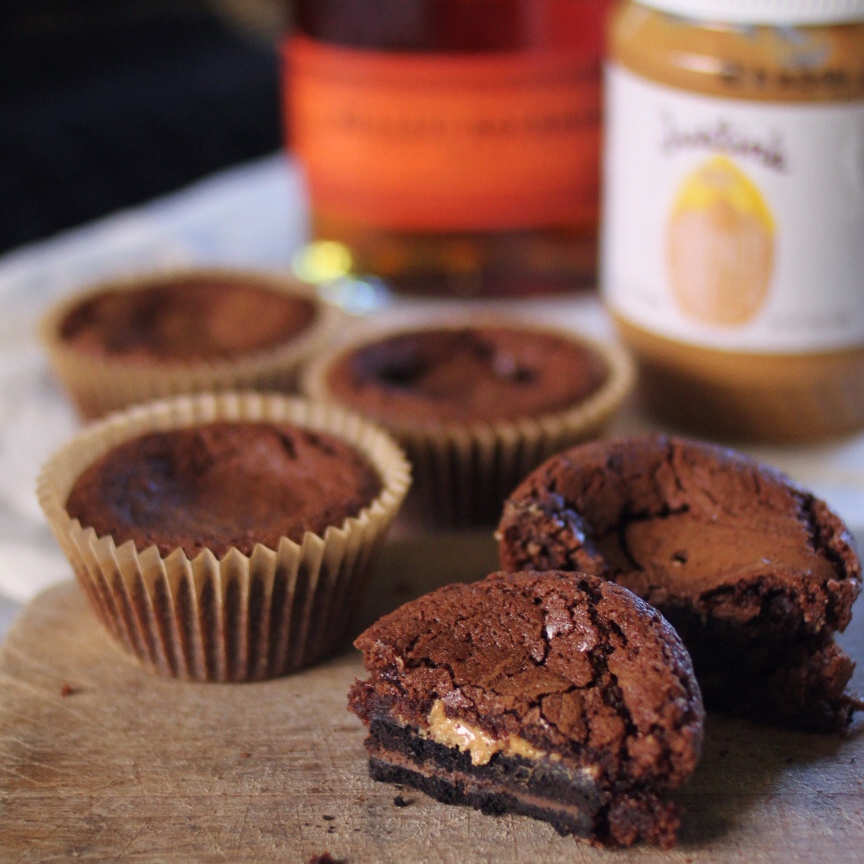 Peanut Butter Bourbon Brown Butter Brownie Cookie Cups
Yields approximately one dozen standard sized "cupcakes".
Ingredients:
1 stick unsalted butter
3/4 cup granulated sugar
1/4 cup light brown sugar, packed
2 eggs
5 tablespoons unsweetened cocoa powder
1/2 cup all purpose flour
1/2 teaspoon baking powder
1/8 teaspoon kosher salt
1/2 teaspoon pure vanilla extract
2 ounces good quality bourbon
12 chocolate cream filled Newman O's (Oreos if you prefer)
6 teaspoons creamy peanut butter (I used Justin's… so good!)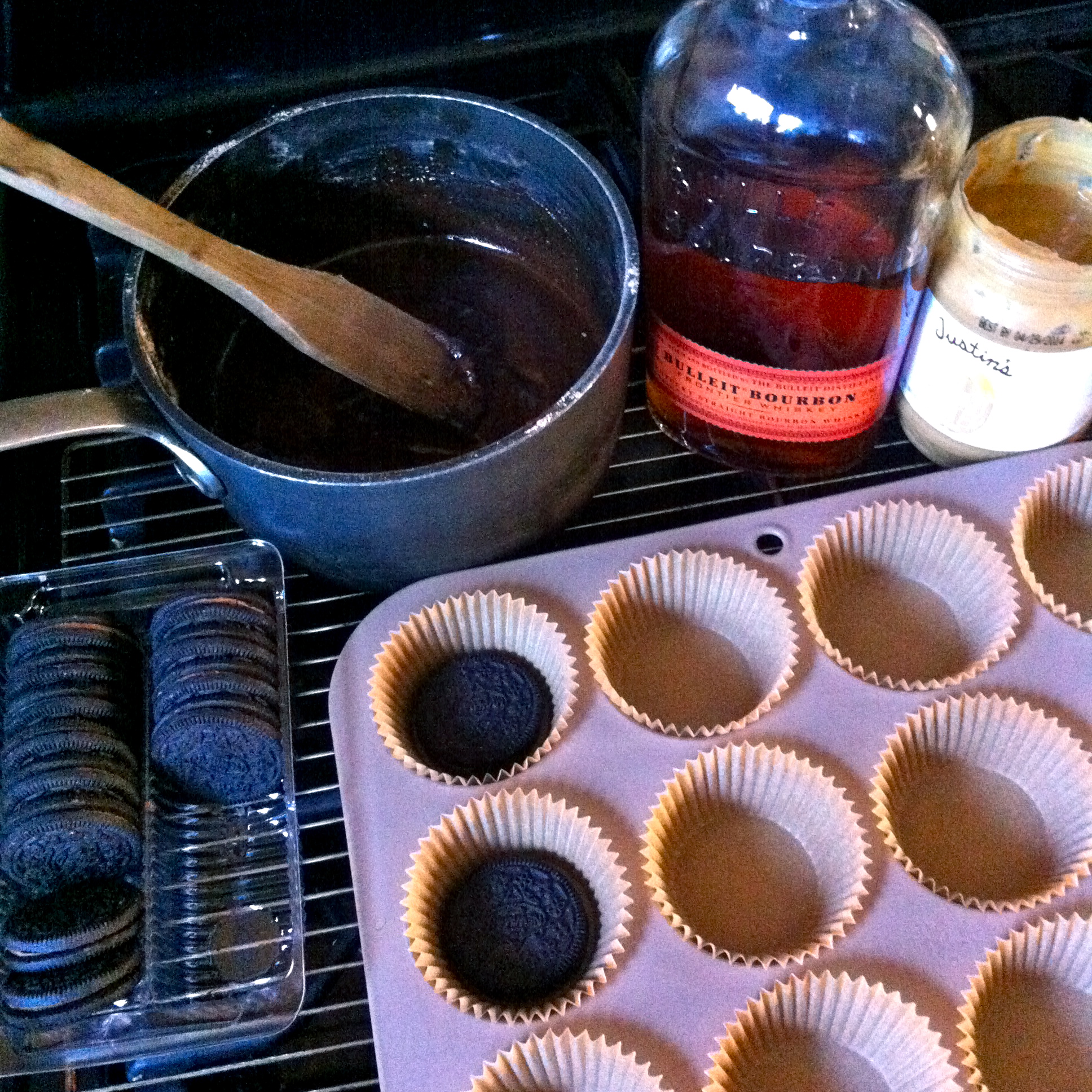 Directions:
Preheat your oven to 350 degrees F. Line 12 muffin cups with liners.
Melt the butter over medium heat, in a small saucepan. Stir occasionally, until the butter begins to turn golden brown. The butter will get really frothy on top. Continue stirring constantly, paying close attention. (Golden butter goes to burnt butter very quickly!) The golden butter should start to smell semi nutty. Keep stirring until the butter reaches a dark golden hue. Remove from the heat and immediately whisk in the sugars. Once the sugar is fully incorporated, whisk in the eggs, one at a time (continuous whisking is important here – nobody likes scrambled eggs in their brownies!).
In a small bowl, sift together the cocoa powder, flour, baking powder and salt. Stir the dry ingredients into the wet ingredients until just combined. Carefully stir in the vanilla and bourbon until well incorporated.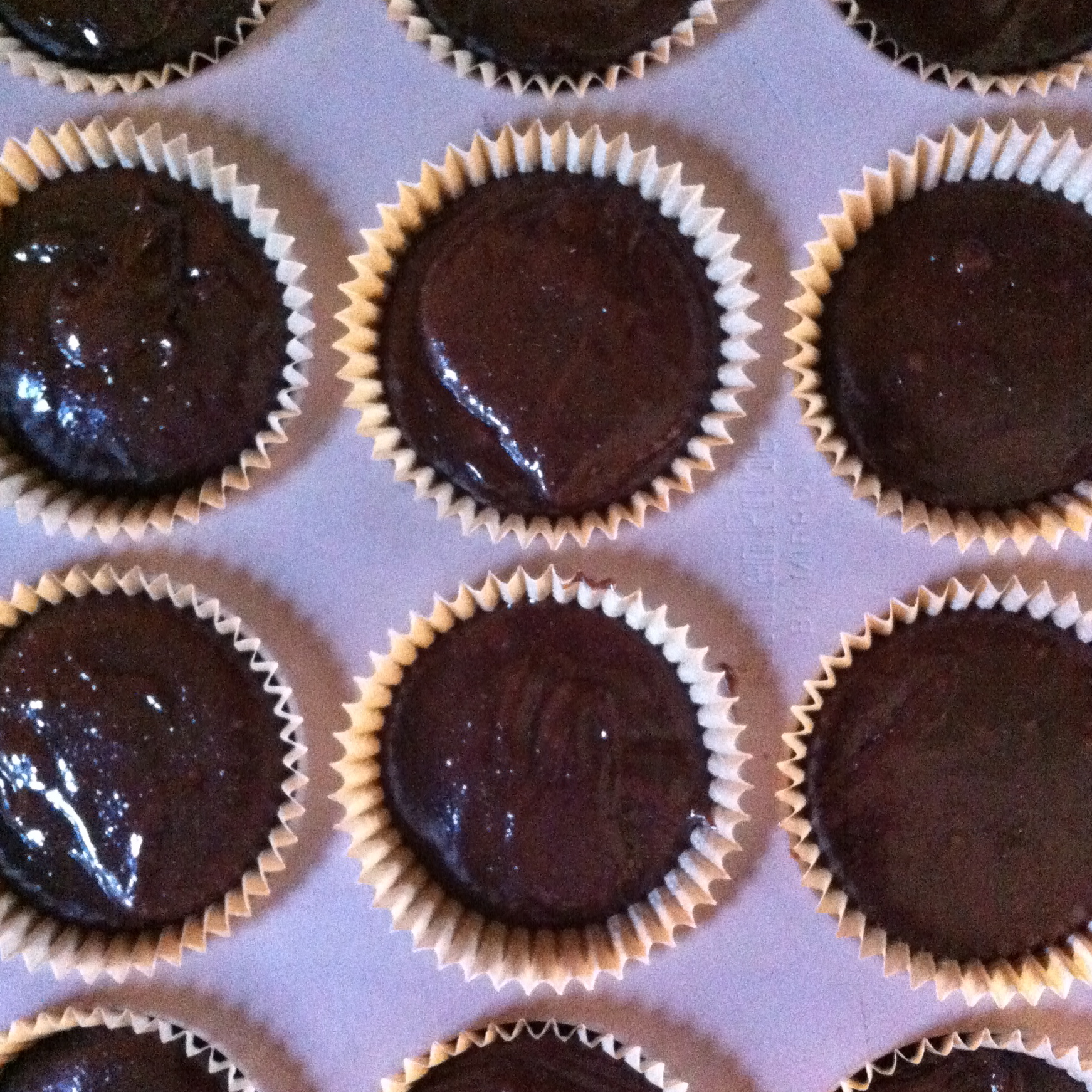 Place one Newman-O in the bottom of each lined muffin cup. Place a half teaspoon of peanut butter on top of each cookie, right in the center of it. Fill each muffin cup with brownie batter, spooning it over the peanut butter and cookie, until the cups are about three quarters of the way full.
Bake for 25-30 minutes, until a toothpick inserted in the center of each brownie comes out clean. Remove from the oven and allow the brownies to cool in the pan for 10 minutes, before transferring to a wire rack to continue cooling.
Store in an air-tight container. If you have any leftovers, of course!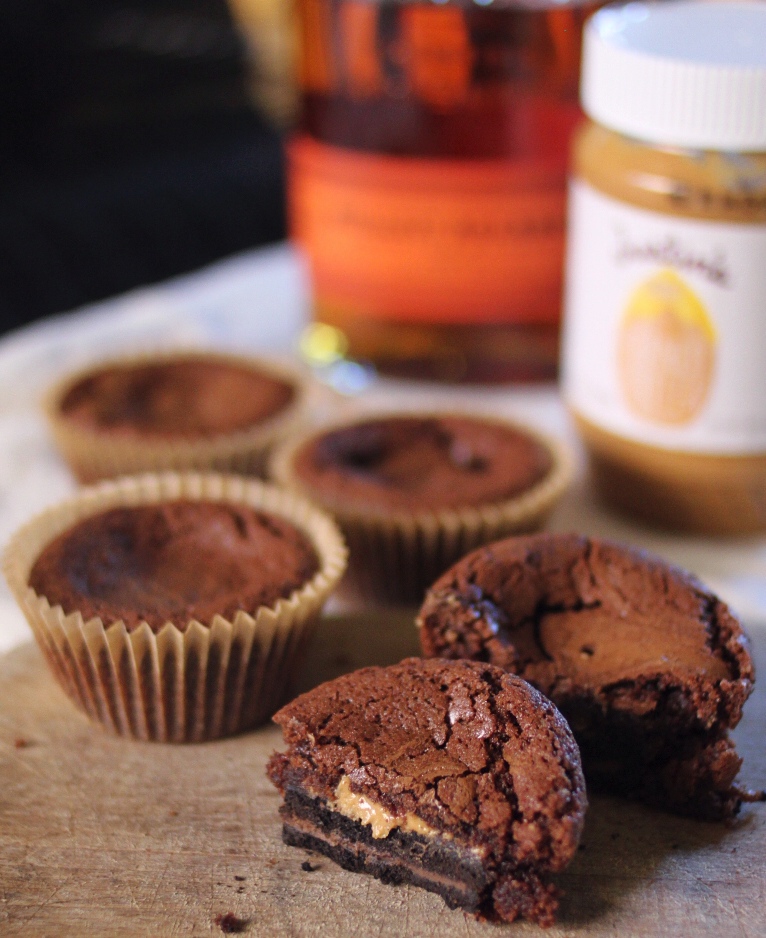 Please follow and like us: