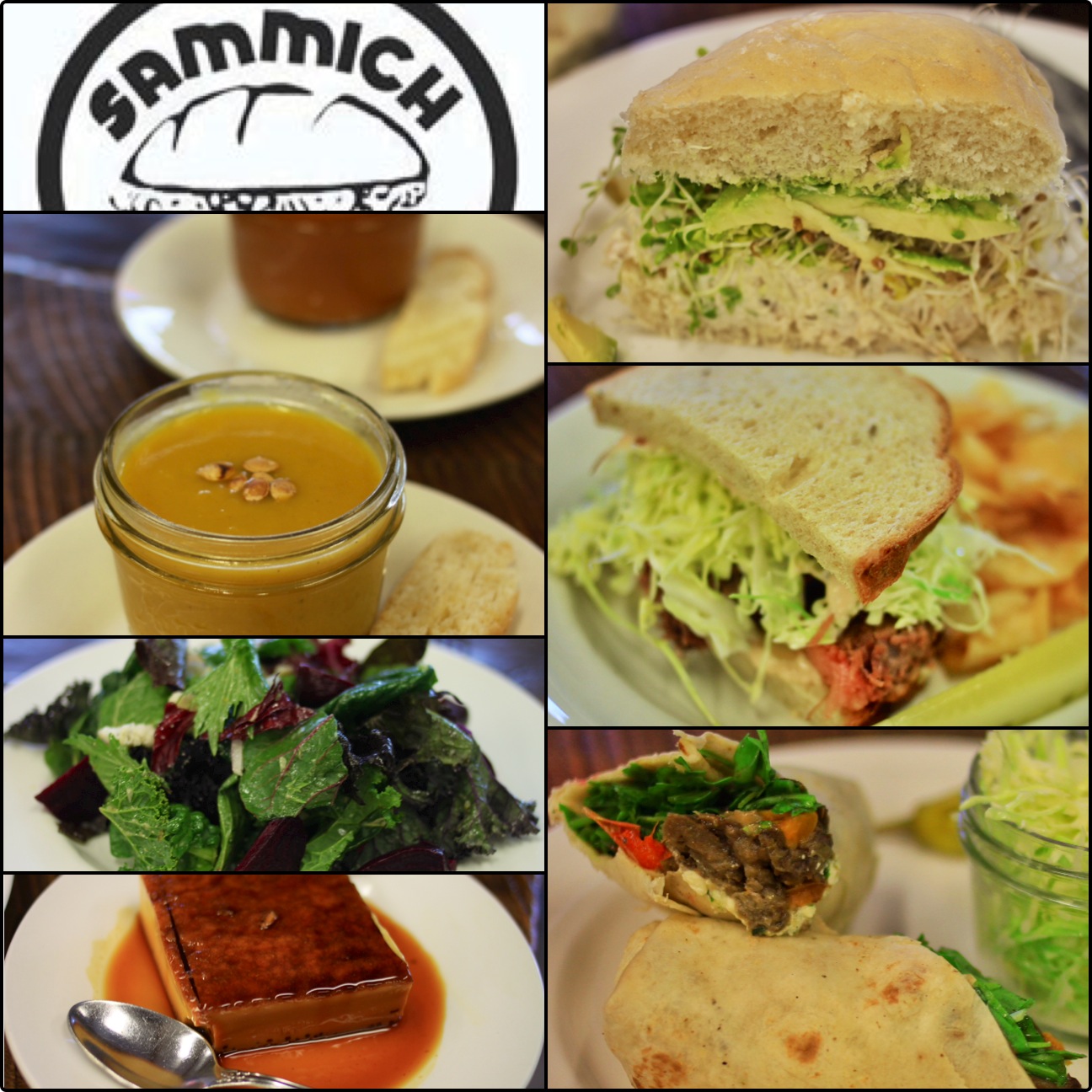 A while back, I shared a recipe for olive oil poached albacore tuna, which was inspired by a local restaurant, Sammich. Two months after my post, I received an unexpected e-mail from one of the owners of Sammich, asking if I wanted to come in and try some items off their menu sometime? Completely surprised by the offer, I of course said I would love the opportunity.
As Urban Dictionary states, "a sammich is not just a sandwich, it is not just a meal. Sammich is a term reserved for only the holiest and mightiest of all sandwiches. A sammich is a true work of culinary art; a feast on a bun, if you will. A sammich is not made of the best ingredients; it is made of the right ingredients. It needs the right meats, and the right cheese(s), the right sauce, the right veggies, and the right kind of bread." But Sammich owners Chandra Corwin and Melissa McMillan DO use the best ingredients. They take the time to use local grown produce from Talent's Fry Family Farm, locally baked breads from La Baguette. The meats are additive, nitrate, and preservative free and comes from ranches solely found in the Pacific Northwest.
Outside of the attentive and impressive care that's found in regards to Sammich ingredients, what's even more stunning is the obvious love that is poured into each meal you're lucky enough to have cross your palate. The character that Sammich exudes was the thing my husband and I were both most impressed by. Melissa was an incredible hostess, extremely engaging, and the pride that she and Chandra both take in their work is more than evident. While you can expect to eat a first class meal, you can do so in a setting that's laid-back and nonchalant. As we ate, there was another diner close by who mentioned that she had eaten at Sammich three times in the last two days and in fact, was having lunch AND bringing another sammich back to her hotel for later. She too mentioned how much she enjoyed the overall ambiance, especially the non-pretentious feel that so many Ashland restaurants seem to lack.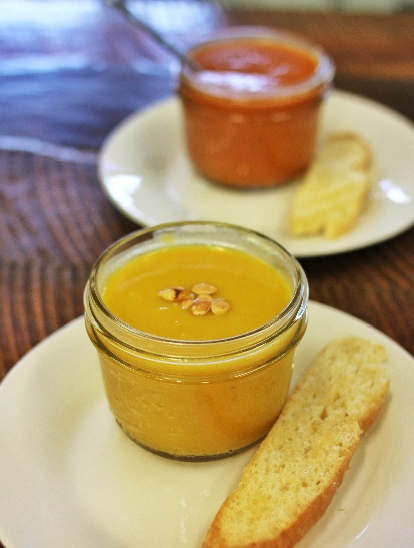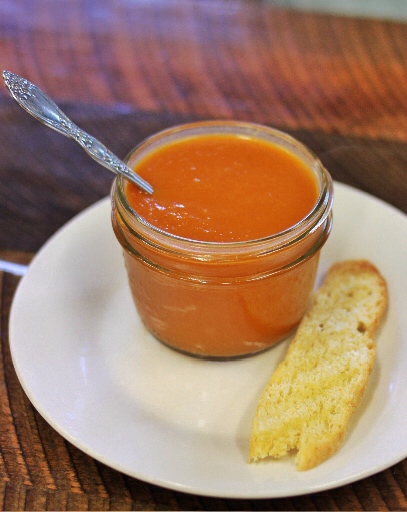 We had the opportunity to try an extensive amount of food. To start, we were brought two different soups – the house staple tomato soup and the day's special, a delicata squash soup. Both were vegan, but creamy and flavorful. The tomato was my favorite of the two – balancing tart and sweet perfectly.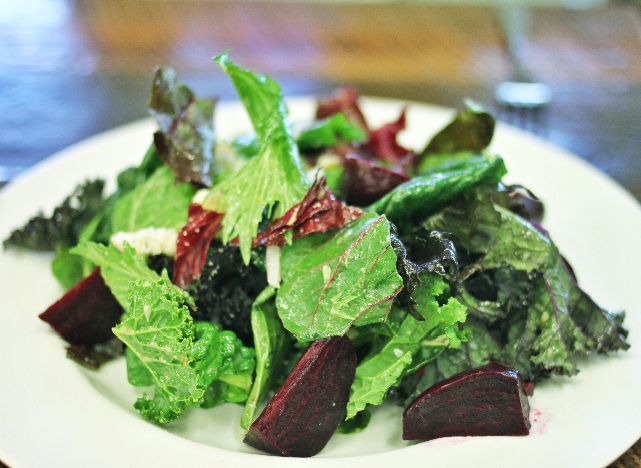 Next came a huge salad featuring local greens, roasted beets, and a nice tangy vinaigrette. Delicious!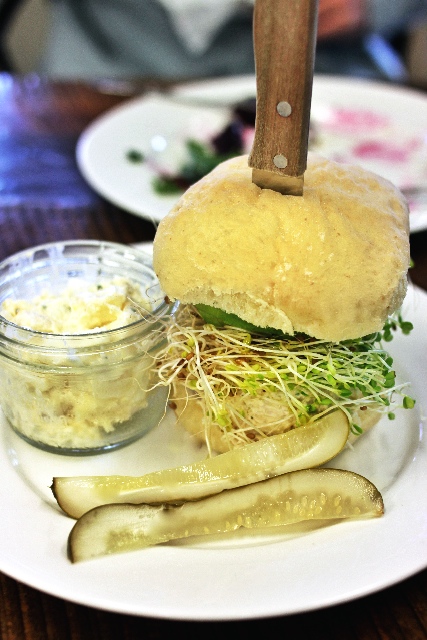 Melissa then brought us an albacore sammich. I apologize for the lack of a better photo – as soon as this sat in front of us, I needed to eat it. I'm not sorry for that part. The albacore is poached in-house, then sammiched with sprouts and avocado in a soft bun. Each bite simply melts in your mouth, all the while being perfectly seasoned and begging you to keep eating. We had a side of the potato salad, which was also no-frills-delicious.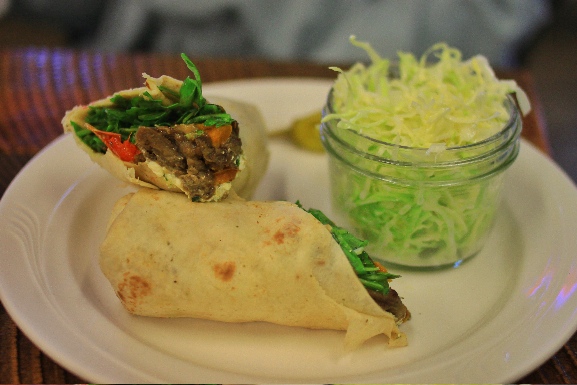 While we split the tuna sammich, Melissa asked my husband, laughing from behind the counter, "So you don't eat beef? What's wrong with you?" He told her that didn't matter – I'd eat beef… To which she replied, "I KNOW! Don't worry I'm bringing her some!" The next round of sammiches included their melanzane – roasted eggplant, red peppers and onion with a feta basil garlic spread, wrapped up with arugula. While my husband is a vegetarian, roasted veggies are rarely his thing. However, after eating this entire sammich, save for the one bite I took, he told me how much he enjoyed it, especially the peppers that worked particularly well with all the other ingredients.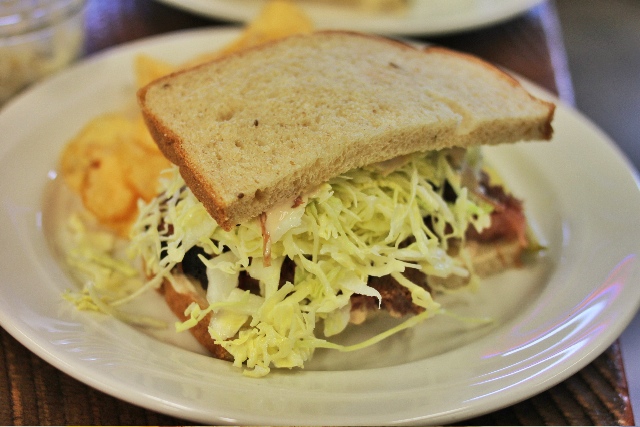 While my husband enjoyed his melanzane sammich, I was graced with a half of this pastrami beast. I will tell you right now – beef isn't usually my thing. If I am eating meat, it's usually chicken or turkey. But this sammich. HOLY CRAP. I like to joke that I know when I've prepared a good meal because our house goes silent. Around the dinner table, no one says anything because they're too busy shoving food into their faces. That is precisely the effect this pastrami had on me. Dead silence until I'd eaten every single bite. This hot sammich features a house cured Double R brisket on rye, served with swiss cheese and a house-made slaw. You can order it mustard or russian – my version was russian, which is how Melissa said chef Chandra prefers it. This sammich is magic. I dare you to order one, then try to eat less than the whole damn thing, no matter how full you think you may be about halfway through…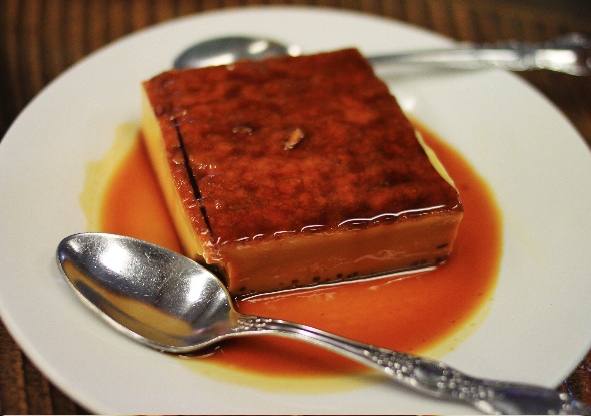 To top off our already extravagant meal, we were brought a slice of this cotija flan. Can I tell you that flan is usually at the bottom of my certainly-want-to-eat-desserts list? Well, that is the truth. BUT this flan blew my mind in the most fantastic way. It was so incredibly tasty! The custard was delicate and wonderfully balanced in sweetness, while the luscious caramel sauce topped everything off with a rich, but delicate flavor I haven't tasted anywhere else before in nearly 30 years.
While perhaps I should've taken Melissa up on her offer to wheel-barrow-cart us out to our car after this Sammich experience, I am certain that the bigger sign of appreciation and gratitude for the experience is to urge you to visit Sammich for yourself. I will certainly be back time and time again. I will try to keep from eating so much during each visit, but cannot make any promises.
Sammich Ashland
424 Bridge Street
Ashland, OR 97520
Ph: (541) 708-6055