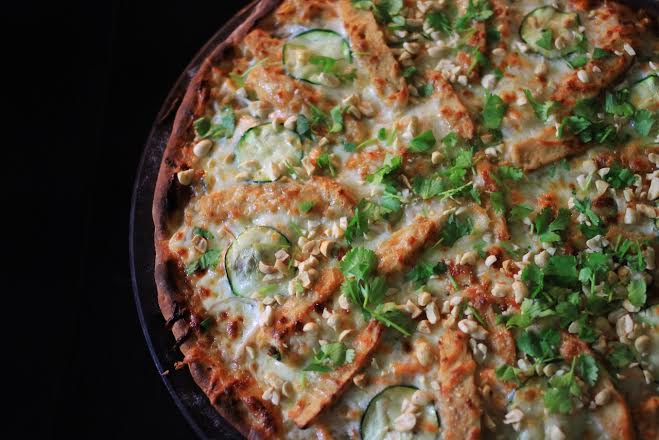 Tomorrow is Thanksgiving. I have the cranberry sauce done, pie crust ready to be baked, sweet potato pie filling ready to fill said crust… the artichoke squares are ready for the oven, along with some apple sage veggie sausage stuffing. The yam souffle casserole is ready to be topped and baked. There are ridiculous numbers of potatoes ready to be peeled, cooked and mashed… The veggie roasts need a little work, but won't take long – there's no thawing, brining, hours upon hours of cooking time necessary. My mother in law has some greens and cornbread on the way tomorrow, along with her mother's chocolate pie. Very importantly, the sangria is chilling in our fridge, filled with Oregon pears and apples, vanilla bean, cloves, and nutmeg, waiting to be topped off with champagne tomorrow.
And all I want to eat is pizza. Again. Because you know, I am really a 12 year old hungry boy at heart. (Don't tell.) We had this pizza last week. And pizza last night (the best mediterranean pizza I've ever made! And our house staple : jalapeno + pineapple ala my husband's taste buds). Back to this one, though. This is a vegetarian Thai chicken pizza and, well, it's really dang good, too. The sauce is important, as with any pizza. It's my favorite homemade peanut sauce so far. 
While I used Quorn Turk'y burgers for the "chicken," you can use whatever variety of veggie meat you prefer. If you prefer actual chicken, that is entirely doable, too.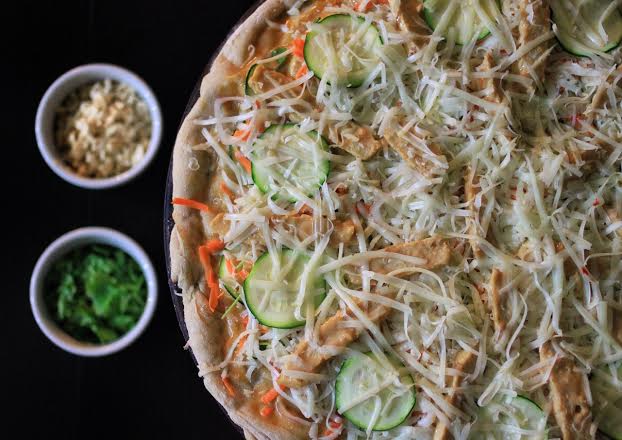 Vegetarian Thai Chick'n Pizza
Makes one large pizza
Ingredients:
For the sauce:
1/4 cup smooth peanut butter
1/4 cup hoisin sauce
1 1/2 teaspoons honey
1 teaspoon rice wine vinegar
1 teaspoon mirin
1 teaspoon freshly grated ginger
2 cloves garlic, minced
1 tablespoon sesame oil
1 tablespoon soy sauce
1 teaspoon sriracha chili sauce
1/2 teaspoon oyster sauce, optional
one small can coconut milk (5.46 ounce size)
For the pizza:
½ recipe of this dough, or enough of your preferred recipe for 1 ball of pizza dough
3 Quorn Turk'y burgers, thawed and sliced into thin strips
1 large carrot, grated
1 medium shallot, sliced thin
1 small zucchini, sliced in thin rounds (1/8-inch thick, or thinner)
1/4 cup fresh cilantro, chopped
2 cups shredded mozzarella cheese
3 tablespoons raw peanuts, chopped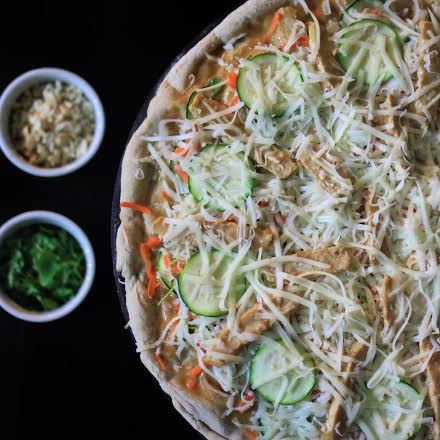 Directions:
Preheat your oven to the highest setting it will go (ours goes to 550°F). If using a pizza stone, place it in the oven to preheat as well, for at least 30 minutes.
While the oven is preheating, prepare the sauce: in a small saucepan, whisk together all of the ingredients over medium heat, until the sauce starts to bubble and thicken slightly (5-10 minutes). Remove from heat.
Roll out the pizza dough into a 16-18 inch round (approx. the size of your pizza stone or pan). Place on your preheated stone, working quickly. Prick with a fork all over 8-10 times. Bake the dough for 2-4 minutes, until not doughy, but also not browned at all.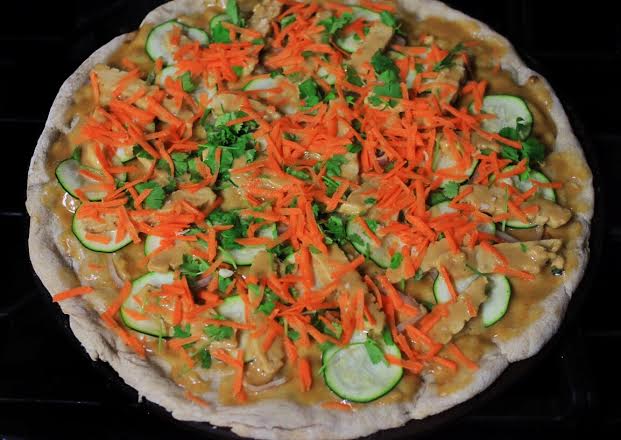 Remove from the oven and spread about 2/3 of the sauce on the prebaked crust. Place the sliced Quorn turk'y in the remaining sauce, stirring until each piece is nicely coated. Top the pizza with layers of the zucchini, grated carrots, turk'y, shallots, cheese, and half of the cilantro.
Bake for 12-15 minutes, until golden on top and the crust is nicely browned. Top with the remaining fresh cilantro and chopped peanuts. Allow the pizza to cool slightly, then cut and serve.