This month, I decided to join in with many other bloggers in an online foodie exchange. Foodie Pen Pals is a program that Lindsay Livingston, over at The Lean Green Bean, began in 2011. You don't have to be a blogger to join in, simply someone who enjoys food and new friends. :)
For my first exchange, I was paired with Amanda Hsiung, who blogs at Eat Hard Work Hard. Amanda contacted me quickly after we received our pairing from Lindsay, seeming excited and friendly. This was her first exchange as well. I received the following box: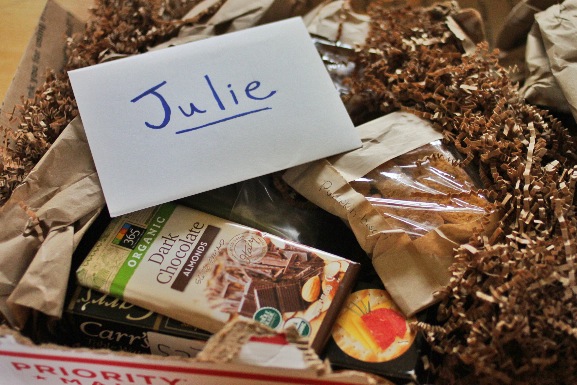 And a better look at what was inside: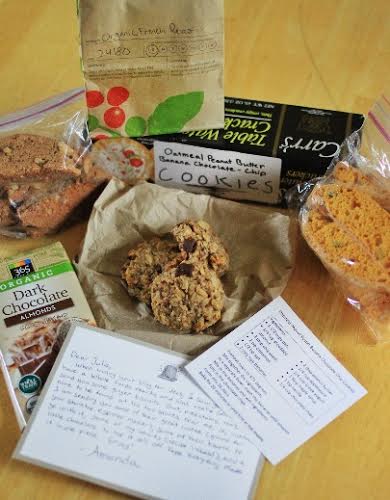 Amanda sent me two types of Whole Foods biscotti: apple spice and pumpkin – great Fall time flavors. She included some organic French roast coffee for our espresso pot, too, which I've been greatly enjoying.
Included as well was a bar of dark chocolate with almonds and my favorite item in the box – homemade cookies! Amanda included the recipe for her oatmeal peanut butter banana chocolate chip cookies, which I was extremely happy about because I cannot wait to make a batch of these cookies myself.
Thanks so much for the exchange, Amanda! And Lindsay, thanks for the work you put into this program. I can't wait to be back in January to participate again.
——————————————————————————————————-
As for Foodie Pen Pals, here's a detailed explanation of the program:
-On the 5th of the month, you will receive your pen pal pairing via email. It will be your responsibility to contact your penpal and get their mailing address and any other information you might need like allergies or dietary restrictions.
-You will have until the 15th of the month to put your box of goodies in the mail. On the last day of the month, you will post about the goodies you received from your pen pal!
-The boxes are to be filled with fun foodie things, local food items or even homemade treats! The spending limit is $15. The box must also include something written. This can be anything from a note explaining what's in the box, to a fun recipe…use your imagination!
-You are responsible for figuring out the best way to ship your items depending on their size and how fragile they are. (Don't forget about flat rate boxes!)
-Foodie Penpals is open to blog readers as well as bloggers. If you're a reader and you get paired with a blogger, you can choose to write a short guest post for your penpal to post on their blog about what you received. If two readers are paired together, neither needs to worry about writing a post for that month.
– Foodie Penpals is open to US, Canadian residents & UK residents. Please note, Canadian Residents will be paired with other Canadians only. We've determined things might get too slow and backed up if we're trying to send foods through customs across the border from US to Canada and vice versa. So, I'm going to keep two separate lists and match US w/ US and Canada w/ Canada!
Please follow and like us: