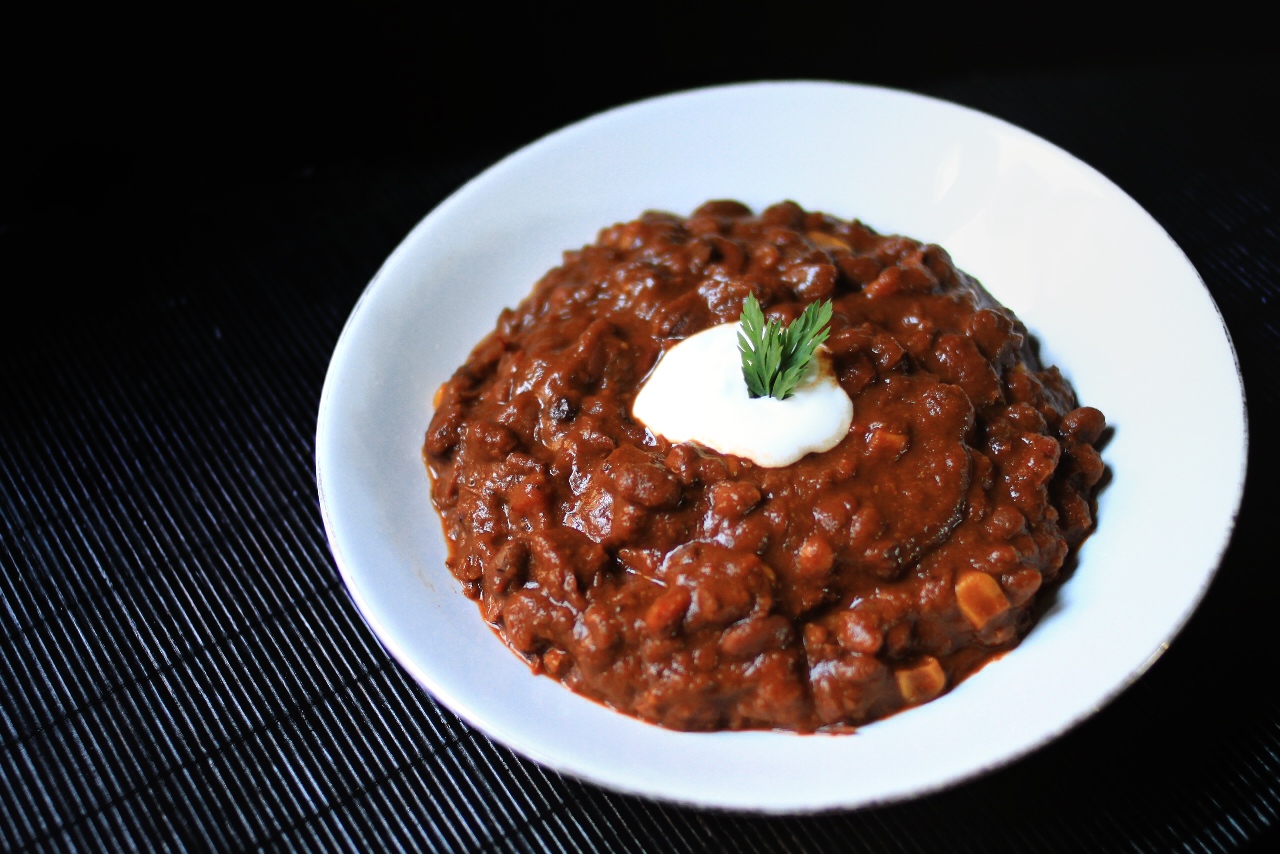 Winter around here in the Pacific Northwest – it lingers. In this particular valley, we have some trickery that happens every February, where a stretch of 3 to 4 days will bring warmth, sunshine, and the hint of spring. Folks flock to the parks, they lay around in tank tops and shorts and forget it's nowhere close to March, April… And then BOOM! The cold is back and hangs out until June. I don't often mind, really. I love the cold just as much as I enjoy warmer weather.
Cold temperatures beckon warm foods like hearty stews and soups. As a mostly vegetarian cook, these types of dishes offer quite an array of possibilities. A good spicy chili always goes over well around our house. Making it in the crock pot makes it a breeze and much of the work happens without you having to do a single thing. The result is a filling, fragrant, and delicious chili that can feed an army of folks (or family made up mainly of hungry boys).
This vegetarian chili includes a few things I find enjoyable: Gimme Lean is a vegan meat substitute that is wonderfully spiced – by far my favorite veggie meat substitute. I've also included dried beans rather than canned pre-cooked beans, as this allows for more flavor absorption. The unsweetened cocoa adds just the slightest bit of sweetness to balance out the spiciness, plus the way it deepens the final color of this chili is gorgeous (which is important after all, as the age old saying goes, "you eat first with your eyes…").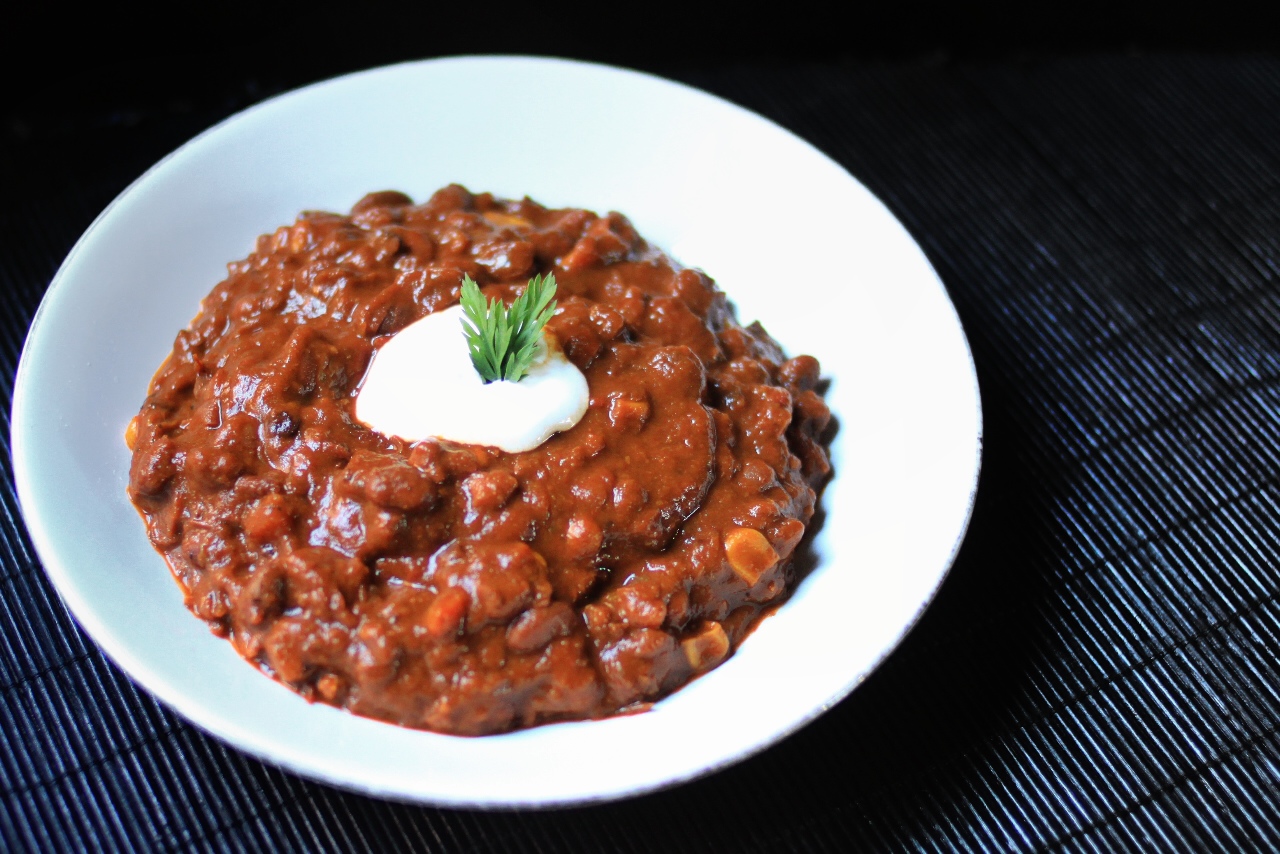 Vegetarian Crock Pot Chili
Feeds 10-15 people, easily.
Ingredients:
4 tablespoons vegetable oil
1 large yellow onion, diced
1 small red bell pepper, seeds and ribs removed, diced
4 cloves garlic, minced
1- 14 ounce tube Gimme Lean vegan sausage
2 large carrots, diced
1 large zucchini, diced
1- 10 ounce bag frozen corn
1 pound dried red beans
1- 6 ounce can tomato paste
4 cups diced tomatoes with juice
2 cups No-Chicken broth (vegetable broth is okay, too)
1 heaping tablespoon chili powder
1 teaspoon smoked paprika
1 teaspoon ground cumin
1 teaspoon ground coriander
1 teaspoon unsweetened cocoa powder
3/4 teaspoon salt
1/2 teaspoon ground black pepper
2 dried bay leaves
* optional: 1 teaspoon applewood liquid smoke
Directions:
In a large pan, heat the oil over medium-high heat. Add the onion, bell pepper, and garlic until the onion softens and is nearly translucent. Crumble in the Gimme Lean, stirring to evenly distribute with the sautéed onions. Cook until the sausage is lightly golden brown.
Once the sausage has browned, dump it, along with the onion/bell pepper/garlic into your crock pot. Add the remaining ingredients to your crock pot as well, stirring to mix everything well. Cover and cook on low for at least 8 hours, until the beans are completely tender. (I actually cooked ours for 15 hours, but this isn't necessary – just how timing worked out!)
After 8 hours, check the level of liquid in the crock pot. You can add more broth (or water) as necessary. Add more salt and pepper to your liking once the chili has finished cooking.
Serve hot, with your favorite toppings. We like sour cream, grated cheese, a hefty dose of hot sauce, and freshly sliced avocado, with a side of steamed rice and/or cornbread.