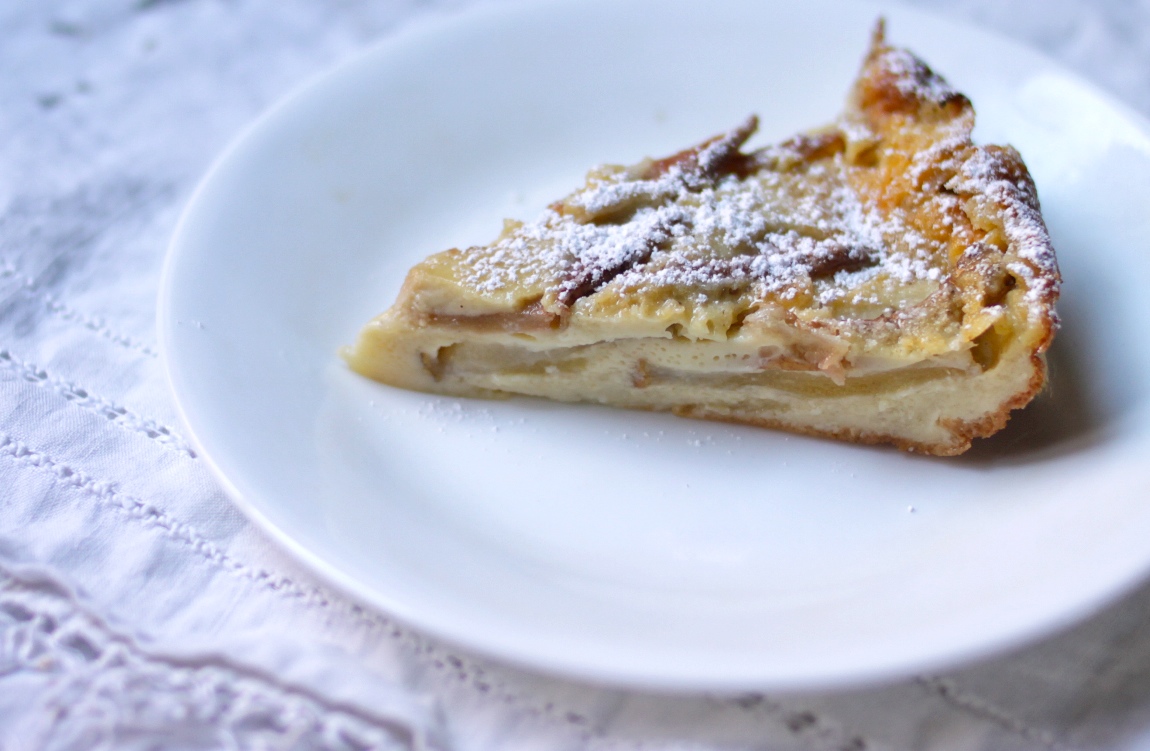 Sometimes I decide to cook something just because it sounds good. Like yesterday when I decided chocolate chip cookies were absolutely necessary because when do chocolate chip cookies sound like a bad idea? (After you eat about 10 of them fresh out of the oven is the correct answer there… Real-life tested.) Other times I cook something purely out of necessity. (Yes, some days it's purely necessary to bake a bunch of cookies, but that's not the kind of necessity I mean.)
I have a knack for buying too much fresh fruit and then forgetting to eat it until it's borderline inedible. When that's happens, my brain goes into a frenzy since wasting food (intentionally or not) is unacceptable. When I discovered three pears that were quite bruised up and certainly more-than-ripe, I had to think of a way to use them. Cake? Nah. Tart? Eh. Cooked into oatmeal? No thanks. So as per usual, I turned to the inter-webs for some ideas.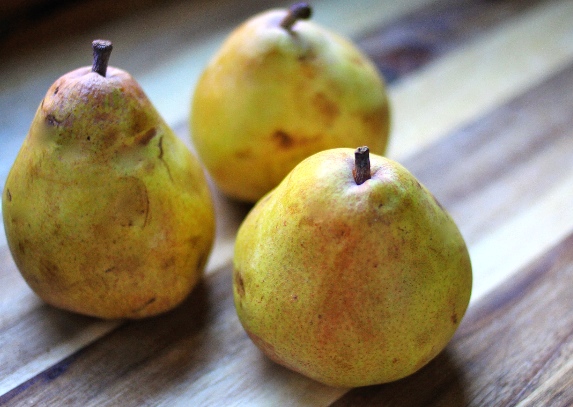 I discovered a gorgeous "pear custard pie" recipe from Martha Stewart's magazine, Everyday Living. This was what I was going to make, I decided. The ingredients were simple, the instructions sounded impossible to screw up. I didn't read the instructions carefully enough though, as I was supposed to peel my ugly pears. This didn't seem to matter too much in the final pie, though. I actually liked the texture contrast. Although this is called a pie, there is no crust. In fact, I thought the final product was more closely reminiscent of a dutch baby pancake than any pie I'd had before. While the custard is quite eggy, the dessert is balanced in its sweetness while the almond extract, fresh vanilla bean, and nutmeg round out the flavors nicely. I could easily see including this with a weekend breakfast, as well as dessert.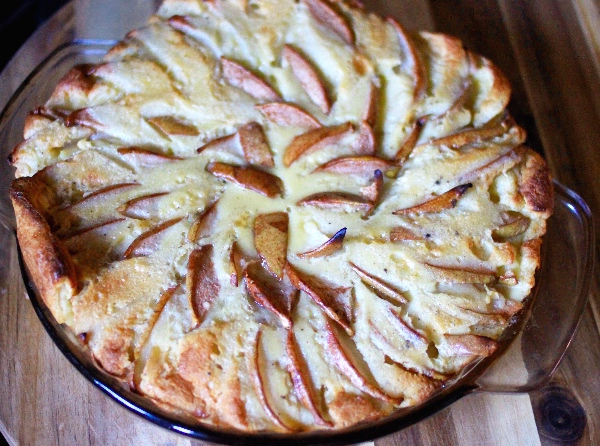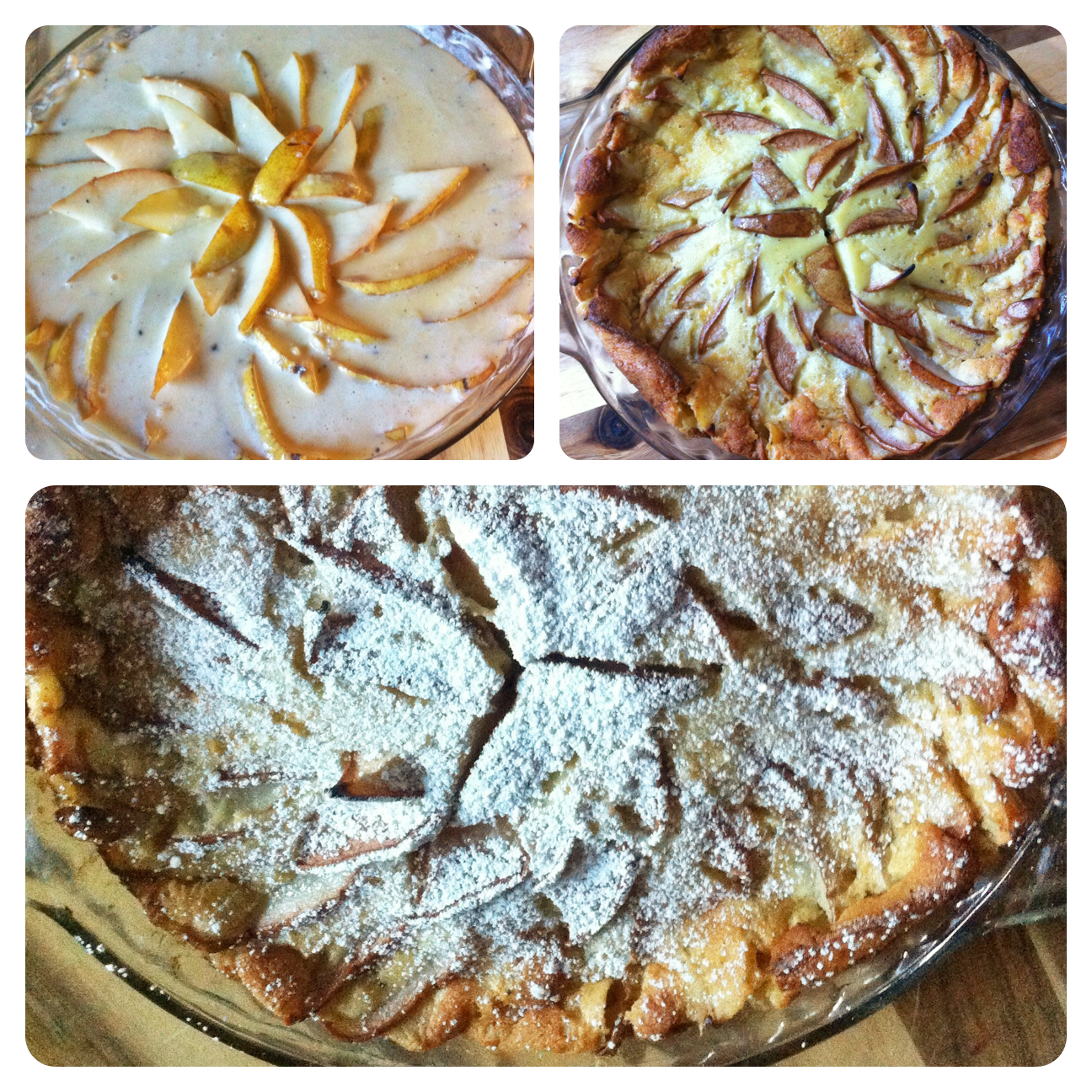 Pear Custard Pie
Recipe lightly adapted from Martha Steward Everyday Food, October 2003
Yields one 9-inch pie.
Ingredients:
3 Comice pears, halved, cored, sliced lengthwise into 1/4-inch thick slices *
1/4 cup unsalted butter, melted
1/3 cup granulated sugar
1/3 cup all-purpose flour
1 teaspoon vanilla extract
1 teaspoon almond extract
1 vanilla bean, scraped
pinch of fresh nutmeg
3 large eggs
3/4 cup whole milk
1/4 teaspoon salt
confectioners' sugar
* While the original recipe asked to peel the pears, I left the skins on (accidentally). I actually liked the texture they maintained in the final pie, but peel your pears if you prefer.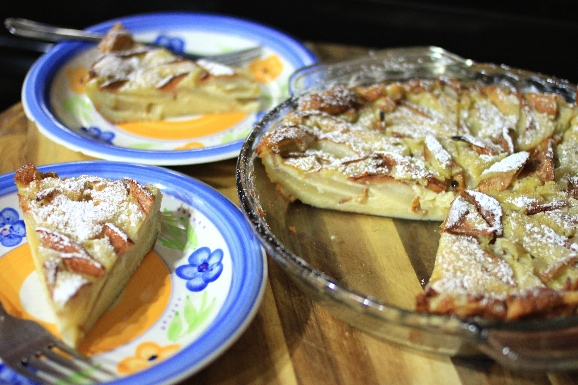 Directions:
Preheat your oven to 350 degrees F. Butter a 9-inch pie dish. Arrange your pear slices in the dish, slightly overlapping them. Set aside.
In a bowl, whisk together the melted butter, sugar, flour, vanilla and almond extracts, vanilla bean, nutmeg, eggs, milk, and salt until completely smooth. (This can be done in a blender if you have one.)
Gently pour the batter over the arranged pears. Bake the pie until it's golden in color and firm to touch (45-50 minutes). Allow the pie to cool for 15-20 minutes. Dust with confectioners' sugar and serve warm or at room temperature.