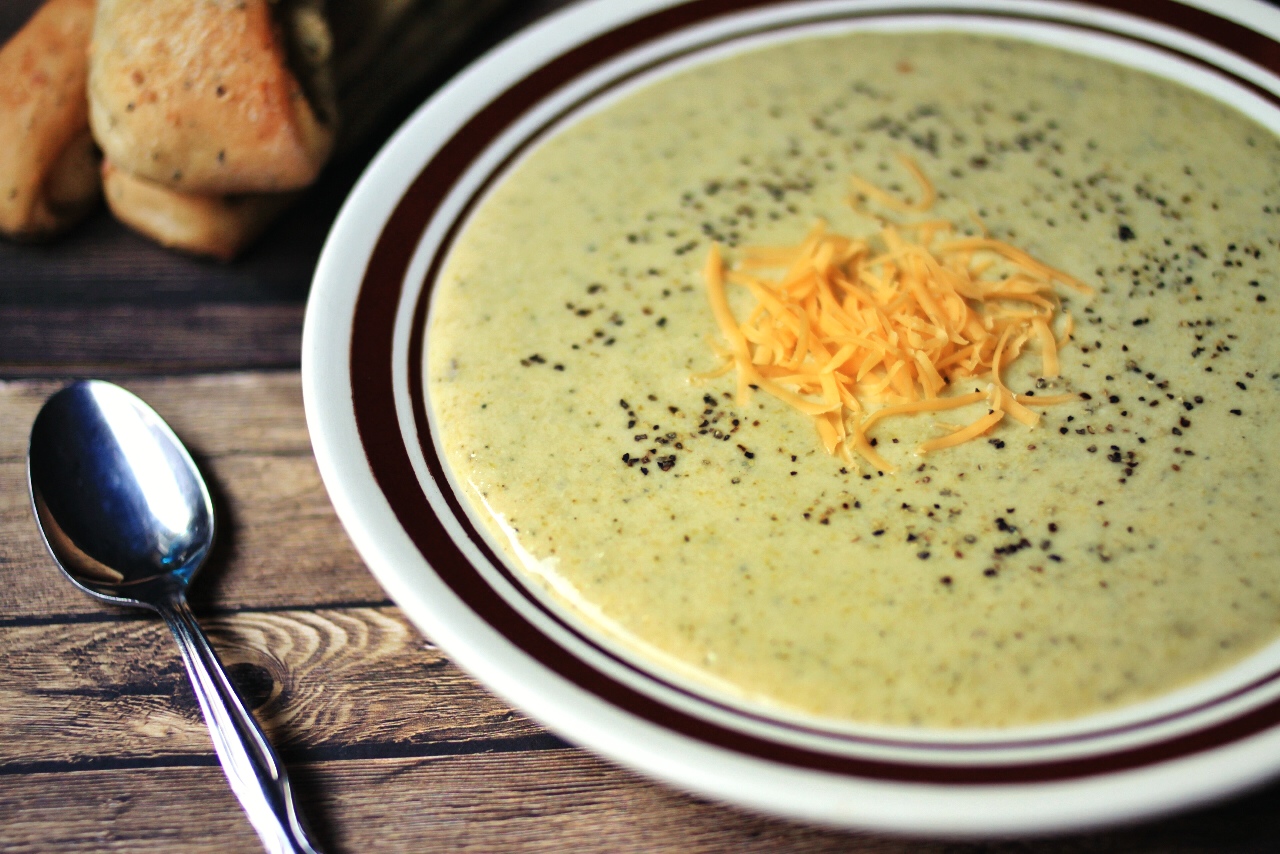 Its taken me a while to get used to the comfort found in a bowl of soup.  I suppose I shouldn't be surprised; there are no particular reasons for my certain kind of soup-avoidance-crazy.  I think I spent most of my life regarding soup as the thing to serve sick folks.  Or cry babies who are on a soft-food-only regimen due to dental work.  Maybe it's because "soup" often correlates with the canned varieties that line grocery store aisles, in my brain.  You know – the ones laden with extra things that don't belong in soup, or the ones sorely lacking in flavor.
Although its taken some time, I can appreciate a good bowl of soup these days.  My favorite is possibly broccoli cheese soup – the pureed variety, not chunky.  My second favorite as of late is beer cheese soup.  (Apparently, soup, when filled with cheese, is a win-win situation in my food-brain.)  I decided to combine my favorite elements of both soups: creamy broccoli soup, filled with sharp cheddar cheese, and beer.  This soup is ridiculously, deceivingly filling.  As with most soups, I preferred the flavor the second day – you can plan ahead and make this 24 hours in advance, then reheat for serving.
I suggest serving this with a great big salad and perhaps some homemade (or fresh) bread.  As I shared yesterday, I adapted Tracy Shutterbean's recipe for no-knead pizza dough to make cheesy/garlic/herb bread stick rolls to go with our soup.  Super easy: make the dough from her linked recipe, roll it into a rectangle, brush the top with olive oil or butter.  Sprinkle on some dried herbs of your choosing (I used basil, thyme and oregano).  Sprinkle on some sea salt and cayenne pepper, parmesan cheese and red chili flakes.  Roll up the rectangle, flatten it a bit, cut into strips that are about 1-inch wide.  Place on a baking sheet, brush the tops with heavy cream/melted butter/oil/buttermilk (whatever of those you have handy).  Sprinkle with more parmesan.  Let the dough rise again for 25-30 minutes.  Bake at 425 degrees until golden brown (15-20 minutes).  Serve with the hot soup – it makes great dipping-bread.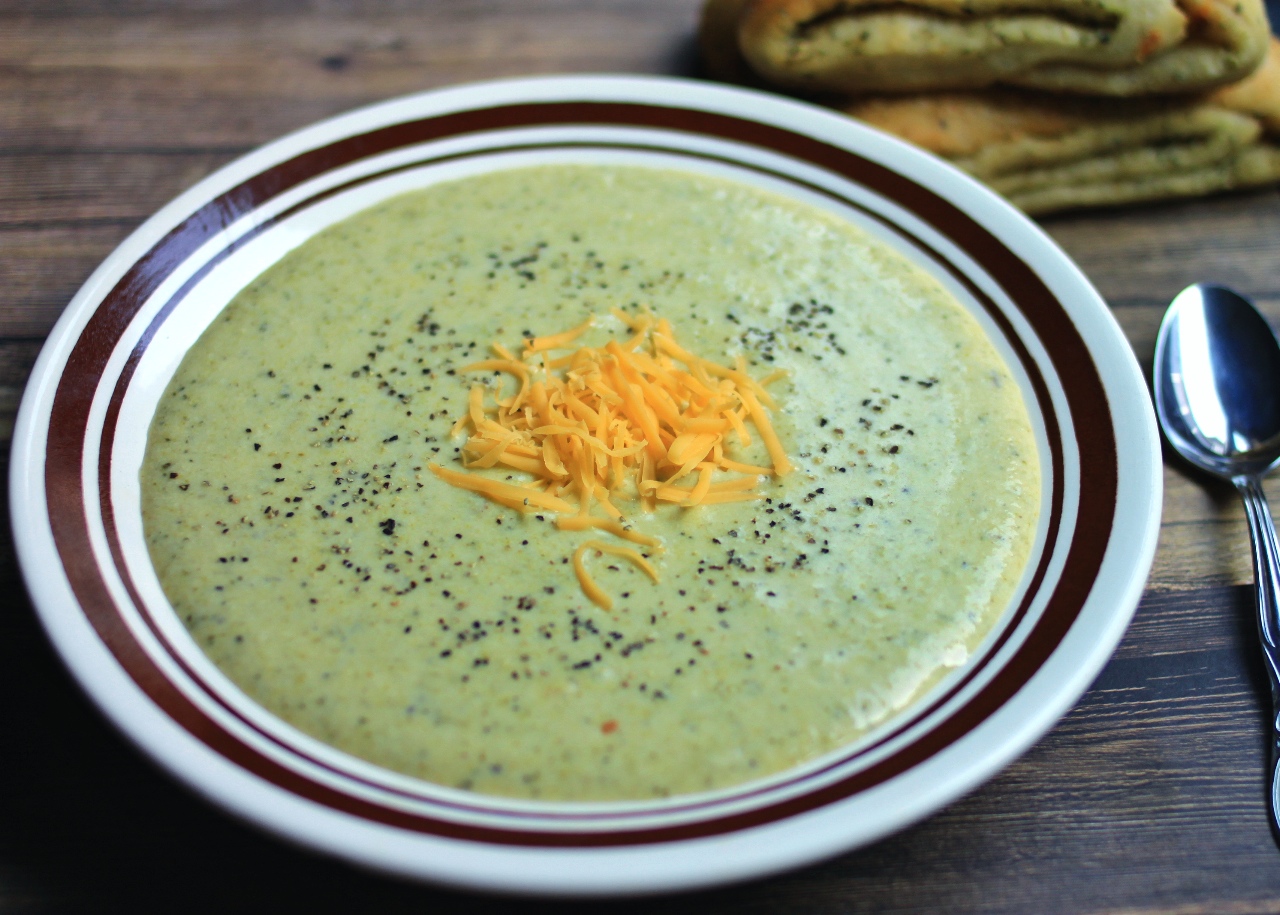 Broccoli Cheddar Beer Soup
Delicious fuel for 8-10 people, easily.
Ingredients:
1/2 cup unsalted butter (1 stick)
1 large onion, diced
5 cloves garlic, minced
1/2 cup all-purpose flour
4 cups whole milk
2 cups half and half
1 cup No-Chicken or vegetable broth
4 medium broccoli crowns, broken into large chunks
1/2 teaspoon fresh ground nutmeg
salt and pepper to your liking
3 cups shredded sharp cheddar (I use half sharp, half extra-sharp)
22 ounces beer (a lighter ale works well)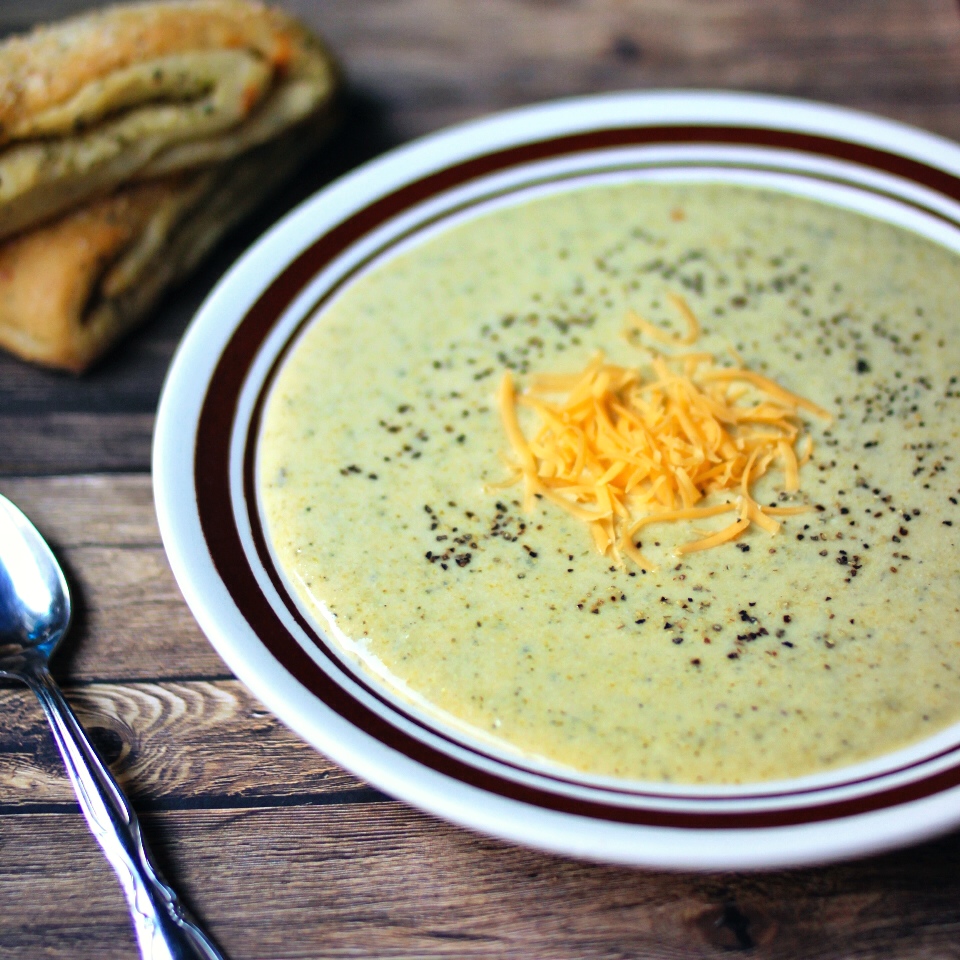 Directions:
Melt the butter in a large stock pot, over medium-high heat. Add the onions and garlic and cook the mixture until the onions are translucent. Sprinkle in the flour, stirring to coat the onion mixture. Let the mixture cook for 1-2 minutes, to cook off the flour taste.
Add the milk, half and half, and broth, stirring everything well.  Add the broccoli, nutmeg, a dash of salt and lots of ground black pepper. Cover and reduce heat to low. Simmer for 25 to 30 minutes, until the broccoli is very tender.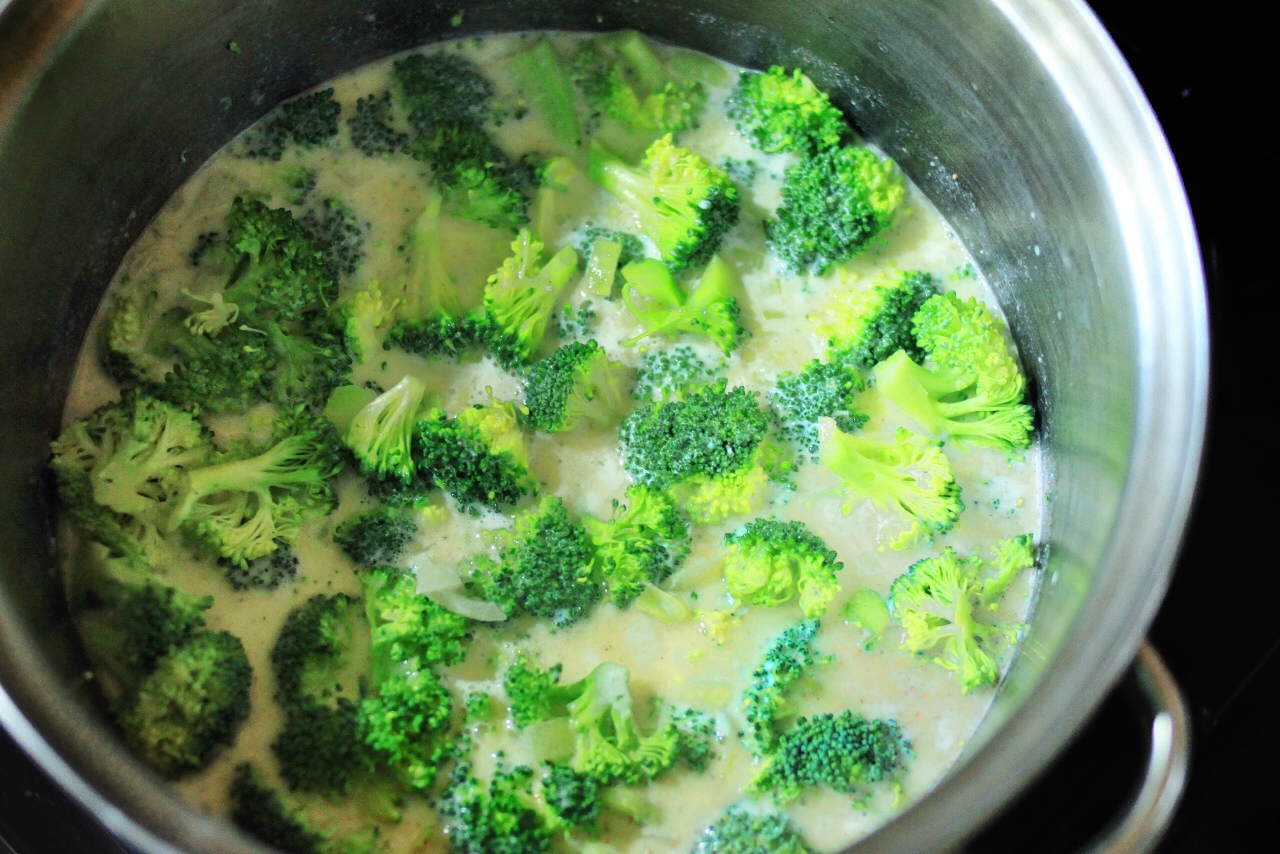 Uncover and stir in the shredded cheese and beer, continuing to stir until the cheese completely melts. Taste, then add more salt and pepper if needed.
The soup can be served as is, or transfer the soup to a food processor or blender and puree completely (you'll have to do this in two batches). If you puree the soup, return it to the pot and allow it to heat back up. You can add more broth if the soup is too thick for your liking.