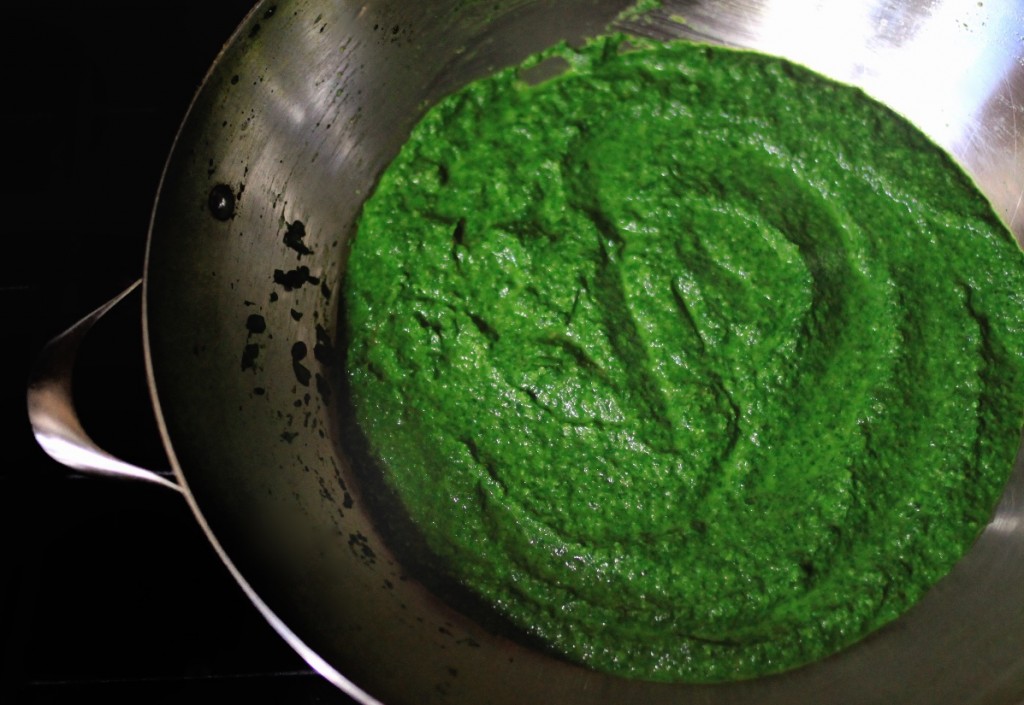 Going out for dinner can often become an adventure for us. Since I will eat meat if it sounds like a dish I'd enjoy, menus can be a little bit more approachable. However, I am typically going to be eating with my husband or kids, so the menu has to include vegetarian fare that is appealing. Perhaps that's why we eat so much Mexican food. But another cuisine that is extremely and deliciously vegetarian friendly is Indian food.
There are a couple places you can get decent Indian food around us, but by the time we have paid for four buffet style meals, added two beers or fresh chai or fresh lassis to the bill, these meals don't come cheap.
As it turns out, one of my favorite dishes, palak paneer is not overly difficult to make. It comes together rather simply and quickly. The dish itself is based with a spiced, pureed spinach curry laden with cubes of fresh paneer cheese. Since we're going to blanch the spinach before pureeing it, the color stays vibrant and brilliantly green. This dish is flavorful, but mild enough to be enjoyed by kids as well.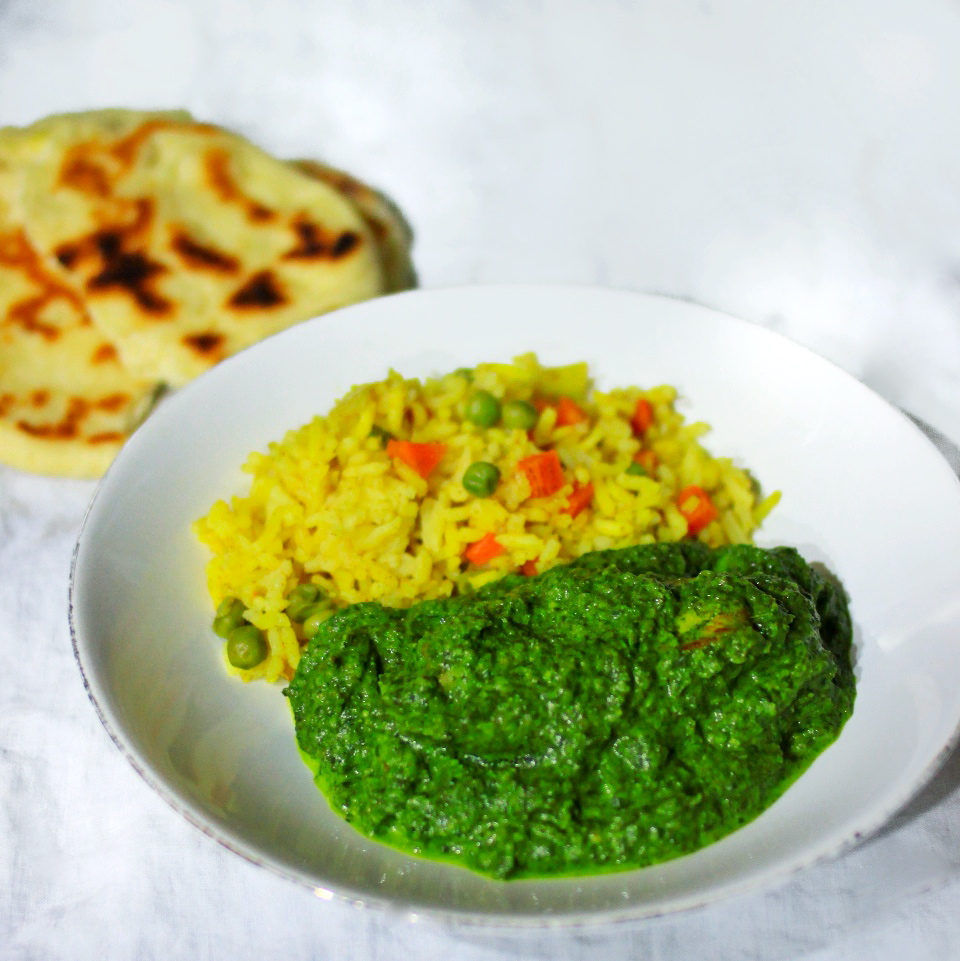 Palak Paneer
Serves 4-6 people
Ingredients:
1 pound paneer cheese, cut into bite-sized cubes
1/4 cup canola or sunflower oil
1 1/2 pounds loose spinach leaves
2 tablespoons ghee or butter
2 tablespoons oil
1 large onion, diced
one 1-inch piece ginger, peeled and minced
4 cloves garlic, peeled and minced
1-2 green Serrano peppers, finely chopped *
2 teaspoons ground coriander
2 teaspoons ground cumin
1 teaspoon garam masala
scant 1/4 teaspoon asafoetida
1/4 teaspoon ground turmeric
1/4 teaspoon ground cloves
1 dried bay leaf
1/2 cup water
2 tablespoons heavy cream (optional)
salt and pepper
 If you prefer a milder heat, you can use Anaheim peppers in place of the Serrano peppers. If you DO use the Serrano, make sure to taste it before you add it to the dish, to make sure you don't create something too spicy for you to enjoy.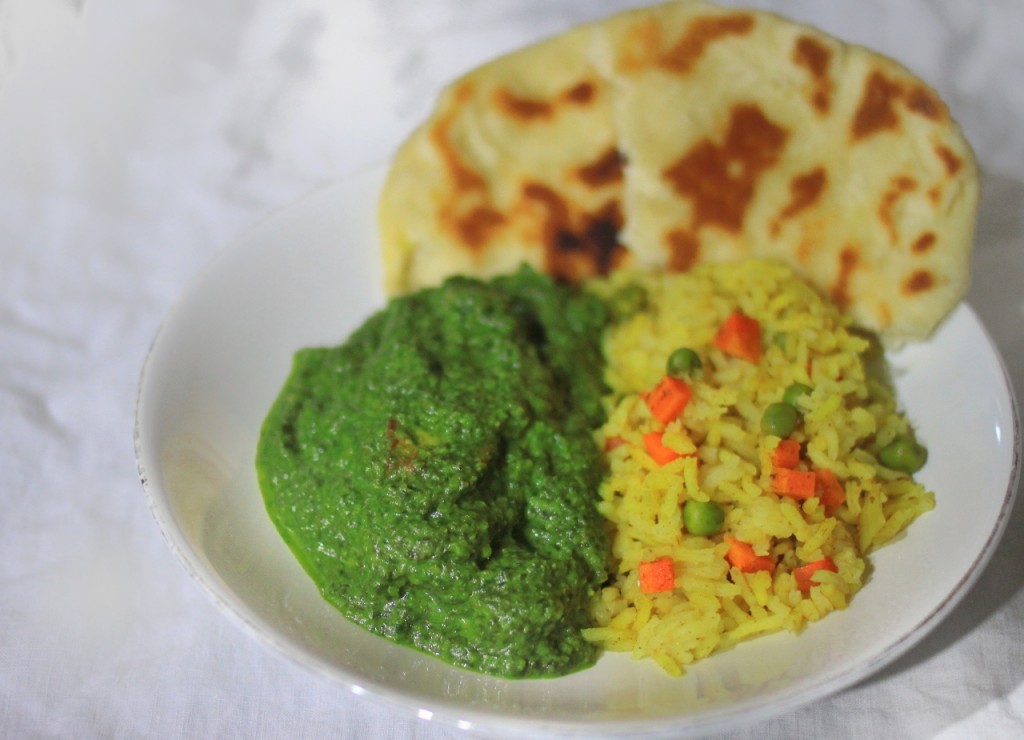 Directions:
Heat the 1/4-cup of oil in a large wok or heavy bottomed skillet to 350 degrees F. Gently lower the paneer cheese into the oil, in a single layer, occasionally stirring it around to brown the cubes on each side. Place the fried cheese on layers of paper towels to drain the excess oil. Continue cooking until all the cheese cubes have been fried.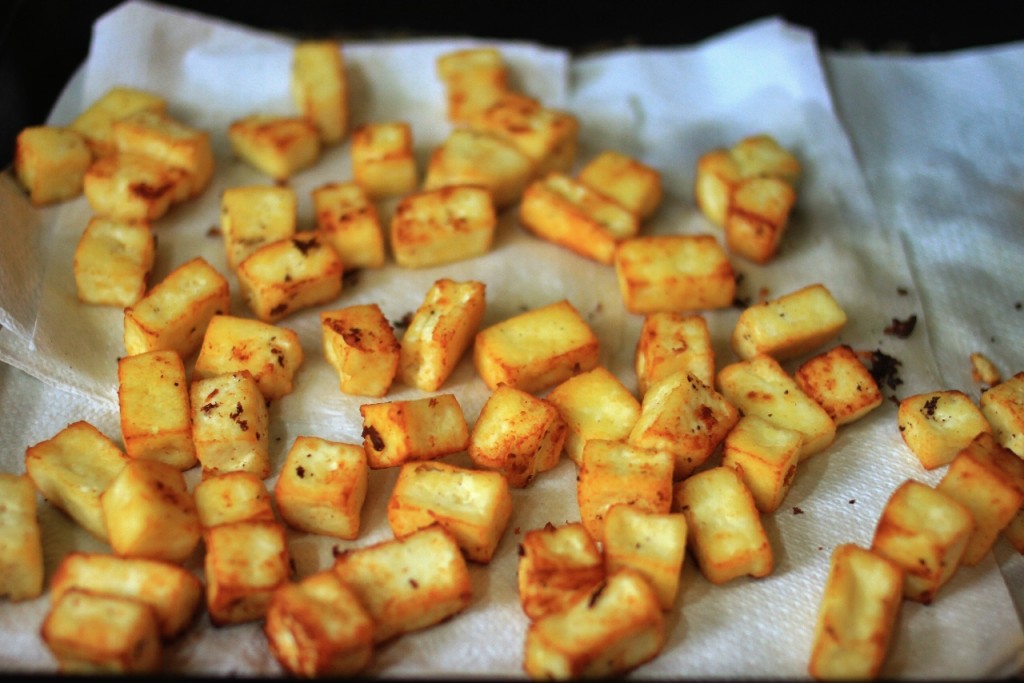 Bring a large pot of water to a rolling boil. Work in batches to blanch the spinach. Drop in one or two handfuls of fresh spinach, cooking for 12-15 seconds. Remove immediately, and place either in ice water or run under cold water immediately. Set in a colander until needed.
Drain whatever oil is leftover in your wok from frying the paneer.  Add the two tablespoons of ghee or butter plus the two tablespoons of oil into the wok. Add the diced onion, minced ginger, minced garlic and the chopped Serrano pepper. Cook over medium-high heat until the onion is translucent and the ingredients are fragrant.  Add the coriander, cumin, garam masala, asafoetida, turmeric and cloves, stirring to evenly distribute the spices.
In a blender or food processor, combine the ingredients from the wok with half of the spinach. Blend until smooth. Once the spinach mixture is smooth, pour it back into your wok. Bring back up to temperature over low heat.
While the spinach in the wok is heating back up, in your food processor or blender (no need to rinse it out), combine the remaining spinach, water, and cream if you're using it. Blend until smooth. Pour this mixture into the wok, stirring to fully combine it with the spinach that's already heating. Add the bay leaf to the spinach. Taste and add salt and pepper to your liking.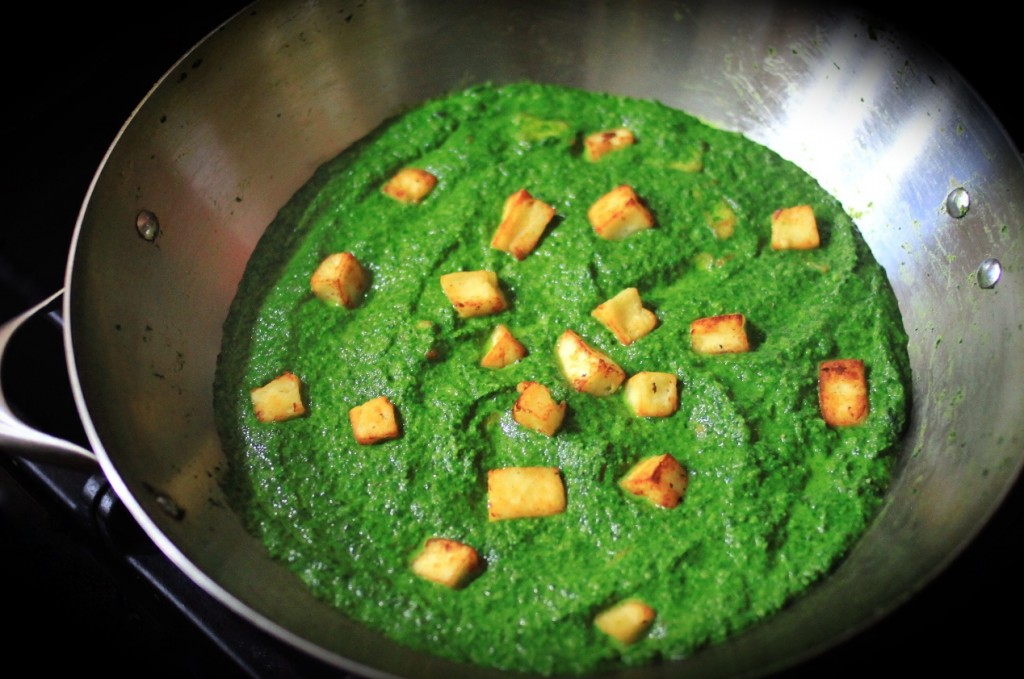 Gently fold the fried paneer into the spinach mixture. Once the palak paneer has reached a temperature hot enough to serve it (this  temperature is entirely up to your preference).  Serve with steamed rice, your favorite biryani, and/or fresh warm naan.
Sometimes spinach will take on a slightly bitter flavor, especially if it's blended up. If you find your palak paneer to be a bit too bitter in flavor, adding some acid and/or sweetness will balance the dish out. Fresh citrus is a great acidic ingredient. I ended up adding about two tablespoons of fresh lemon juice to my dish and a tiny pinch of sugar, stirring it in to combine everything well. The bitterness went away immediately.