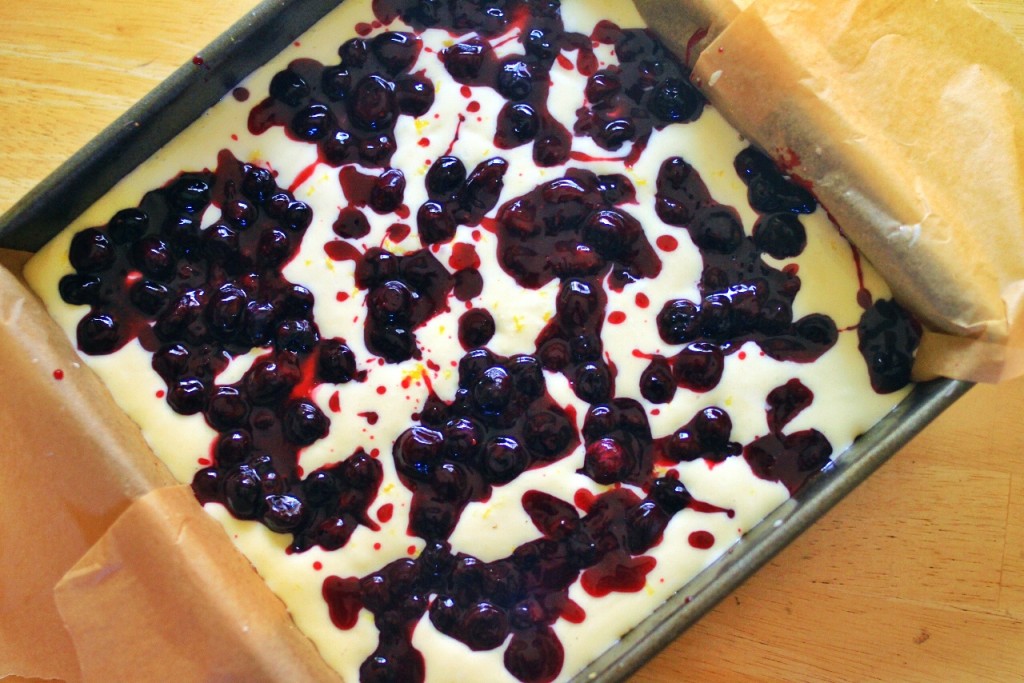 Generally I try to keep homemade desserts (and/or any desserts in general) to a maximum of once a week.  Let's be real. I have been failing at this for months now. I don't know if this time of year is just bringing a certain kind of crazy or what, but my apparent desire for sweets is peaking at an all time high.
Can we talk about weird real spring time related ordeals? I have never been much of a morning person. Typically I can find some middle ground and still get a decent amount of sleep each night… but something has gone awry. My insomnia has been ridiculous this week. I've been falling asleep somewhere between 3:00 and 4:00 AM each day, no earlier, sometimes later. Luckily my husband is loving enough to let me sleep in, come morning.
I realized how absurd this is getting when I got dressed for a meeting this morning. After I got home from said meeting after a couple hours, I looked in the mirror and realized I had put in two absolutely completely different earrings – neither of which was close to looking like the other. I wondered if the woman I was meeting with thought this was some new hippie girl, new-age style trend…
It appears that my new getting-by life-tactics include eating a lot of dessert and sleeping the minimum number of hours my body will function on. This is not a suggestion for you. I do not believe it best supports ones growth or productive capabilities. However, if I must resort to functioning off of little sleep and sweet treats… these cheesecake bars are where I'm heading.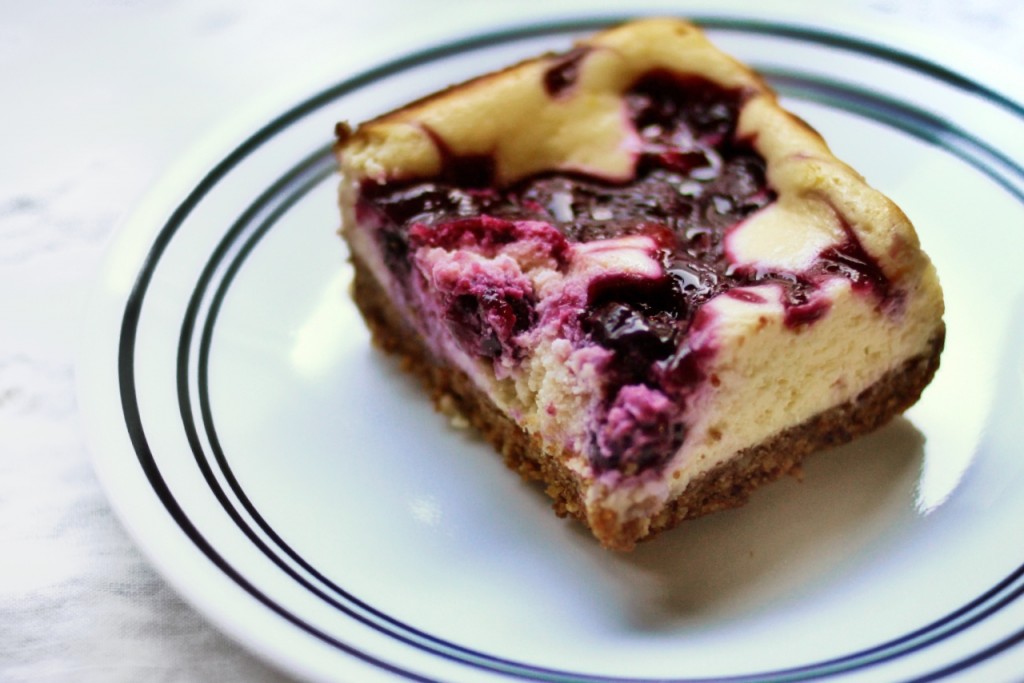 Lemon Blueberry Cheesecake Bars
Makes one 9×9-inch pan (about 12 bars).
Ingredients:
For the crust:
12 whole graham crackers
1 cup walnut pieces
1/4 cup confectioner's sugar
1/2 teaspoon cinnamon
6 tablespoons unsalted butter, melted
For the cheesecake layer:
2 tablespoons unrefined cane sugar
2 teaspoons cornstarch
10 oz. blueberries (frozen or fresh)
1/4 cup fresh lemon juice
16 ounces cream cheese, room temperature
3 eggs, room temperature
2 tablespoons fresh lemon juice
1/2 cup cane sugar
1 tablespoon all-purpose flour
1 tablespoon lemon zest (from about 2 medium-sized lemons)
1 teaspoon vanilla extract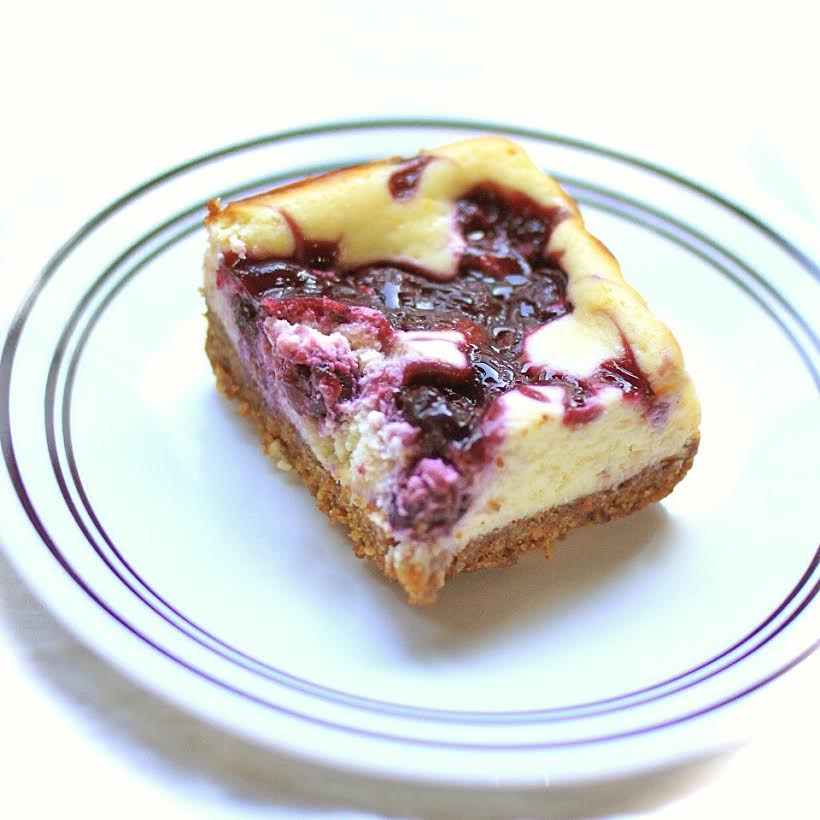 Directions:
Prepare the crust:
Preheat your oven to 305 degrees F. In a food processor, combine the graham crackers, walnuts, sugar and cinnamon. Pulse until rough crumbs remain. Slowly add in the melted butter, pulsing the mixture until the ingredients are just incorporated.
Line a 9×9 inch square pan with parchment paper, allowing the paper to hang off of two sides. Lightly coat with cooking spray, then pour the graham cracker mixture into the pan. Press the mixture down firmly into the bottom of the pan. You can use a slightly smaller baking pan to do this. Bake for 20 minutes until fragrant and golden brown. Remove from oven.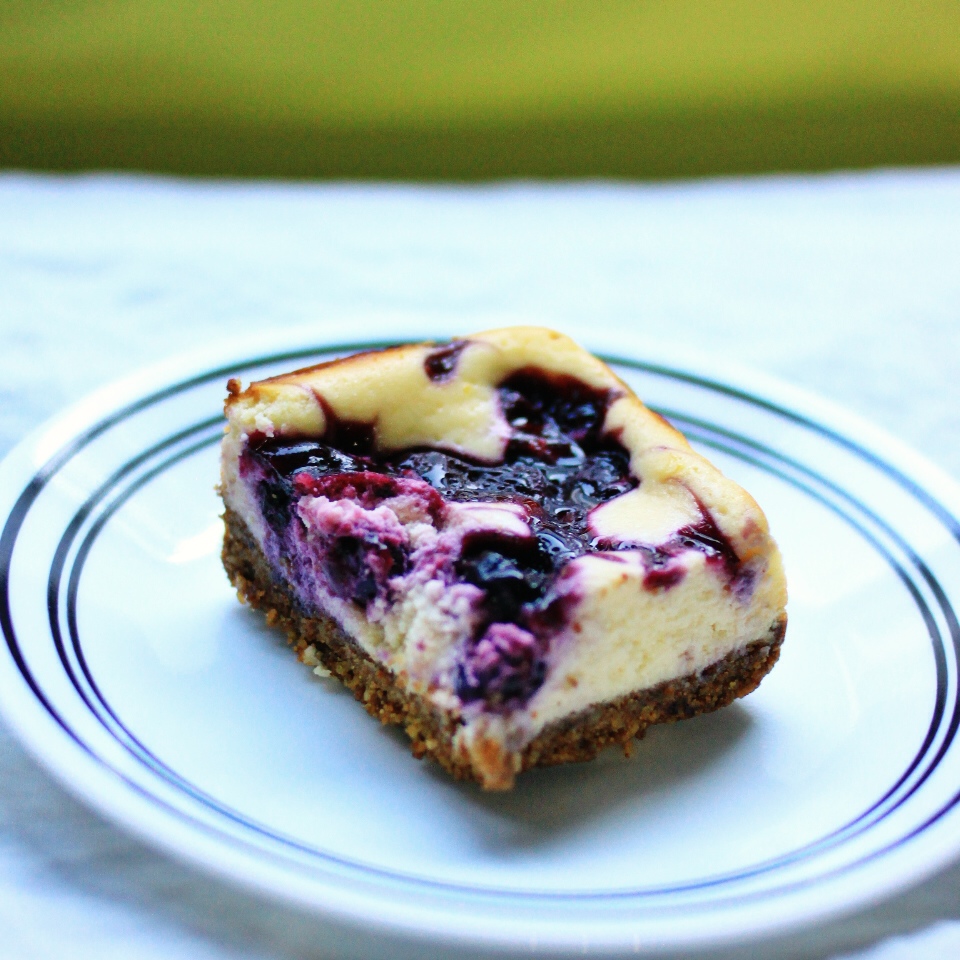 Prepare the blueberries:
While the crust is in the oven, prepare the blueberries by combining the berries, two tablespoons of sugar, cornstarch, and 1/4 cup of lemon juice in a small pot. Bring the mixture up to boiling, occasionally stirring. Once the berry mixture has begun to thicken (5-7 minutes), remove from the heat and set aside until needed.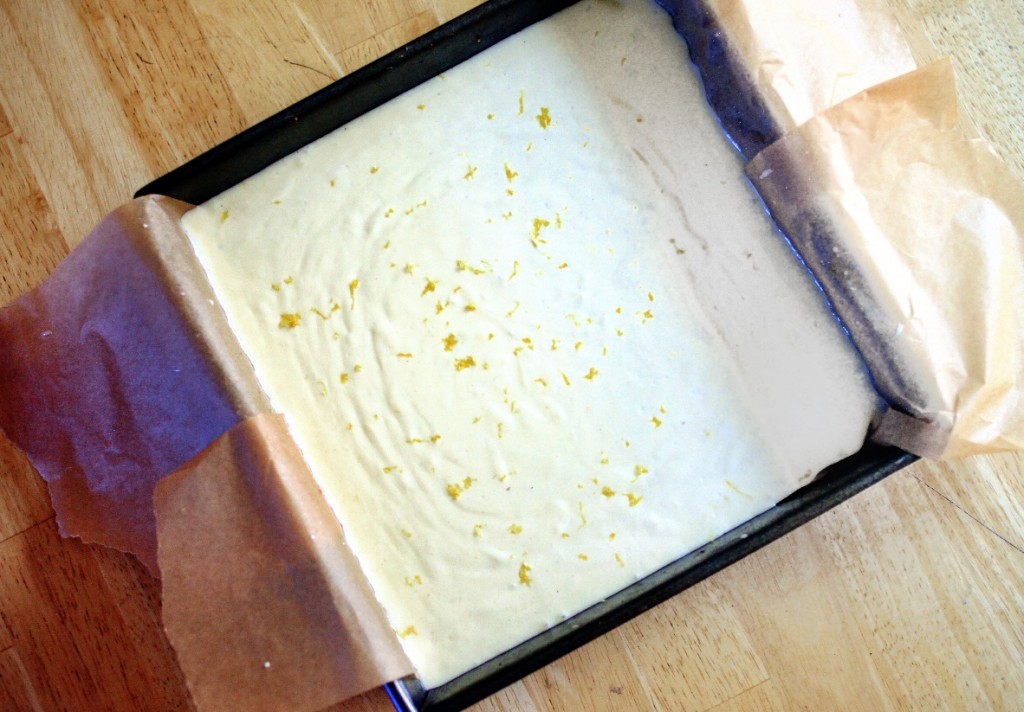 Prepare the filling:
In the bowl of a stand mixer, fitted with the paddle attachment, mix the cream cheese and half-cup of sugar, until light and semi-fluffy (3-5 minutes). Add the eggs, one at a time, blending each new addition until completely incorporated. Mix in the lemon zest and juice, flour, and vanilla until fully combined.
Pour the cream cheese mixture into the pre-baked crust. Tap the pan on your counter top 2-3 times, releasing some of the trapped air.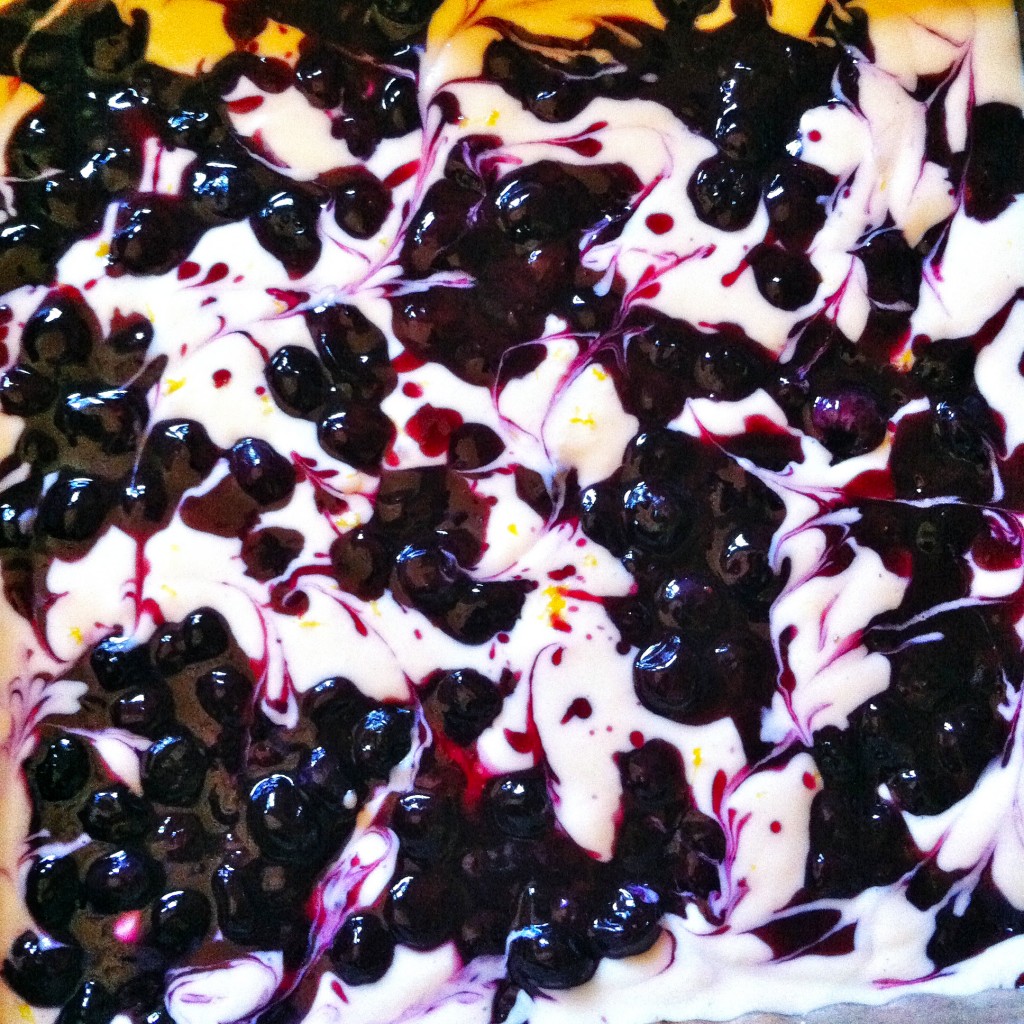 Gently spoon the blueberry mixture over the cream cheese mixture. Use a butter knife to swirl some of the blueberry sauce into the cream cheese.
Bake for 30-40 minutes, until the cream cheese layer sets without being overly browned.  The center will be just-slightly jiggly.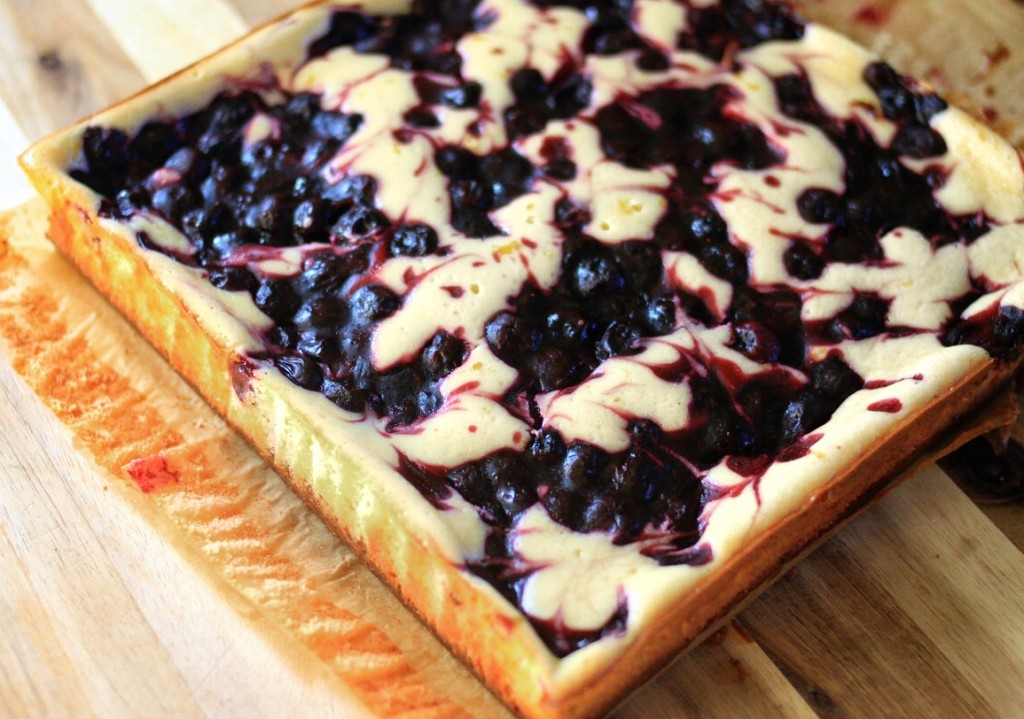 Allow the cheesecake bars to cool on a cooling rack for 30-45 minutes. (At least to room temperature.) Cover with plastic wrap and refrigerate the cheesecake bars for a minimum of 3 hours, up to 24 hours.
Cut into bars (9 or 12 of them will suffice!). Serve while chilled. Cover leftovers and refrigerate for a maximum of three days for best results.