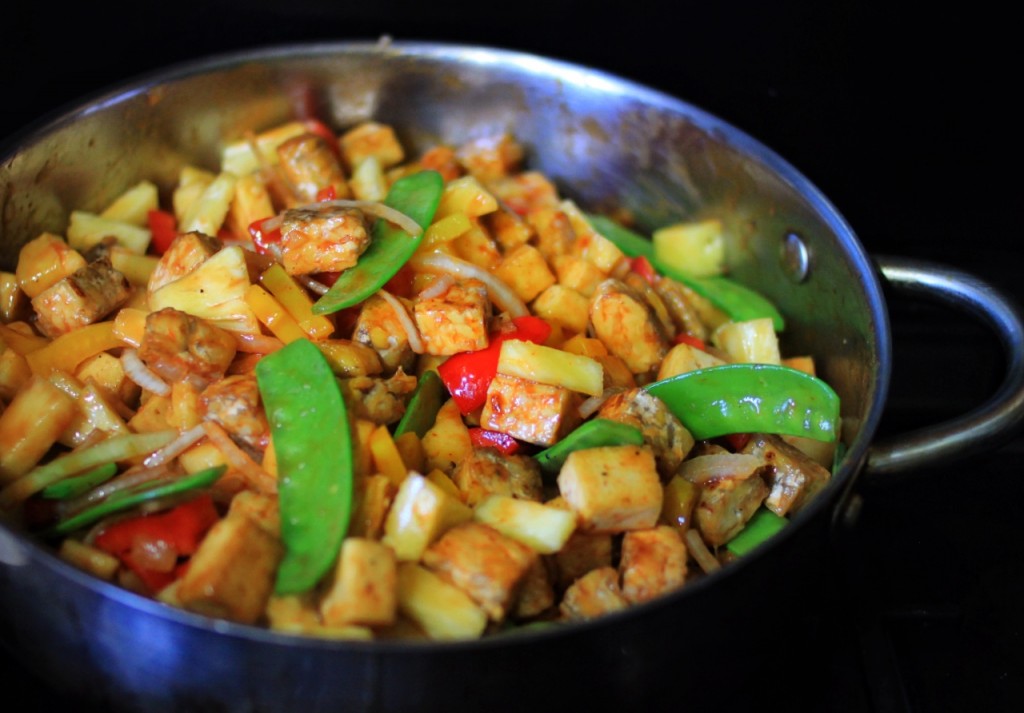 I have heard that some of the best Chinese food can actually be found in New York City, versus anywhere else in the world, including China. Somehow when we were in New York a few years ago, we forgot this fact and neglected to check out the Chinese food scene.
Here in Southern Oregon, good Chinese food is hard to come by. Although that isn't really surprising, it can be disappointing. As I've shared, I grew up on the island of Kaua'i. The food scene is a beautiful conglomeration of cultures. I grew up eating Hawaiian food, Japanese food, Filipino dishes, Portuguese dishes, Americanized dishes, Chinese food, Korean food… often a meal made up of various components from numerous cultures. I miss that.
Although I am half Japanese, I do not cook a lot of Asian dishes. I love to eat them, but feel like I haven't quite successfully delved into this food area. That said, I have been getting a little gutsier about experimenting with new flavors. Perhaps it's the ever growing sense of well damn, we are eating the same f'in damn things we ate last week! Maybe it's just a way to delve into flavors I miss from my childhood.
That said, I made a sweet and sour tofu and tempeh dish. It turned out better than I had anticipated. You can use just tofu or just tempeh – I merely enjoy the texture differences in adding both. The sauce isn't overly sweet or immensely sour, plus there is a little spicy kick depending on the amount of chili sauce you add. I wasn't sure how well this would go over in our house, but both Vincent and my husband loved it and told me we should eat this at least once a week! Success, I'd say.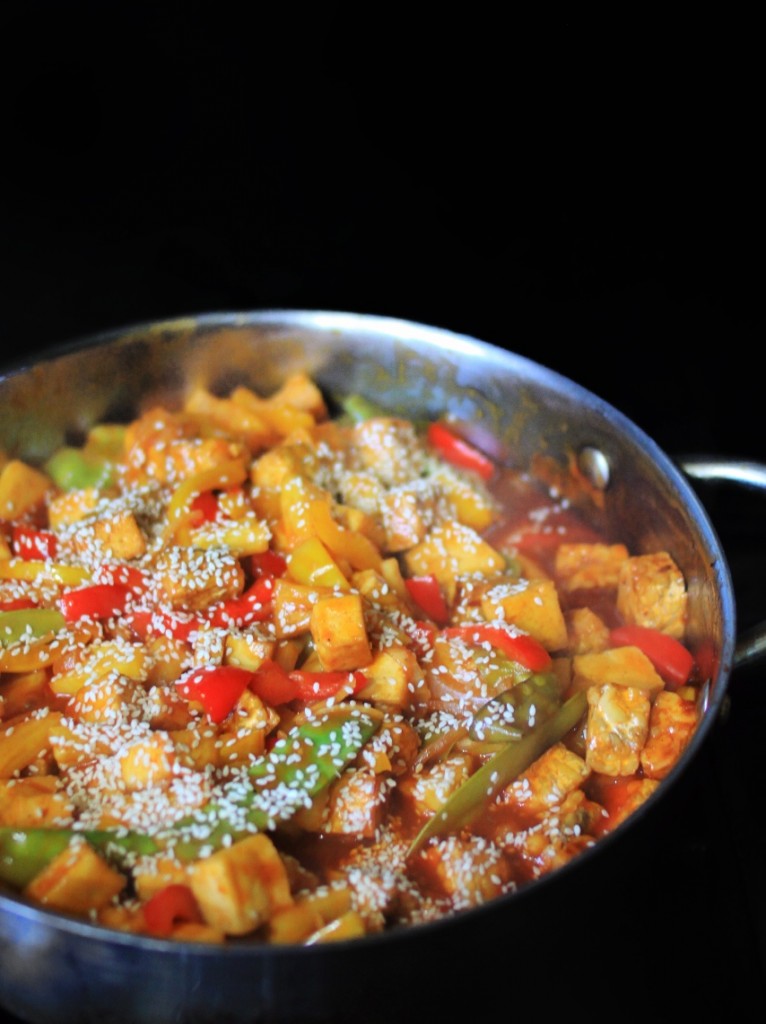 Sweet and Sour Tempeh and Tofu
Serves 6 or so folks.
Ingredients:
2 tablespoons sesame oil
10 oz. extra firm tofu, cut into 1-inch chunks
12 oz. tempeh, cut into 1-inch chunks
1 large red bell  pepper, seeds and ribs removed, cut into bite-sized pieces
1 large yellow bell pepper, seeds and ribs removed, cut into bite-sized pieces
1 small head broccoli, broken down into bite-sized pieces
2 cups fresh pineapple chunks (canned is okay)
1/2 cup snow peas, ends trimmed
1/2 a small yellow onion, diced
2 tablespoons white sesame seeds
For the sauce:
3 tablespoons sesame oil
3 cloves garlic, minced
1/2 cup ketchup
3 tablespoons plum sauce
1 teaspoon vegan Worcestershire sauce
1-3 tablespoons chili sauce (I used Sriracha)
2 tablespoons soy sauce or tamari
3 tablespoons rice vinegar
3 tablespoons light brown sugar
2 tablespoons distilled white vinegar
1 tablespoon cornstarch
3 tablespoons water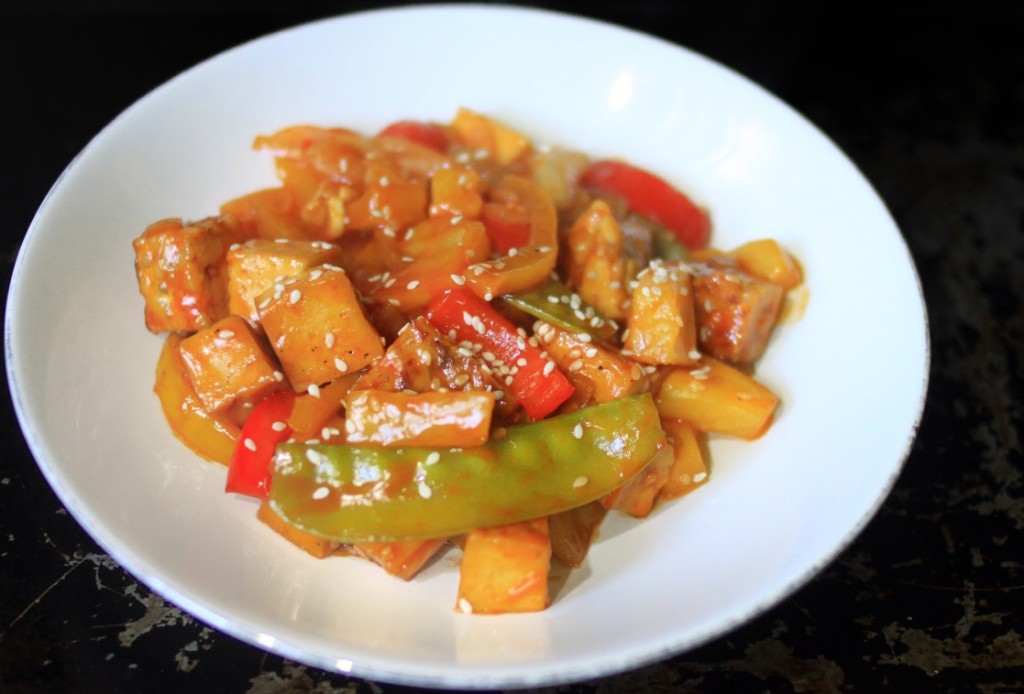 Directions:
Prepare the tempeh and tofu: in a large wok, heat two tablespoons of sesame oil over high heat. Working in batches, saute the tempeh and tofu until golden in color, stirring occasionally. Use a slotted spoon to remove the golden tofu and tempeh from the oil, turning it out onto paper towels to drain the excess oil. Cook all the tofu and tempeh, then set it aside until needed.
Prepare the dish: In the same wok you sauteed the tofu and tempeh, add the remaining three tablespoons of sesame oil, over medium heat. Add the minced garlic and diced onion. Saute until the onion becomes translucent.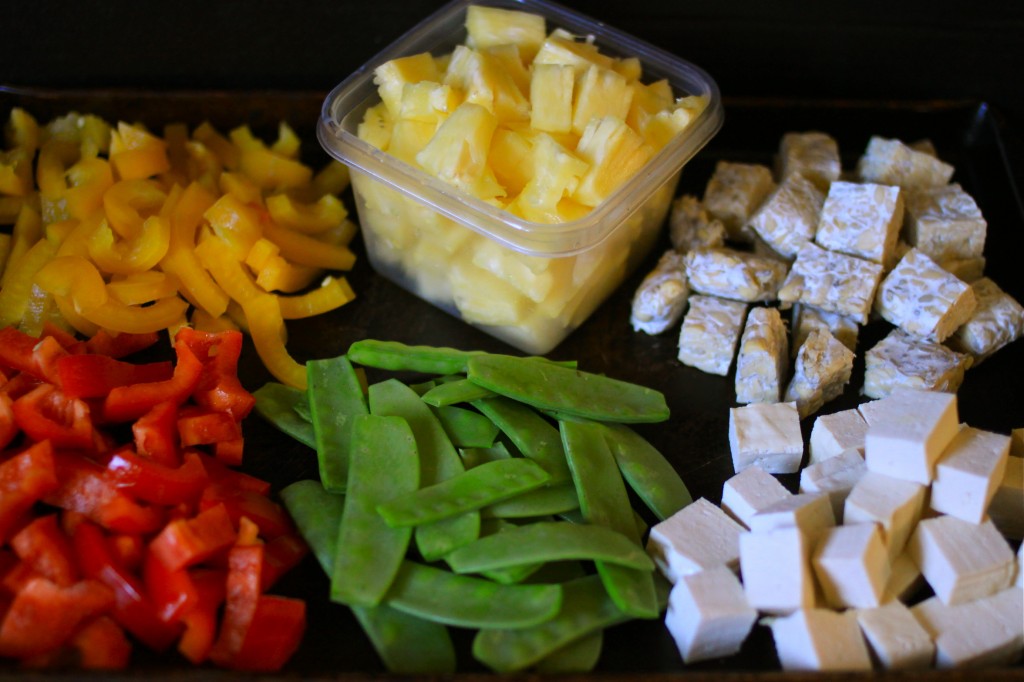 Once the onion has cooked down, add the ketchup, plum sauce, worcestershire sauce, chili sauce, soy sauce, rice vinegar, brown sugar, and white vinegar, stirring to combine everything.
In a small bowl, quickly stir together the cornstarch and water. Stir this mixture into the sauce in your wok. Add the tofu, tempeh, bell peppers, broccoli, pineapple and snow peas to the wok, gently tossing to coat everything in the sauce.
Cook for 20-30 minutes, occasionally stirring. The sauce should thicken and coat everything well. Sprinkle the top of the dish with the sesame seeds, then serve the sweet and sour tofu and tempeh immediately (preferably with something like steamed rice).