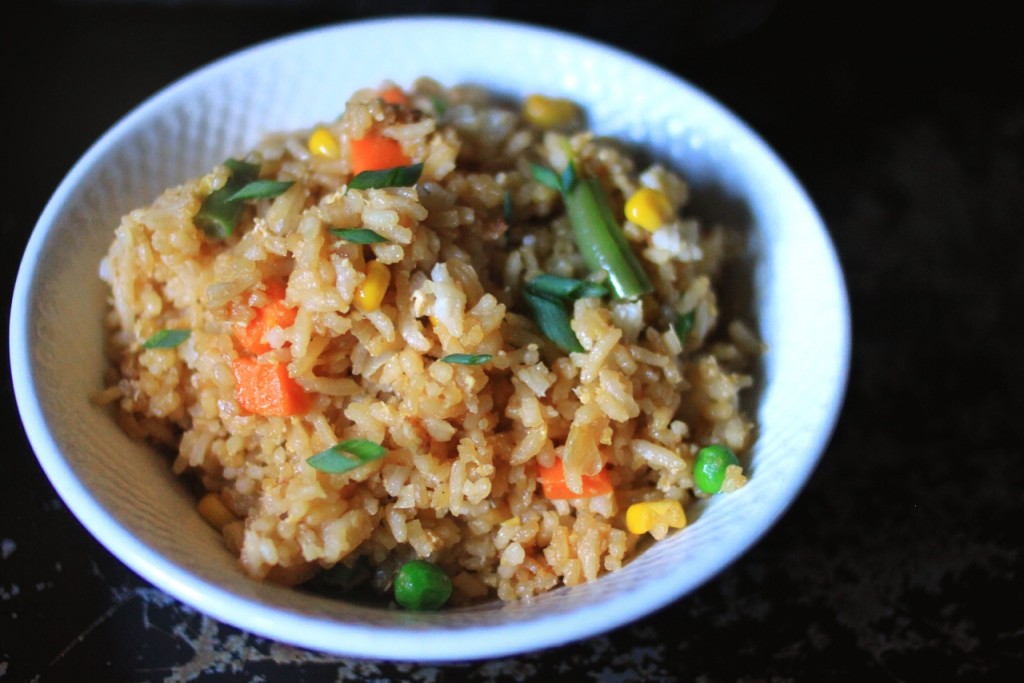 Although I am over 2,000 miles away from Kaua'i these days, there are parts of my upbringing that I've obviously carried with me. When it comes to food, certain habits still exist. For instance, when I make chili, my southern-born husband instantly asks for cornbread. I on the other hand instantly think of making a pot of rice. When we are kid-free and I've done the dishes four times by dinner time, we opt for easy dinners of whatever sounds good. A couple nights ago my husband wanted granola with almond milk and bananas. I had an overwhelming craving for shoyu saimin.
It seems that around here, fried rice is a side dish that accompanies Chinese or Thai takeout. While I was growing up, it could mean a meal in and of itself. Fried rice for breakfast, laden with scrambled eggs, chopped up spam or göteborg sausage and chopped green onion? Hell yeah. In Hawai'i, fried rice can be found on numerous restaurant menus. The differences are vast, depending on where you're at. Some folks like it sweeter, others more spicy or heavy on the saltiness of soy sauce. Some versions omit meat all together, others have bits of bacon, spam, pork, etc. You may find kim chee fried rice, or versions that contain teriyaki sauce. Everyone has their own preferences.
Myself, I enjoy a semi-salty fried rice, one that has soy sauce and toasted sesame oil for a very savory, earthy flavor. For this recipe I used frozen organic vegetables, but I have also made versions with fresh veggies as well. This fried rice is easy to put together. We ate it along with this sweet and sour tofu and tempeh. The balance of flavors worked well and the meal was incredibly filling. You can eat this rice on its own, too. That's precisely what I did the following morning, heating it in the wok with a bit of sesame oil.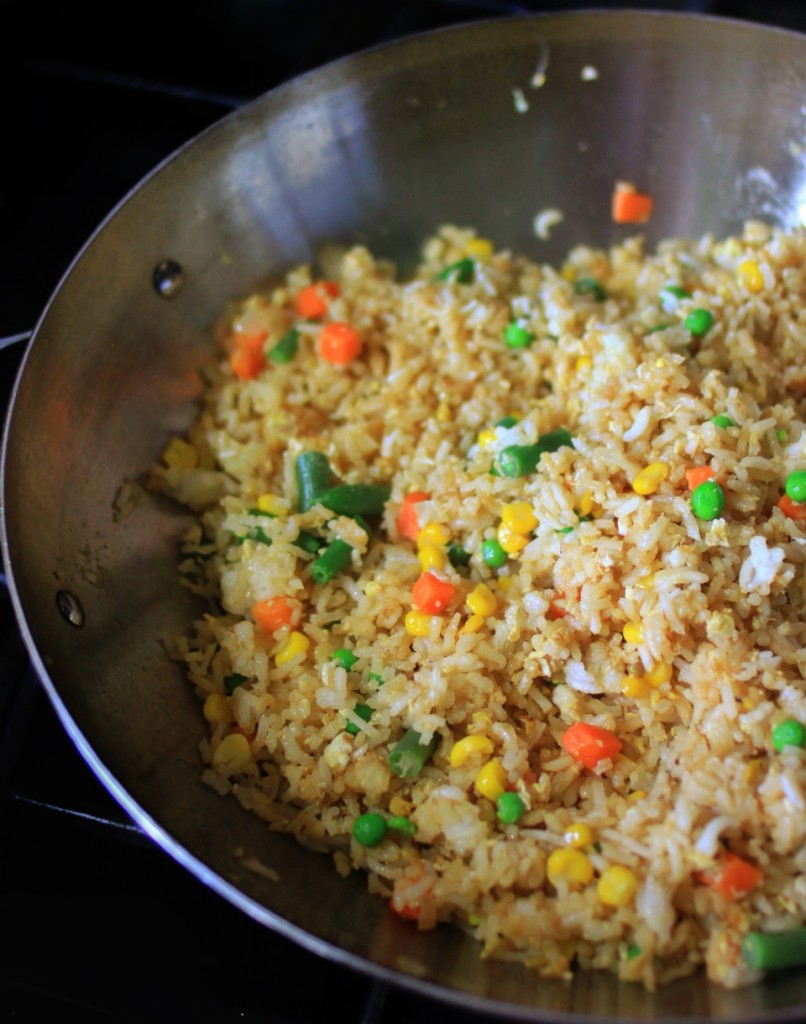 Veggie Fried Rice
Yields about 7 cups of fried rice (8-10 servings)
Ingredients:
2 1/4 cups long grained white rice
4 1/2 cups water
1/2 teaspoon salt
2 tablespoons sesame oil
2 tablespoons canola oil
1/2 a yellow onion, diced
3 cloves garlic, minced
1 inch piece of ginger, peeled and minced
5 – 7 tablespoons soy sauce
1 tablespoon rice wine vinegar
2 eggs, lightly beaten
10 oz. gardener's blend frozen vegetables (corn, carrots, peas, green beans)
2 green onions, diced
salt and pepper
Directions:
In a large pot with a lid, combine the rice, water, and half teaspoon of salt. Cover and bring to a boil, then reduce the heat to low. Cook for 25-30 minutes, until the water is absorbed and the rice is tender. Pour the hot rice onto a large sheet pan, spreading it out evenly. Allow the rice to cool to room temperature.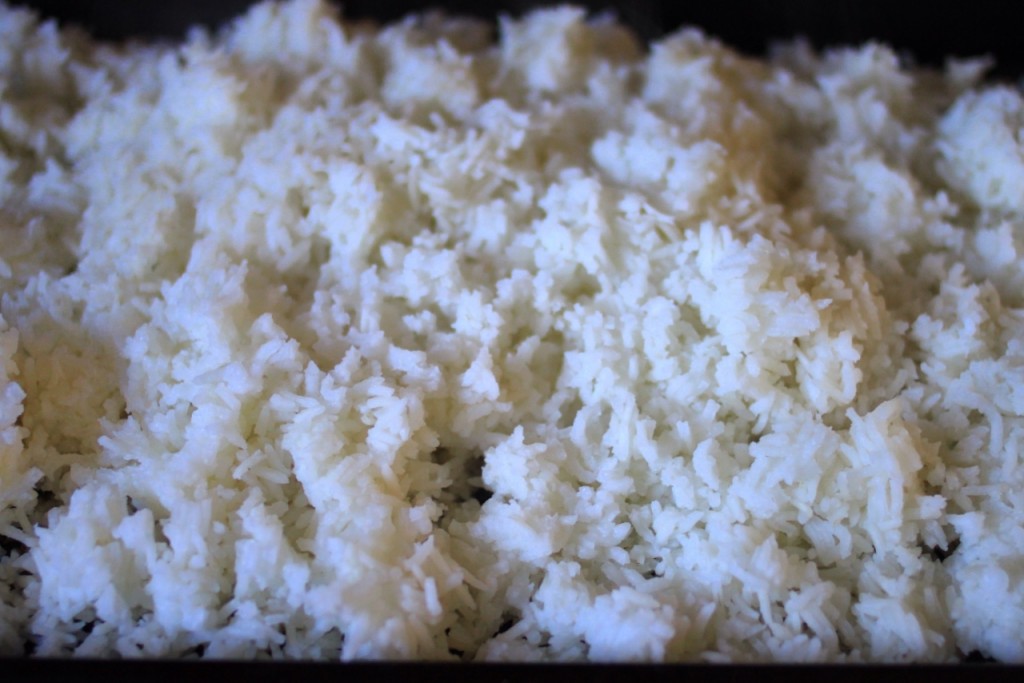 Once the rice is room temperature, in a large wok, combine the sesame and canola oils over medium-high heat. Add the onion, garlic, and ginger. Stir until the onion is tender and translucent.
Add the cooked, cooled, rice into the wok. Use a wooden spoon or spatula to turn the rice into the onion/oil mixture. Add the soy sauce and rice vinegar, then gently turn the rice into the sauce evenly.
Push the rice to one side of the wok, then pour in the eggs. Stir quickly to scramble the eggs up into the hot pan. Fold scrambled eggs into the rice. Add the frozen vegetables to the wok, again folding them into the rice. Allow the fried rice to cook for 10-15 minutes, occasionally stirring, allowing the sauce to be absorbed by the rice.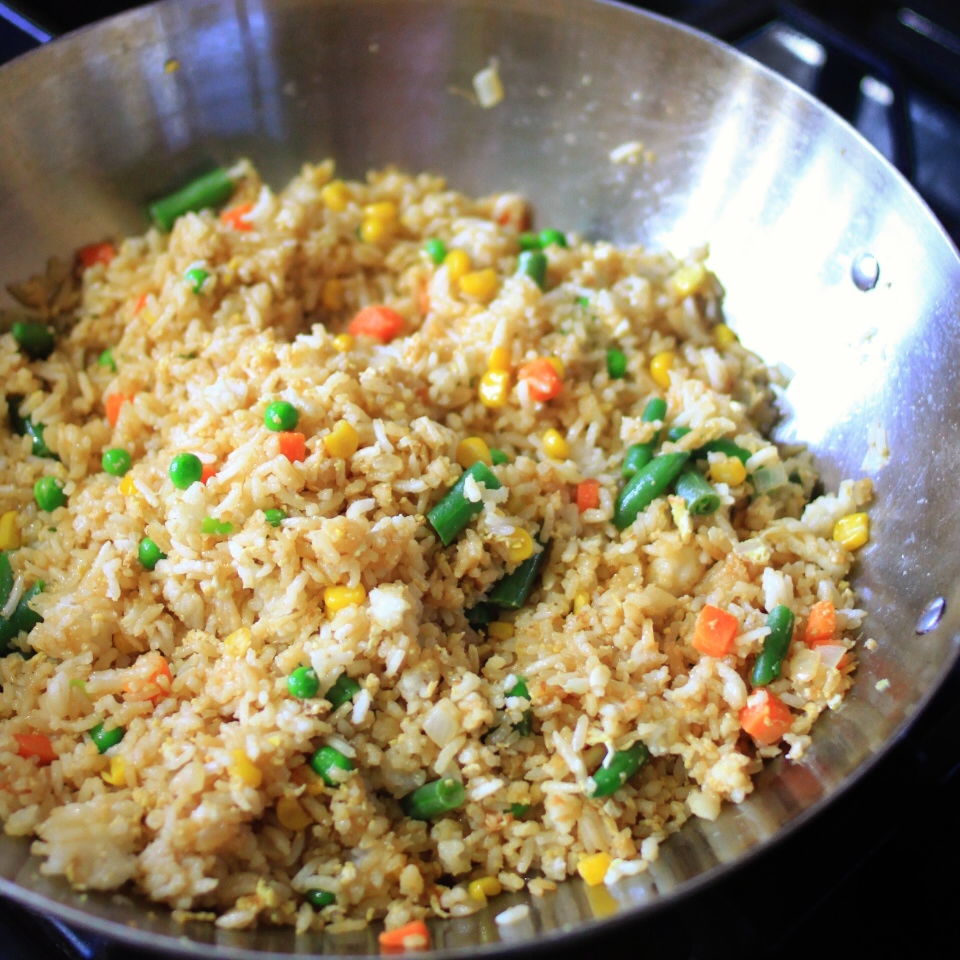 Taste, then add salt and pepper to your liking. Top with the green onion and serve immediately.
For best results, heat the leftovers in a hot wok with a scant amount of sesame oil.