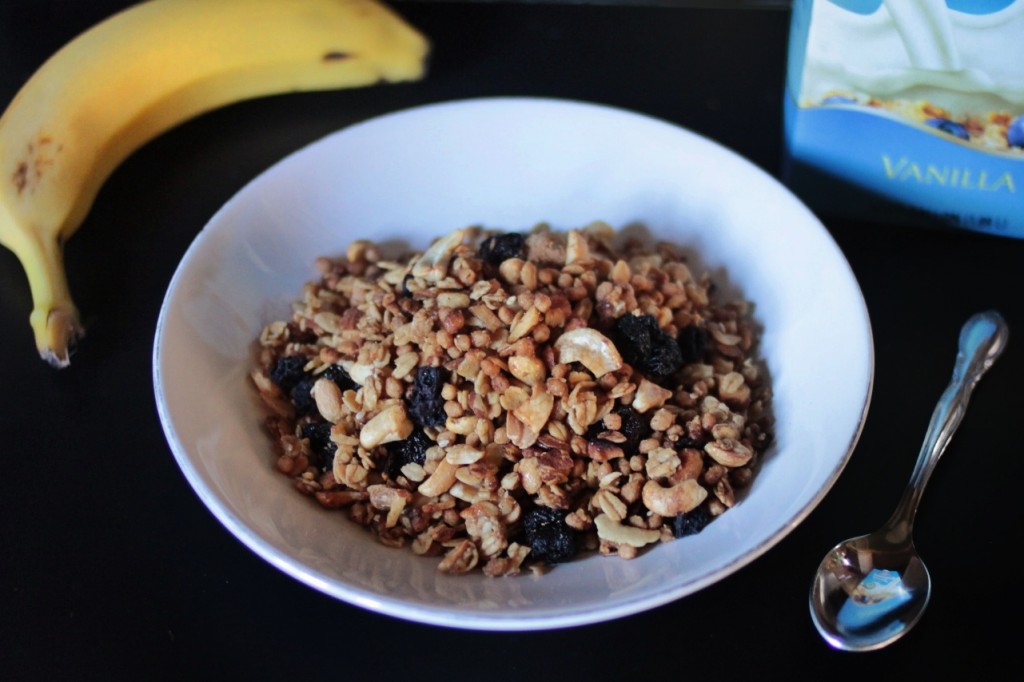 The thing about granola: it's versatile enough to fill any meal throughout the day and it can often pass as dessert as well.  I used to buy boxes or eco-pacs of granola, generally limiting myself to sale items only. Around here, really good, wonderfully flavored and uniquely made granola is very readily available… but it gets expensive considering how quickly we go through it. It's one cereal type that both kids will eat on school mornings, it's an afternoon snack for both my husband and I, and when we don't have kids sometimes it's dinner, too.
I have made my share of crappy granola, let's be real. Granola that wouldn't crisp up. Granola that rivaled only cardboard in flavor. Granola that was filled with nasty burnt dried fruits. Granola so salty no amount of added sugar could help it. But I'm figuring things out, the more I experiment. (Thank goodness, because homemade granola is so much more cost efficient and delicious when done right!)
The first time I made this particular granola, we demolished twelve cups within five days. Around here, we eat it by the handful. Or in a bowl, topped with milk. Or on top of yogurt. Or sprinkled on ice cream. Or around this our of the night, when I get myself a  few oat clusters and pick out the dried blueberries and cherries while everyone else is sleeping.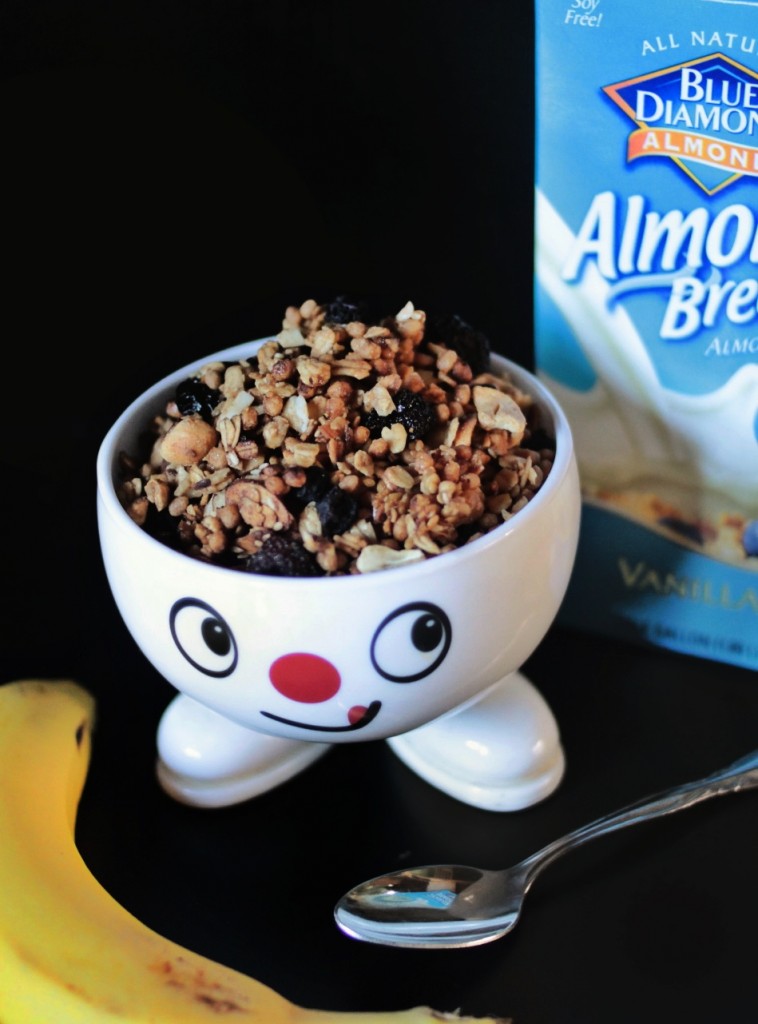 Blueberry and Cherry Nut Granola
Makes about 12 cups of granola
Ingredients:
4 cups old fashioned rolled oats
2 cups crunchy rice cereal
1 1/4 cup sliced almonds
3/4 cup unsalted peanuts
3/4 cup raw cashew pieces
2 heaping tablespoons golden flax seeds
2 heaping tablespoons white sesame seeds
1 large, very ripe, banana
1/2 cup smooth peanut butter
1/4 cup light brown sugar
1/4 cup coconut oil, melted
2 tablespoons maple syrup
2 tablespoons unsulphured molasses
1 teaspoon vanilla extract
2/3 cup dried blueberries
2/3 cup dried Rainier cherries
1/4 cup shredded coconut flakes
Directions:
Preheat your oven to 275°F. Get two half sheet pans ready by lining them with parchment paper.
In a large mixing bowl, combine the oats, rice cereal, almonds, peanuts, cashews, flax seeds, and sesame seeds. Mix until evenly combined.
In the bowl of your food processor fitted with the large chopping blade (or in a blender), combine the banana, peanut butter, brown sugar, coconut oil, maple syrup, molasses and vanilla. Blend until smooth.
Pour the banana/peanut butter mixture into the oat mixture. Stir to evenly coat the oats. Pour half the mixture into each of your prepared pans, smoothing it out. Drizzle the top of each pan with the melted almond butter (this doesn't have to be done evenly at all). Bake for 45-50 minutes, stirring every fifteen minutes or so, to ensure even baking. The oat mixture should be nicely golden brown and crispy.
Remove from the oven. Sprinkle the blueberries, cherries and shredded coconut over the top of the granola. Allow the granola to cool completely before storing in an airtight container.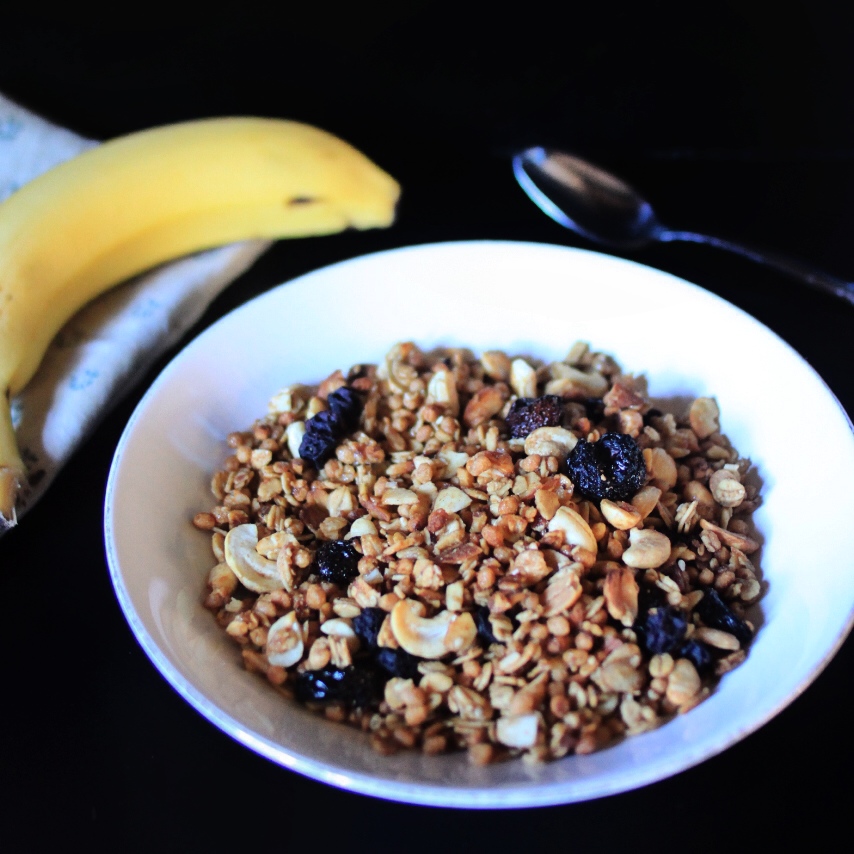 Please follow and like us: