I am on a mission: from here on out, I shall post as many granola recipes as possible! Jussst kidding. Can I tell you its taken me almost thirty years to appreciate a humble bowl of homemade granola? I don't know why I always assumed granola to be a slightly stale bag of oats, featuring slightly sweet flavors? This weird cereal that doesn't absorb the milk in my bowl, or even leave a bowl of sweet milk worth of drinking once all the cereal had been eaten…
These days, I enjoy making granola because I can make a giant batch with little effort, and it covers breakfast for everyone without me having to do an ounce of thinking in the wee morning hours. In fact, I can sleep in while my husband feeds the kids a bowl of granola with either yogurt or vanilla rice milk — depending on their preference that particular morning. That is definitely my kind of breakfast-making!
This particular granola isn't overly sweet, which I like. The coconut flavoring is two-fold: both with large coconut flakes within the granola, as well as the coconut oil that permeates the ingredients while everything bakes. I intentionally kept the spices out of this recipe, as to let the coconut and blueberries really come through in the final granola. You can eat this granola by the handful, be it small pinches throughout the day or a hungry-girl fist-full (I've done both). You can sprinkle it over yogurt (Brown Cow cream top maple being my personal fave). You can pour it in a bowl then top that off with your preferred milk and sliced fresh fruit. Really you cannot go wrong. This granola has been a hit with the kids, my husband and myself — I hope the same is true for you!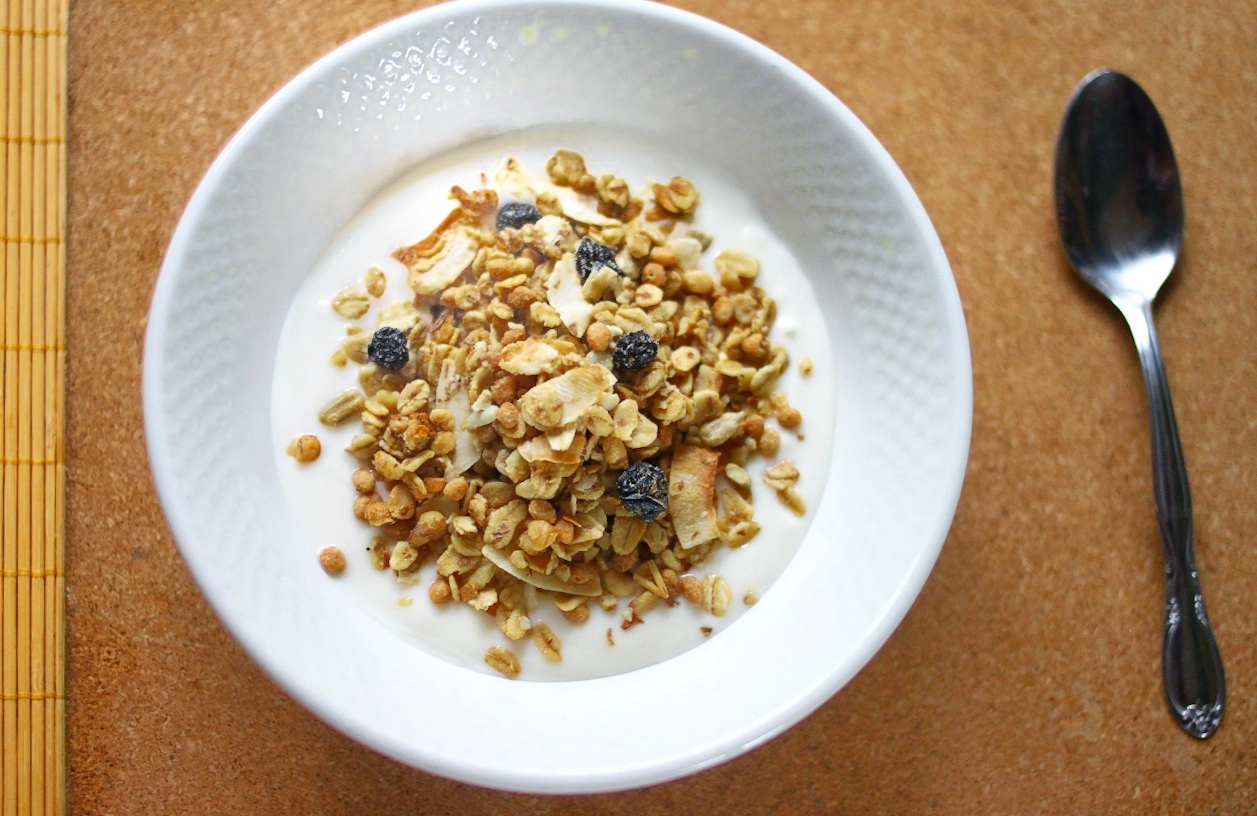 Blueberry Coconut Granola
Yields about 10 cups of granola.
Ingredients:
5 cups old-fashioned rolled oats
1 1/2 cups crunchy brown rice cereal
1 1/2 cups unsweetened coconut chips
1 1/2 cups chopped walnuts
1 cup chopped cashews
3/4 cup raw sunflower seeds
1/2 cup ground flax seed
2 teaspoons kosher salt
1/4 cup light brown sugar, packed
1/2 cup smooth, unsweetened peanut butter
1/2 cup maple syrup
1/2 cup honey or agave syrup
1/2 cup coconut oil
1/4 cup olive oil
1 teaspoon vanilla extract
1 cup dried blueberries
Directions:
Position the racks in the upper and lower thirds of the oven then preheat to 300 degrees F. Line two rimmed baking sheets with parchment paper.
Measure the oats, rice cereal, coconut chips, walnuts, cashews, sunflower seeds, flax, and salt into a large bowl, then stir well.
In a small pot, add the brown sugar, peanut butter, maple syrup, honey or agave, coconut oil and olive oil. Stir over medium-high heat until smooth. Remove from heat and stir in the vanilla extract. Add the wet ingredients to the dry, stirring everything until the dry ingredients are evenly coated.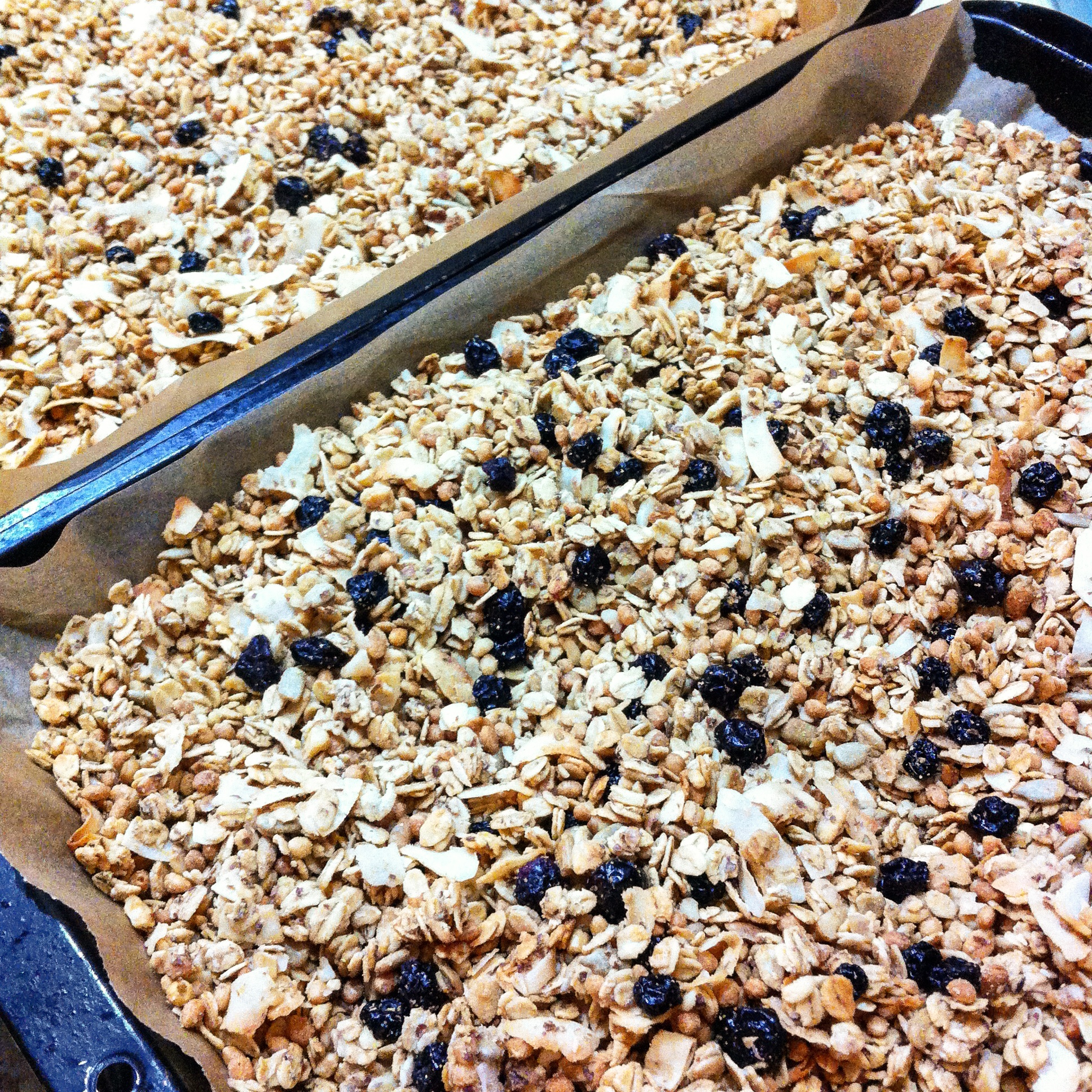 Divide the mixture between the two prepared sheet pans, spreading it out evenly. Bake, stirring the granola once or twice, until golden brown, about 35-40 minutes. You want the granola to reach an even browning, including a nice toasty brown on the coconut chips.
Remove the baking sheets from your oven and sprinkle the blueberries over the oat mixture. Allow the granola to cool completely (it will crisp up as it cools) then transfer the granola to airtight containers, stirring to distribute the blueberries throughout the granola.
Store the containers of granola at room temperature for a 2-3 weeks. You can also freeze some of it if you won't eat it that quickly.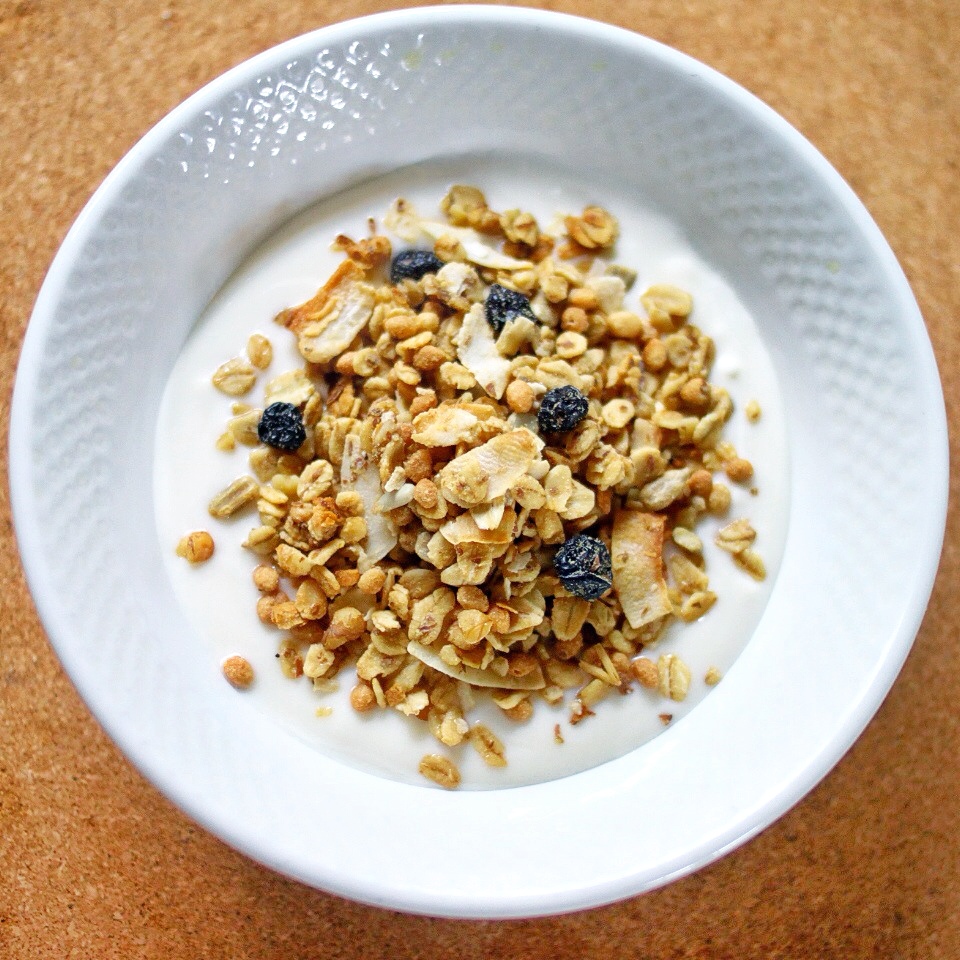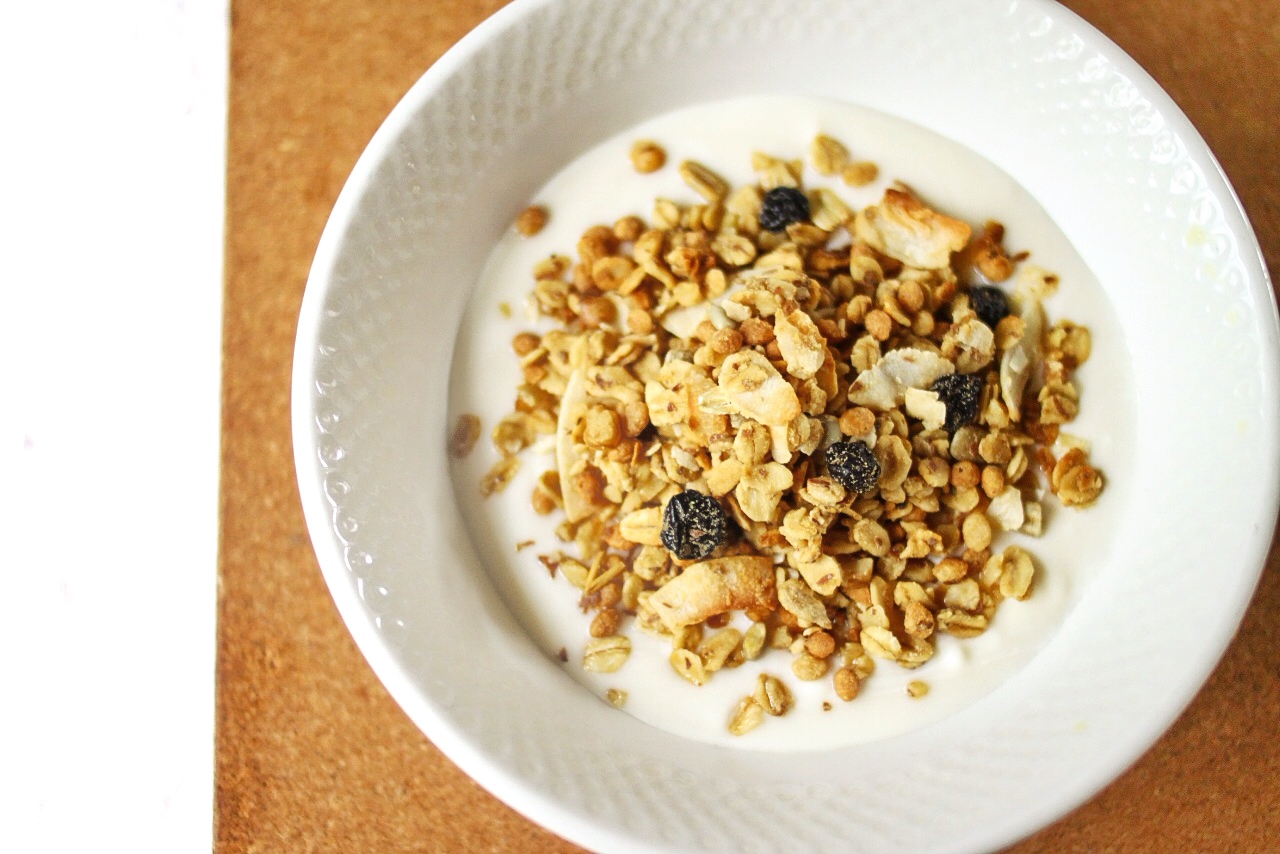 Please follow and like us: