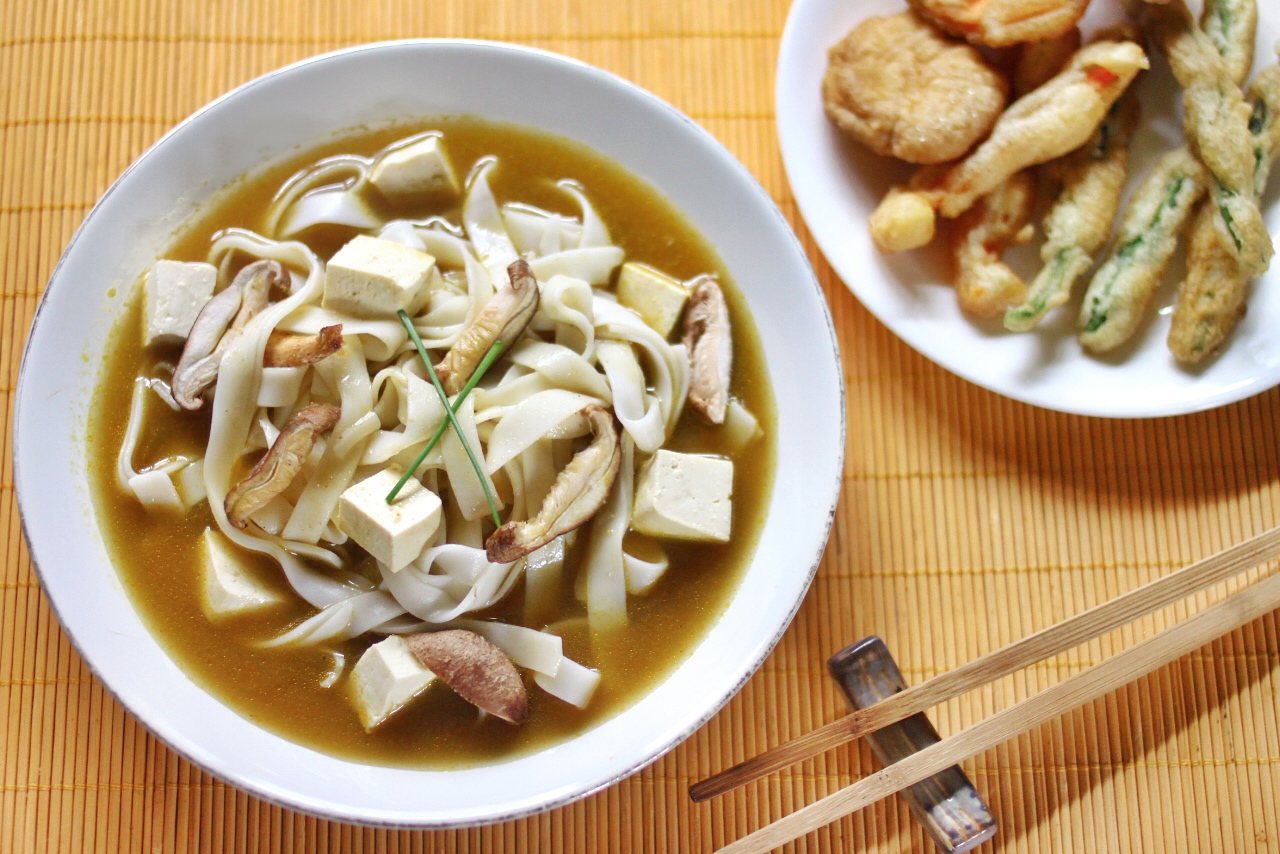 When it comes to a good bowl of noodles, vegetarian or not, everything EVERYTHING key is the broth. You cannot make a good bowl of noodle soup without a good stock to base things on. Growing up, I loved noodles. Honestly, at nearly 30 years old, they're still my favorite comfort food. Instant noodles, slow cooked noodle soups, ramen, saimin, thin noodles with lots of broth, fat noodles with little broth but bold flavors… I am all in.
While I am not vegetarian and do not balk at a broth whose depth of flavor comes from fish stock or slow cooked meat, my husband won't eat broth that is derived from anything but vegetarian sources or fish. One of my stepsons has been a no-fish, only-vegetarian-food kind of guy his whole life. While cooking with these stipulations in mind, I find that kombu (kelp) seaweed and dried shiitake mushrooms are essential ingredients for good vegetarian soup stock. Miso also helps to add a deep richness in flavor, which is essential.
You can forego the tempura entirely and simply make the broth and noodle soup. The tempura simply makes this into a larger, heavier meal. Don't run off! There are a lot of ingredients coming atcha… but for a tasty bowl of noodles, please read on.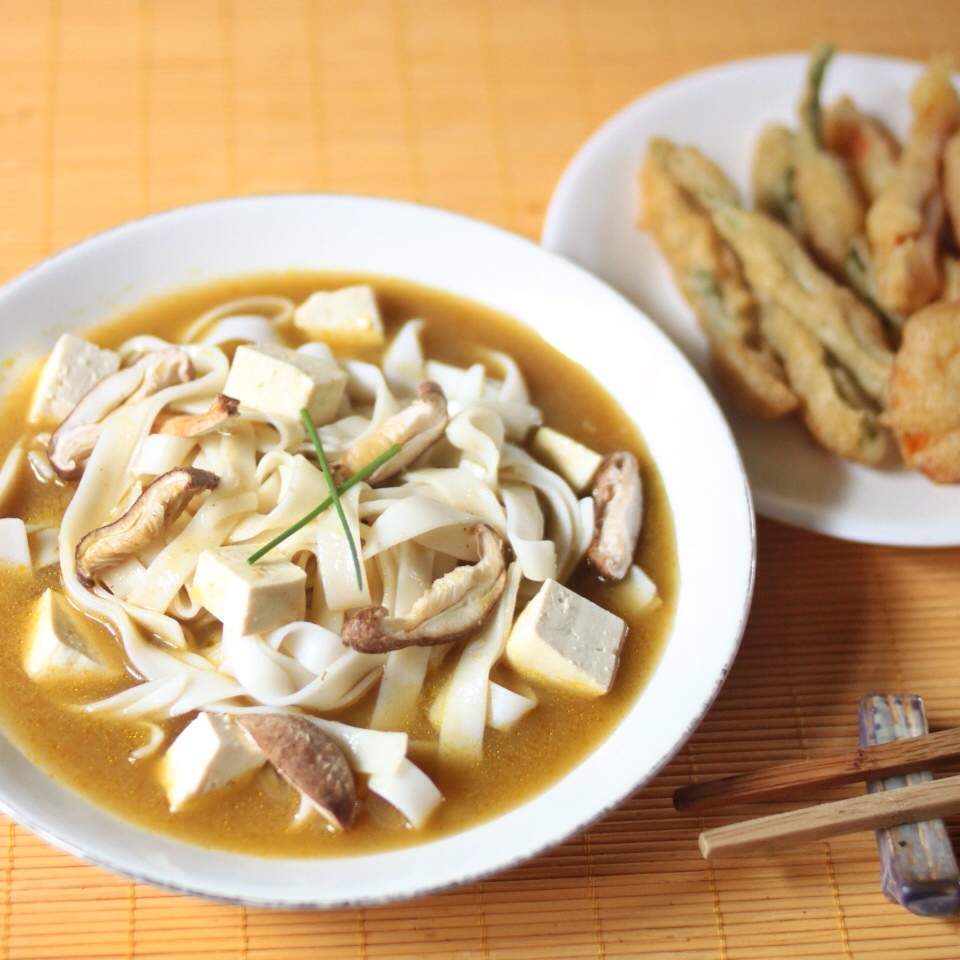 Miso Mushroom Udon with Tempura Vegetables
Serves 8 or so hungry folks.
Ingredients:
For the udon broth:
2 tablespoons toasted sesame oil
1 small yellow onion, peeled and quartered
4 cloves garlic, peeled
1 large carrot, cut into large chunks
one 3″ piece of ginger, peeled then minced or grated
2 heaping tablespoons white miso
1/4 cup tamari or shoyu
2 tablespoons fresh squeezed lime juice
2 tablespoons rice wine vinegar
1/4 to 1 teaspoon ground wasabi
0.5 ounces dried porcini mushrooms
0.5 ounces dried shiitake mushrooms
1 large piece kombu seaweed
1 teaspoon sea salt
10 cups No-Chicken broth
For the udon:
24 ounces wide udon noodles
1/2 cup diced green onion
12 ounces extra firm tofu, cut into bite-size cubes
1/2 cup fresh shiitake mushrooms, sliced thin
For the tempura:
2 cups all-purpose flour
2 tablespoons baking powder
1/4 cup cornstarch
1 teaspoon baking soda
1 teaspoon salt
2 eggs, beaten
1 1/2 cups ice cold water
1 large garnet yam (about 3/4 pound), peeled and sliced in 1/8″-thick rounds
1 large Japanese sweet potato (about 1/2 pound), peeled and sliced in 1/8″-thick rounds
1 small zucchini, ends cut off then sliced in 1/8″-thick rounds
1/2 pound fresh broccoli florets (bite sized pieces)
1/2 pound fresh string beans, ends snipped off
2 large carrots, peeled then sliced into sticks about 3″ long and 1/4″ thick
approximately 3 cups canola or peanut oil
1/4 cup toasted sesame oil
2-inch piece of ginger, peeled
Possible condiments to serve alongside:
toasted sesame oil
chili pepper oil
soy sauce/tamari/shoyu
garlic chili sauce
toasted sesame seeds
furikake
Directions:
Prepare the broth: In a stock pot, heat the two tablespoons of sesame oil over medium-high heat. Add the quartered onion, garlic, carrot and minced ginger. Cook for a minute or two, until fragrant. Next, add the miso, tamari, lime juice, vinegar and wasabi, stirring until the miso is well incorporated. Add the dried mushrooms, kombu, salt and broth, stirring to combine everything. Turn the heat to simmer/low heat and allow the broth to cook, covered, for at least one hour. After the broth has cooked for at least an hour, strain it into another pot. Discard the solid ingredients, cover the pot with the broth and allow it to sit on low heat until needed.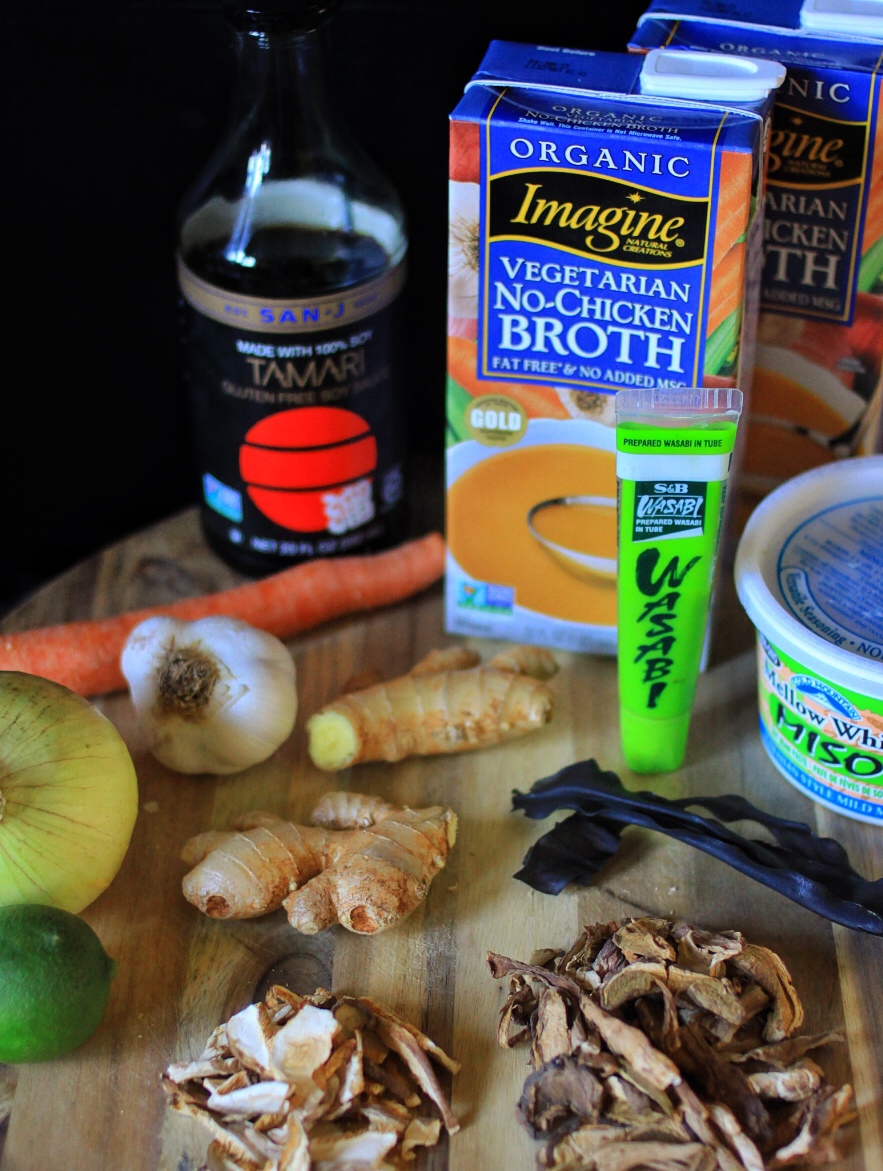 Prepare the udon noodles: Cook the noodles according to the package directions, then drain and run under cold water to stop the cooking process. Drain again, then set aside until needed.
Prepare the tempura batter: Stir together the flour, baking powder, cornstarch, baking soda, and salt until well combined. Add the eggs and cold water to the dry ingredients, then use chopsticks or a fork to mix everything together very quickly, just until the ingredients are combined. It's okay if the batter is a bit clumpy. Fill a larger bowl with ice, then place the bowl containing your batter directly on the ice. You want your tempura batter as cold as possible before frying.
Prepare the tempura vegetables: Preheat your oven to 200º F. Line two rimmed baking sheets with a couple layers of paper towels.
Fill a large frying pan with the canola or peanut oil, sesame oil, and the 2-inch piece of ginger. Heat the oil to 350º F. Once the oil is hot, dip the work in batches to dip the vegetables into the tempura batter, allowing any excess batter to drip, then gently lower into the preheated oil. Cook for a minute or so, then flip to cook the other side. The batter should be a golden color. Use a slotted spoon to remove the vegetables from the hot oil, then transfer them to the prepared baking sheets in your preheated oven. Repeat until all the vegetables have been cooked.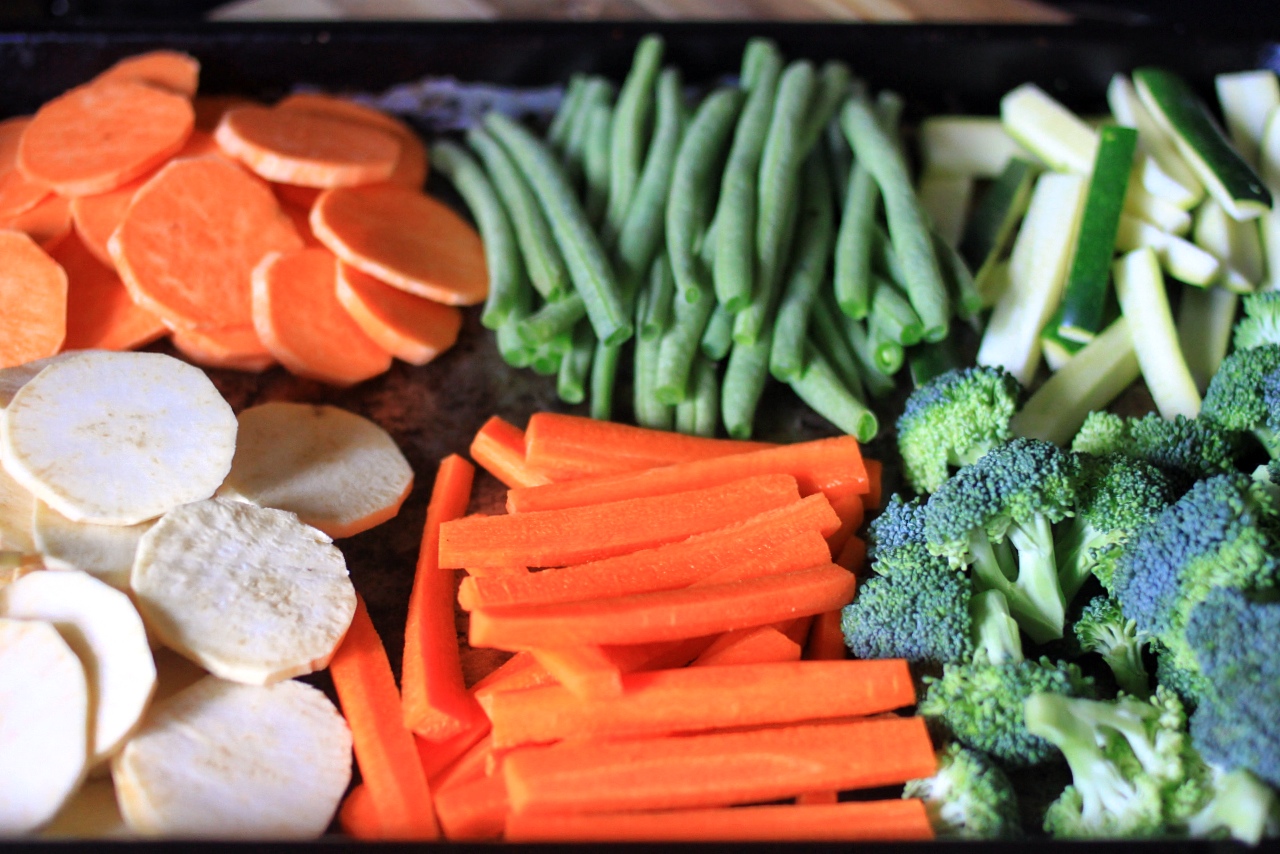 Prepare the udon for serving: Turn the heat up under the broth, bringing it to a simmer. While the broth is heating, arrange the cooked noodles in each bowl (about one cup of noodles). Arrange some tofu cubes, sliced fresh shiitake mushrooms, and a generous amount of green onion over the noodles. Next, spoon some of the hot broth over the noodles (the heat from the broth will gently heat the noodles back up without overcooking them). Serve the bowls of udon with the tempura. We like to dip the fried tempura into the broth while eating our noodles! You can serve each bowl with the suggested condiments as well, allowing everyone to add as much or as little of the additional ingredients as they'd prefer.