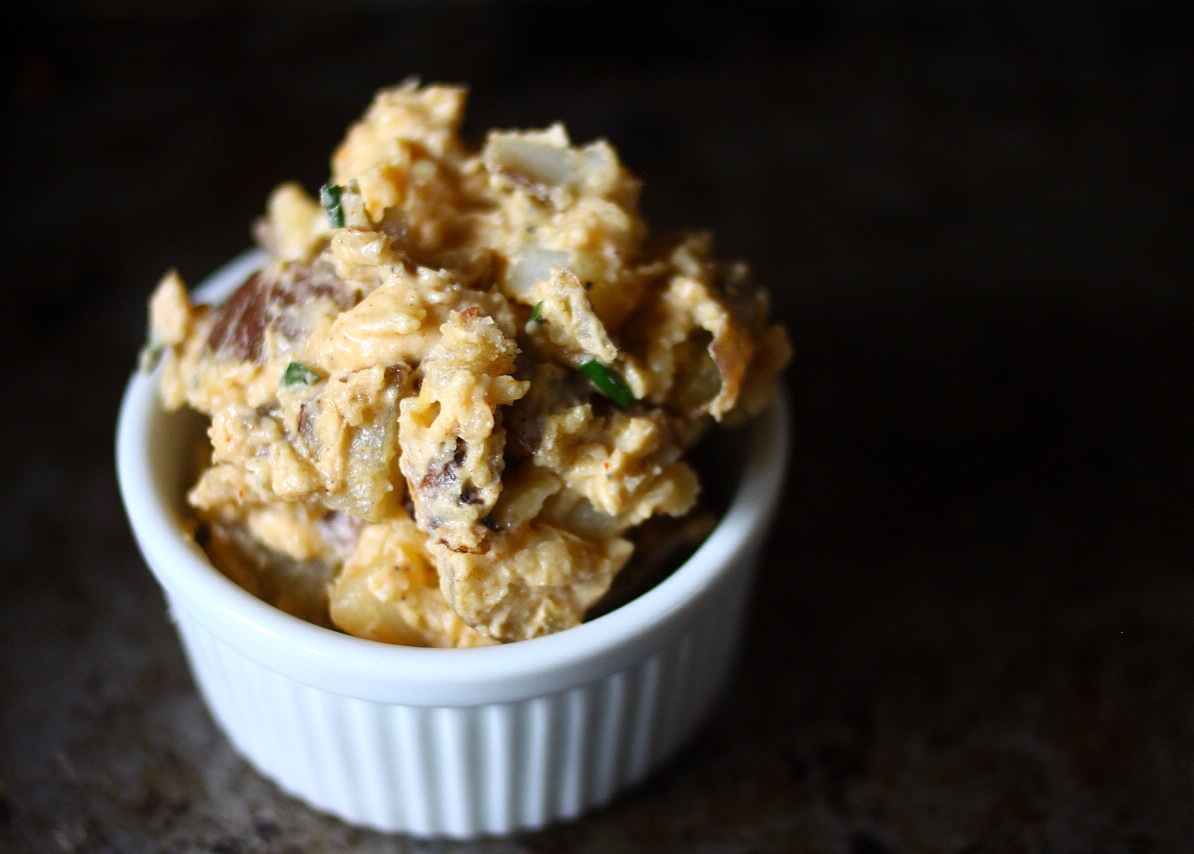 Ever since I was little, when it came to potato salad, I'd be the first one to wrinkle up my nose in disgust. UGH! POTATOES! was my general feeling. Did I have any good reasons? No, but I didn't care. French fries and potato chips didn't count as potatoes in my mind. Baked potatoes, mashed potatoes, potato salad, on the other hand… No thank you very much. My distaste for potato salad was two-fold, however. First, it was made primarily of potatoes. (DUH.) Second, it was also heavily laden with mayonnaise. Another "food" I both wouldn't and couldn't make myself eat. (Unless it was in my mom's Hawaiian style potato-macaroni salad, with homemade Japanese pickled cucumbers!)
In college, however, one of my girlfriends had a chef for a father and she often cooked in our dorm kitchen as well. I remember it being close to the end of the school year and she'd been asked to bring a couple dishes to a party event. She made a huge sheet of blondies topped with fresh raspberries and candied pecans and a potato salad, wherein she roasted all of the potatoes before cooling them and mixing them into a salad.
I realized that the potato salads I have not enjoyed in the the past simply lacked a lot of flavor. The potatoes weren't salted enough when cooked, the mayonnaise was the only prominent taste, there wasn't much added to the salad overall to make it feel like more than potatoes and mayo… So stealing from my girlfriend's idea, I decided to attempt a potato salad that carried a lot of flavor. I wanted to roast the potatoes with a lot of garlic, then put together a potato salad that was reminiscent of a loaded baked potato — you know, the ones that have sour cream, chives, bacon, cheddar cheese, etc. This potato salad doesn't lack in flavor! It's great on its own or as a side to your favorite picnic dishes.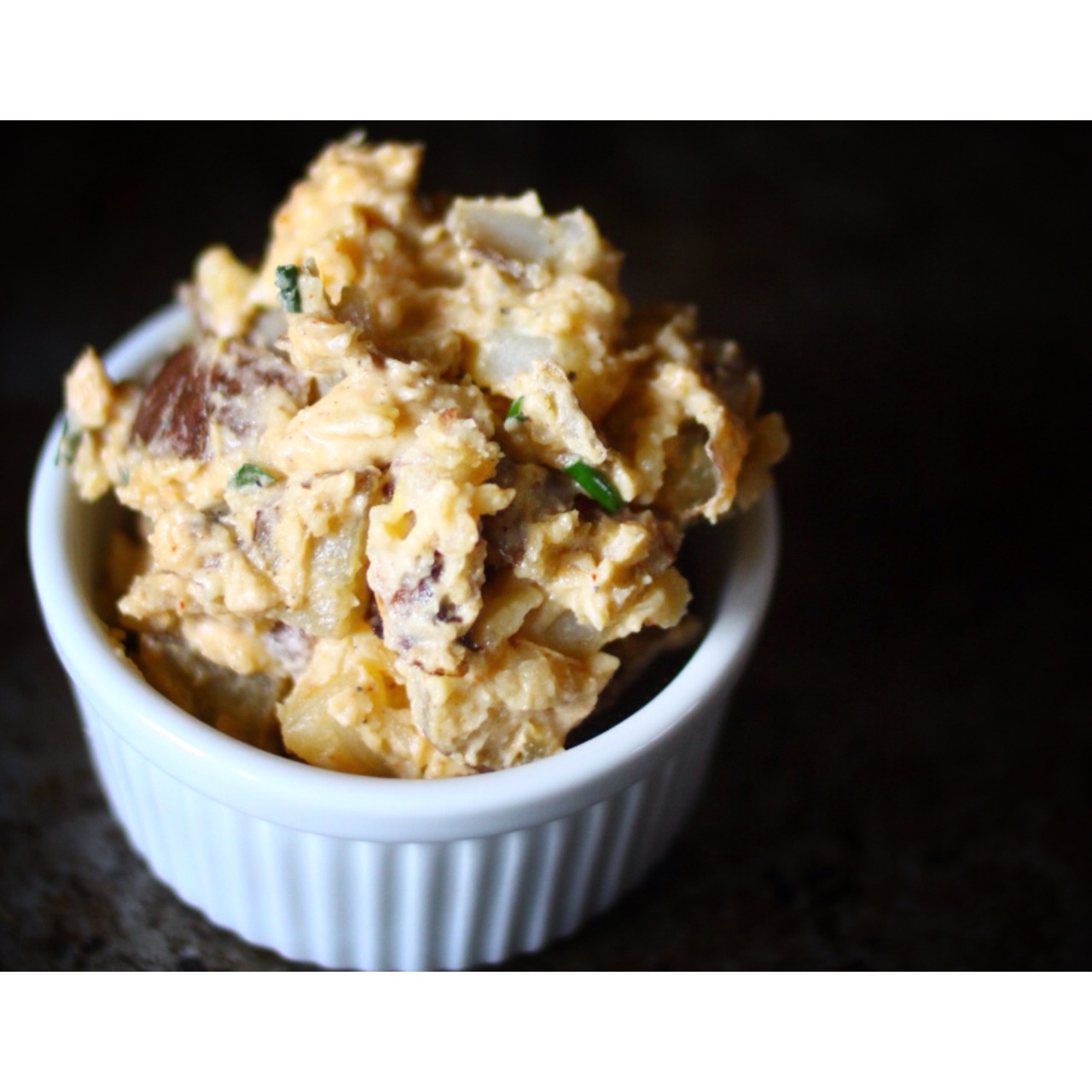 Loaded Baked Potato Salad
Ingredients:
6 cups cubed red potatoes (about 4 large potatoes)
10 cloves garlic, minced finely
2 tablespoons olive oil
1 teaspoon sea salt
1 1/2 teaspoons creole seasoning
1/2 teaspoon granulated garlic
4 strips seitan bacon, cooked until crisp then broken into small pieces
1/2 cup sour cream
1/2 cup vegenaise
2 teaspoons apple cider vinegar
1 teaspoon granulated garlic
1 teaspoon creole seasoning
1/2 teaspoon ground black pepper
2 ounces sharp cheddar, grated
1/2 cup chives, chopped
salt to taste
Directions:
Preheat your oven to 425 degrees F. In a large mixing bowl, toss together the cubed potatoes, minced garlic, olive oil, teaspoon of salt, one and a half teaspoons creole seasoning and the half teaspoon granulated garlic until all the potatoes are evenly coated. Spread on one or two large baking sheets in a single layer. Bake for 25-30 minutes, until fork-tender, flipping halfway through the cooking time. Allow the potatoes to cool to room temperature.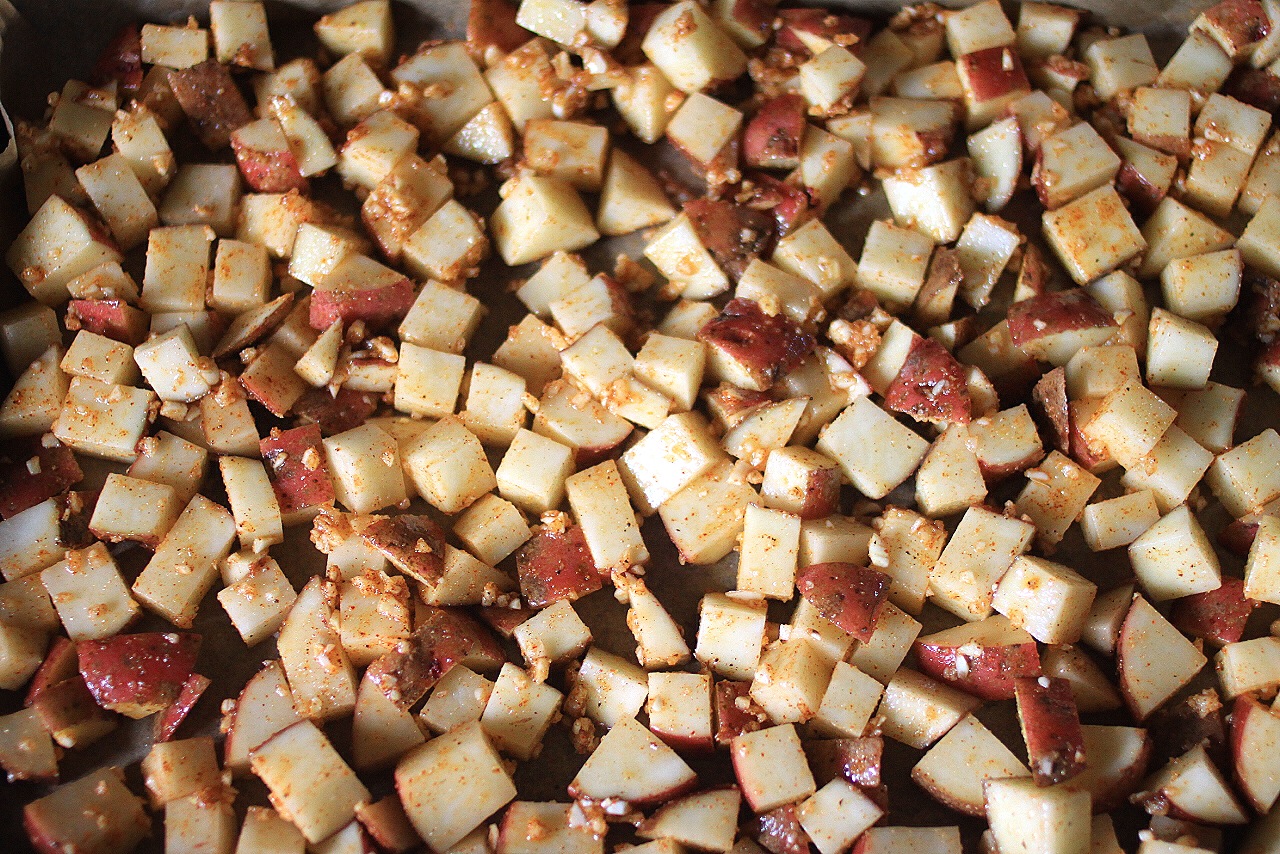 While the potatoes are baking, prepare the dressing. Whisk together the sour cream, vegenaise, apple cider vinegar, granulated garlic, creole seasoning and pepper until thoroughly combined.
Place the cooled potatoes in a large mixing bowl. Add in the prepared dressing, grated cheddar and chives. Gently fold together until well mixed. Taste and add salt to your liking. Cover and refrigerate until cold before serving.