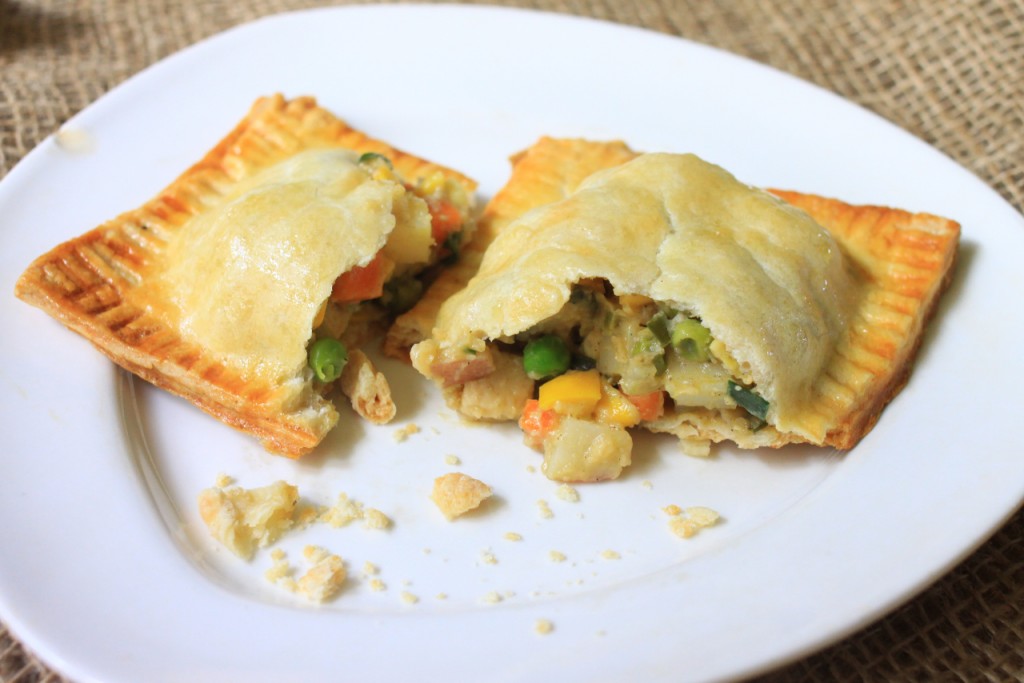 Last night, I dreamt that someone told me I had to bake a lemon meringue pie. In a state of complete panic, I exclaimed "I've never made a lemon meringue pie in my life! How do I get those little curls on top to perfectly brown?!"
But everyone knows the real trick to any pie is all about the crust. Having a flaky, crispy, delicate and not overly tough crust is the basis of a good pie. I have had major brainfarts and failures in this department before. You know the ones (or perhaps you don't – good for you) – where the dough slinks down off the edge of the pie plate in the oven, turning into a mushy, buttery pile of pie-crust-crap. The secret is butter. COLD butter. It breaks down slowly in the oven, creating flakiness.
These handheld veggie chik'n pot pies are flaky, fun to eat, portable, and most importantly — delicious. Good luck stopping yourself at just one! :)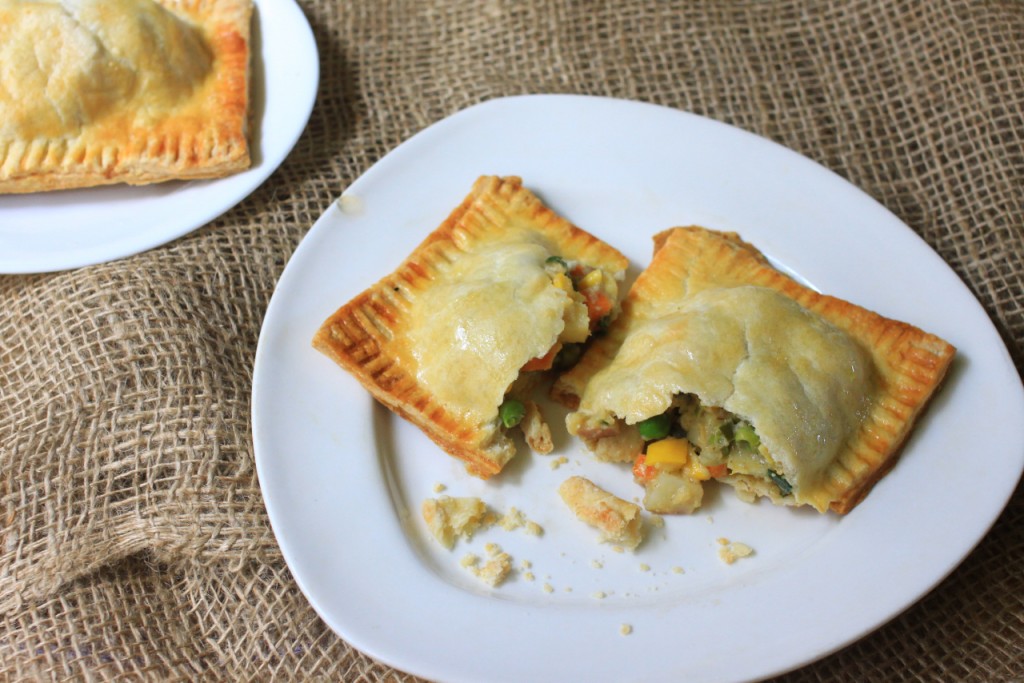 Vegetarian Chik'n Pot Hand Pies
Makes 10 pies.
Ingredients:
For the pastry dough:
2 cups all-purpose flour
2 sticks butter, cold
1 tablespoon sugar
1 teaspoon salt
2 tablespoons milk
1 egg
For the filling:
1 large yukon gold or red potato, diced small
2 medium carrots, peeled and diced small
2 tablespoons olive oil
1/2 a small onion, diced
6 ounces Quorn Chik'n Tenders
1 stalk celery, diced
1 small zucchini, diced small
1 ear corn, kernels removed (about 3/4 cup)
3/4 cup green peas
1/4 cup fresh chopped basil
1 tablespoon fresh chopped parsley
2 teaspoons fresh chopped tarragon
2 teaspoons fresh chopped sage
1 teaspoon salt
1 teaspoon fresh ground pepper
1/4 cup all-purpose flour
1 cup No-Chicken broth
1/4 cup whole milk or half and half
1 egg, whisked with 2 tablespoons water
Directions:
Prepare the dough: In a large bowl, mix together the flour, sugar and salt. Cut in the butter (I like to use a box grater and just grate the butter in, then mix with my hands to get the right consistency), until the mixture resembles large crumbs. In a small bowl, whisk together the egg and two tablespoons of milk until completely combined. Pour into the dry ingredients. Stir until a ball forms. Knead the dough for 3-4 minutes, then separate into two even balls. Wrap in plastic and refrigerate for at least one hour before using.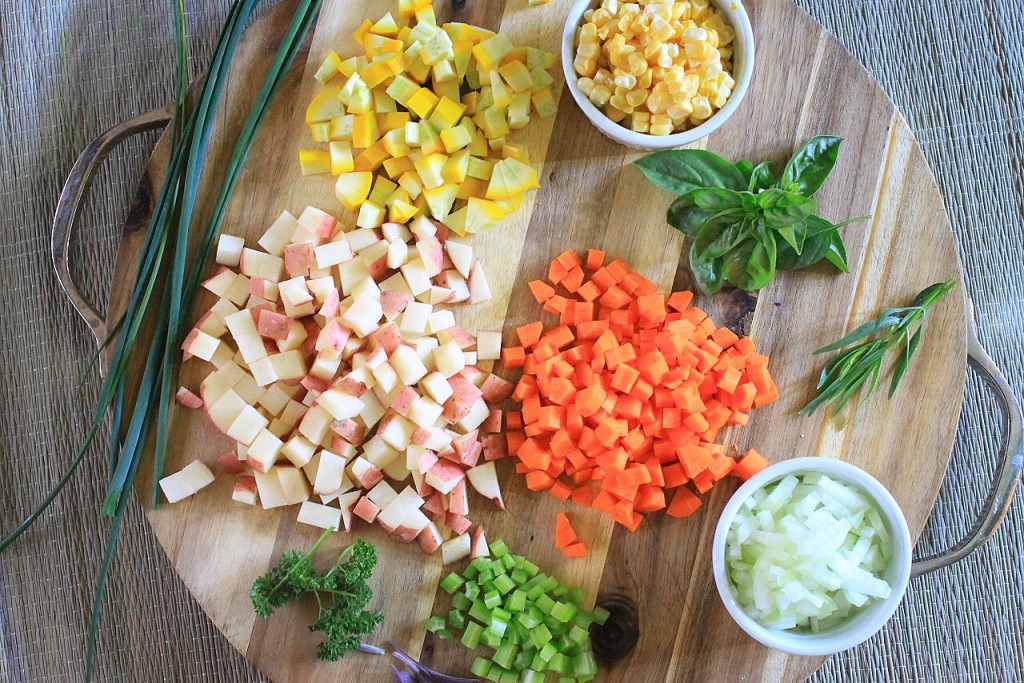 Prepare the filling: In a small pot, bring enough water up to a boil to cover the diced potatoes and carrots. Cook until just fork tender (4-6 minutes). Drain and run under cold water until completely cool.
Heat the oil in a large saucepan, over medium-high heat. Add the onion. Cook until tender and translucent. Add the Quorn tenders, celery, zucchini, corn, potatoes, carrots, peas, basil, parsley, tarragon, sage, salt and pepper. Cook until the tenders become lightly golden in color.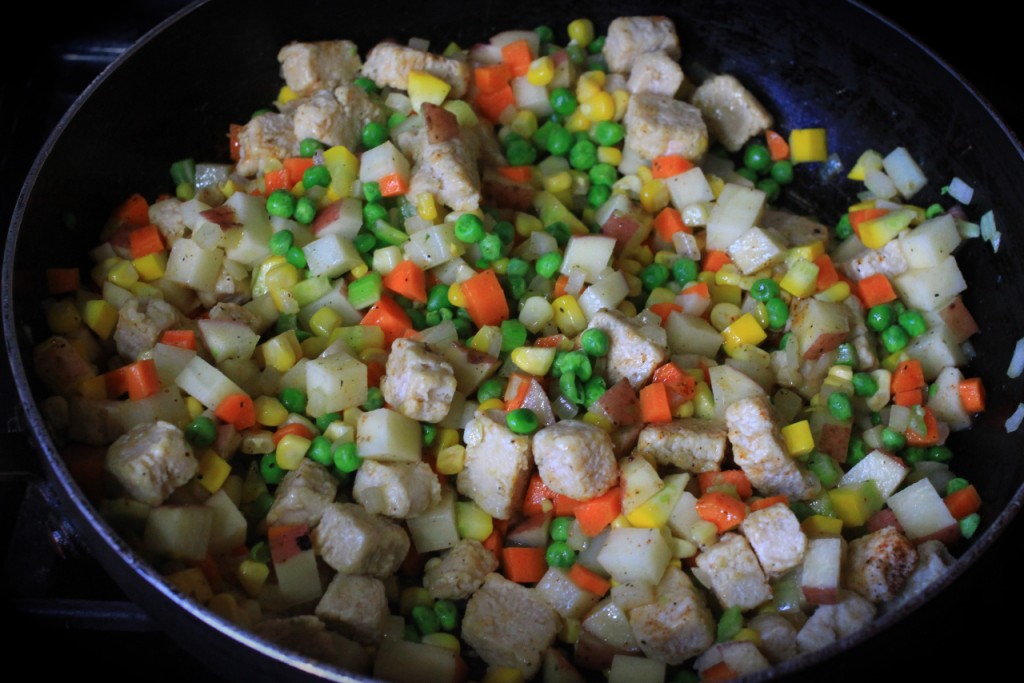 Sprinkle in the flour, coating all the vegetables and tenders. Cook for a minute or two, then add the broth and milk, stirring to evenly mix everything. Cook until the liquid thickens slightly (5-8 minutes). Remove from heat and cool to room temperature before using in the dough (I refrigerate the filling while the dough is refrigerating, too).
Prepare the pies: Preheat your oven to 350 degrees F. Line two baking sheets with parchment paper. Roll out one ball of dough on a lightly floured surface, to a large rectangle about 1/8-inch thick, 9-inches by 17.5-inches. Cut the dough into small rectangles, 4.5 x 3.5 inches. You should be able to get about 10 rectangles. Refrigerate these cut rectangles while you prepare the other ball of dough. Do the exact same thing you just did, with the second ball of dough.
Place five of your cut rectangles on each of the prepared baking sheets. Spoon generous scoop of filling in the center of each rectangle, leaving about a 1/2-inch around the outside edges. Place another rectangle of dough over the filling, aligning the edges. Gently press the top dough down, letting out as much air as you can in the process. Use a fork to crimp all four edges. Place on your parchment-lined baking sheets. Continue doing this, ultimately winding up with 10 pies.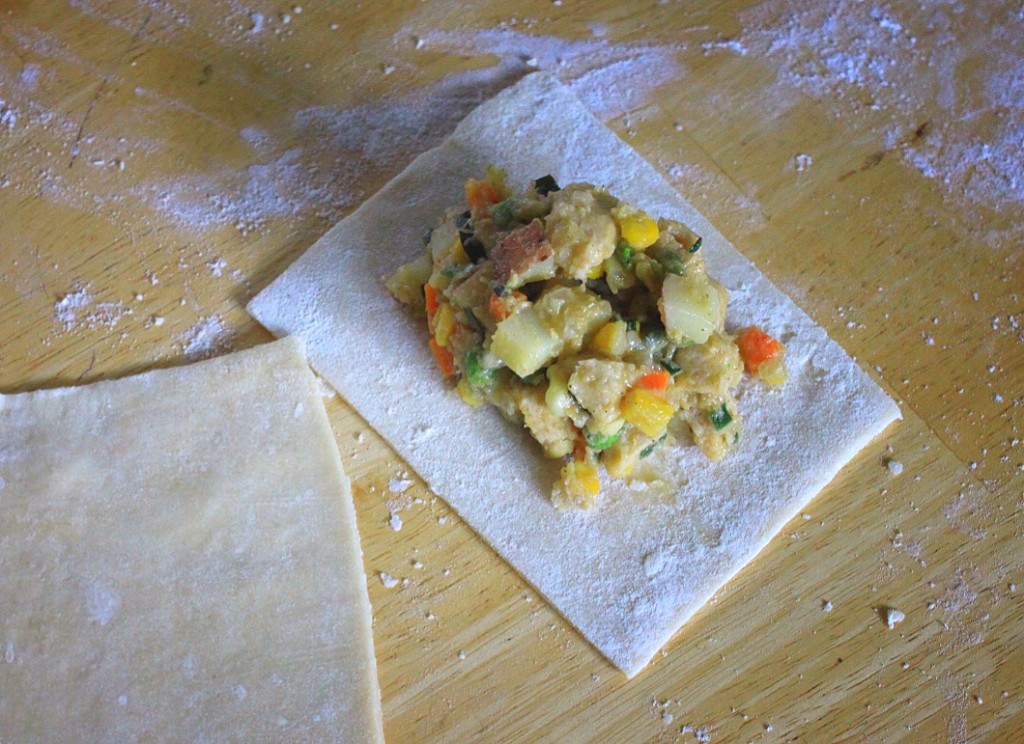 Use a toothpick to poke 10-15 small holes in the top of each pie. Refrigerate for about 15 minutes before baking (so the butter re-solidifies a bit, creating a flakier crust). Brush the tops of each pie with the whisked egg. Bake for 25-30 minutes, until nicely golden brown in color. Serve while hot.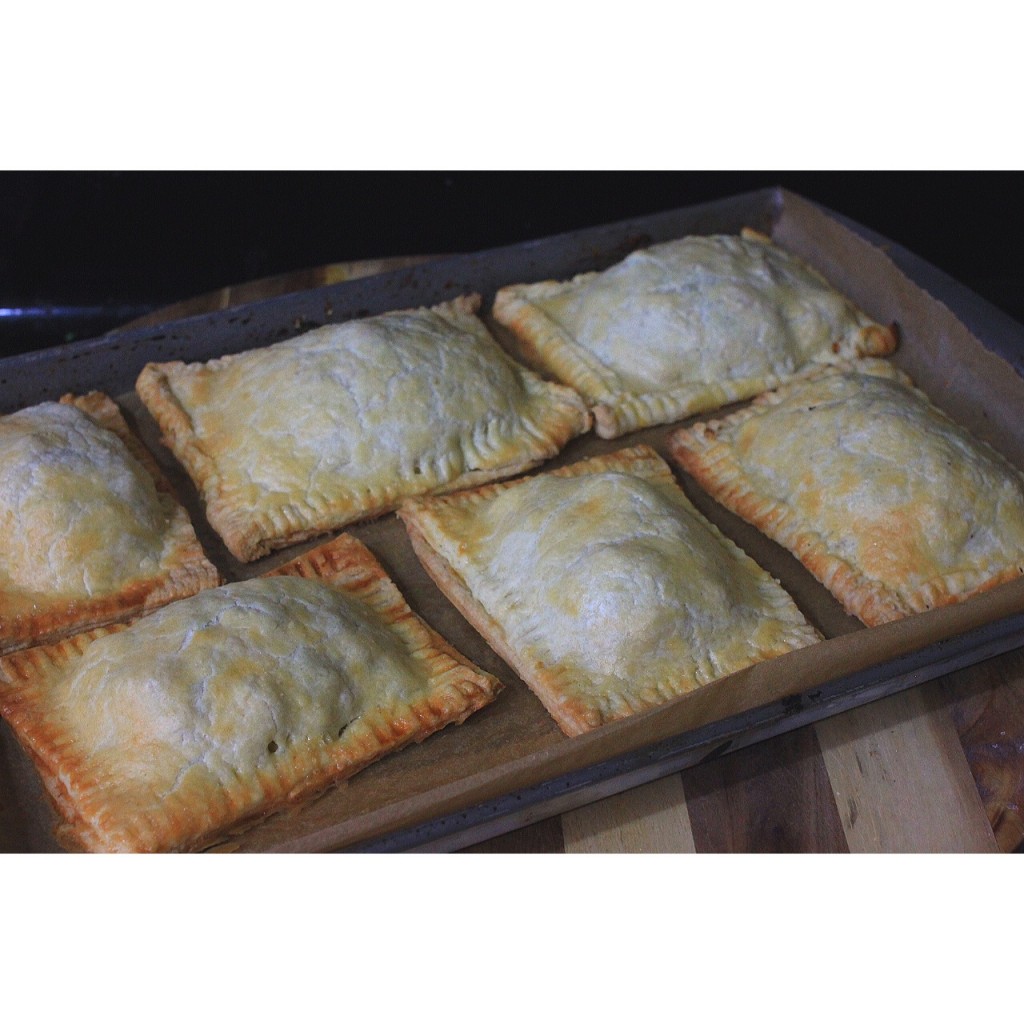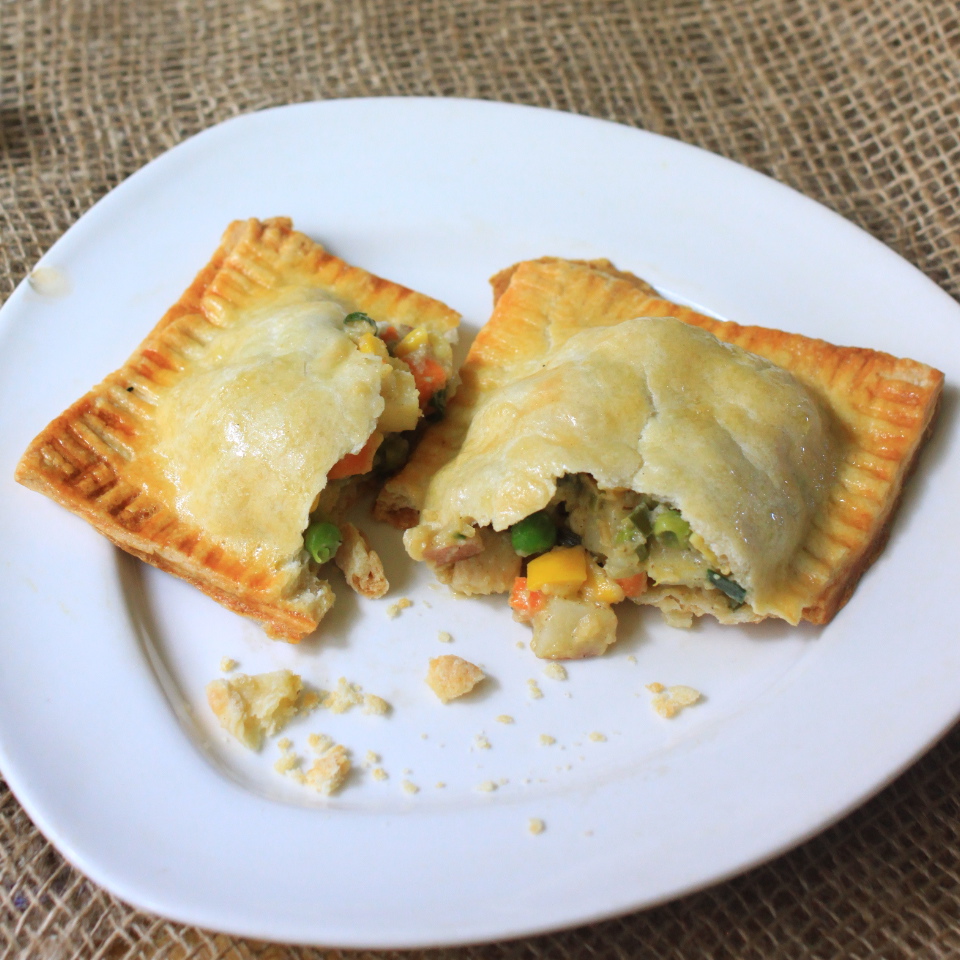 Please follow and like us: