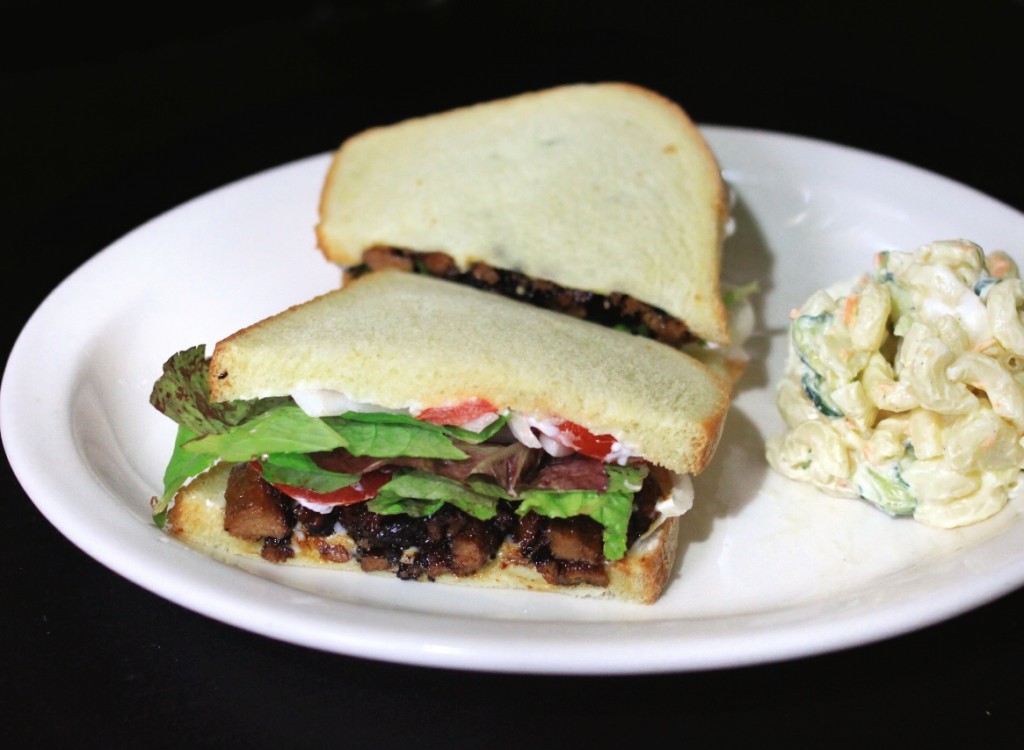 In Hawai'i, shoyu (Japanese soy sauce) chicken is a classic dish well-known by locals. It's often a main dish option for the beloved plate lunch. Plate lunches are a staple in the cuisine of Hawai'i. These plates typically consist of a scoop or two of sticky white rice, macaroni salad and an entree like kalua pork or shoyu chicken. The ingredients used are often similar recipe-to-recipe, proportions dependent on personal preferences. Shoyu chicken is more or less the Hawaiian equivalent of teriyaki chicken. It's both savory and sweet.
Growing up, my mom would prepare shoyu chicken based off a recipe she discovered from local chef, Sam Choy. Typically you use chicken thighs that still have the skin intact. The result of cooking the meat in the shoyu-based sauce is a flavorful, extremely tender, melt in your mouth chicken.
Since I don't cook meat at home, I decided to try a spin on the traditional shoyu chicken I grew up with, using seitan. The day I cooked the following recipe, we ate it with steamed white rice. The next day however, I used the shoyu seitan in sandwiches. Either way is entirely okay and both methods are delicious.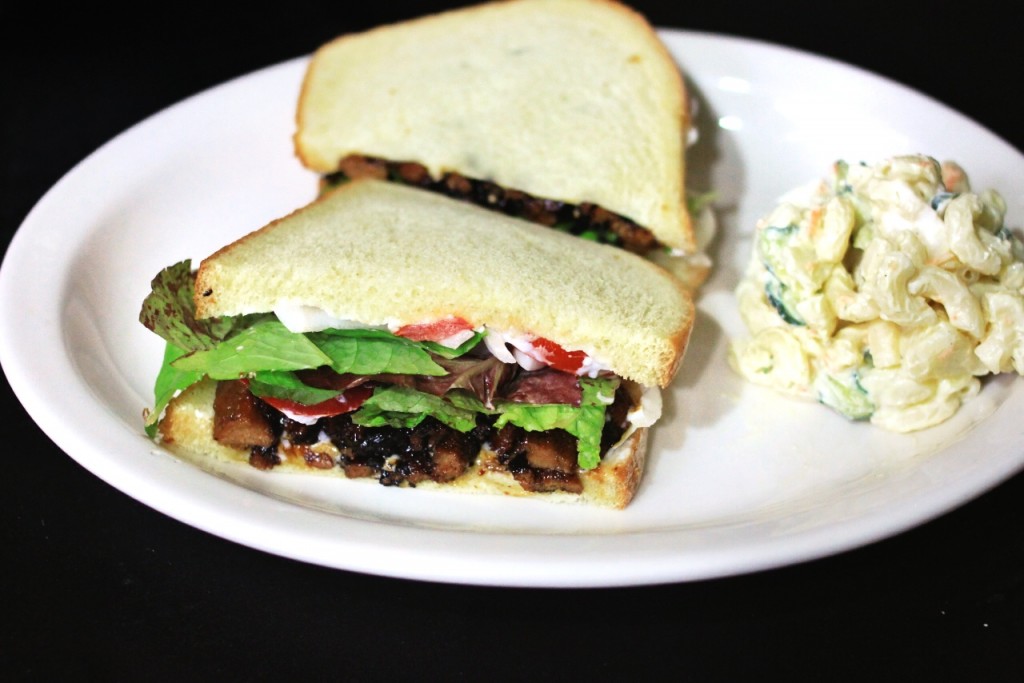 Hawai'i Shoyu Seitan
Ingredients:
two 8-ounce packages seitan strips
2 1/4 cups shoyu
1 1/4 cups water
1 cup + 2 tablespoons mirin
3/4 cup light brown sugar, packed
2 tablespoons freshly grated ginger
2 tablespoons fresh chopped garlic
1 1/2 teaspoons Chinese 5-spice
1 tablespoon cornstarch
2 tablespoons water
1/4 cup fresh chopped cilantro
Directions:
In a large heavy bottomed pot, combine the shoyu, water, mirin, brown sugars, ginger, garlic and Chinese 5-spice. Stir over medium heat until the sugar dissolves.
Add the seitan into the sauce. Bring to a low boil, then cover and reduce heat to a simmer. Let cook for about 35-40 minutes at a low simmer.
Remove the seitan from the pot and put it on a serving platter. Keep warm.
Remove one and a half cups of the shoyu broth from the cooking pot. Discard the remaining sauce, or save it for later use as a teriyaki style sauce (I like just the sauce on plain, steamed rice). Return the one and a half cups of shoyu broth to the cooking pot. Bring to a boil.
In a small bowl, mix the cornstarch and water, then whisk it into the boiling broth. Reduce heat and cook until thickened, stirring frequently. It'll take just a minute or two. Add the seitan into the thickened sauce and turn to coat all the seitan. Stir in the fresh cilantro.
You can serve the seitan as is, with steamed rice. I used the same seitan in sandwiches. For the sandwiches, we used sliced potato bread, then layerd in vegenaise, the shoyu seitan, fresh tomatoes and lettuce.