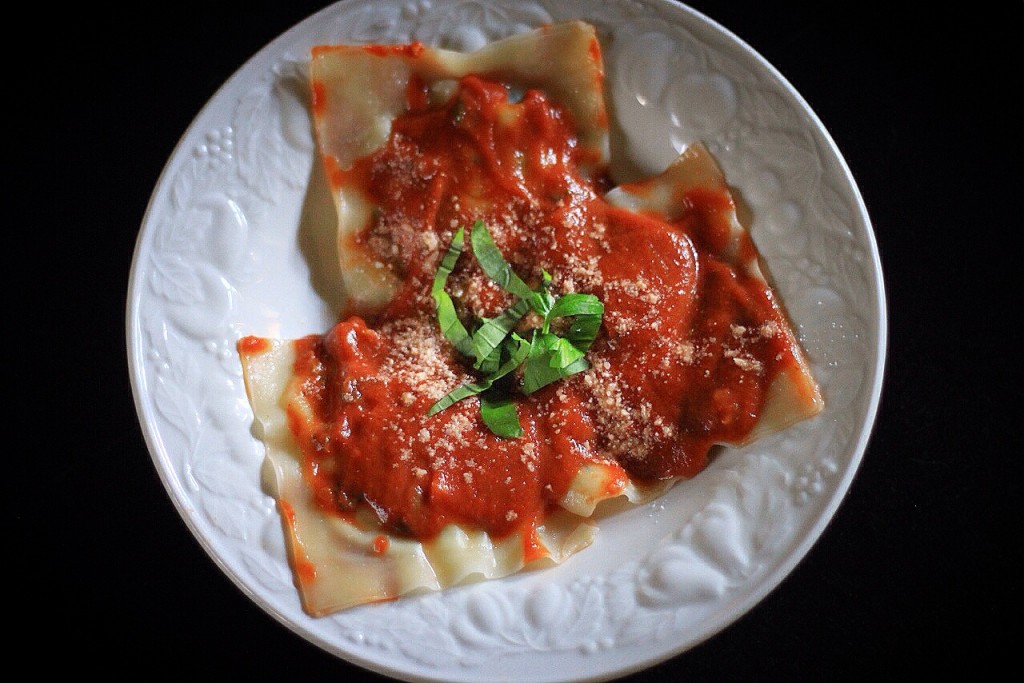 Recently, I asked Vincent what he wanted for dinner? "Ummm… ravioli?" If there's one thing I love about this kid (sure, there are many things, but we'll just chat about this one right now), it's his unfailing ability to ask me to make things I have both never made before, and certainly don't really know how to make. Take ravioli, for instance.
I am sure that when the request came, he was imagining prepackaged frozen ravioli, but in my let's-overcomplicate-brain, I had to think of homemade versions. Seeing as I have never made pasta before, I decided to research a little and quickly came up with homemade recipes that used wonton wrappers as the "pasta" and was intrigued.
So that's the route I took with the following recipe. I didn't trim these ravioli at all and consequently they were a bit large in size (nothing wrong with that, especially when feeding a bunch of boys).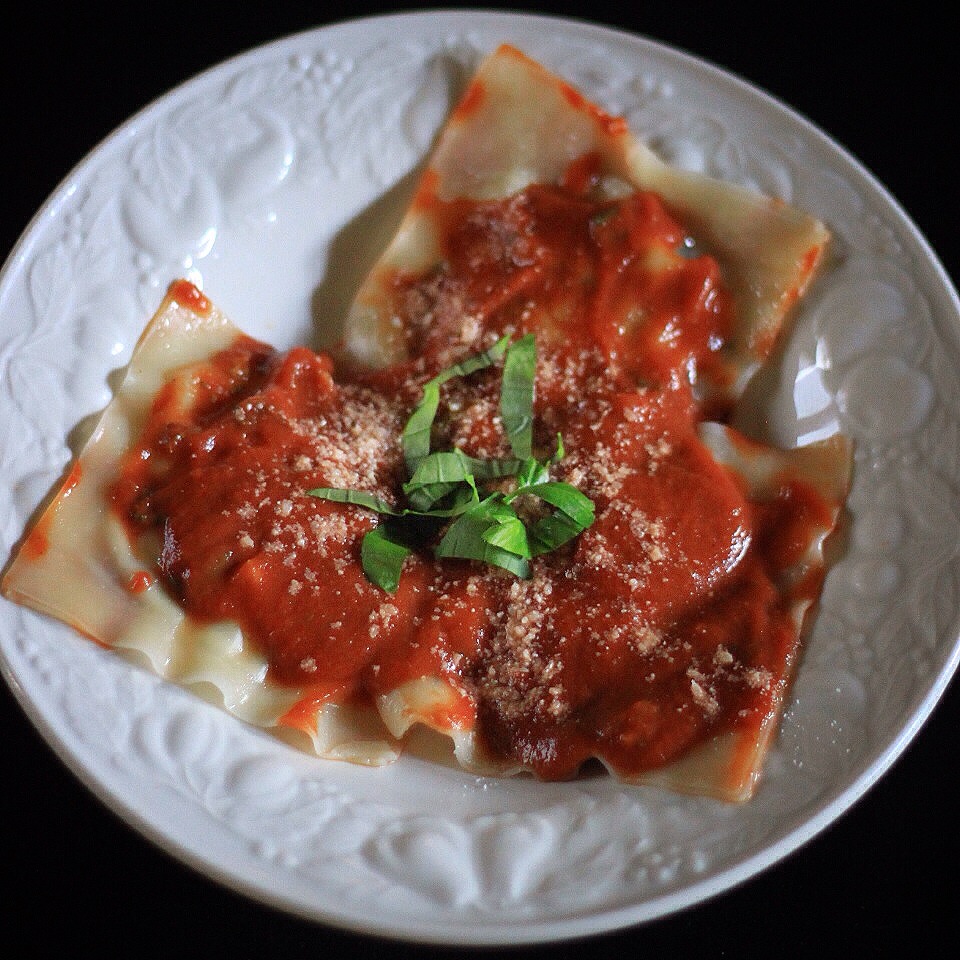 Spinach, Artichoke and Mushroom Ravioli
Makes about 25 large raviolis.
Ingredients:
For the filling:
2 tablespoons olive oil
1 shallot, minced
2 cups diced (small) crimini mushrooms
one 8.5 ounce can quartered artichoke hearts, chopped
2 cups fresh spinach, chopped
15 ounces part-skim ricotta cheese
1/2 cup grated parmesan cheese
3 cloves garlic, minced
1 egg
3/4 teaspoon salt
1/2 teaspoon fresh ground pepper
1 teaspoon granulated garlic
1/2 cup fresh basil, chopped
generous pinch of fresh ground nutmeg
For the ravioli:
one 12-ounce package small wonton wraps (I used these)
water
you preferred sauce for serving
Directions:
Heat the oil over medium-high heat in a saucepan. Add the minced shallot, stirring around in the oil for a minute. Add the diced mushrooms and cook for 2-3 minutes, until tender. Place the mixture in a small bowl until needed.
In the same pan you just cooked the mushrooms, add the chopped spinach. Cook until the spinach wilts (3-4 minutes).
In a large bowl, combine the ricotta, parmesan, minced garlic, egg, salt, pepper, granulated garlic, fresh basil and nutmeg. Stir until combined then fold in the mushrooms,  spinach and chopped artichokes.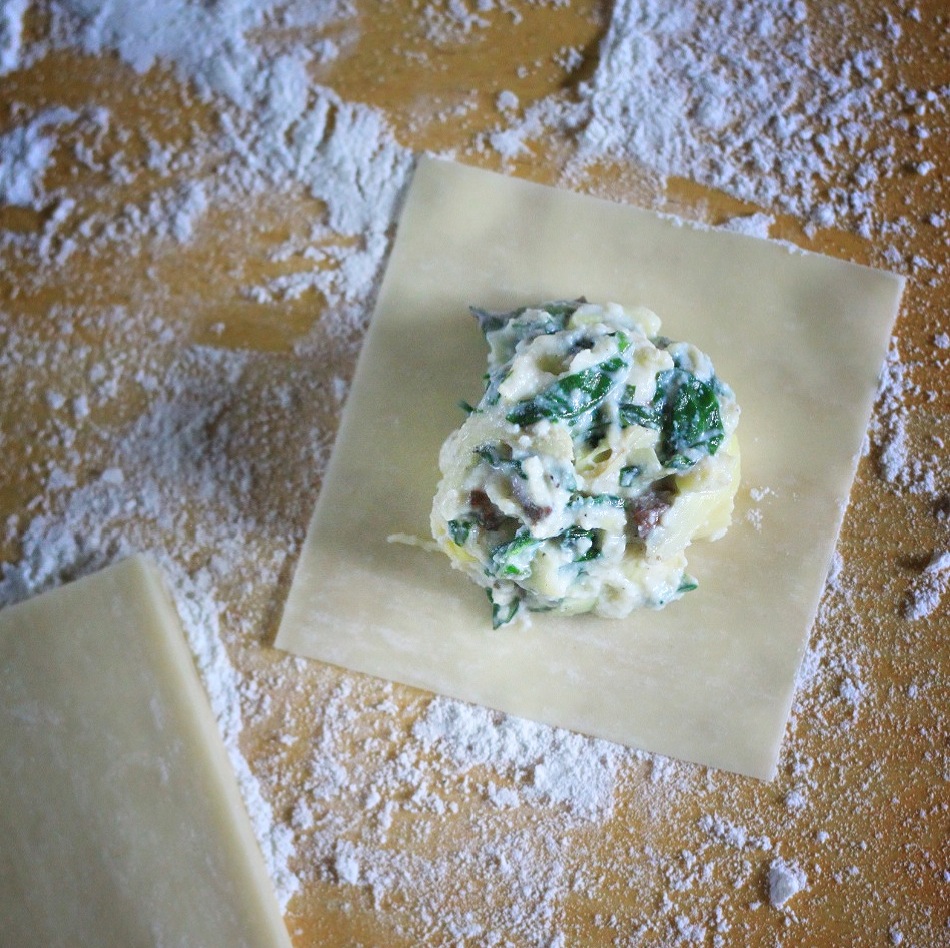 Lightly flour a working surface. To make the ravioli, take a single wonton skin and place a scant rounded tablespoon of filling in the middle. Use a pastry brush to brush water along a 1/2-inch strip along all four sides of the wrapper. Place a second wrapper on top, working from the middle first. Carefully press out air bubbles as you carefully press the top wrapper around the base of the filling, then work your way out to the edges, lining the corners up and pressing lightly to seal. Place the ravioli on a baking sheet lined with parchment paper, keeping the ravioli in a single layer. Set aside and repeat with remaining filling and wonton wrappers. If you want to make these ahead of time, simply place the baking sheet in your freezer until you're ready to cook them.
Set a large pot of water to boiling. Generously salt the water. Once the water is boiling, drop the ravioli in, three or four at a time. Cook for 3 minutes, until the ravioli floats to the top of the pot, then remove with a slotted spoon.
I like to serve the cooked ravioli with warm, slightly spicy marinara and parmesan cheese. You can use whatever sauce you prefer.