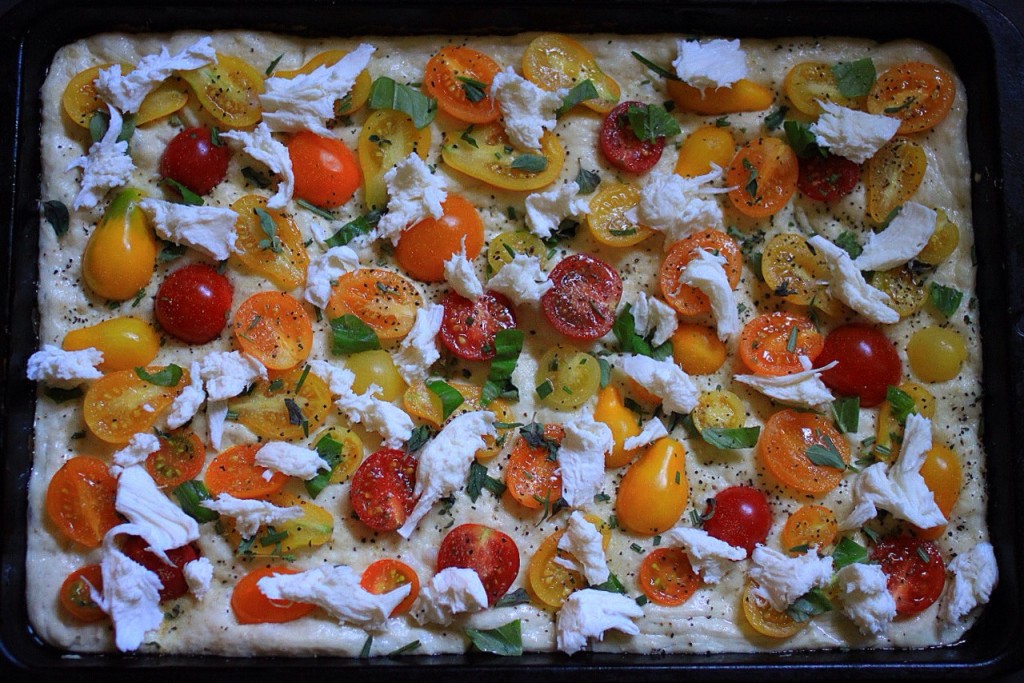 Sometimes it seems unfortunate to me, that during this time of year, when the produce is at its peak, plentiful in the garden or markets, and completely versatile as far as what's available, there are many summer days where the last thing I want to do is cook anything. Or turn on any heat in the house. Or think about how cooking means a buttload of dishes that will stretch from one side of the kitchen to the other, begging to be washed afterwards.
But then there are other days where the vastness of what's fresh and available to me is a complete inspiration. I planted fewer tomatoes this year than I have for the last couple years, but included various types I've never grown before. All that we've had ripen so far are golden grape tomatoes, which have been sweet, pretty to look at, and perfect for snacking on straight out of the garden. There are lots of cherry tomatoes available, too, just not out of my backyard. I love the bold colors of the different tomato strains and when I picked up a pint of miscellaneous cherry tomatoes, a pizza that featured their pop of color immediately seemed to grab my attention.
I decided to forego any other sauce, with the intention of relying on the cherry tomatoes bursting in the oven, creating a sort of sauce of their own. This pizza is very simplistic, but the focus is on the fresh ingredients. You could serve this as a dinner pizza, or even as an appetizer, or accompaniment to some pasta.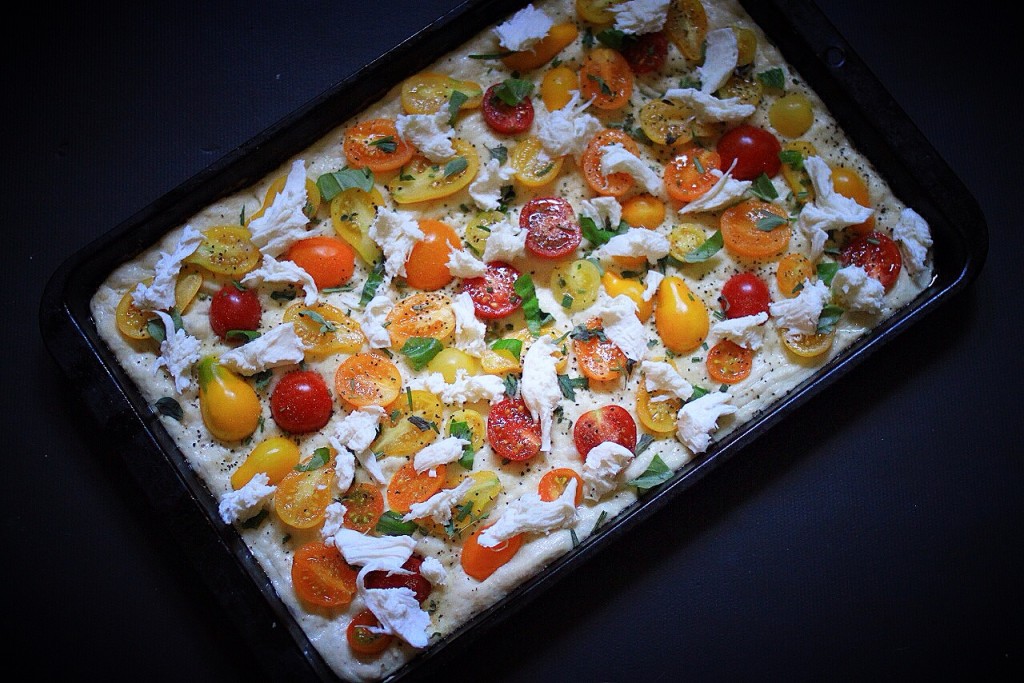 Cherry Tomato and Herb Pizza
Makes one 13×18-inch pizza.
Ingredients:
For the dough:
2 cups plus 2 tablespoons all-purpose flour
1 1/4 teaspoons active dry yeast
1/4 teaspoon salt
1/4 teaspoon sugar
3/4 cup warm water
olive oil for pan
For the pizza:
1 pint cherry tomatoes, halved
6 cloves garlic, chopped finely
1/2 cup chopped fresh herbs of your liking (I used basil, oregano, parsley, thyme and tarragon)
1 8-ounce ball of fresh mozzarella
1/3 cup grated parmesan cheese
salt and pepper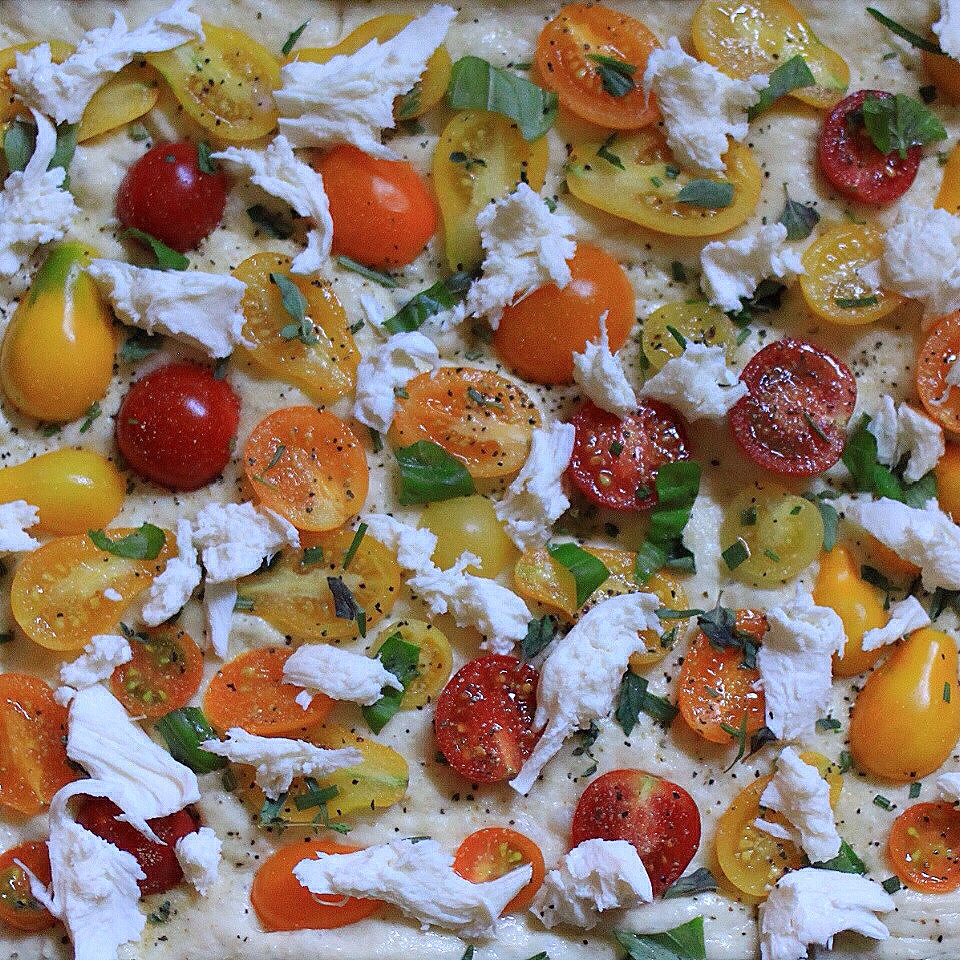 Directions:
Prepare the dough: Stir together the flour, yeast, salt and sugar in bowl. Add the water, then use a spoon or your hands to mix everything together until blended into a ball of dough (this should take no more than a few minutes).
Cover the dough and let it rise at room temperature for about 2 hours. It may be slightly less than doubled in size.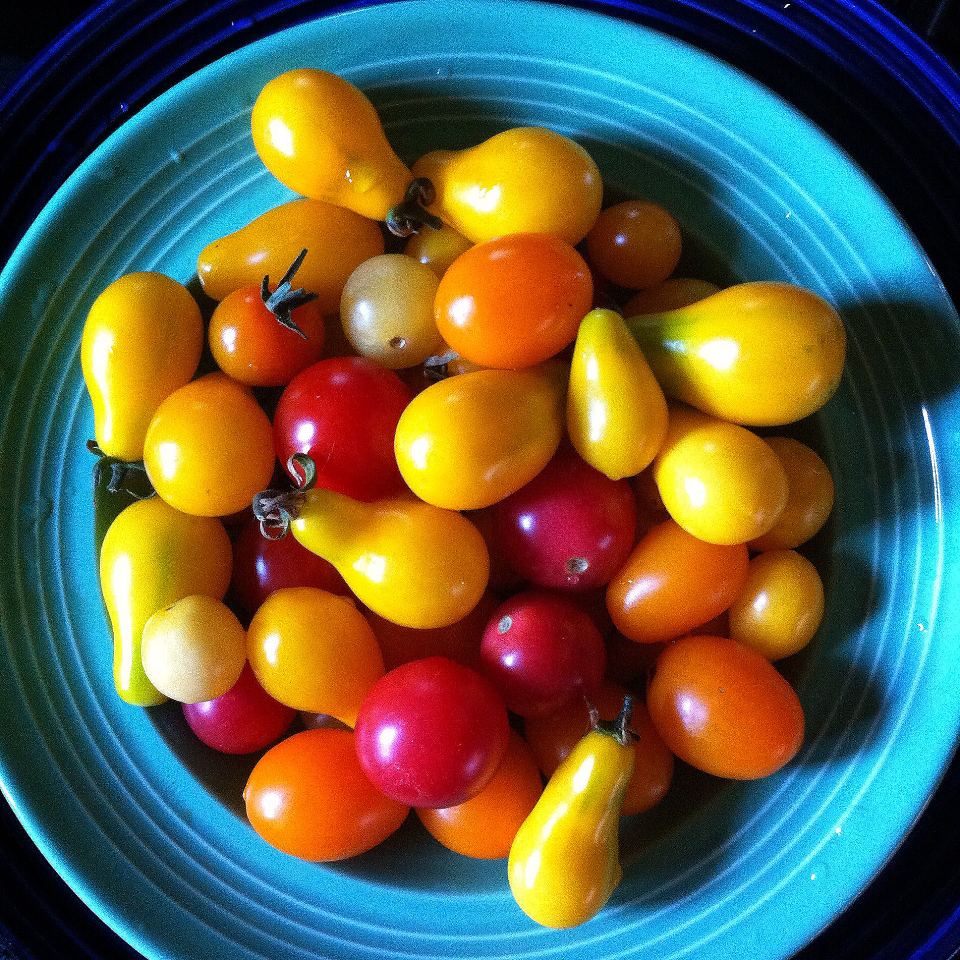 Pizza time!: Preheat your oven to 500° F. Dump the dough onto a lightly floured surface. Generously oil a 13×18 inch rimmed baking sheet with a good quality olive oil. Gently place a ball of dough on the pan, stretching and pressing it out toward the edges. If it springs back wait five minutes and then continue. The dough is very thin. If it tears, simply pinch it back together.
Arrange the halved tomatoes evenly on the dough, cut side up or down doesn't matter. Sprinkle on the chopped garlic and herbs. Break the mozzarella up into small chunks and place those evenly over the pizza, too. Sprinkle on the parmesan and a slightly generous amount of salt and pepper.
Bake for 18-20 minutes until the edges are slightly charred. Cut the pizza into squares and serve.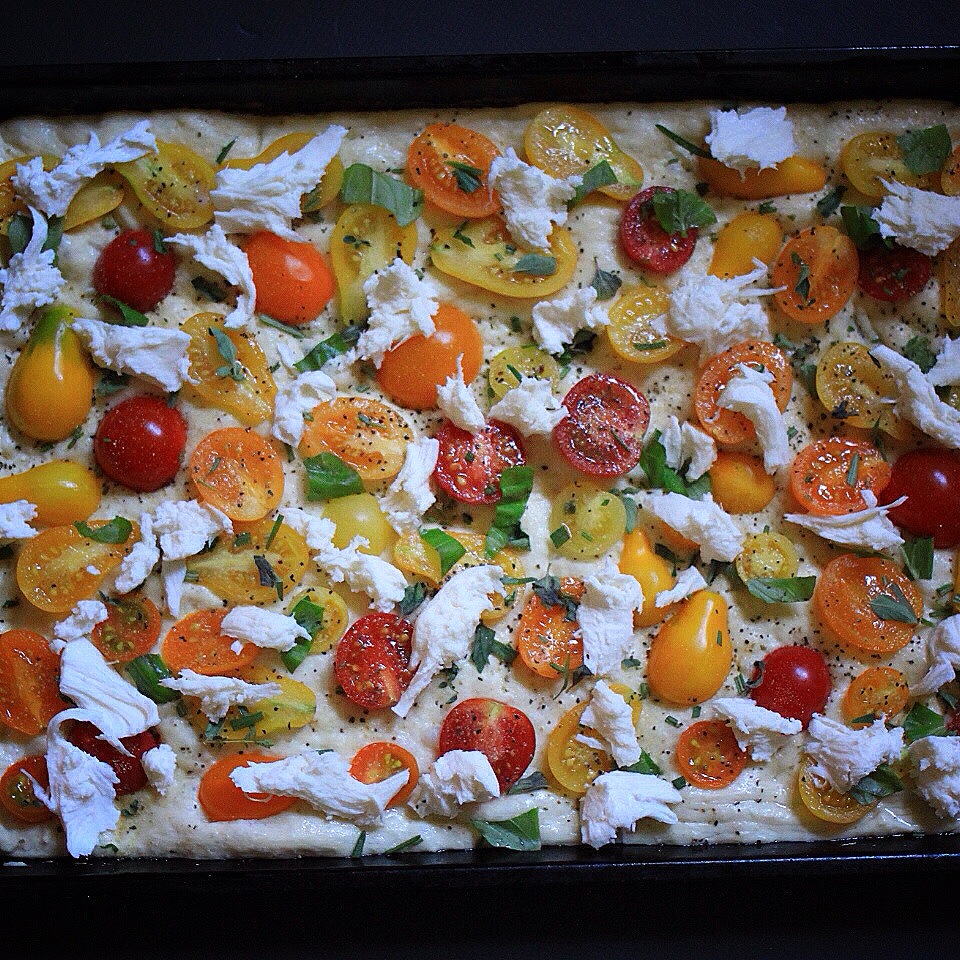 Please follow and like us: