My mom has always been the queen of pancake making.  Even when I really didn't like pancakes, her particular fluffy, perfectly golden cakes were the exception I would make (hesitantly, but still…).  It's no wonder pancakes were amongst one of the first things I learned how to cook.  These days, my go-to recipe is still the same one I used when I was 9 years old.  The same one I quickly scribbled down over and over again on scrap pieces of paper, for years, as Mom answered my endless annoying questions of, "How much of what do I put in here?!  Am I supposed to stir this? How do I know it's ready? Can I flip it yet?"
Another thing my mom has always had a deep, abiding love of are really cheesy horror and thriller movies.  Growing up, late at night she would manage to find these terrifying Japanese horror movies that I would beg her to let me stay up and watch with her.  I don't remember any of the movies, but I do remember closing one eye at  time, then both eyes, scared shitless by some weird creatures or ghosts I KNEW would come back to haunt my dreams later.
Do you know what goes well with cheesy, terrifying, subtitled horror movies on late night TV?  Late night pancakes.  They are the same as morning pancakes, but sometimes filled with more chocolate chips, and certainly eaten like desserts or late night snacks.  I liked when I was in charge of the late night pancakes. One for mom and one for me!  While this recipe makes more than two pancakes, feel free to eat them at anytime through the day. Add chocolate chips if you're feeling adventurous.  Watch ridiculous scary movies while you shove them in your mouth. Mostly just enjoy them, though!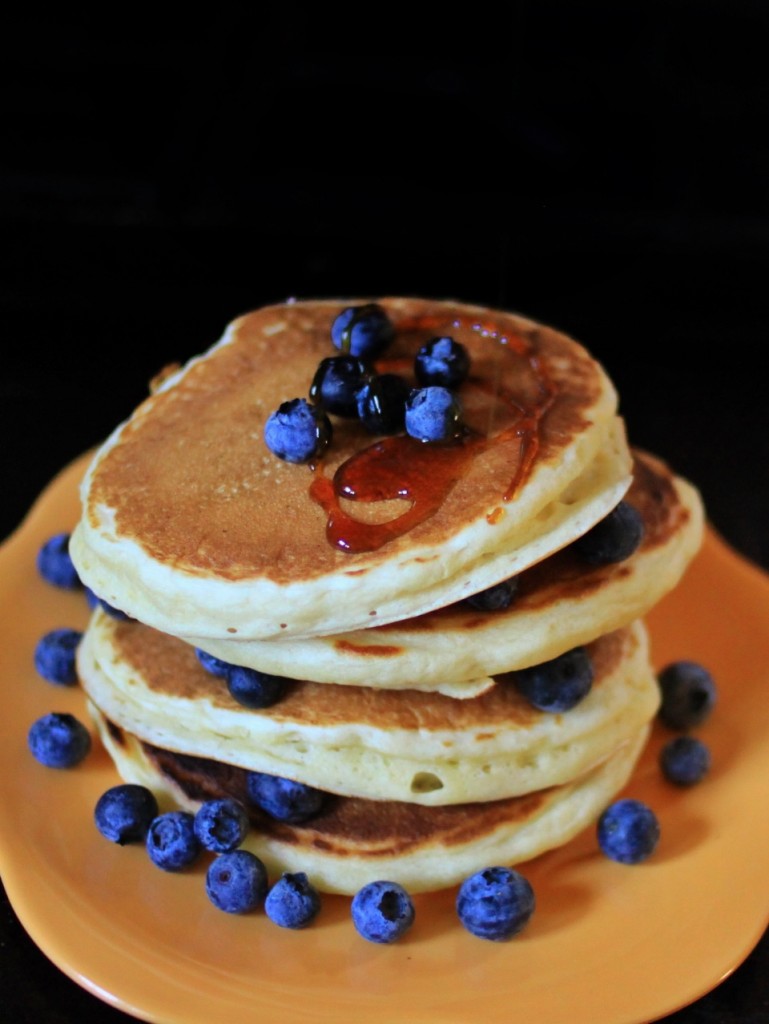 Buttermilk Pancakes
Serves 3-4 folks.
Ingredients:
1 1/4 cups all-purpose flour
3 tablespoons sugar
1 1/2 teaspoons baking powder
1/2 teaspoon salt
1/4 cup melted butter, cooled to room temperature
1 1/4 cups buttermilk
1/2 teaspoon vanilla extract
oil/cooking spray
maple syrup for serving
Directions:
In a bowl, combine the flour, sugar, baking powder, and salt. Whisk together well.
In another bowl or simply a large measuring cup, whisk together the melted butter, buttermilk, and vanilla until well combined.
Stir the wet ingredients into the dry ones, just until the dry ingredients are evenly coated. Heat a griddle or large pan over medium-high heat until a few drops of water flicked onto the surface skitter across it.
Pour spoonfuls of about 1/4-cup of batter, per pancake, spacing them out enough to spread a bit. Cook until bubbles form on top and the batter sets (about 2 minutes). Flip the pancake and cook until golden brown on the other side (about 2 more minutes).
If you're going to serve the pancakes all at once, turn the oven to 200 degrees F. Keep the cooked pancakes in there, in a covered dish or pan until ready to serve. Serve with the maple syrup.