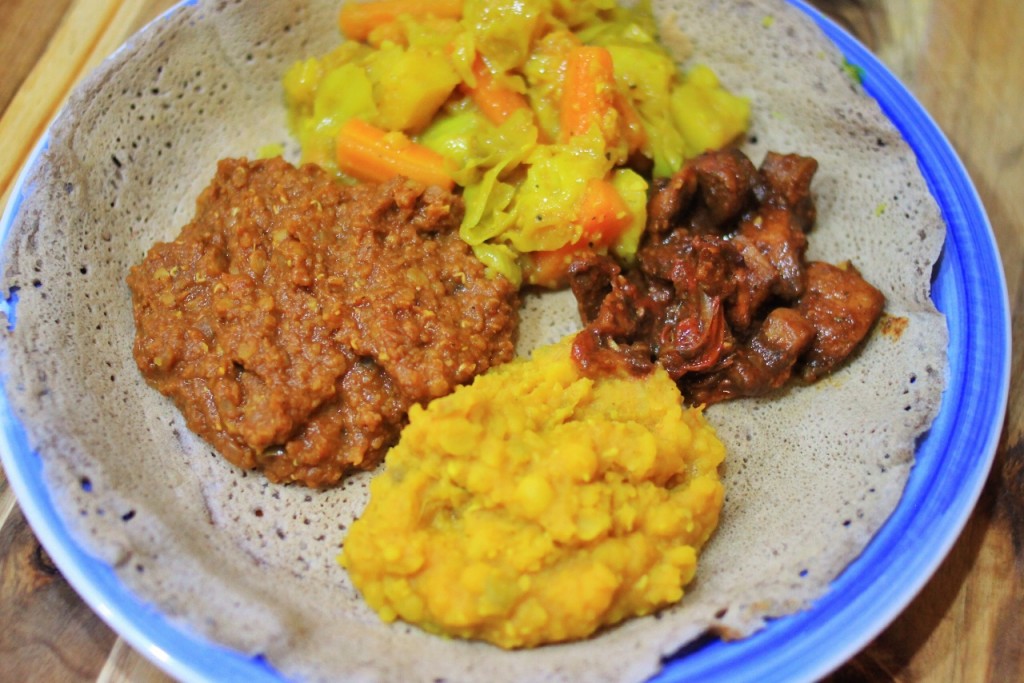 One benefit of having kids around who are adventurous eaters is it often means trying new foods. Two summers ago, we were in Berkeley, California and decided to go out for sit-down-style dinner. There was an Ethiopian restaurant down the street and both kids were eager to check it out. I was hesitant, as I didn't even know what "Ethiopian food" meant as far as cuisine — would there be enough vegetarian options to make it worth the effort? I was pleasantly surprised.
When you enter an Ethiopian restaurant, there is no silverware involved. The entire meal is eaten with your hands. Likely, the dishes will be served on a platter lined with injera, a traditional Ethiopian bread made with teff flour. Injera looks like a big, spongy pancake, about the size of a pizza, but tastes like a mild sourdough bread. Essentially, it's a large sourdough crepe. The food will be served in a ring of mounds on the injera like a painter's palette, accompanied by more injera which you tear off into pieces, then use to pinch the different stews on the platter.
Injera is a source of protein and vitamins, but also your serving utensil. The flatbread made from teff is incredibly high in fiber, iron and calcium. It has all the amino acids required to be a complete protein, but it's also gluten-free. When eating Ethiopian food, it's expected that you'll simply tear off a piece of injera, grab some food with it, roll it up, pop the whole thing into your mouth and repeat until finished.
Another quintessential part of Ethiopian cuisine is a spice blend referred to as berbere. Berbere is an integral spice blend in Ethiopian cuisine. Full of both flavor and fiery heat, this brightly colored, highly aromatic seasoning blend is a staple in any Ethiopian kitchen. It's used as a rub for meats, poultry, or fish, as well as a seasoning for stews, soups, grains and vegetables.
Here are two recipes — one for a homemade berbere spice blend and another for homemade injera. Coming up shortly, I'll share with you a few different Ethiopian dishes you can serve with the injera, which uses the berbere spice blend you can find here.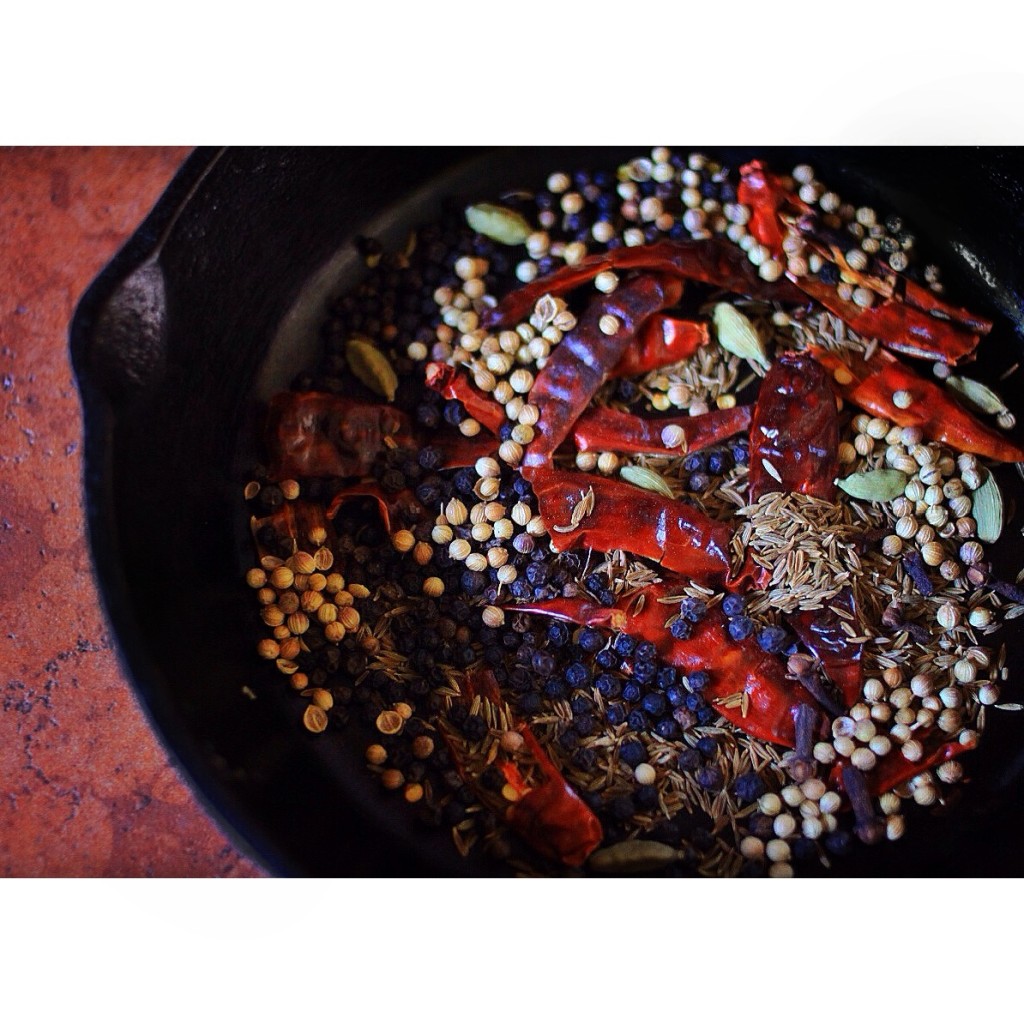 Berbere Spice Blend
Yields about 1/2 cup spice blend.
Ingredients:
4 teaspoons whole coriander seeds
2 teaspoons whole cumin seeds
1 teaspoon fenugreek seeds
2 teaspoons black peppercorns
4 whole allspice berries
seeds from 8 whole cardamom pods
8 whole cloves
10 dried red chiles, seeds removed (Thai chiles work well)
6 tablespoons sweet paprika (NOT smoked)
2 teaspoons salt
1/2 teaspoon ground nutmeg
1 teaspoon ground ginger
1/2 teaspoon ground cinnamon
2 teaspoons turmeric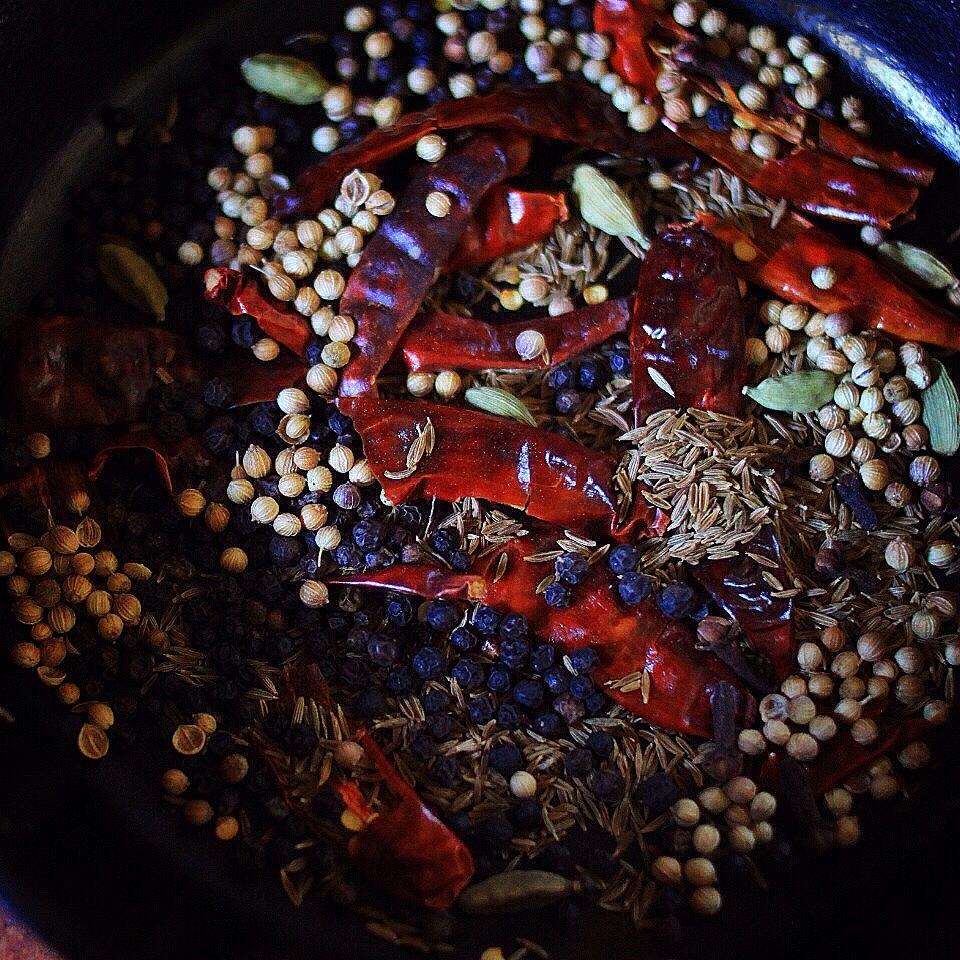 Directions:
In a heavy bottomed skillet, toast the whole spices and chilies (the first 8 listed ingredients), over high heat, shaking the pan to prevent scorching. Toast until fragrant, 3 or so minutes. Transfer to a bowl and let the mixture cool completely.
Once the spices are cooled, grind them in a spice or coffee grinder. Add all remaining ground spices and salt, then grind everything together.
Store in an air-tight container until needed.
……………………………………………………..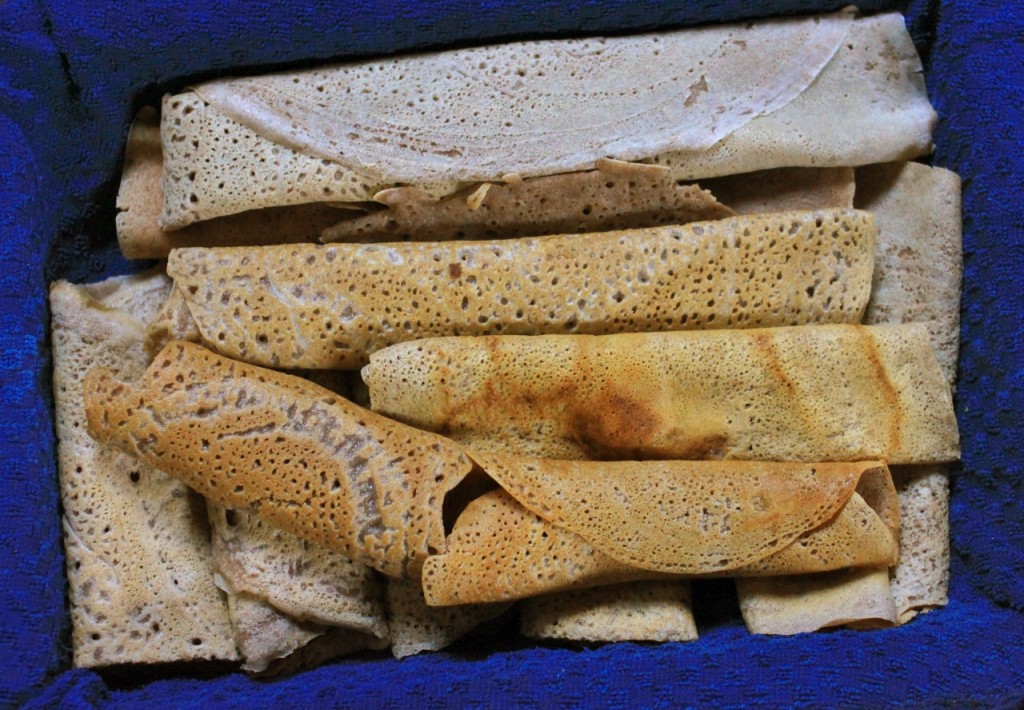 Injera
Ingredients:
1/2 cup teff flour
1 1/2 cups all-purpose flour
2 cups water
1/2 teaspoon salt
Directions:
Put the teff flour in a large mixing bowl, then sift in the all-purpose flour. Slowly stir in the water, trying to avoid any lumps. Cover with plastic wrap and set aside at room temperature for 3 days.
The mixture should become bubbly and frothy over the few days. If it doesn't appear to ferment on its own, you can add a teaspoon of yeast after the first day.
After three days, stir the salt into the batter.
Heat a nonstick pan (make sure the surface of the pan is smooth) or lightly oiled cast-iron skillet over medium-high heat, until a water drop will dance on the surface.
Spoon about 1/4-cup of batter into the center of the pan. Tilt the pan with a circular motion so that the batter coats the surface evenly. Injera should be thicker than a crêpe, but not as thick as a traditional pancake. Cover the pan and cook briefly, until holes form in the injera and the edges lift from the pan (2-3 minutes).
Remove the injera and let cool. Place plastic wrap or foil between successive pieces so they don't stick together. Continue until all the batter has been cooked.