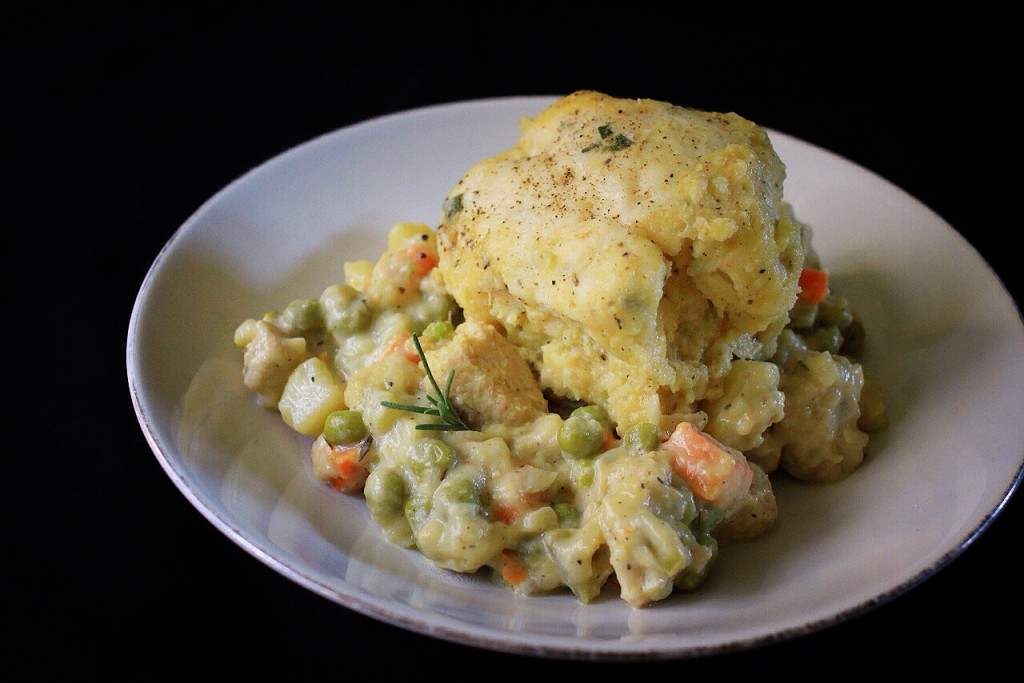 Traditionally, chicken and dumplings are a Midwestern and/or Southern comfort dish. As with many comfort foods, the dish can vary, depending on whose dinner table or restaurant you're at. Some versions contain more soupy stew and small, flat rectangular dumplings. Others are thick like a casserole, topped with fluffy biscuit-type dumplings. I prefer the latter type.
One of my favorite vegetarian meat alternatives is made by Quorn. The chik'n products are the most similar to the texture of non-vegetarian chicken, and everything we've tried has more than satisfied everyone around here. I love the chik'n tenders for just about any recipe I would've normally used actual chicken in. In this chik'n and dumplings recipe, the tenders are exceptional! Quorn boasts quality products that are healthy, high in protein and dietary fiber, while also being naturally low in cholesterol, fat and saturated fat. Most importantly, however, is flavor and in that department, Quorn is also impeccable.
This dish reheats nicely if you wind up with any leftovers, too!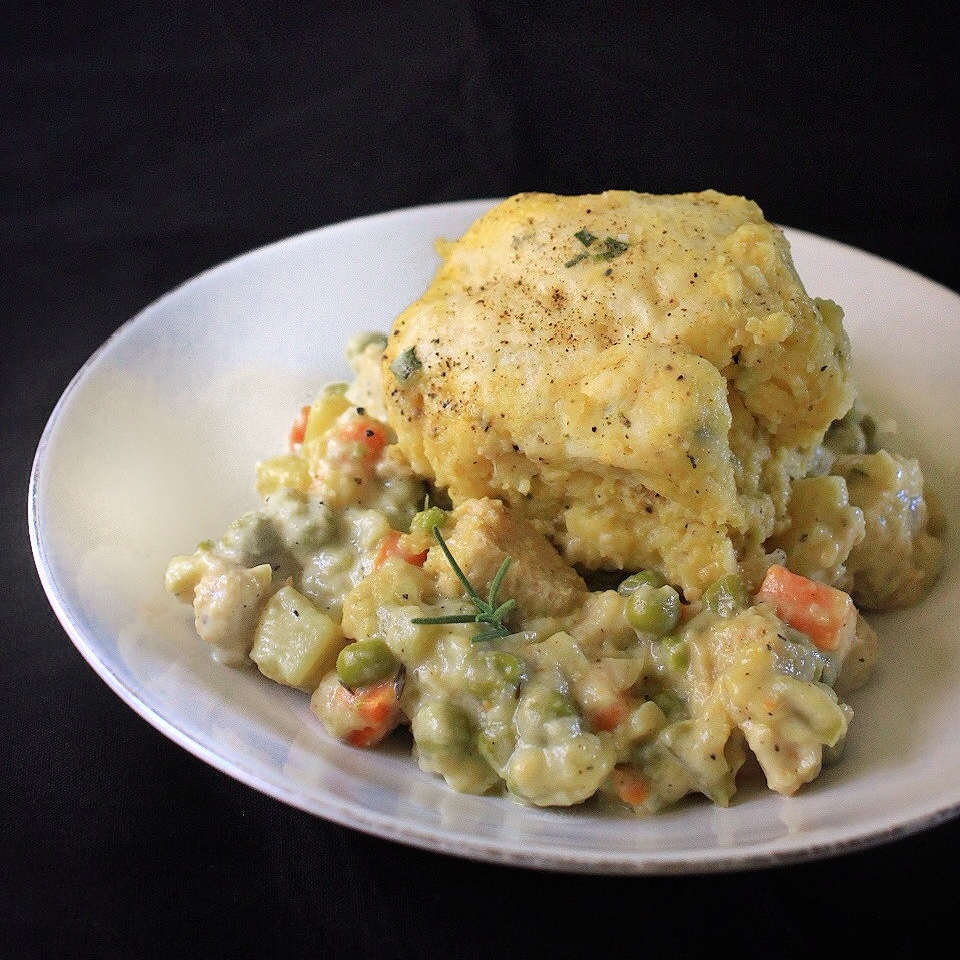 Quorn Chik'n and Dumplings
Serves 6-8 folks.
Ingredients:
For the stew:
1/4 cup unsalted butter
1 large onion, chopped
2 stalks celery, chopped
2 large carrots, peeled then cut in bite size pieces
3 cloves garlic, minced
1 12 ounce package Quorn Chik'n Tenders
2 cups cubed Yukon gold potatoes (about 4 medium potatoes)
1/2 cup all-purpose flour
1 1/2 teaspoons salt
1/2 teaspoon ground pepper
4 cups No-Chicken broth
2 bay leaves
1/2 teaspoon fresh chopped thyme
1 1/4 cups green peas
1 cup half and half
For the dumplings:
3 cups all-purpose flour
1 1/2 teaspoons salt
1 tablespoon baking powder
2 tablespoons freshly chopped rosemary
3 tablespoons freshly chopped chives
1/4 teaspoon ground pepper
1 3/4 cups buttermilk
2 eggs, beaten
Directions:
In a large heavy bottomed pan (I use one like this) melt the 1/4 cup butter over medium high heat. Add the diced onion and saute until the onion becomes translucent.
Once the onion has changed color, add the diced celery, carrot, and garlic. Cook for 5-6 minutes, until the carrots begin to tender. Add the Quorn Chik'n Tenders and potatoes, stirring to evenly mix everything. Continue cooking until the chik'n tenders start turning golden brown (another 5 minutes or so).
Sprinkle the flour, salt, and pepper over the vegetables, then stir it in to evenly coat everything. Cook for a 1-2 minutes, before pouring the broth into the pot. Stir well, to make sure the flour is incorporated well. Stir in the bay leaves and fresh chopped thyme. Continue stirring occasionally until the mixture begins to thicken. Reduce heat to medium-low, cover and cook until the potatoes are fork tender (15 minutes or so).
While the potatoes are cooking, prepare the dough for your dumplings. In a bowl, mix together all the dumpling ingredients until you form a nice thick, scoopable batter.
When the potatoes are cooked through, uncover the pot. Stir in the peas and half and half. Next, scoop the dumpling batter (about 1/4 cup per scoop) in rounds, gently placing on top of the stew. Continue scooping the batter over the stew mixture, leaving about a 1/2-inch space between each scoop. Cover the pot and cook on medium-low for 15-20 minutes, until a toothpick comes out clean when poked into the dumplings.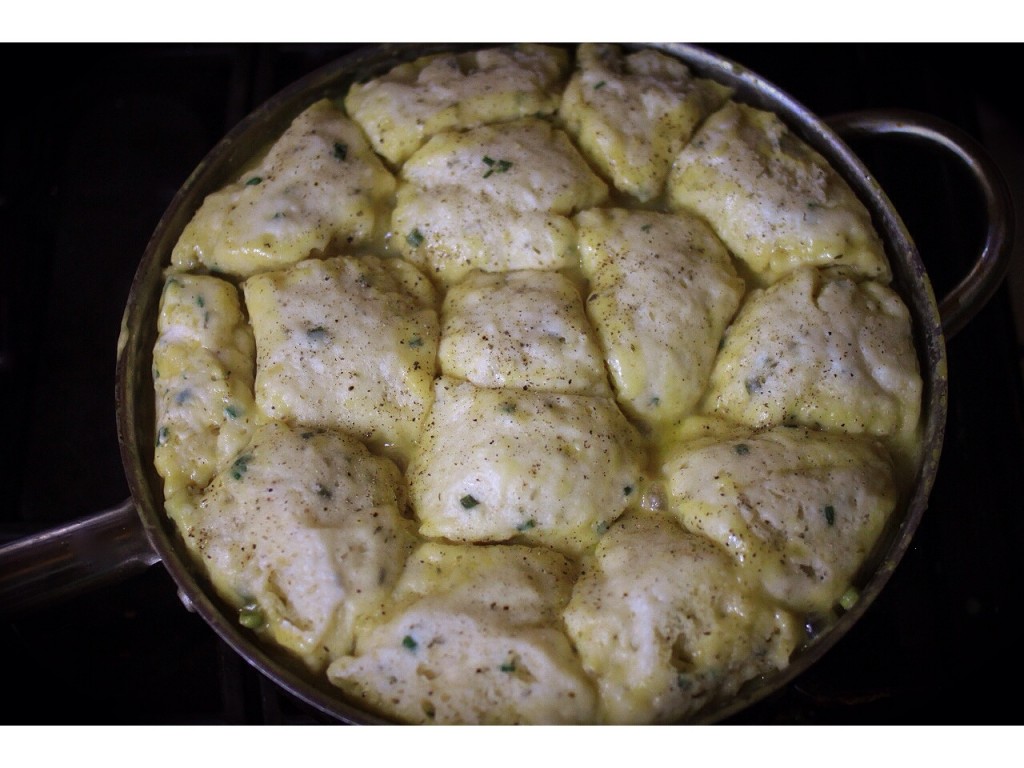 Serve and enjoy while hot.