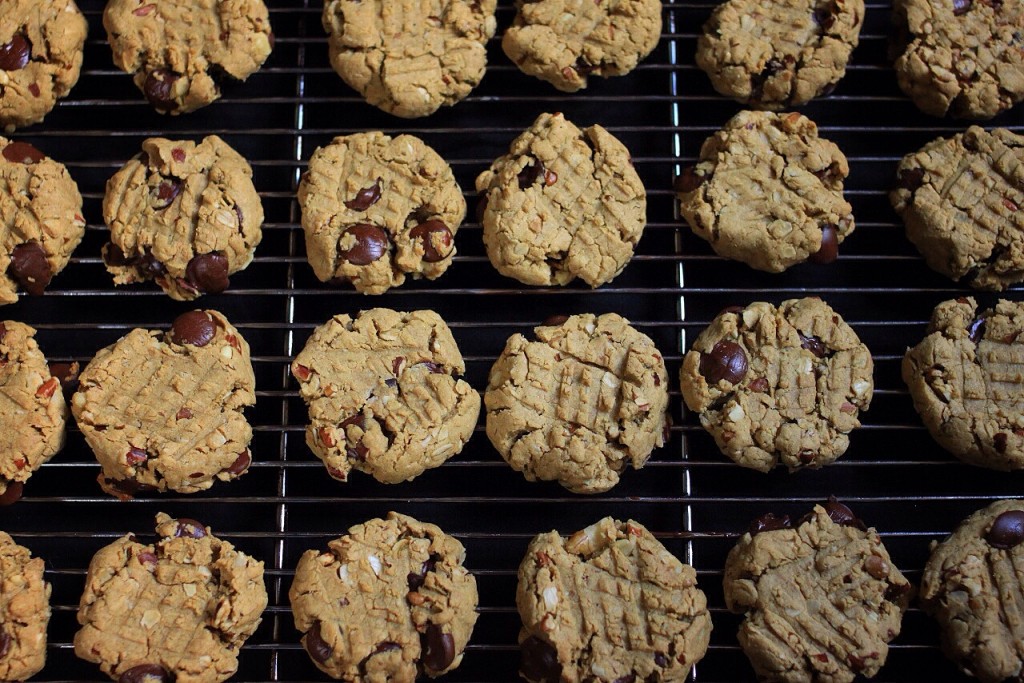 Do you ever wonder where your days go?  The last few weeks have been nothing short of a blur. At times I imagine that there will be some day in my life where I miss this pace, but that takes a lot of convincing.  My posts here feel like they're sporadic at best, because there aren't enough hours in the day to balance keeping up with kids, sports schedules that leave a lot of mini-trips out of town, everyday living — cooking, cleaning, time managing, the mountains of dishes and laundry that never seem to disappear completely — and writing anything meaningful.
Someday perhaps I will miss keeping up with four different schedules, or meal planning for anywhere from two to eight people with twenty minutes notice, or going to bed at 3 AM only to wake up at 7AM and spend the entire day on my feet taking care of everything and everyone else. Someday… but right now, a slower pace would be welcomed with open arms.
I've learned, in the last ten years, to simply be flexible. To expect unexpected change, or extra folks in the house to have to feed, or plans that change at the very last minute. We're right in the midsts of football and water polo season. Practice schedules make things a little hectic, on top of already existent school schedules. I find myself constantly thinking of ways to feed both 16 year old and 9 year old athletes. These cookies were born out of my volunteering to provide "healthy poolside snacks" for a recent water polo tournament. I wanted to create something high in protein, high in carbs, and relatively low in both sugar and fat. Each of these cookies roughly breaks down to 150 calories, 13 grams carbohydrates, 9 grams protein, 7 grams fat, and 7 grams sugar. These cookies went over well with both the kids and parents and will certainly be something I make again in the near future!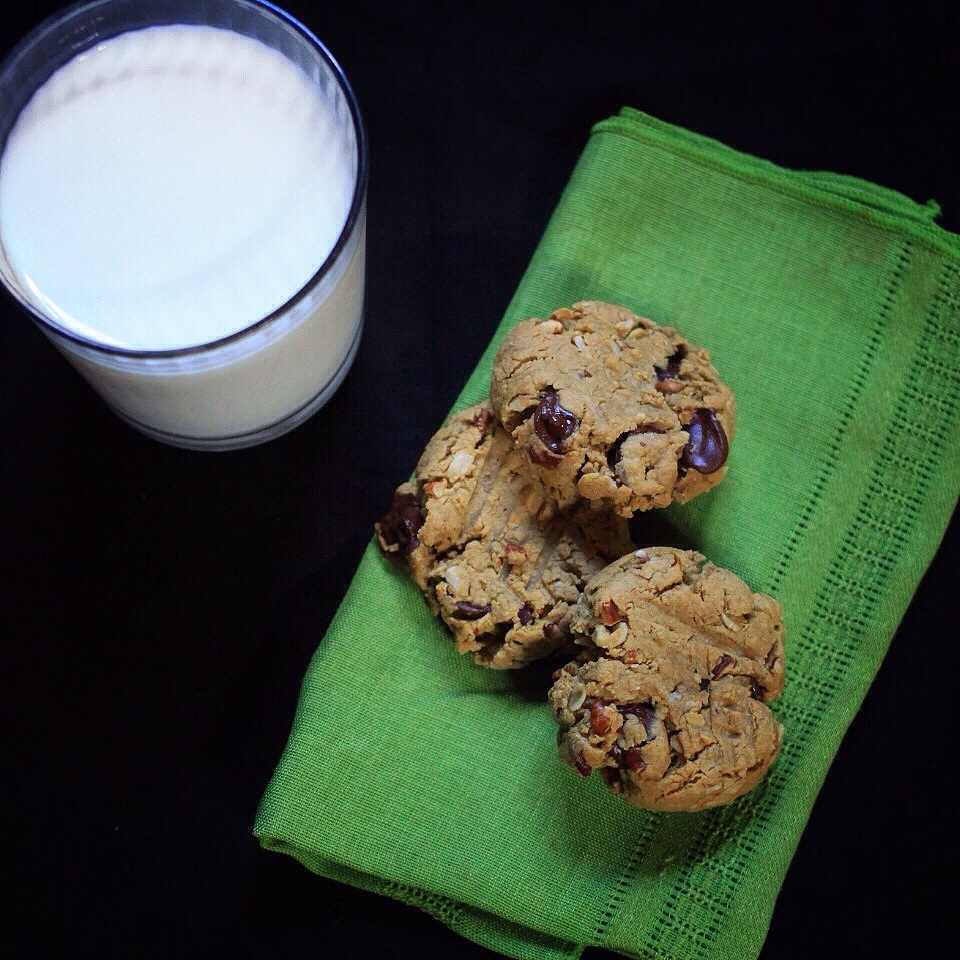 Peanut Butter Chocolate Chip Protein Cookies
Yields about 3 1/2 dozen cookies.
Ingredients:
2 cups oat flour
3/4 cup whole wheat flour
3/4 cup brazil nut protein powder
1/2 cup rolled oats
1/4 cup sorghum flour
2 teaspoons baking soda
1/4 teaspoon salt
1/2 cup light brown sugar
2 cups smooth peanut butter
4 egg whites, lightly beaten
1 large ripe banana, mashed
1/2 cup greek yogurt, vanilla or plain
2 teaspoons vanilla extract
1/2 cup chopped hazelnuts
1/2 cup chopped pecans
1/2 cup chopped walnuts
2 cups dark chocolate chips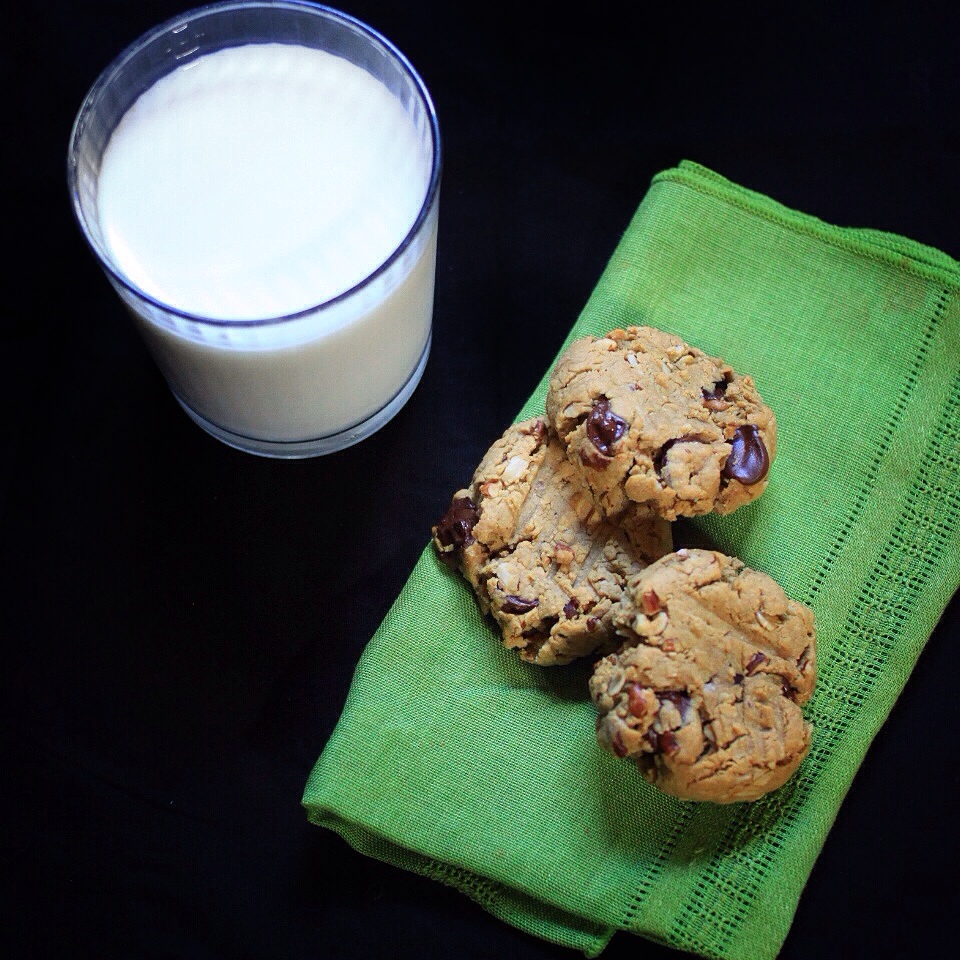 Directions:
Preheat your oven to 350 degrees F. Line two baking sheets with parchment paper.
In a large bowl, mix together the oat flour, whole wheat flour, brazil nut protein powder, rolled oats, sorghum flour, baking soda and salt.
In another bowl, combine the sugar, peanut butter, egg whites, banana, yogurt and vanilla. Mix until completely combined and smooth.  Scrape the wet ingredients into your dry ingredients. Mix the ingredients together until you form a dough (I actually prefer to do this by hand, almost kneading the dough together). Mix in the nuts and chocolate chips.
Scoop the dough out and roll it into 1-inch balls. Place on the prepared baking sheets, about 1 1/2-inches apart. Flatten with a fork, then bake for 8-10 minutes, until just golden around the edges. Let the cookies sit on the baking sheets for 5 minutes before transferring to a cooling rack to cool completely.
Make sure the cookies have cooled completely before storing in an airtight container.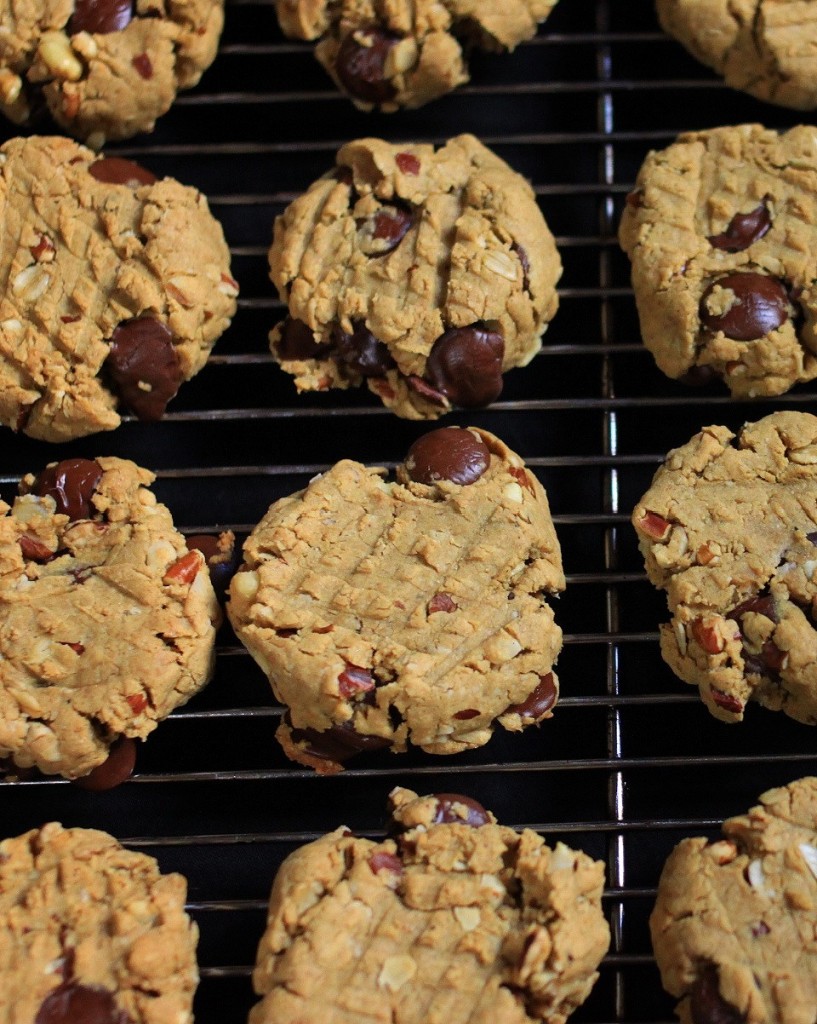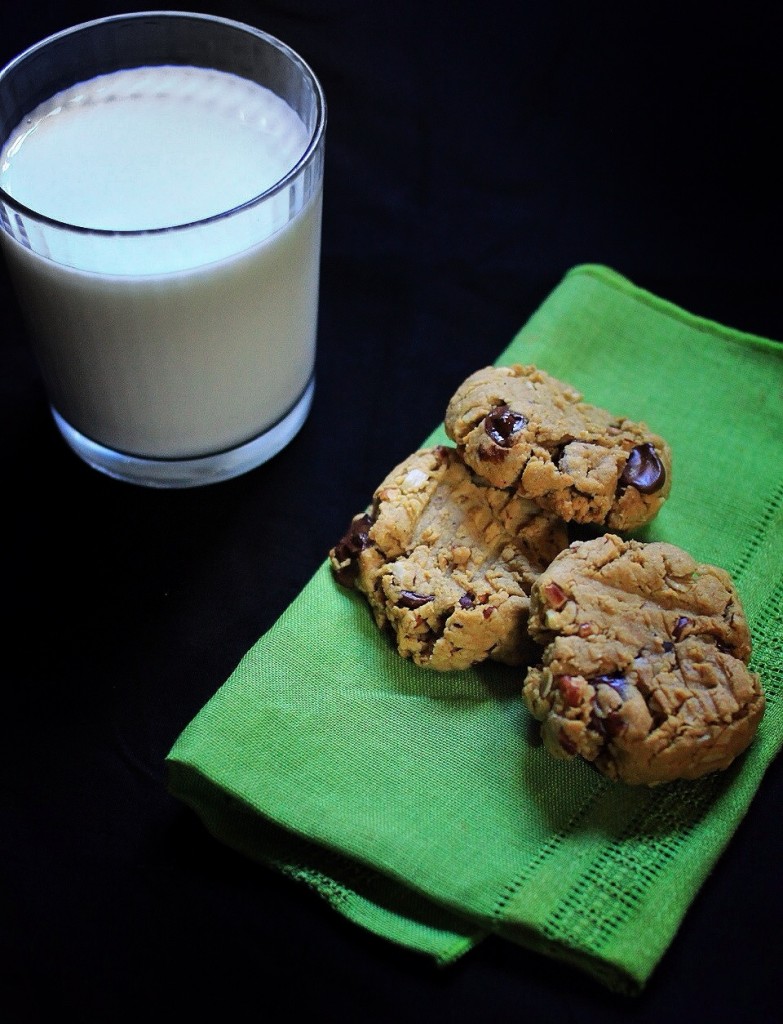 Please follow and like us: