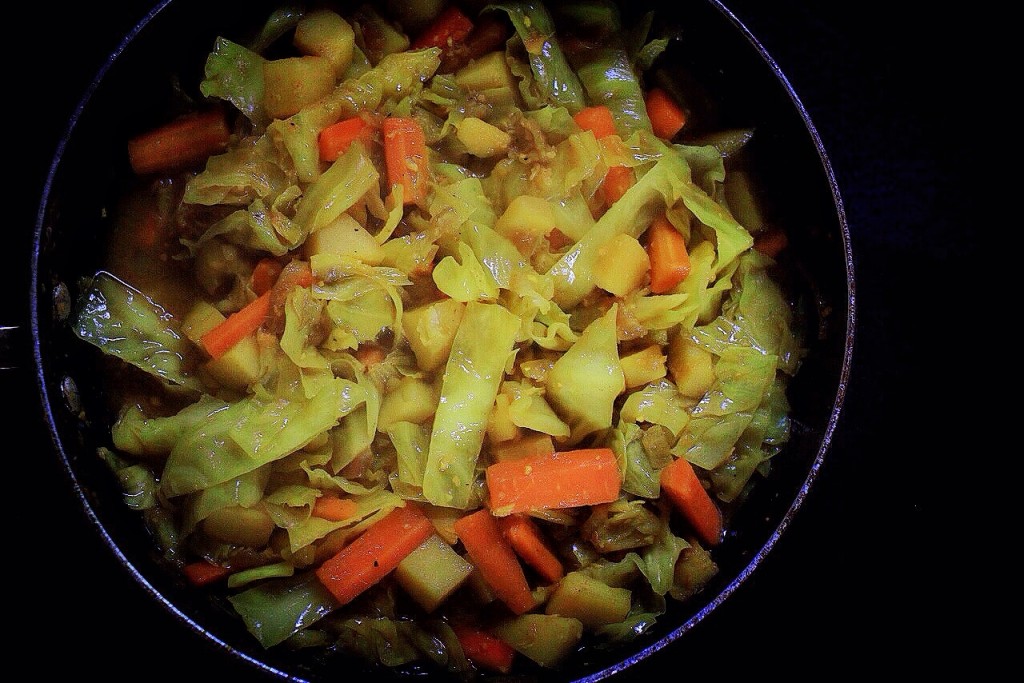 I've shared a number of Ethiopian recipes with you, and this is the last one to round out all of those dishes.
I am not a huge fan of cabbage. As a kid, I distinctly remember my mom cooking it periodically… The only two versions I liked included corned beef and cabbage around St. Patrick's Day (as a gesture towards my Irish heritage, which came from my dad's side of the family) and stuffed cabbage in a slightly spicy tomato sauce. However, this cabbage dish is one I also added to my "enjoyed cabbage dish" list when I had Ethiopian food for the first time.
The cabbage is accompanied by some potatoes and carrots, making the dish a bit more filling. It's comfort food that just so happens to be filled with vegetables and good-for-you spices such as cancer-fighting ginger and turmeric.
Atkilt Wat (Cabbage, Carrots, and Potatoes)
Recipe adapted from Food & Wine
Yields about 4 servings.
Ingredients:
2 1/2 pounds green cabbage, cored then cut into 3/4″ pieces
1/2 pound carrots, peeled, quartered, then cut into 1 1/2″ pieces
2 large russet potatoes, peeled and cubed into 1″ squares
1/4 cup olive oil
1/4 cup water
1 medium red onion, finely chopped
5 garlic cloves, minced
1″ piece ginger, peeled and minced
1 tablespoon ground turmeric
salt and pepper, to taste
Directions:
In a large casserole pan, heat the olive oil. Add the minced onion and cook over medium-high heat until soft and just beginning to brown.
Add the garlic, ginger, turmeric, salt and pepper, cooking until everything is fragrant (5 or so minutes).
Add the carrots, potatoes and water, cooking over medium heat. Occasionally stir until the carrots and potatoes just begin to soften (5-7 minutes).
Stir the cabbage in, in large handfuls. Let each batch wilt slightly before adding more. Drizzle in a bit of water if the pan starts to dry out.
Once all the cabbage has been added, cover and cook over medium-low heat, stirring occasionally, until the cabbage is soft and tender (30-40 minutes). Serve with injera.