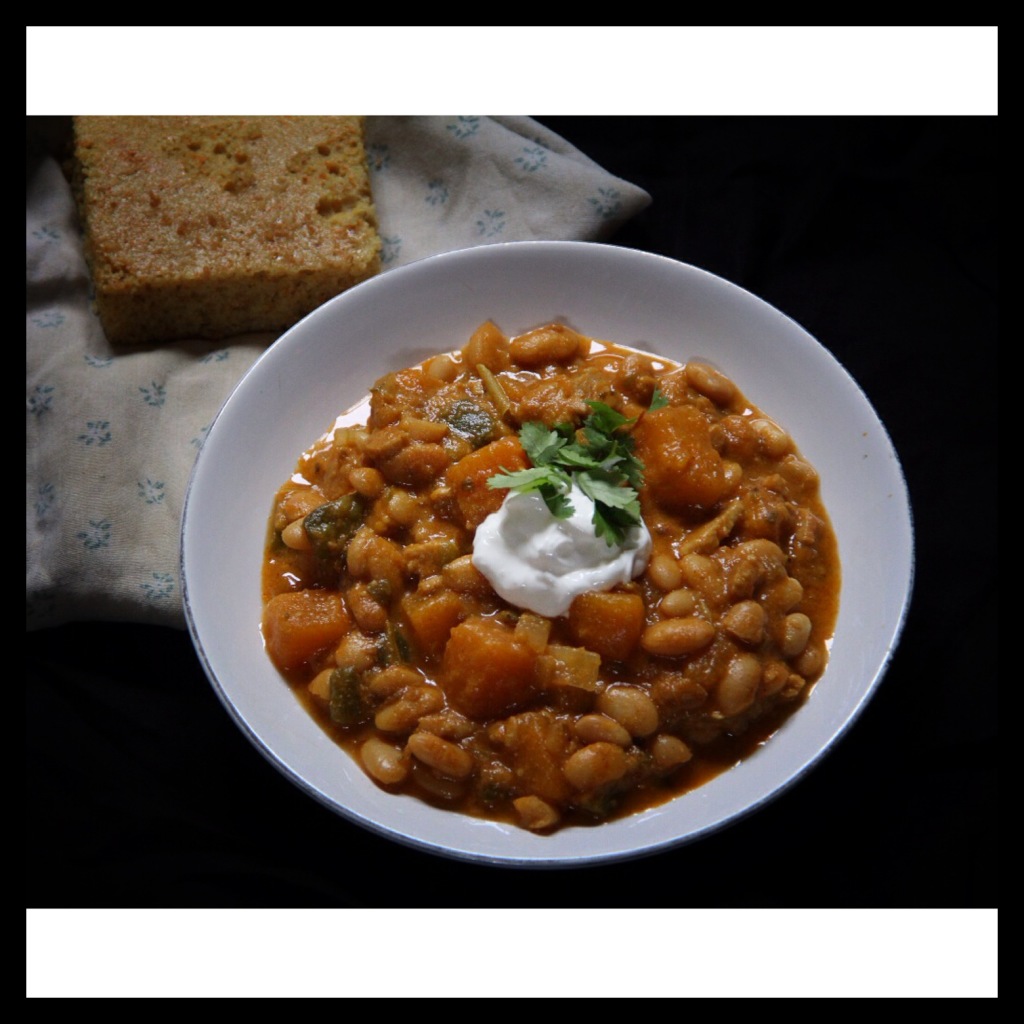 Have you had your fill of Thanksgiving leftovers? Are you over it, ready to move on from turkey to other foods for the next few weeks? We don't cook turkey around here, but I am certainly okay with not eating mashed potatoes, Tofurky, other veggie roasts, stuffing, etc., etc., for a while.
If you're in need of something filling, a dish that is both comfort food and this lovely fall season wrapped up in a bowl, the following white bean and pumpkin chili just might satisfy such a craving. Having never eaten, nor made a white bean chili, I decided to do what I frequently do in the kitchen — and wing it.
This chili was gone in a day and a half, which is saying a lot because typically if I make chili, it sits in the fridge for a week… and then half of it gets thrown in the freezer where it's forgotten for a year or so. It's hearty and robust, not overly spicy, but wonderfully flavorful!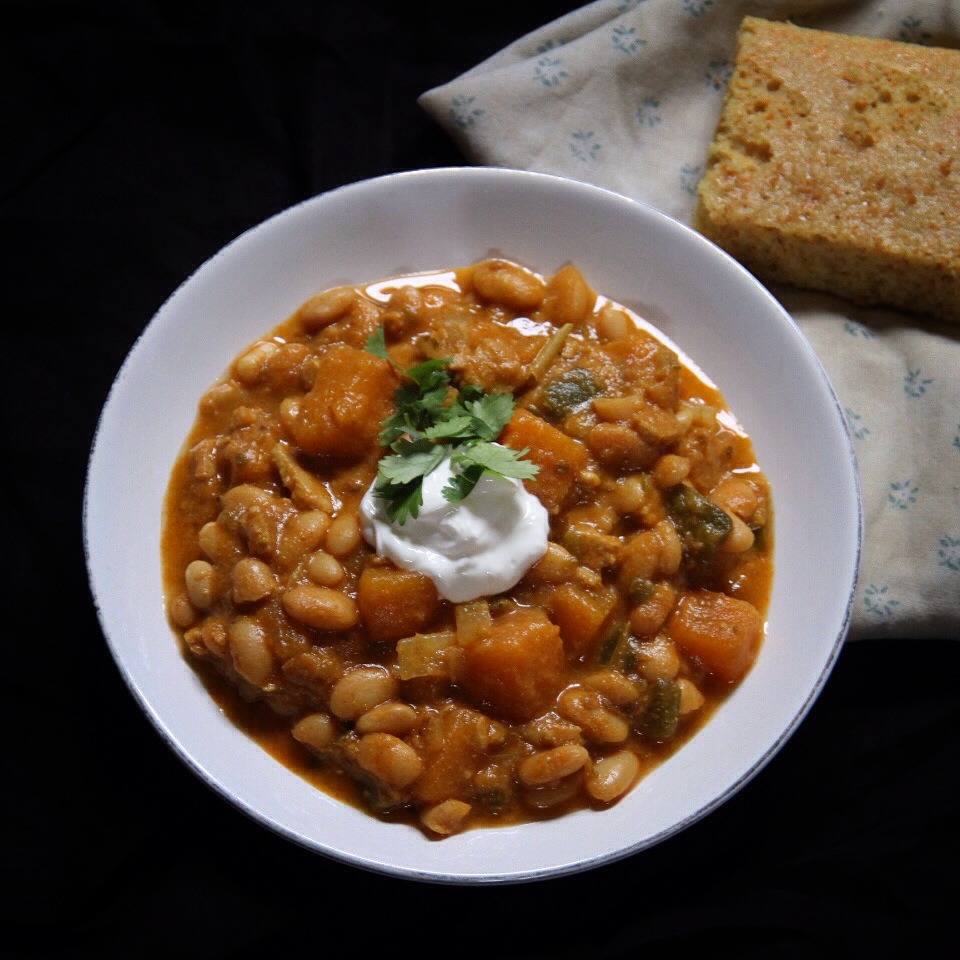 Pumpkin White Bean Chili
Yields about 5 quarts
Ingredients:
1 small cooking pumpkin (about 1 1/2 – 2 pounds)
4 Quorn Chik'n Cutlets (unbreaded)
2 tablespoons oil
1 clove garlic, minced
salt and pepper
1 large onion, diced
4 tablespoons olive oil
2 poblano peppers, stem/seeds/ribs removed, than diced
2 small yellow bell peppers, stem/seeds/ribs removed, than diced
3 small anaheim peppers, stem/seeds/ribs removed, than diced
2 dried bay leaves
4 cloves garlic, minced
3 teaspoons ground cumin
2 teaspoons salt
1 teaspoon ground coriander
1 teaspoon dried oregano
1 teaspoon chili powder
1/4 teaspoon ground turmeric
2 cups cannellini beans
2 cups diced tomatoes (I like the fire-roasted ones)
6 cups No-Chicken broth
1/4 cup sour cream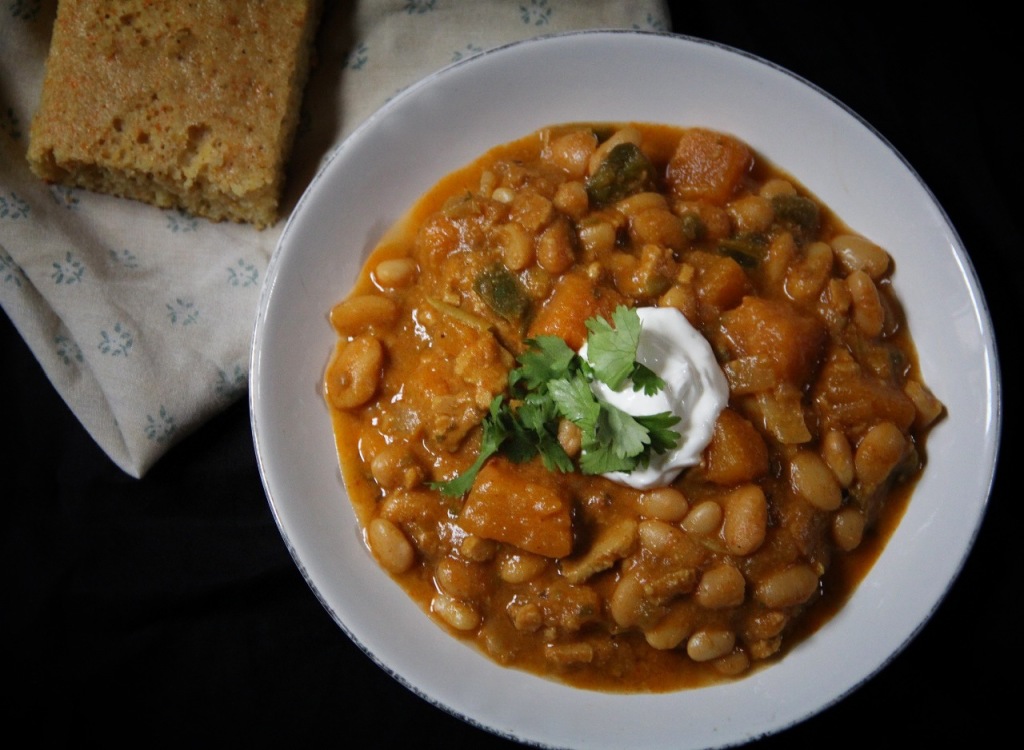 Directions:
Prepare the pumpkin: Preheat your oven to 350 degrees F. Remove the stem from your pumpkin, then slice the pumpkin in half. Scrape out the seeds and fibers, then place the pumpkin halves [cut side down] on a rimmed baking sheet. Bake for 1 to 2 hours, or until tender. Cool, then cut each half into 1-inch thick strips. Slice off the rind from each strip, then dice the cooked pumpkin into 1-inch cubes. Set aside until needed.
Prepare the Quorn Chik'n: Place a large frying pan over medium-high heat. Add half of the oil and the minced garlic. Place all four cutlets in the pan. Drizzle with the remaining oil and a semi-generous amount of salt and pepper. Cook until lightly golden brown, then flip and cook on the remaining side. Continue cooking until tender, golden brown, and heated all the way through. Remove the cutlet from the heat and dice into chunks. Set aside until needed.
Prepare the chili: In a large pot (I like my dutch oven for this), heat four tablespoons of oil over medium-high heat. Add the diced onion and peppers, cooking until tender. Add in the bay leaves, garlic, cumin, two teaspoons salt, coriander, oregano, chili powder, and ground turmeric. Stir until well combined. Next, add in the beans, tomatoes, No-Chicken broth, cubed pumpkin and diced Quorn Chik'n. Reduce the heat to low and simmer for 30 minutes, up to a few hours. You can add more broth if you prefer your chili a little less thick. Stir in the sour cream right before serving. Taste, then add salt and pepper to your liking.
The chili can be served with more sour cream to top off each bowl, minced cilantro, grated cheddar, cornbread, etc.