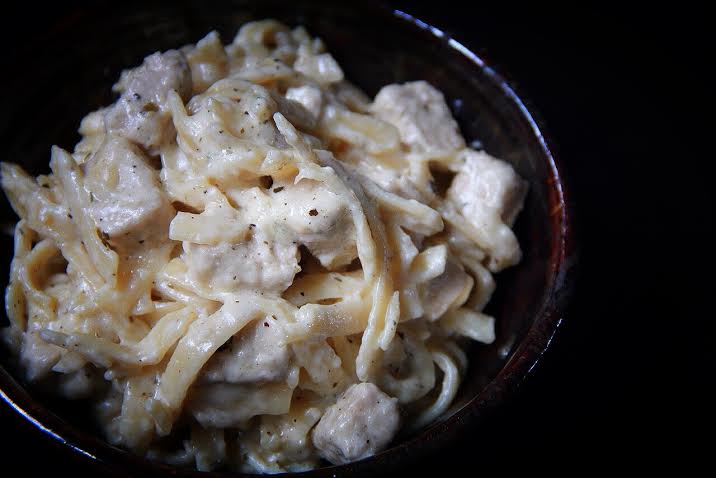 Every now and then, I crave certain foods wherein I simply start off knowing, if I eat this, certainly it'll satisfy my craving for the next year. Maybe the next 6 months. Fettuccine alfredo and homemade fried doughnuts are probably at the top of that list, hands down. If I weren't too concerned about balancing my health and nutritional intake, perhaps I would eat doughnuts and fettuccine alfredo more frequently. Maybe even in the same day.Gasp!
But I do care, so when I give in to making either of these dishes, I know it'll be well enjoyed. There is nothing low calorie, low butter, or low fat about fettuccine alfredo — let's just be real.  Traditional fettuccine alfredo didn't originally contain cream. Warm pasta was simply tossed with butter, parmesan cheese, and pepper. As the cheese melted from the heat coming from the pasta, a beautiful sauce formed. I do enjoy the rich creaminess that results in using cream, though.
I prefer dried fettuccine noodles to freshly made pasta, as the sauce is so incredibly rich that fresh pasta makes things much too heavy. Plus the dried noodles seem to hold up under this creamy sauce much better. The addition of Quorn Chik'n Tenders that have been sautéed in spices and herbs makes this a deliciously simple, filling, kid-friendly meal.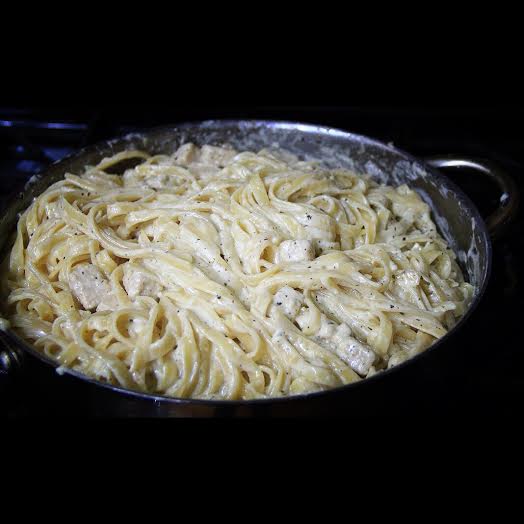 Fettuccine Alfredo with Vegetarian Chik'n Tenders
Serves 8-10 people.
Ingredients:
18 ounces Quorn Chik'n Tenders (one and a half bags)
3 tablespoons olive oil
8 cloves garlic, minced
1/2 teaspoon salt
1/2 teaspoon ground black pepper
1 teaspoon granulated garlic
1 teaspoon dried basil
1/2 teaspoon dried oregano
1/4 teaspoon red chili flakes (optional)
1 1/2 pounds dried fettuccine noodles
1/2 cup unsalted butter (1 stick)
1 1/2 cups heavy cream
1/2 cup whole milk
1 1/4 cup grated parmesan cheese
zest and juice from one lemon
1/2 teaspoon ground black pepper
3/4 teaspoon salt
1 teaspoon dried parsley
small pinch of fresh nutmeg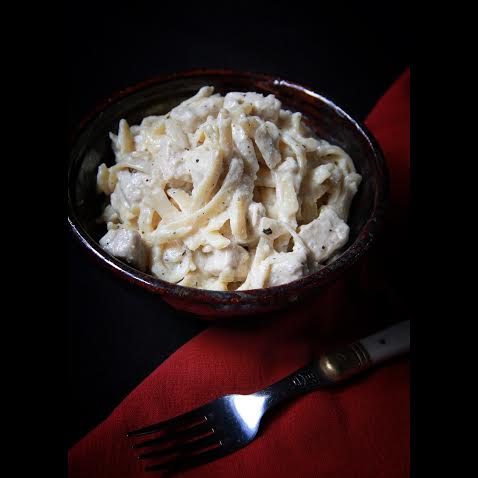 Directions:
Prepare the Quorn Chik'n:  In a large saucepan (I use one similar to this), heat the three tablespoons of oil over medium-high. Once the oil is hot, add the minced garlic and Quorn Tenders, gently tossing to coat everything with oil. Sprinkle in the 1/2 teaspoon of salt, 1/2 teaspoon pepper, dried basil dried oregano, and red chili flakes if you're using them, and the lemon juice. Sauté until the tenders are lightly golden brown. Remove the cooked tenders from the pan.
Prepare the pasta: Cook the fettuccine to al dente, as per the directions on the pasta packaging. Drain, reserving about a half cup of pasta cooking water.
Prepare the sauce: In the pan you used to cook the Quorn Chik'n, pour the heavy cream and milk. Add in the stick of butter (you can cut it into smaller pieces for quicker melting). Occasionally stir the mixture until the butter has completely melted. Whisk in all of the parmesan, the lemon zest, half teaspoon of black pepper, salt, parsley and nutmeg. The sauce should almost instantly begin to thicken once the cheese is added.
Finish things off: Now that the sauce is nicely thickened, gently fold in the pasta. Once all the noodles are coated with the sauce, fold in the Quorn Chik'n Tenders. Serve immediately.
*For reheating, should you have leftovers: Cream based sauces can be tricky to reheat, as separation from the butter and cream naturally begins to happen. To reheat this pasta, add a few tablespoons of milk, half and half, or cream to a large sauce pan, bringing the temperature up over medium heat. Once the milk is warm, add in the leftover cold pasta. Gently break the noodles and sauce apart (not too quickly, as it'll become easier as the pasta and sauce warm up). Gently fold the noodles into the added milk, occasionally stirring/folding all the ingredients together until the pasta is heated through. You can add more or less milk as needed, to reach your preferred consistency.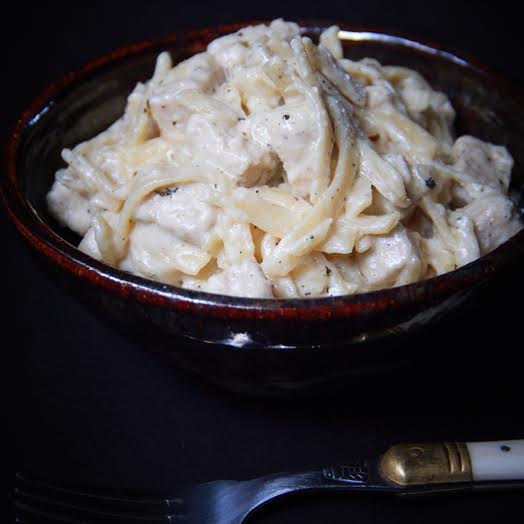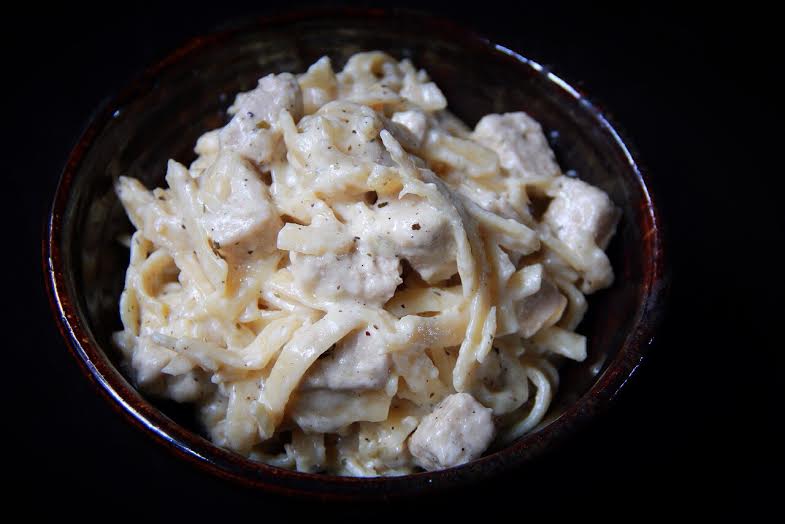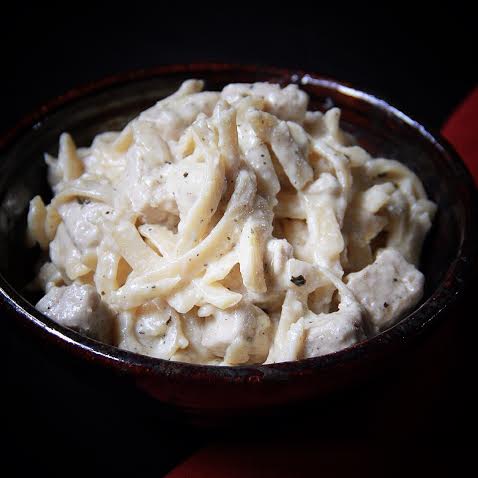 Please follow and like us: