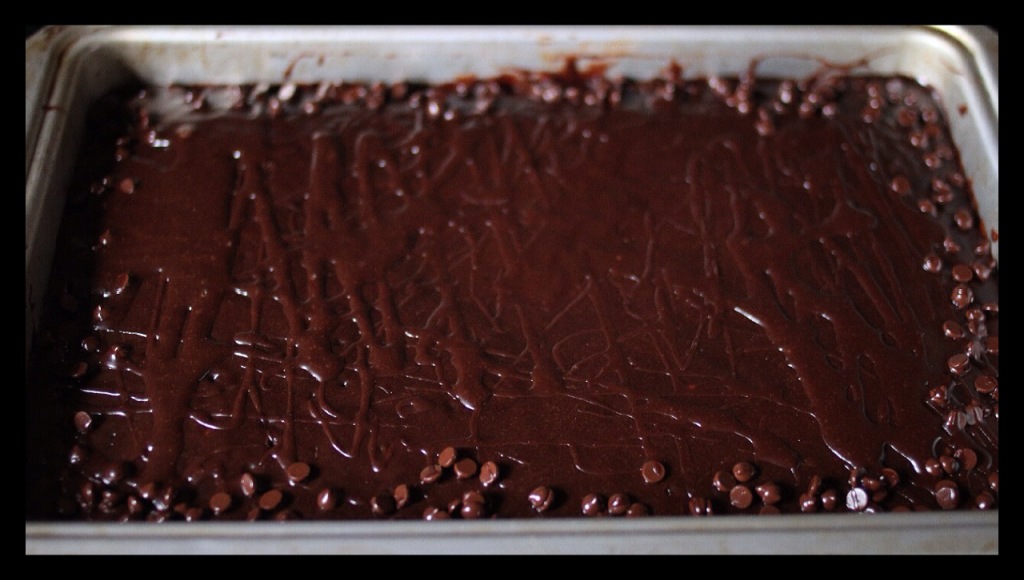 Every year as my husband's birthday approaches, I start to think about what his celebratory dinner and cake will consist of. By "approaches" I mean my crazy-brain begins thinking around early October, for his late November birthday. Usually I wait until the second week of November or so, before the craziness of Thanksgiving begins to creep in (which happens to typically fall within the same weekend of Craig's birthday), to ask him what he'd like.
Often the request isn't too crazy. Likely something involving dark chocolate, possibly peanut butter, and most always a "warm chocolatey sauce" to be served with the cake. As someone who isn't a huge dessert fiend, sometimes the amount of chocolate involved can begin to feel a little overwhelming. But I guess birthday cakes are made to be an overindulgent once-a-year debacle.
This year's request was the simplest yet. "A plain chocolate cake with hot fudge sauce. Please." We discussed options — a layer cake? Some other flavored filling in a layered cake? A one-pan sheet cake thing? "Yes! A sheet cake! I don't like a layered cake anyway because there's always too much frosting…" This chocolate sheet cake is fluffy, moist, not overwhelmingly sweet (the frosting adds a nice balance of sweetness to the not overly sweet cake). The frosting on the top of the cake slightly hardens as it cools, making this cake a breeze to cut when serving. It isn't overly thick or overwhelming.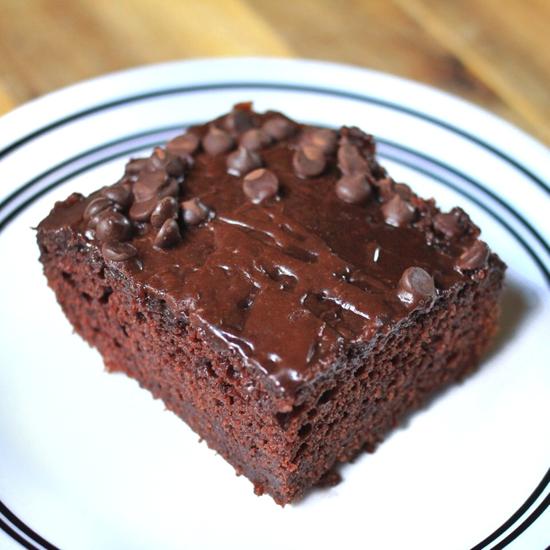 Rich Frosted Chocolate Sheet Cake
Makes one 9×13-inch cake
Ingredients:
For the cake
1 cup water
1 cup butter (2 sticks)
1/2 cup good quality unsweetened cocoa powder
2 cups all-purpose flour
2 cups sugar
1/2 teaspoon salt
2 eggs
1/2 cup sour cream
1 teaspoon baking soda
For the frosting
1/4 cup butter
2 tablespoons whole milk
2 tablespoons unsweetened cocoa powder
1 1/2 cups powdered (confectioner's) sugar
1 teaspoon vanilla
Optional
1/4 cup mini chocolate chips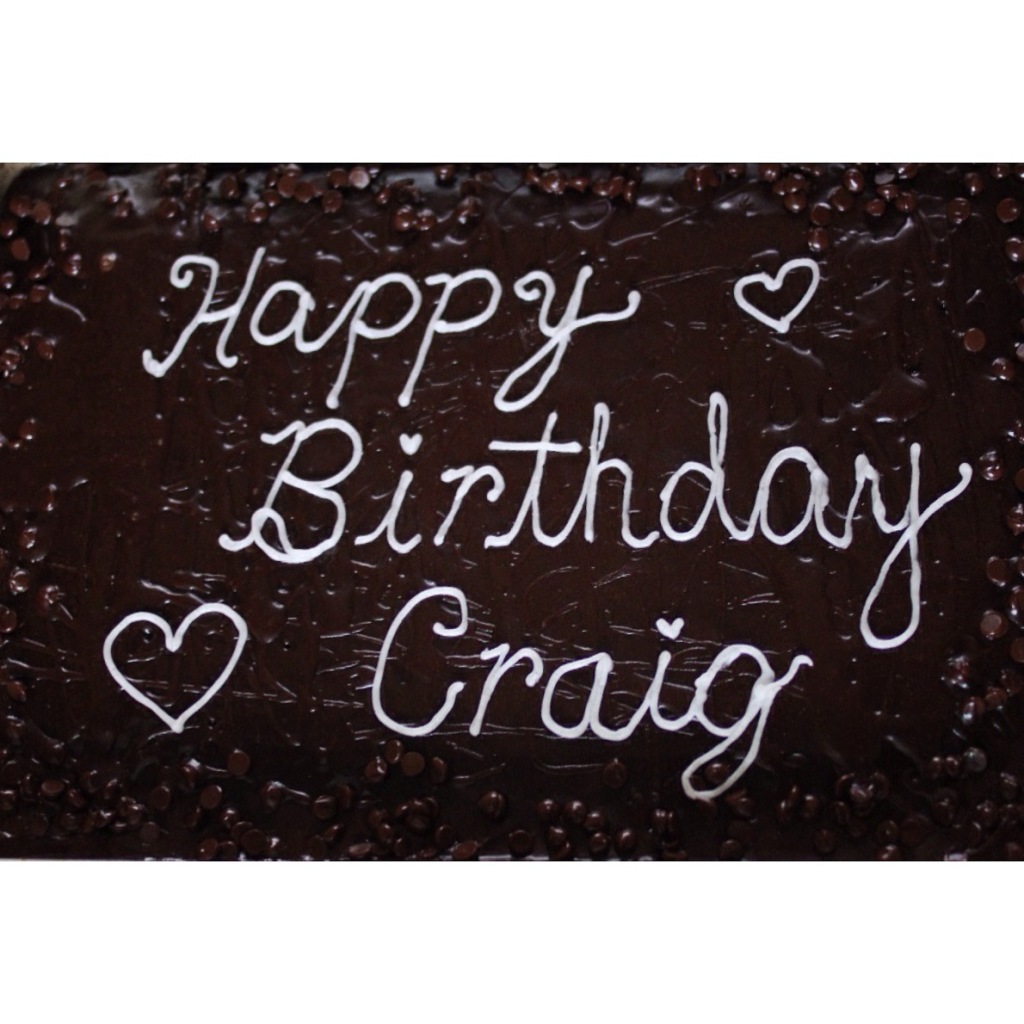 Directions:
Preheat your oven to 350 degrees F. Lightly grease a 9×13-inch baking pan, then lightly dust with flour, dumping out any excess.
In a large pot, combine the water and butter, cooking over medium-high heat until the butter completely melts. Stir in the half-cup of unsweetened cocoa powder. Continue stirring until completely combined and the cocoa powder has dissolved. Stir in the flour, sugar, and salt into the butter mixture and bring up to boiling for 1-2 minutes. Remove from heat.
In a small bowl or measuring cup, whisk together the eggs, sour cream, and baking soda. Stir this mixture into the chocolate/flour mixture until everything is well combined. Pour the batter into your prepared pan. Bake for 30-35 minutes, or until a toothpick inserted in the center of the cake comes out clean, or with just minimal crumbs on it.
In the last 15 minutes while the cake is baking, prepare the frosting. Combine the 1/4-cup of butter, milk, cocoa powder and powdered sugar in a small sauce pan. Bring up to just under boiling. Remove the pan from the heat and stir in the vanilla extract.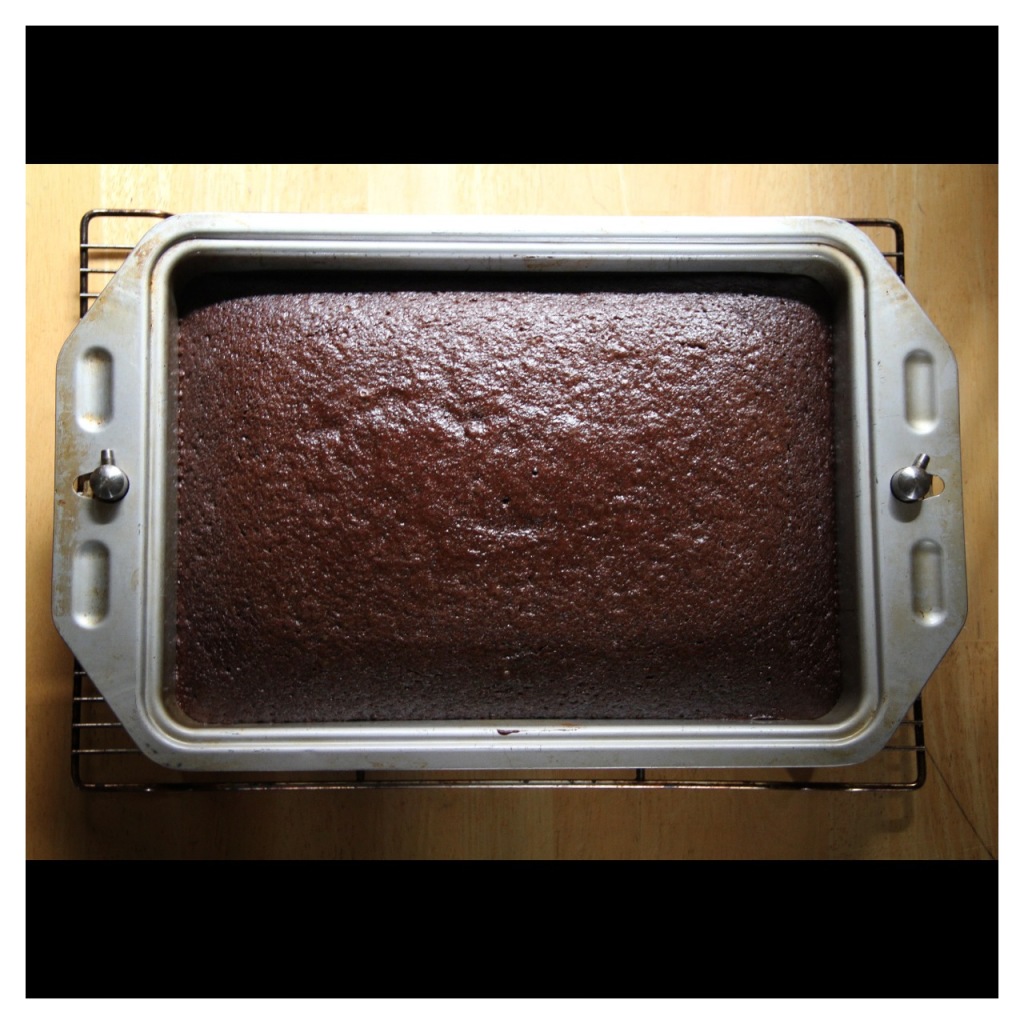 Once the cake has finished baking, let the whole pan sit on a wire cooling rack for about 5 minutes, then pour the chocolate frosting mixture over the still-warm cake. Let the cake cool for about 20 minutes. If you want to sprinkle the mini chocolate chips on top for added decoration/texture/CHOCOLATE! you can do so. Serve while warm or at room temperature.
Keep the cake covered for up to 3 days, although for best quality eat the day it's made.