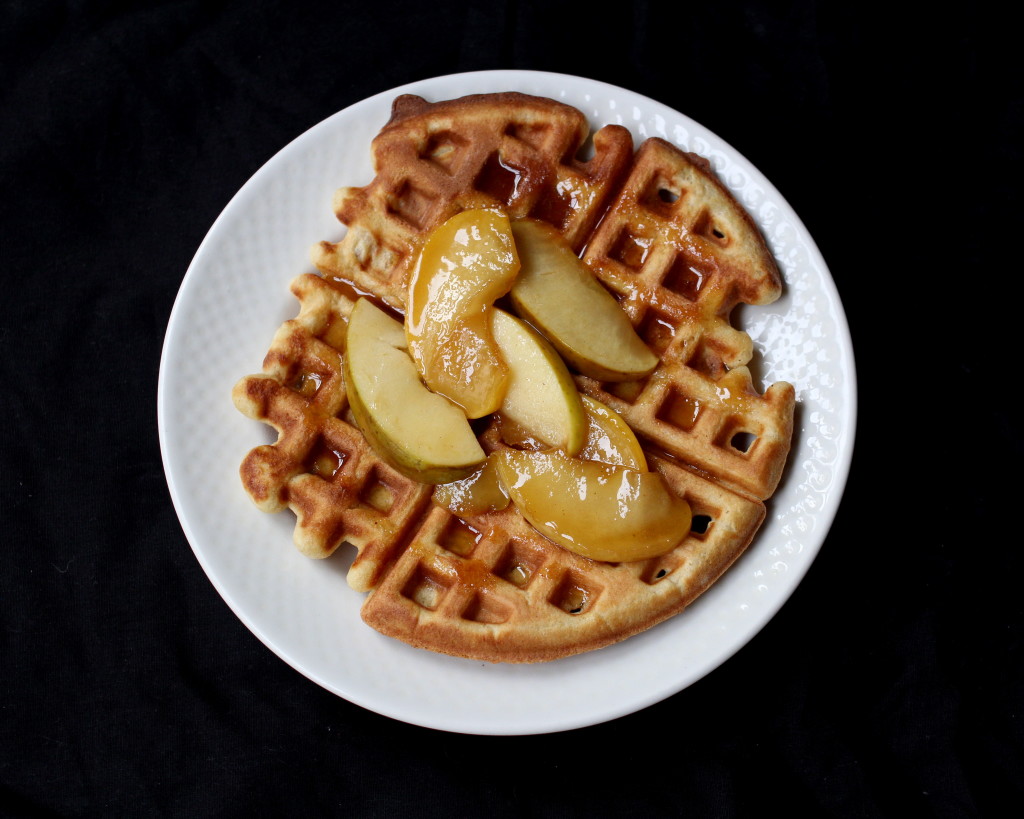 We recently went out for breakfast. While looking at the menu, trying to decide what to make, it occurred to me that I rarely get adventurous about breakfast food because typically I don't eat breakfast. However, on the rare occasion that breakfast-hunger-pains strike, I usually want something carby and sweet (a.k.a. WAFFLES or FRENCH TOAST) or something completely opposite, that is extremely savory. Its been months since I made waffles of any sort, because around here the most popular request is pancakes.
When the urge for waffles recently occurred, as luck would have it, I realized we were completely out of milk. Luckily, we had a near-full half gallon of eggnog, as a certain 9-year-old requests it every holiday season. Eggnog waffles? This didn't seem too wacky, seeing as eggnog is just milk… eggs, sugar, cream, perhaps some nutmeg. These waffles were crisp, smelled like doughnuts while cooking and certainly didn't disappoint for flavor. Served with these brown sugar apples, the waffles are almost like eating dessert for breakfast!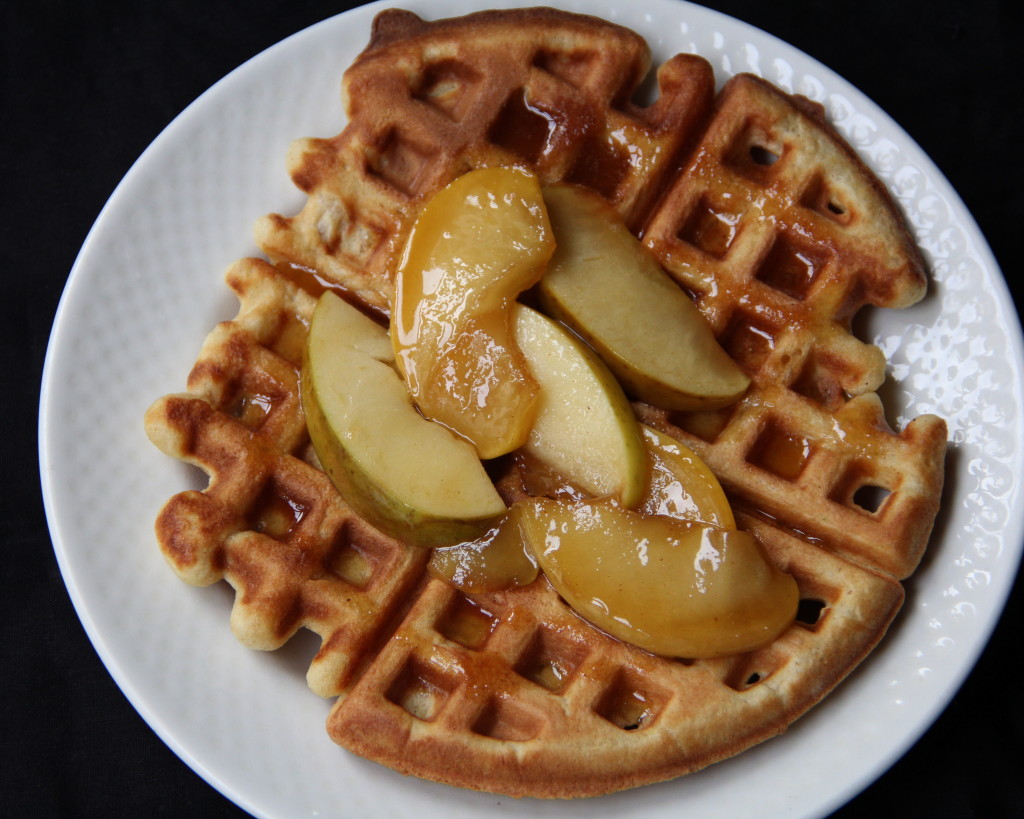 Eggnog Waffles with Brown Sugar Butter Apples
Makes about 6-8 waffles.
Ingredients:
For the waffles:
2 eggs, separated
3 1/2 cups all-purpose flour
2 tablespoons turbinado sugar
1 tablespoon baking powder
1 teaspoon sea salt
1/2 teaspoon freshly grated nutmeg
1/4 teaspoon ground cinnamon
2 cups eggnog
1/4 cup coconut oil, melted
1 teaspoon vanilla extract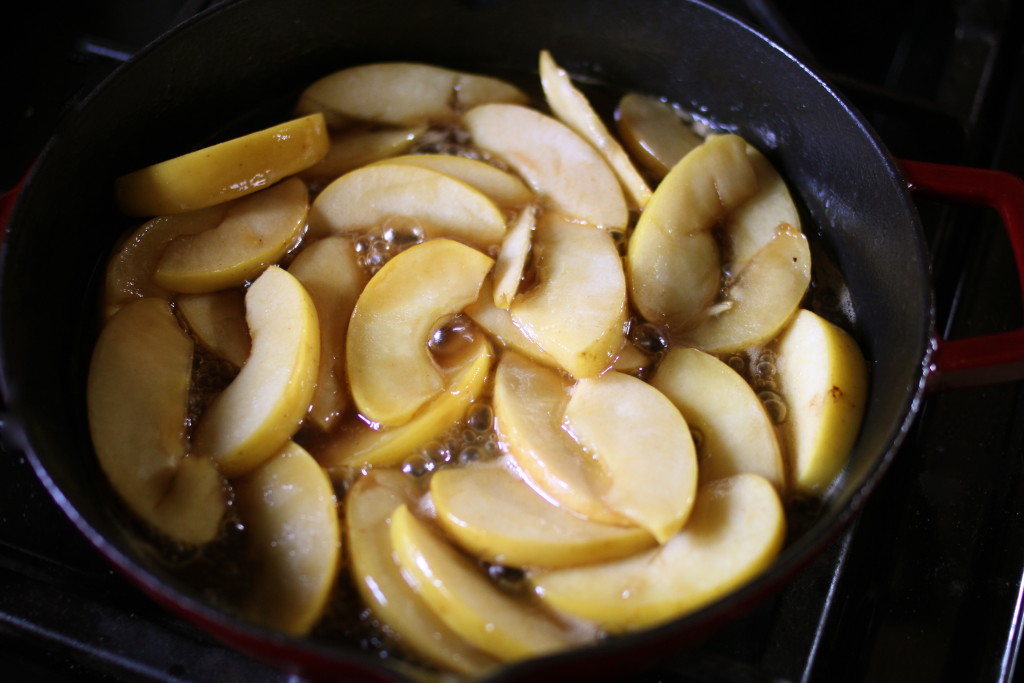 For the apples:
1/4 cup butter
4 large tart apples – peeled (if you want), cored, sliced 1/4 inch thick
2 teaspoons cornstarch
1/2 cup cold water
1/2 cup brown sugar
1/2 teaspoon ground cinnamon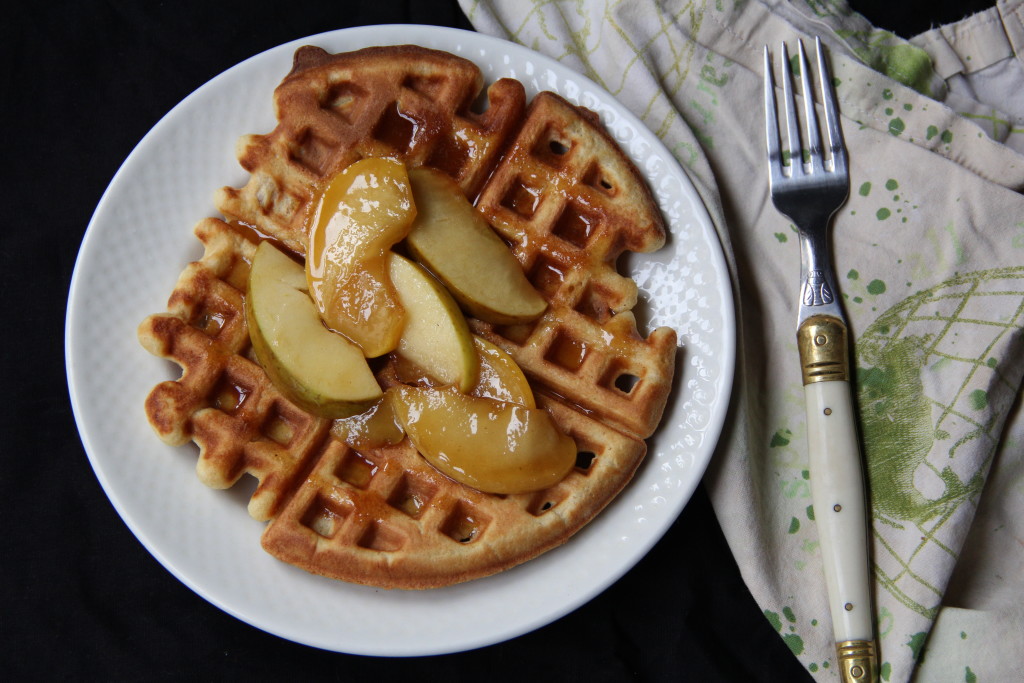 Directions:
Preheat the oven to 200 degrees F. Place a rimmed baking sheet in the oven and let it preheat as well. Preheat your waffle iron as per its directions.
Use a mixer to beat the egg whites to stiff peaks. Set aside.
In a small bowl, combine the flour, sugar, baking powder, salt, nutmeg and cinnamon. In a large bowl, lightly beat the egg yolks, and then pour in the eggnog. Slowly fold the flour mixture into the eggnog mixture. Stir just until the batter is smooth. Scrape down the sides and add the melted coconut oil and vanilla extract. Lastly, fold in the egg whites, until just-combined. Set the batter aside until needed.
Begin preparing the apples. In a large skillet or saucepan, melt butter over medium heat. Add apples, then cook, stirring constantly, until apples are almost tender, about 6 to 7 minutes. Dissolve the cornstarch in the water, then pour into the skillet. Stir in the brown sugar and cinnamon. Cook for an additional 2-4 minutes, stirring occasionally. Reduce heat to low and keep warm.
Cook the waffles according to your waffle maker's instructions. Place the cooked waffles in the preheated oven, or you can eat them immediately for best results.
Top waffles with the cooked apples and additional maple syrup if desired.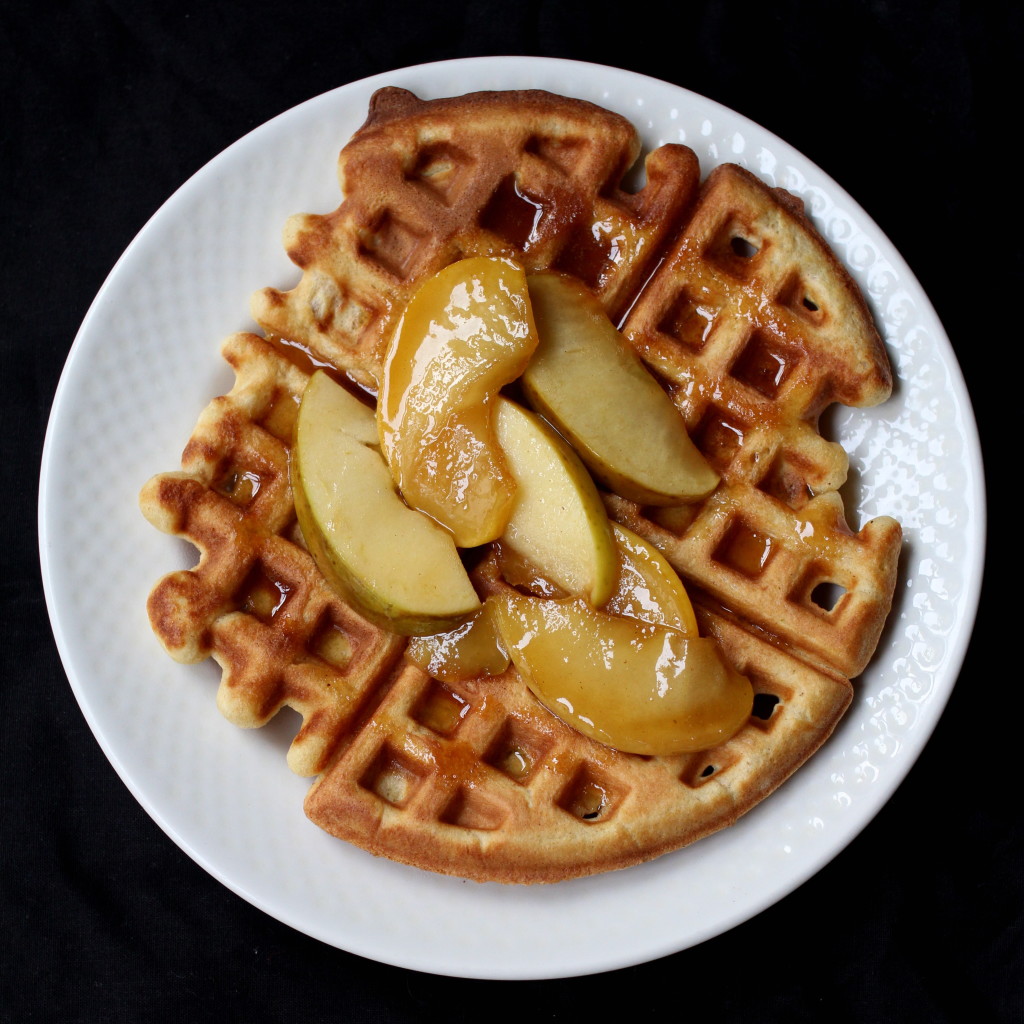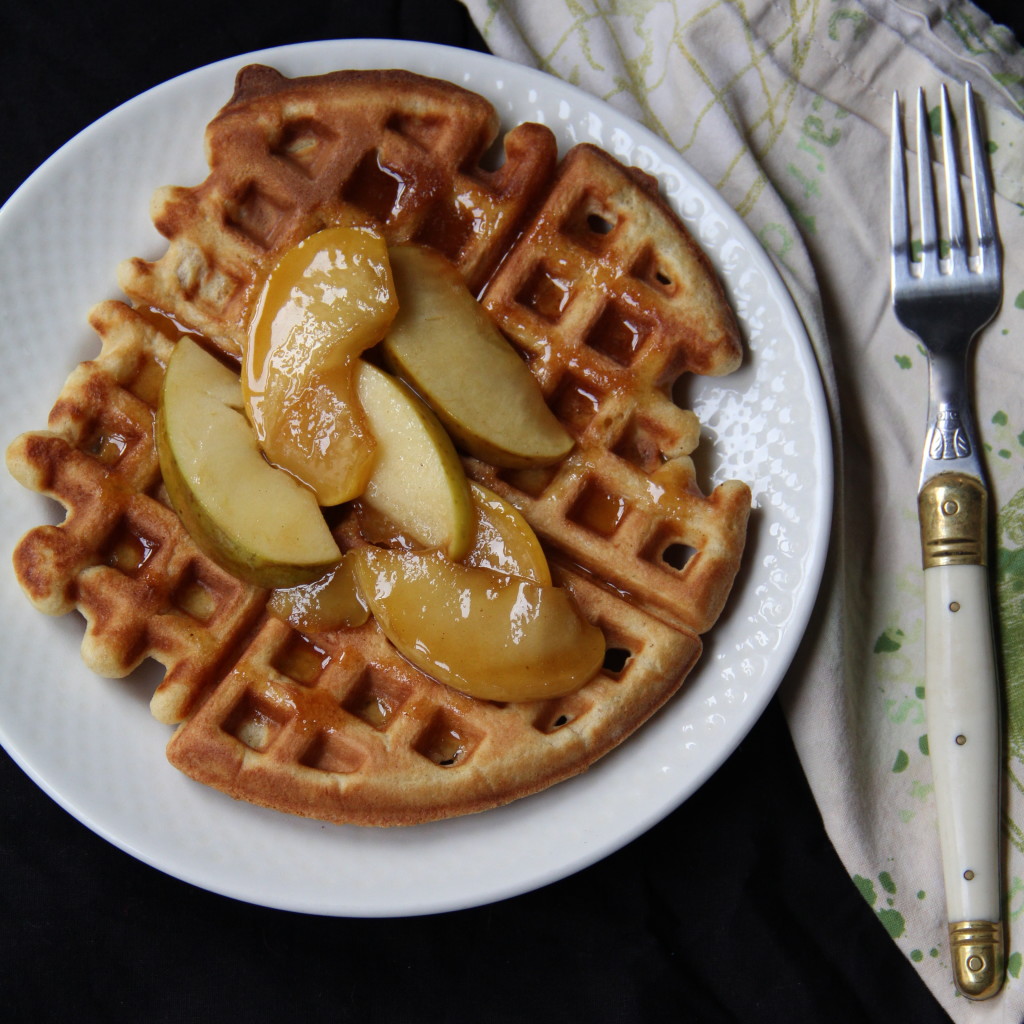 Please follow and like us: